LANTERN MG-600: Ultimate Multi-Function Light
Lantern flashlight with magnetic tail; great for camping, biking, your tool box, & around the house!
Pledge Here
Introducing LANTERN MG-600, the newest addition to our family of superior, multi-function, portable lighting!
LANTERN MG-600 is a compact lantern flashlight with a powerful magnetic tail and an innovative collapsible diffuser. This is our most functional light yet. It will be an essential tool to have around the house, in your car, at work, and on all your adventures!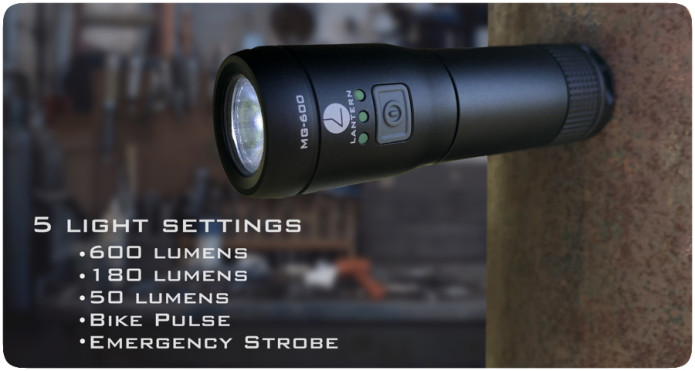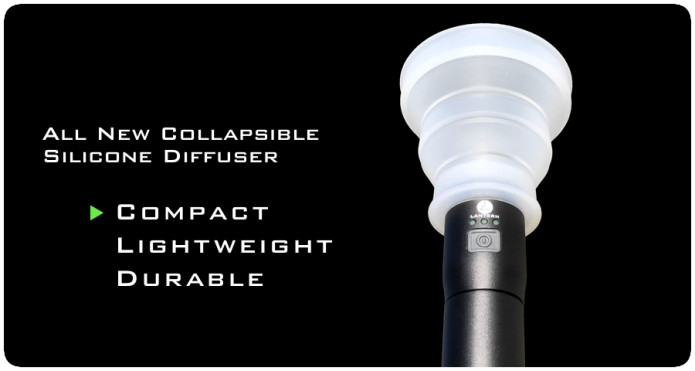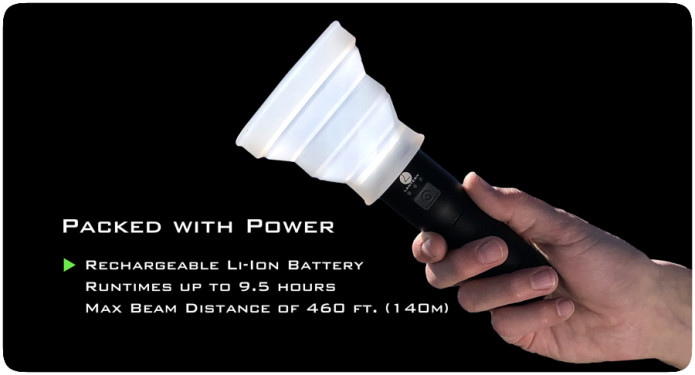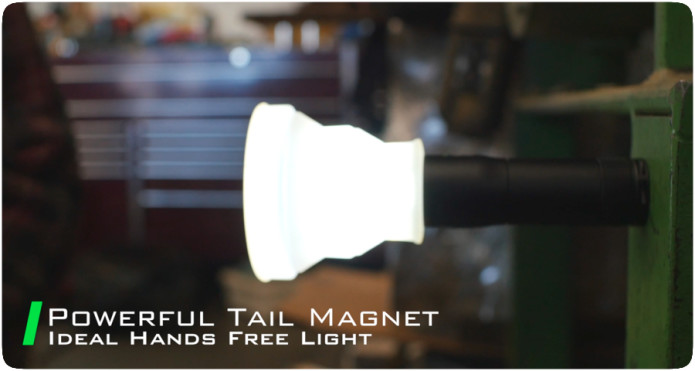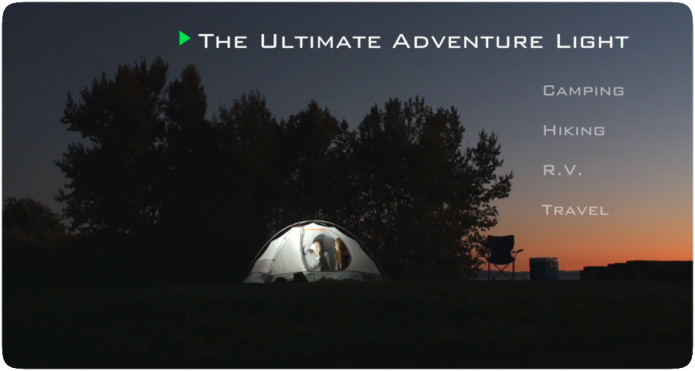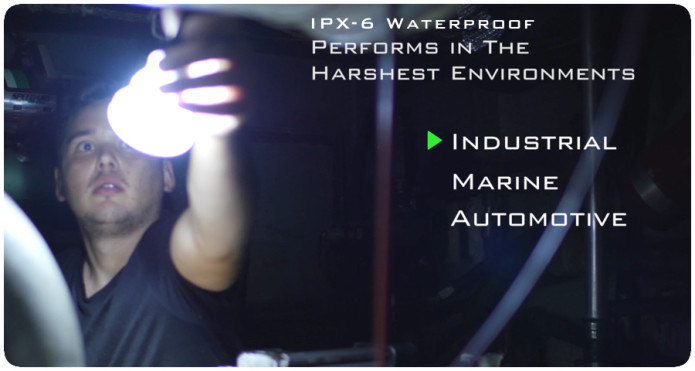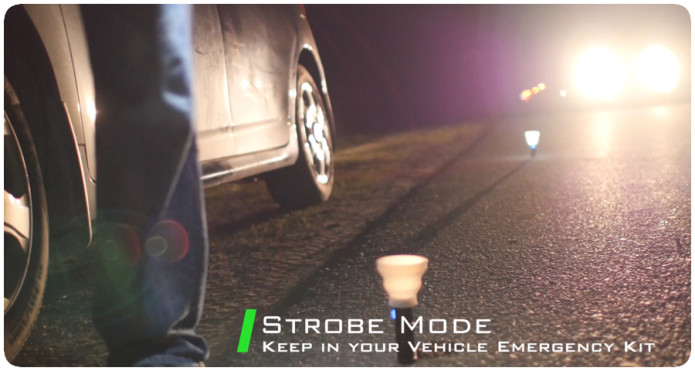 So many ways to use LANTERN MG-600

Powerful tail magnet turns the MG-600 into a convenient  hands-free light
A rare earth magnet is integrated into the tail, and is strong enough to hold the LANTERN MG-600 securely to any magnetic surface.
5 light settings
Low setting is 50 lumens, mid setting is 180 lumens, high setting is 600  lumens, bike pulse mode, and emergency strobe mode.
All New Collapsible LANTERN Diffuser-S
In a continuing effort to improve our products, we have taken the feedback received from our first LANTERN Diffuser and created this next generation of diffuser. Many of you told us the original diffuser was amazing and worked great, but it was bulky and hard to pack or store.
Our new silicone collapsible LANTERN Diffuser brings all the benefits of our original diffuser but with minimal bulk. This diffuser collapses to a small size and is light weight, making it super easy to pack and store. You can now take the LANTERN Light and diffuser with you anywhere.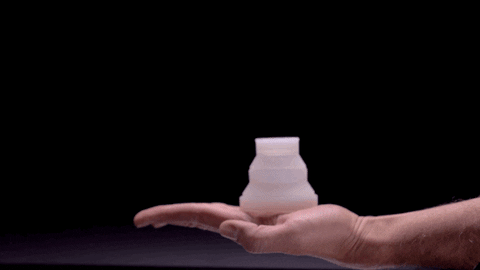 The new silicone diffuser is not only lightweight and compact, but it instantly turns your light into a hands-free lantern.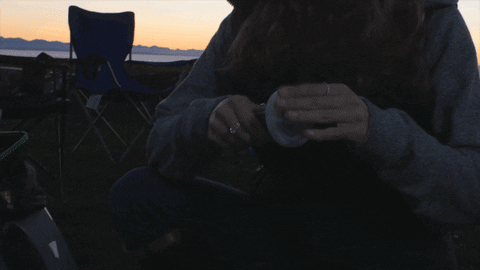 The new LANTERN Diffuser-S will fit many of our other LANTERN Lights and any flashlight with a head diameter between 25mm-31mm, instantly turning it into a hands-free lantern!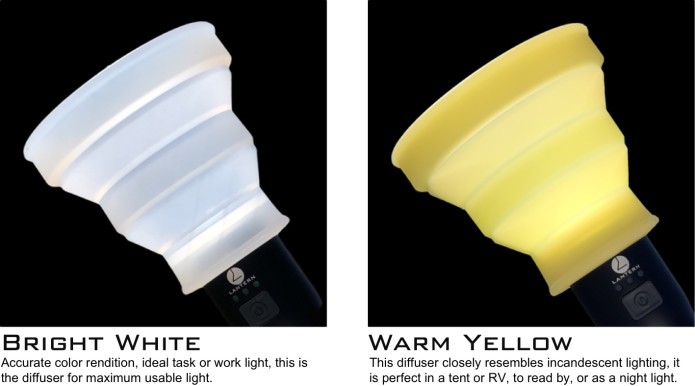 Our new silicone diffuser comes in 2 colors, Bright White & Warm Yellow.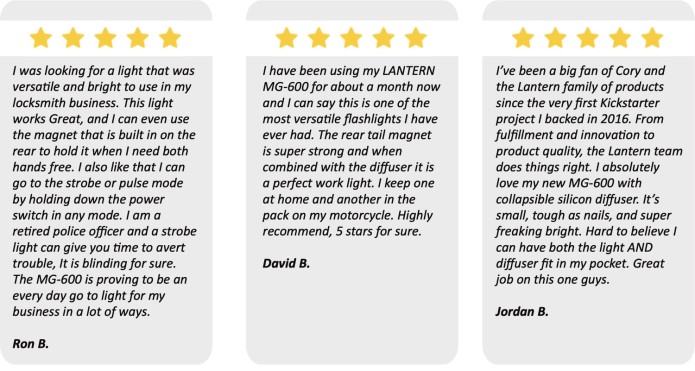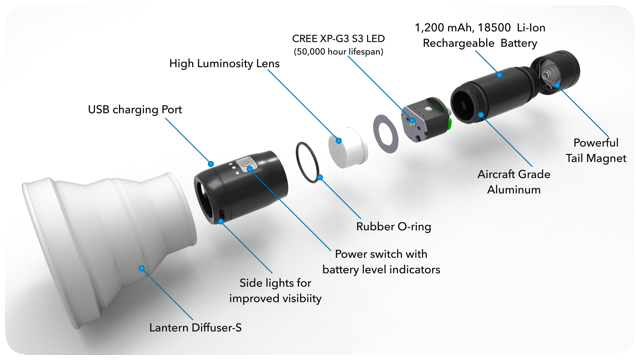 Lots goes in to making the LANTERN MG-600, including the highest quality components
LANTERN MG-600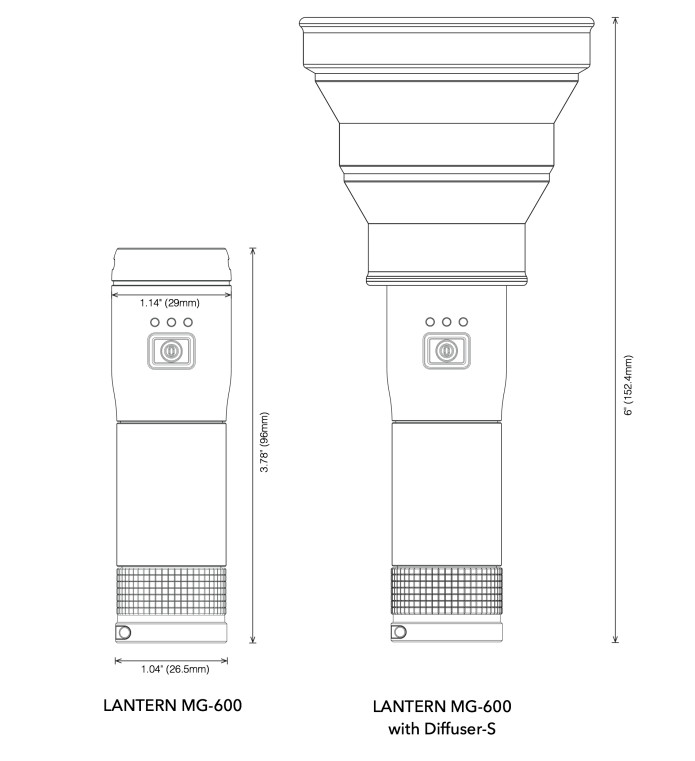 LANTERN Diffuser-S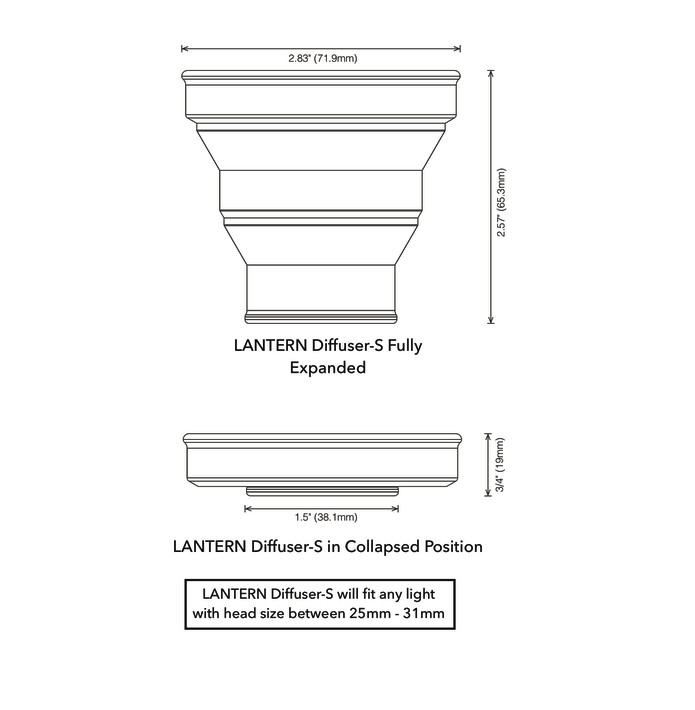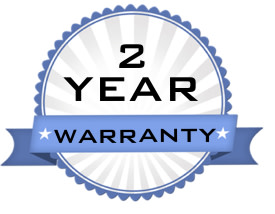 All backers of the campaign will receive an additional year of warranty, on top of the 1 year limited warranty, for a total of 2 years. The warranty covers any defects in material or workmanship, under normal use, during the Warranty Period.
During the Warranty Period, we will repair or replace, at no charge, products or parts of a product that proves defective because of improper material or workmanship, under normal use and maintenance. Return shipping costs may not always be covered by this warranty.
Our warranty covers malfunctions or damage resulting from defects in materials or workmanship. Our warranty does not cover problems caused by misuse of the product or any alterations made to the product. Refer to the instruction manual included with the product for warranty details.

We have completed design, prototypes, and testing of the LANTERN MG-600. Our beta users have been telling us that this is the best LANTERN Light yet. 
We have begun a limited production run, and are looking forward to getting this new light out into the world.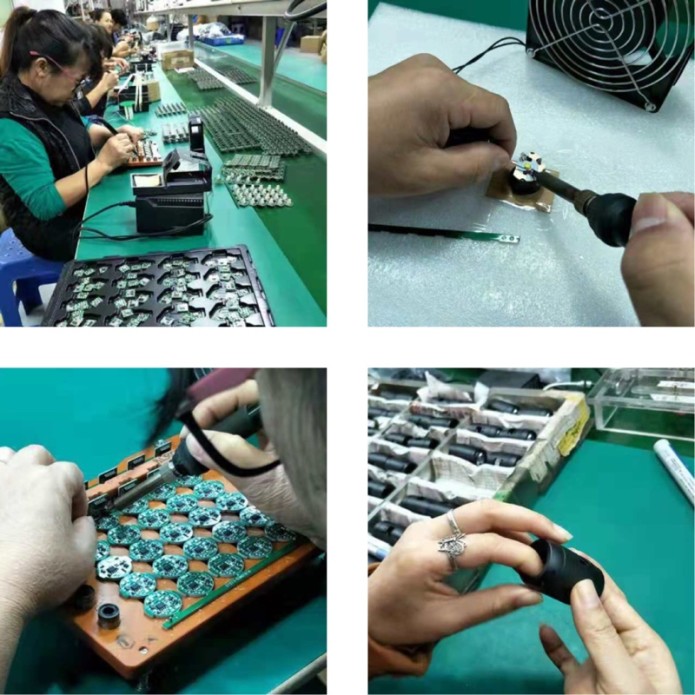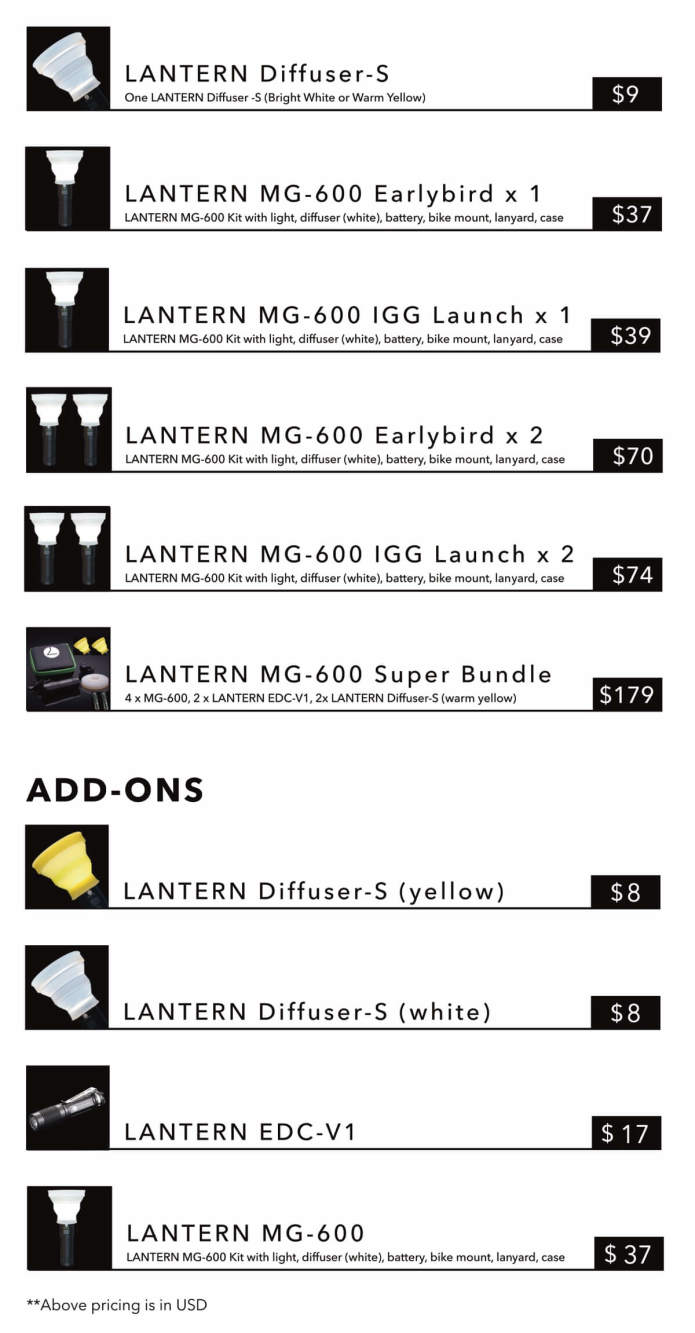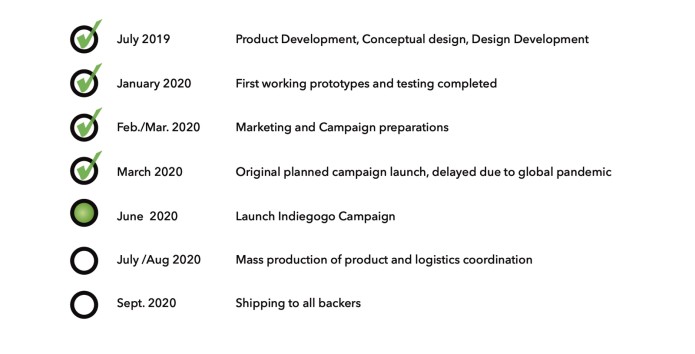 Use day or night to become more focused, more productive, and more relaxed.
No More Tangled Cords | 165W Powerful Suction | Featuring 3D Pool Map Planning & Navigation System | 5 Cleaning Modes
Search for awesome projects
You may also be interested in
The most versatile laser measure that integrates 9 materials stud finder, thermal imager, cross laser level and much more
One Device, Infinite Dreams
LiDAR SLAM Navigation | No Perimeter Wire | Intelligent Obstacle Avoidance | Multi-zone Management | Intelligent Path Planning
You may also be interested in
The most versatile laser measure that integrates 9 materials stud finder, thermal imager, cross laser level and much more
One Device, Infinite Dreams
LiDAR SLAM Navigation | No Perimeter Wire | Intelligent Obstacle Avoidance | Multi-zone Management | Intelligent Path Planning