eyeSpa – Spa Massager that Refresh Your Eyes
Instant Cooling & Heating | Dynamic Pulsing Vibration | Fine Mist Massage | Smart APP | Moisture & Refresh Your Eyes
Delivery: In Stock
The ultimate hot spa & ice massage mask for you. Instantly heats up to 114°F (46°C) or cools down to 59°F (15°C) in seconds, it provides you immediate relaxation and skin care every day. With special vibration and cushioning technology, eyeSpa revolutionizes facial massage at your home.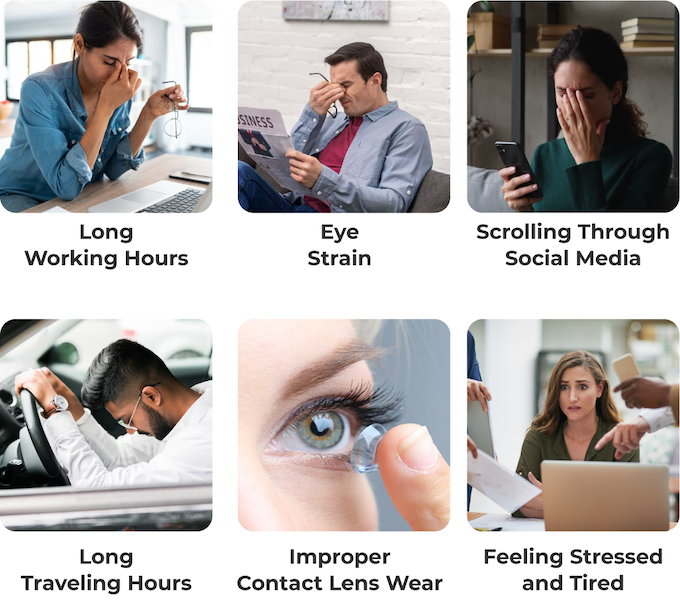 Most people get their first impression of you by looking at your face. This is why your face, especially the T-Zone, is worth caring for. eyeSpa is the first massage mask that provides both moisturizing hot spa as well as ice massage. With our advanced heating and cooling tech, eyeSpa can warm up to 114°F (46°C) or cool down to 59°F (15°C) within just seconds. Combined with a quiet vaporizer that adds moisture to the skin, it will restore your eyes and skin in just 10 minutes. Enjoy both heat and cool treatment cycles designed by professionals to relieve your skin, stress and mood to prepare for the next day!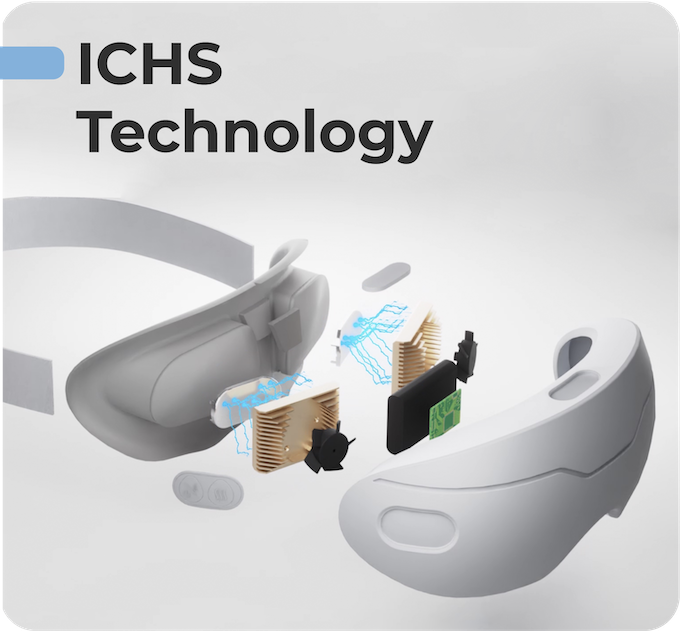 ICHS, aka Instant Cooling & Heating System,  is what we call our thermal conductive system. Using premium stainless steel with high thermal conductivity and reflectivity, the system controls the temperature accurately and precisely. By efficiently dissipating heat, quick yet comfortable cooling and heating come immediately with the push of a button! You can adjust the temperature within just seconds. You can use it instantly and no pre-running is needed.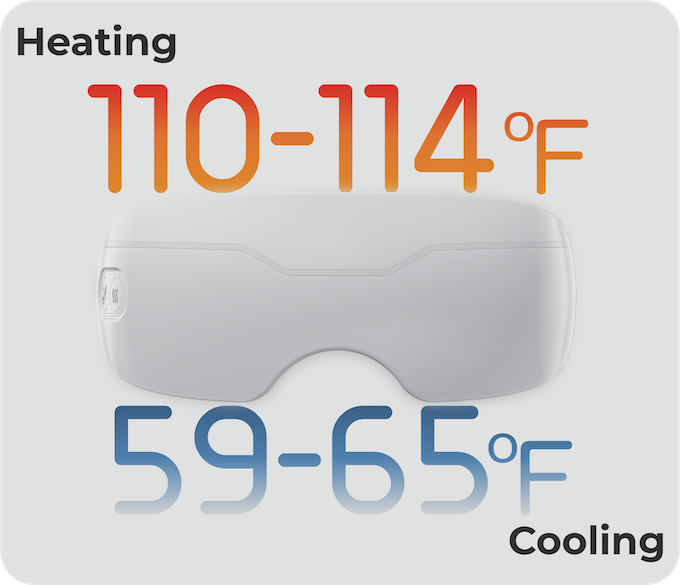 eyeSpa has managed to fit a digital heater, cooler, vaporizer and vibrator all at once despite its tiny size. This means instead of having to buy multiple massage masks or to improvise, you can enjoy all kinds of treatments with just eyeSpa. Heating is optimized at 110-114°F (43-46°C), while cooling is at 59-65°F (15-18°C). The system will keep the temperature constant regardless of room temperature.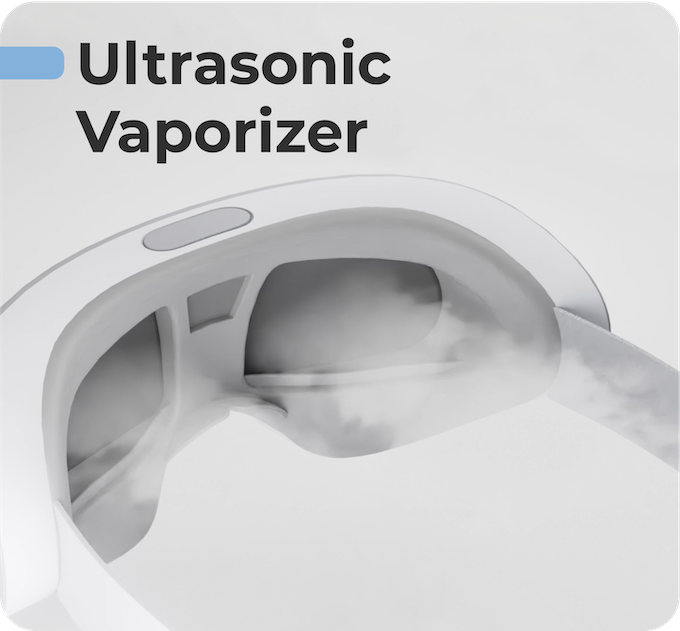 The mist is delivered by a miniature ultrasonic device that turns the water into the smallest possible vapors. Turning water into fine 3μm droplets, it can moisturize your skin with the best result.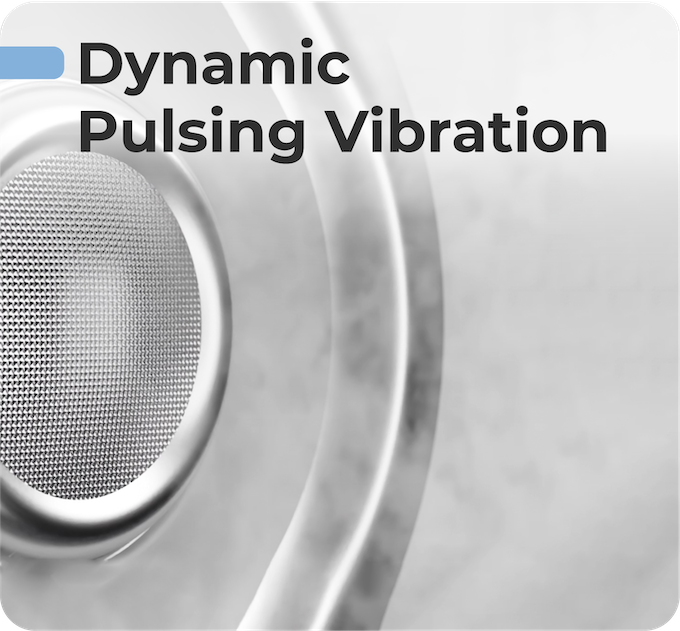 DPV is what we have introduced for eyeSpa. Developed from the common pulse vibration generator, the control on DPV is digitally enhanced so that the pulsing is dynamically variable, making the actual effect closer to a massage done by the hands of a real massage therapist. This will allow your body to relax and enter a self-restoring stage sooner.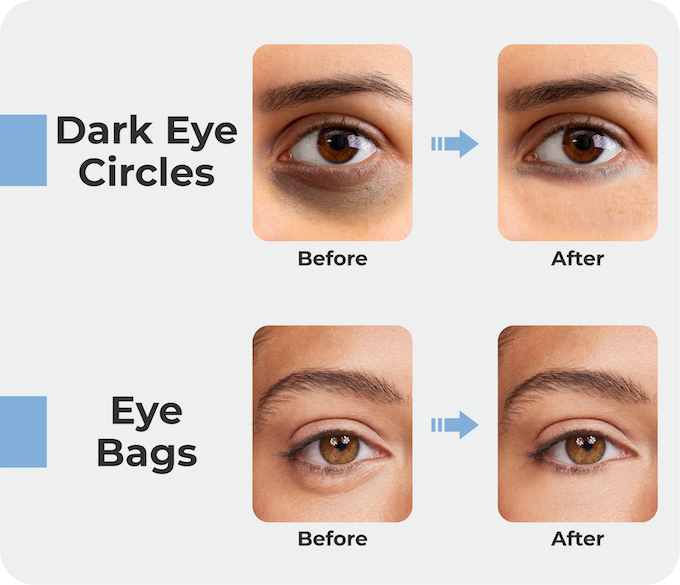 Been working or playing too hard lately? Not getting enough sleep? Dilated blood vessels can form dark circles and eyebags under your eyes and other thin lines around your face, especially within the T-Zone. They might linger around and not go away for weeks. By using eyeSpa, the cool treatment cycle will help your blood vessels get back to normal sooner.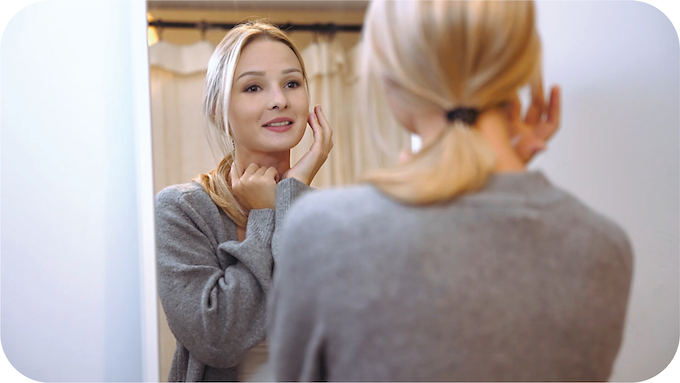 eyeSpa is a smart product and it adapts to your needs. Pre-built special massage modes combining vibration with cooling and heating are designed to help relax and moisturize your eyes. You can do it with a simple click on the eyeSpa APP to select your favorite mode.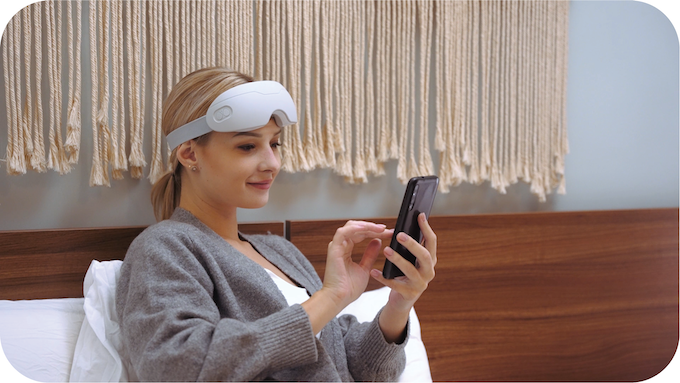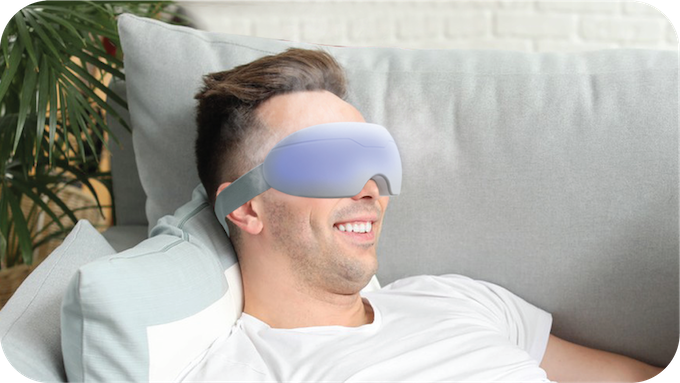 Restore your skin and eyes while relaxing. eyeSpa has a built-in 150kHz ultrasonic vaporizer that turns water into fine 3μm droplets to be easily absorbed by your body. The mist will moisturize your eyes and T-Zone while the heat opens up your pores for best effect. Only pure H2O, no chemicals.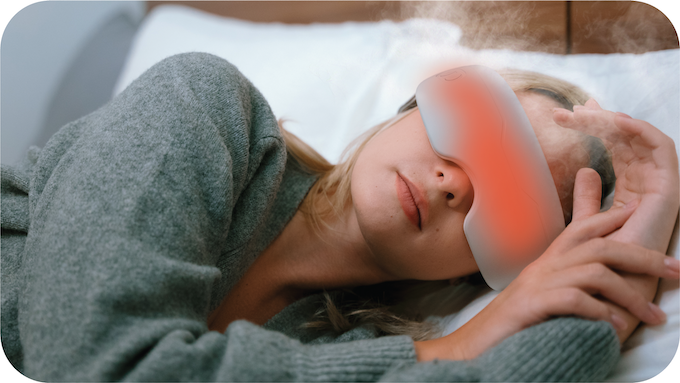 Getting a warm massage with eyeSpa will boost your blood circulation, helping your own body to repair itself sooner. This is effective to most ache, sore or minor skin conditions you have in the area the mask is placed over. The vaporizer increases moisture to the immediate area, preventing skin damage from dry abrasion.
Getting a gentle massage above room temperature is an effective way to improve sleep. eyeSpa has a micro vibration generator built inside, able to provide an effective massage yet makes no noise that might affect your sleep. eyeSpa will shut off automatically after a treatment has been done, requiring no extra attention.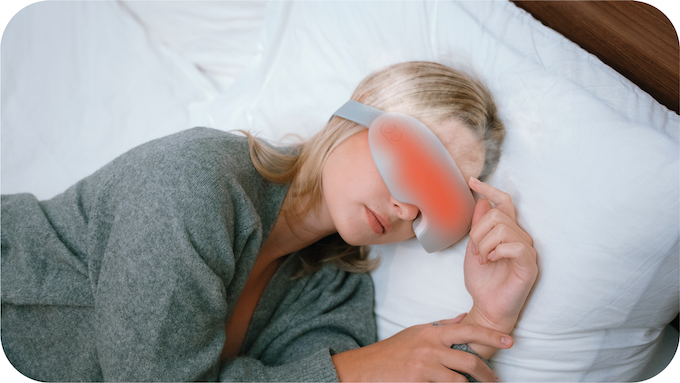 eyeSpa makes no noise . Our silent ultrasonic vaporizer turns water into a fine mist, allowing your eyes and skin to get moisturized instantly. Heating and cooling is completely silent.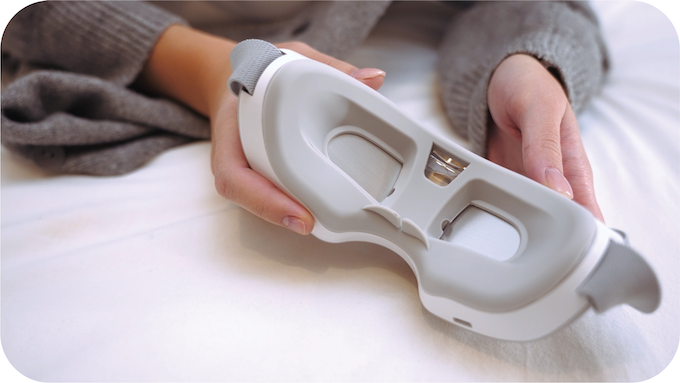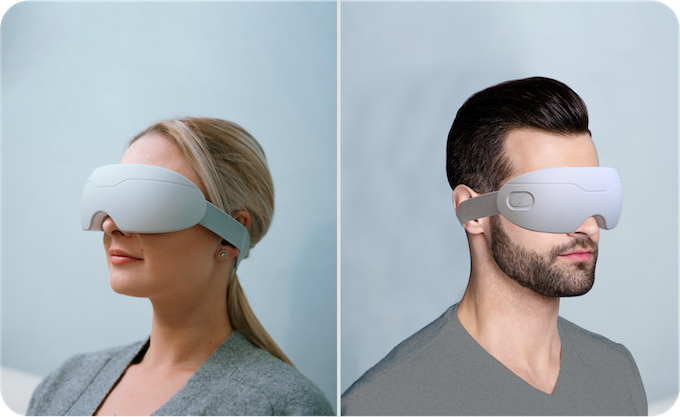 eyeSpa is suitable for everyone. It comes with a soft cushion, made of microorganism-resistant silicone that fits every facepiece. The soft cushion is detachable and easy to clean. With the self-adjustable strap, the wide elastic band could hug every head size too.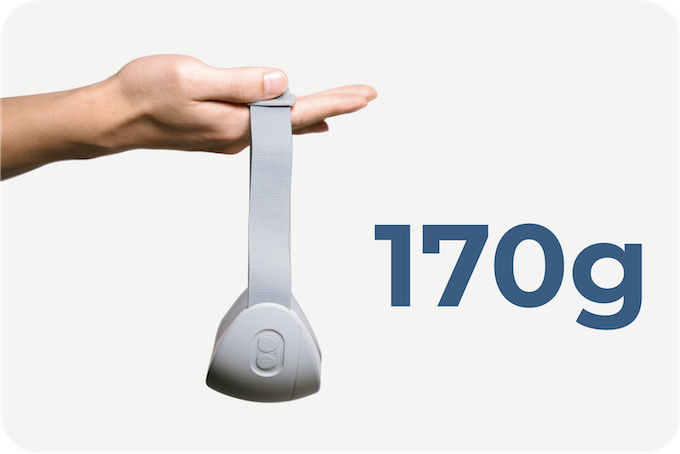 eyeSpa weights only 170g (less than 0.37lb), much lighter than any massage mask you could find in the market. It will not cause any stress on your head. The extra supportive cushion is adjustable, making it very easy to wear and take off.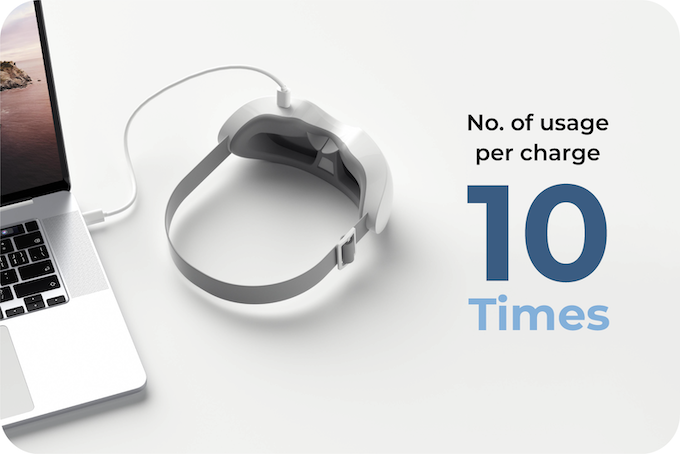 We made eyeSpa as easy to use as possible. The battery lasts 10 full runs on a full recharge. You can use it every night and only recharge it once a week.

eyeSpa is extremely easy to use. Just fill in some water and press a simple button, you can start using it. You can select your favourite mode with the eyeSpa APP or directly use it without the APP.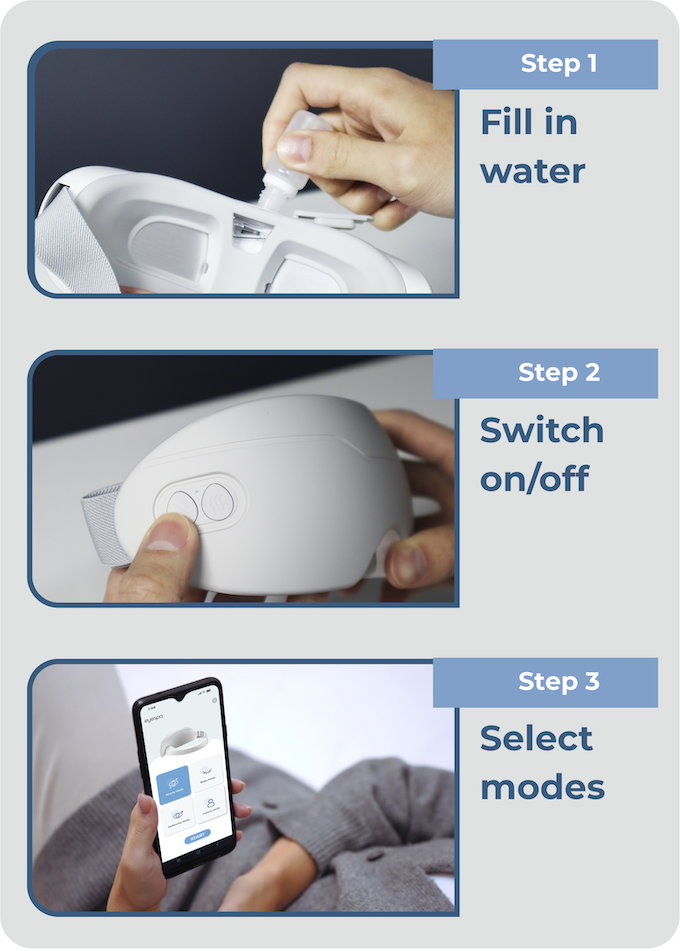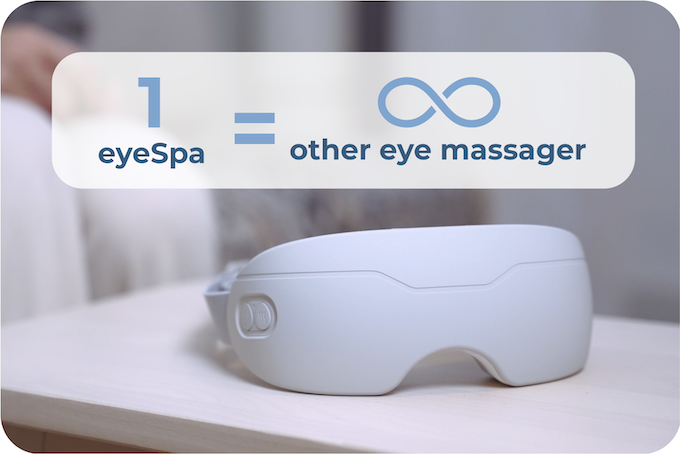 eyeSpa helps saving the Planet. The eyeSpa team is concerned about the damage done by the use of disposable eye masks. By switching to eyeSpa, you eyes will stay in peak condition without creating the carbon footprint and waste associated with disposable masks. eyeSpa uses only a small amount of fresh water for each process, and disposes no harmful material after use. A regular use will reduce hundreds of disposable eye masks and packaging from being dumped.