Dayoo Kitchen Steam Cleaner & Dishwasher
Dayoo Kitchen Steam Cleaner & Dishwasher
100% Chemical-Free | Hot Steam Sanitizing | 10s Instant Cleaning | Water-Saving | Portable

We need to talk about your kitchen.
That old sponge has seen better days. And you're dreading another long night in front of the sink.
No space for a dishwasher? We've heard it all before. 
…But what if there was an easier way?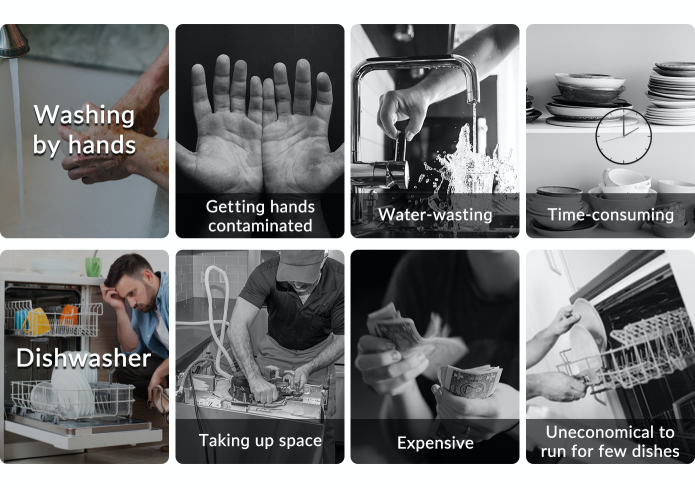 Introducing Dayoo Smart Kitchen Steam Cleaner & Dishwasher: the world's first handheld dishwasher and jet steamer. Wall-mounted and portable, it puts the power of a dishwasher in the palm of your hand, getting your dishes sparkling clean without getting your hands dirty.  
Sleek yet powerful, the Dayoo uses a 221°F (105°C) jet of high-pressure steam to blitz through grease and germs — sterilising your dishes without any soap or chemicals. So it's easy on your hands, and easy on the environment. And the Dayoo is for more than just the kitchen! Its portable design means it goes where you go, so you can use the Dayoo to clean any room in your home. From embarrassing bathrooms to your dusty garage.
*Please kindly know the video was filmed with the Chinese version and you will be receiving the global version with only the English logo on the Machine.
Never fill up the sink again. The Dayoo's low-water design means it's 80 percent more efficient than doing dishes by hand. Just pour a small amount of water into the Dayoo and let the power of steam do the work.
It's about time you took the stress out of cleaning — and went full-steam ahead with Dayoo.


That mountain of dirty dishes is a flashpoint for bacteria — which even the strongest soap can't fully wipe out.
But before you roll up your sleeves and dip your hands in dirty, soapy sink water… Take a pause.
Dayoo is here to help.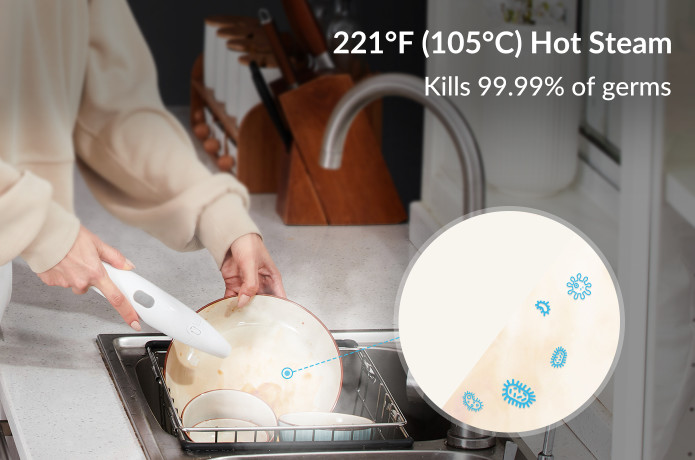 It uses a 221°F (105°C) jet of hot steam to cut through even the toughest dish grime.That's powerful enough to kill 99% of germs and viruses — all without using soap or filling the sink, so you'll never have to dip your hands in another bath of murky dish water. For spotless dishes, without getting your hands dirty.

Doing the dishes shouldn't take all night.
The Dayoo cuts through dish grime fast and saves you time. Simply turn the pressure dial, aim the nozzle at your dirty dishes and pull the trigger. A 0.3 Mpa jet of high-pressure steam cuts through dirt, oil, and grease and cuts down on cleaning time.
And the Dayoo cleans a dish in just 10 seconds. So skip the elbow grease and drop the ragged sponge — steam and sterilize your dishes in seconds without working up a sweat.

Blitz through the toughest dish grime — even last night's dried on leftovers. The Dayoo's powerful steam jet breaks down all comers and leaves your plates, pots, and pans sparkling clean. 
With an adjustable pressure setting and additional scouring nozzle for extra-tough jobs, whether you're taking on a greasy frying pan or Saturday's pasta covered plates.

It's 2022 — and you're still scrubbing down pots and pans with that dirty old sponge?
Welcome to the future of cleaning, where you can get the dishes clean without getting your hands dirty — even if you don't have space for a pricey dishwasher. The Dayoo lets you clean the dishes without putting your hands through grease, water, or soap. It uses a focused jet of steam to blast away dirt wherever you aim it, leaving the rest of your kitchen mess free.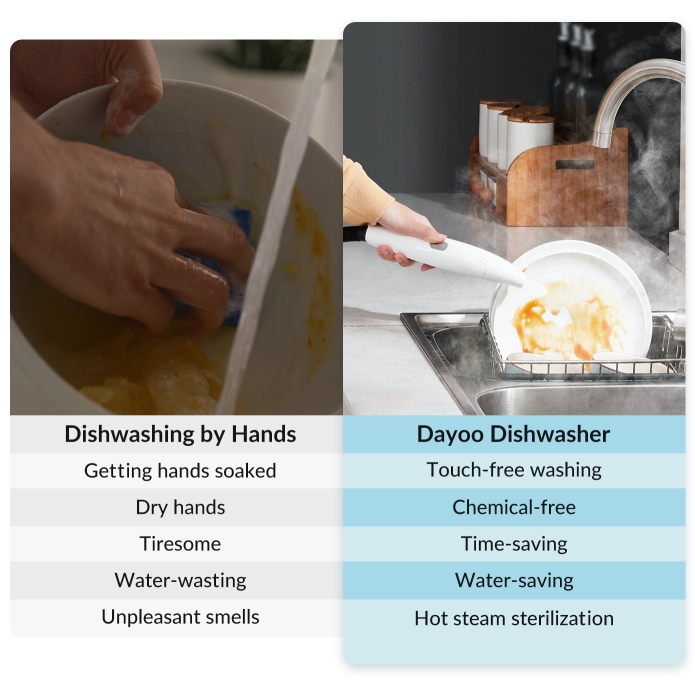 The Dayoo is for more than just dishes. 
It's portable and powerful enough for any job in your home — from messes in the garage to mold in the bathroom. The 1.5-meter (4.9ft) power cable and a 1.5-meter (4.9ft) hose combine for a full 3-meters (9.8ft) of cleaning range. 
And for even further away jobs, you can extend the range with a simple power cord, for easy cleaning in any part of your house.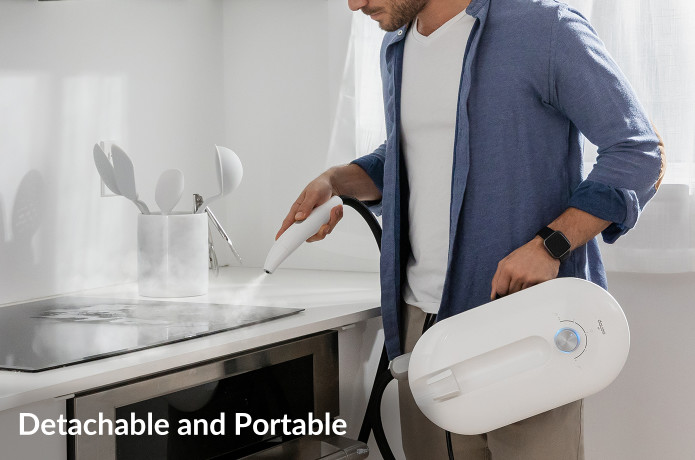 Raw meats. Food grease. Caked on crumbs.
Your kitchen is a warzone — and it's not just the dishes. When's the last time you really cleaned your sink? How about the countertop? Or your oven?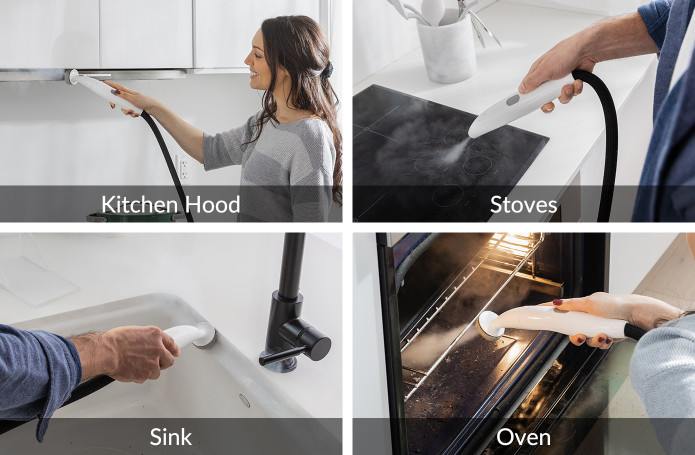 Give your kitchen the cleaning it deserves with the Dayoo Smart Kitchen Steam Cleaner & Dishwasher. Watch dirt and grease disappear before your eyes from not only the dishes, but even grimy stove tops and hood vents as you switch on the searing hot 221°F (105°C) steam jet. Dayoo makes deep-cleaning the kitchen #oddlysatisfying.

You don't need a dozen household cleaners and chemicals to get your bathroom sparkling fresh. The Dayoo's steam jets are hot and powerful enough to kill 99% of germs while washing away shower grime. Leaving behind the shimmering bathroom that was there all along.
And it's IPX6 waterproofed — meaning you can get your bathroom gleaming again without worrying about any electrical problems.
*Please kindly know the video was filmed with the Chinese version and you will be receiving the global version with only the English logo on the Machine.

Keep your whole home looking fresh with 221°F (105°C) of virus eradicating steam. Hit hard to reach corners of the room, freshen up dusty skirting boards, or vapourize those stains on your living room wall — with the easy to use Dayoo Smart Kitchen Steam Cleaner & Dishwasher.
The Dayoo disinfects surfaces and cleans your home without the use of chemicals. So you can relax safe in the knowledge your home just got a whole lot cleaner.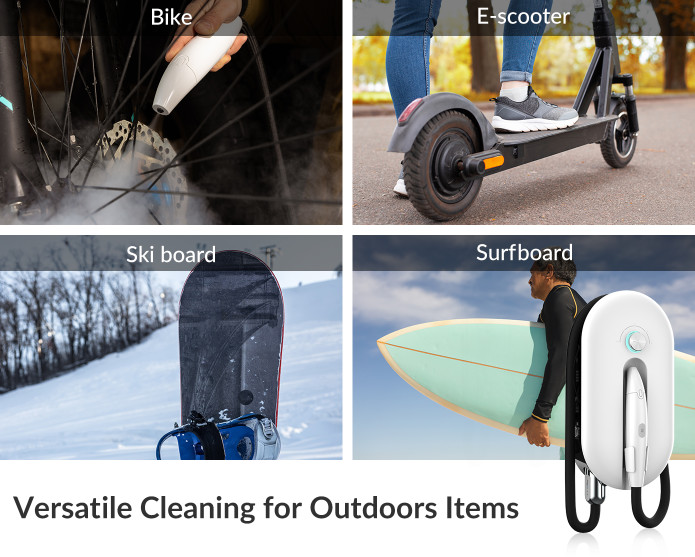 Give your car the deep clean it's been waiting for and get your garage shelves looking like new again. With a full 3-meters (9ft) of cable, you can reach all your garage's trouble zones – even the high-up ones.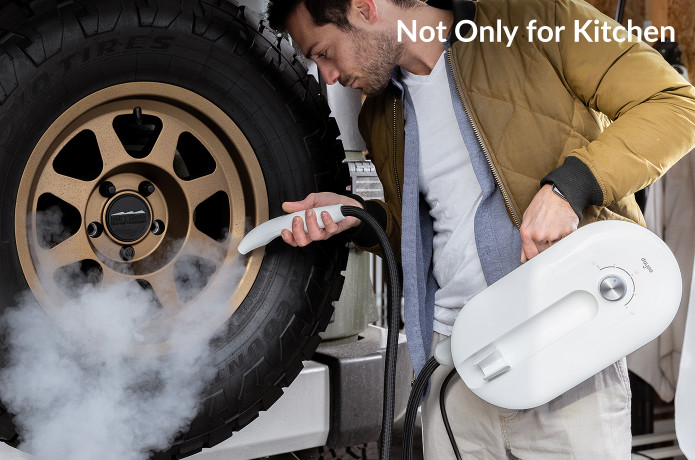 Pets can turn your home into a haven for germs. And baby bottles need extra care, without using dangerous chemicals. 
That's why the Dayoo is 100% chemical-free. It relies on a hot steam jet to eliminate 99% of germs, keeping your dishes, cutlery, and glasses clean without leaving a chemical residue behind. So it's easier on your health, and easier on the environment.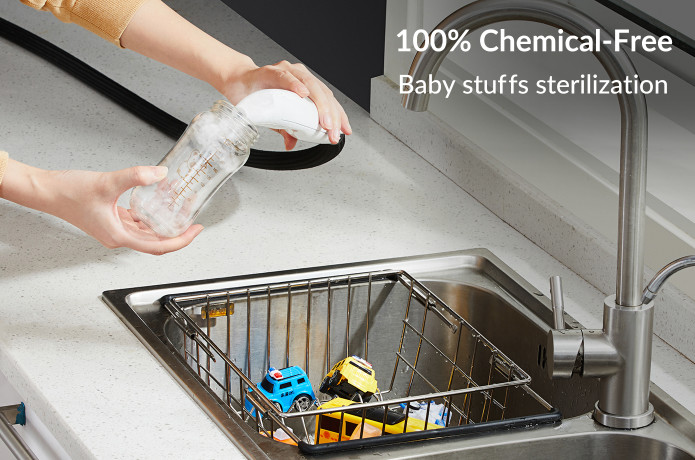 No room for a dishwasher? Tired of waiting hours just to get a couple of plates cleaned? The Dayoo will save you space in your kitchen and get your dishes done faster, all while saving on water and cutting out your need for harsh soaps and chemicals. 
Already own a dishwasher? The Dayoo and your dishwasher make a great team. Use the Dayoo to spot clean extra tough messes that your dishwasher can't handle. And if you need a dish or two right away, quickly steam them with the Dayoo instead of wasting time and water on a full cycle in the dishwasher.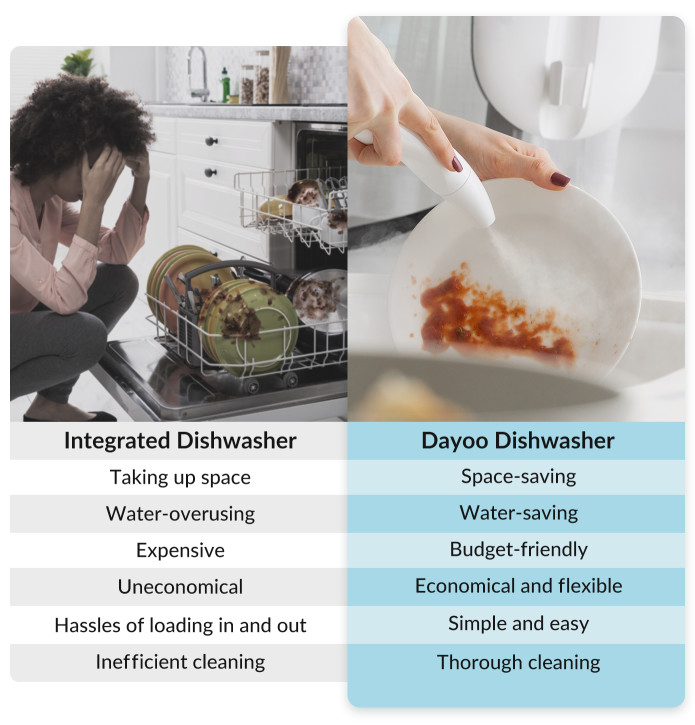 The cleaning power of steam. The safety of smart design. Hold the Dayoo at a distance of 0.8 inches (2cm) from any dish or surface and watch 221°F (105°C) steam easily melt away the toughest dish grime and dirt. Once the steam is released, it rapidly cools to a safe and comfortable 122 °F (50°C). 
For added security, keep your hands 4-inches (10cm) away from the nozzle while cleaning with the Dayoo. 

A running tap uses about 6 liters (1.6 gallons) of water per minute. 
The Dayoo's 1.2-liter (0.3 gallons) tank will last you for a whole week on one fill. That's about 90 dishes! That's because Dayoo was designed with the planet, and your water bill, in mind. Our lab data shows the Dayoo reduces water wastage by 80% compared to washing by hand. So steam on — without worrying about waste.

Don't crowd your kitchen. The Dayoo hooks right onto your wall and blends in without taking up half the space. Plus it's portable — if there's a mess in the garage you can just lift it off the hooks and take it to where the action is.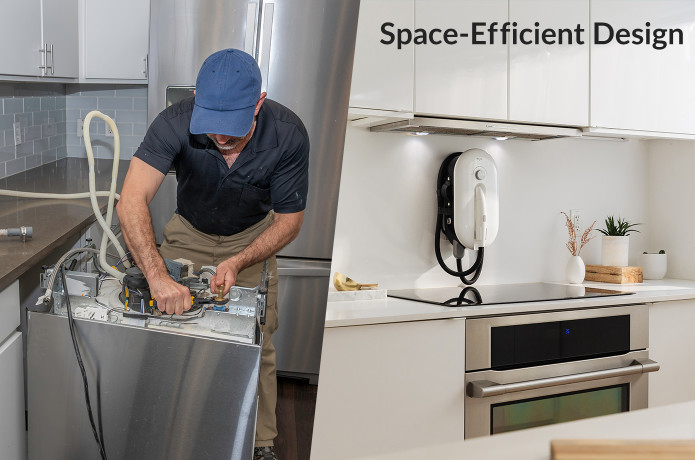 Every mess is different. The Dayoo comes with an easy-to-use Pressure Control Dial, so you can zero in on your target and tackle any type of dirt. Because burnt on cheese requires a different approach from leftover Caesar salad.
The standard nozzle: Channel the cleaning power of the steam jet. The standard nozzle is your go-to for cleaning everything from baby toys and cat boxes to windows or fridges. 
The scouring nozzle: Designed to scour away stickier messes — from grimey wire racks and stoves to burnt pots and pans. 
The silicone pad: Brush off any old tough grease with silicone bristles. Install it on the standard nozzle and boost the cleaning power to another level.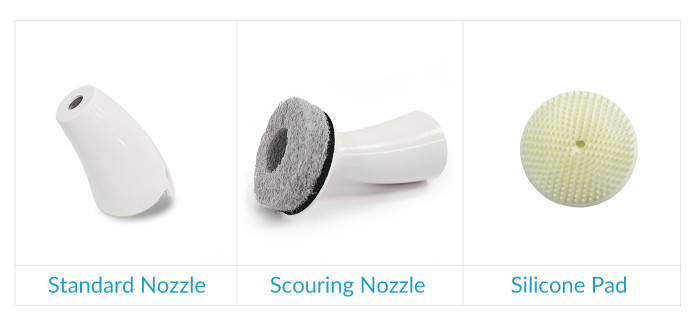 As a parent, your child's safety is number one. And here at Dayoo, we share your concern. Our kitchen cleaner comes with a built-in childproof lock that means your children are safe, no matter how curious they might be.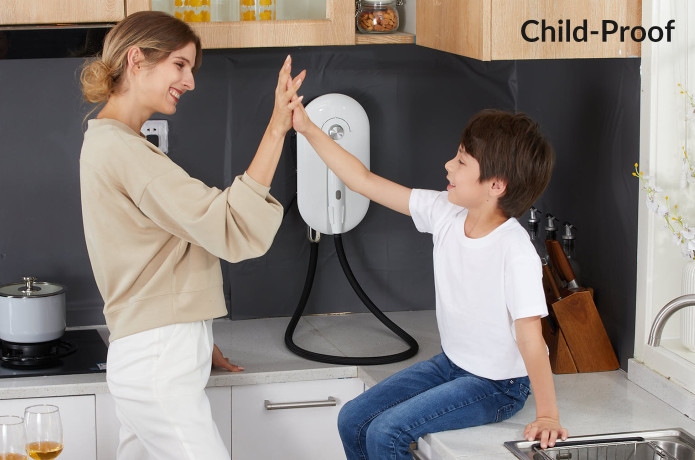 Keep everything in its place with our integrated cable holder. The Dayoo's cable length is adjustable, meaning you can wrap the cable behind the unit and avoid the eyesore of messy wires in the kitchen.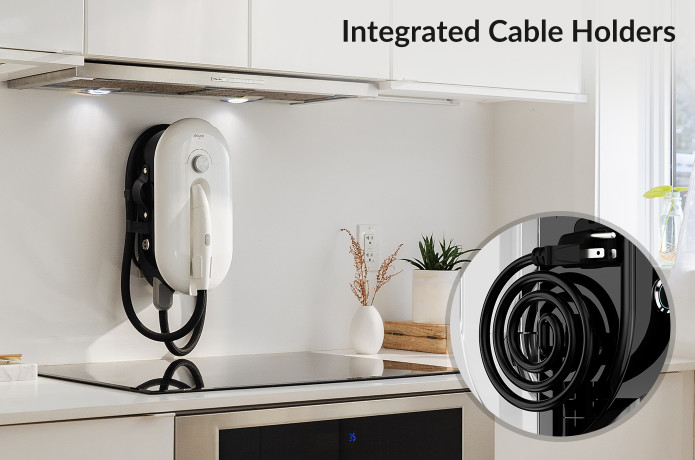 *Kindly know that the US version of Dayoo Smart Kitchen Steam Cleaner & Dishwasher does not feature integrated cable holders.

The Dayoo is easy on your walls. It comes with ultra-adhesive strips that stick solid to smooth surfaces without leaving any marks behind. 
Or, if you want to give the Dayoo Steamer a more permanent home, it comes with optional nail installation. Both options are simple enough to install in minutes, without professional help. It's that simple.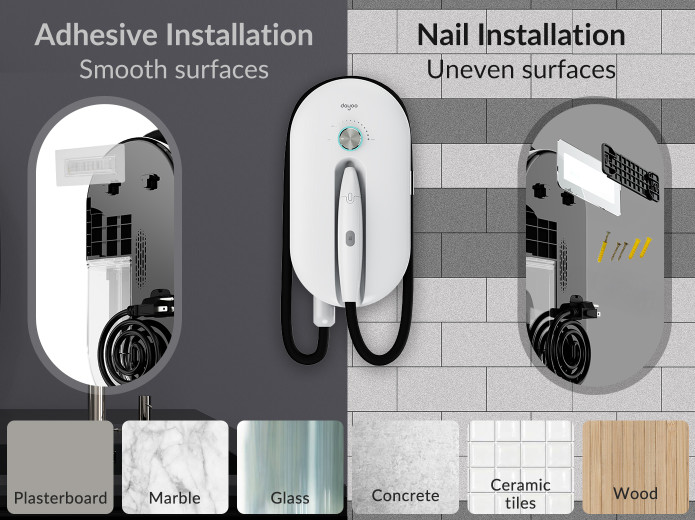 Check out the video demo here where we've included the 2 installation options and know how easy it could be. We will be providing 2 adhesive pads for the adhesive installation. The adhesive pads can stick firmly to a smooth surface for years, however, we do not suggest you to reuse a pad when you need to remove the hook since the strip will get loose easily every time you reuse it and it is also easy to find alternatives on the market.