Let's face it, power bank is as essential as your ATM card these days. As we are spending more time on our phones every day, the battery life of these devices hasn't seen much improvement so power backup is needed. But power banks are usually bulky and heavy. Don't you wish it is as small as a credit card?
This is how Lifestyles Trading designed Angel. Angel is a compact power bank that is just the size of a common credit card and weights just 100 grams. It is just half the weight of most flagship mobile phones! It contains 5000mAh of "juice". While it isn't the largest on the market, it is certainly above average in such a tiny package.
Angel was sent to us in a minimalist package just like the device itself. We believe the final packing might differ though, as this one lacks a user manual. The device is small, yet rather handy probably due to the curved edges it has which helps with handling. All connection slots are on the top side and power level lights are at the front. Overall a conventional and proven layout.
Angel is small for a power bank but it is not weak, in fact far from that. From its dual USB output that supports both microUSB and Type-C USB devices, it can output with 'Divine Power' Delivery (DPD) at 18.5W power on standard 5V voltage to two devices at the same time. It has no problem charging even more power-demanding devices, like a large tablet. On their speed test, it recharges an iPhone 11 Pro back to 50% in just 45 minutes. Testing with our device, you can see the fast-charging logo displayed, confirming its speed is up to its claim for up to 5A.
If these do not make Angel stand out enough, its graphene battery should. Graphene battery is a relatively recent invention, as an improvement over existing Lipo battery. Made of a very strong and dense material that stores power, a graphene-enhanced Lipo battery has better capacity at the same size, doesn't heat up during use and has up to 3 times the life of existing Lipo battery. It is also less affected to outside temperature, meaning you do not need to worry about losing power with it out in the cold.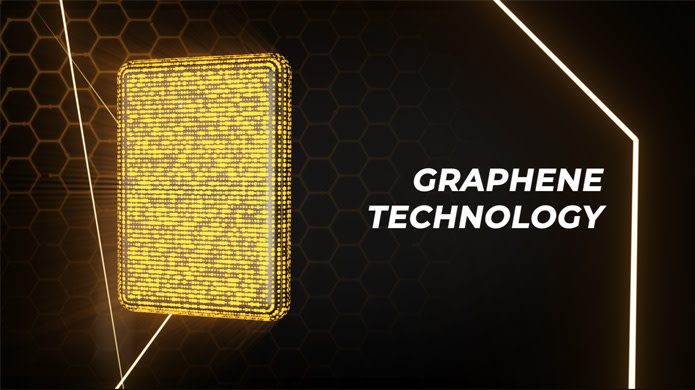 We have heard from the creator that Angel has been certified by both FCC of the United States and CE of the EEA for safety, as well as by RoHS for its manufacturing process. The company places a 2 years warranty on the device, which is as long as a power bank can get. The estimated life of the battery is 5 years and the usual over-discharging, short circuit protection & over-charging protections have been built in.
In a market where most people consider saturated, the Angel adds an alternative as a very compact power bank with premium performance and innovations. The design is very practical and will be convenient to use. There is no real downside to the graphene battery, its extra lifespan and stability are always welcomed. If you are looking for a new power bank that keeps your stuff running for a long day, Angel is it.