ENCO240: Portable 240W 3USB-C&1USBA GaN Charger
140W USB-C|3C & 1 A Ports|240W Total Output | 90° FOLD | Charge 4 USB devices at the same time
Pledge Here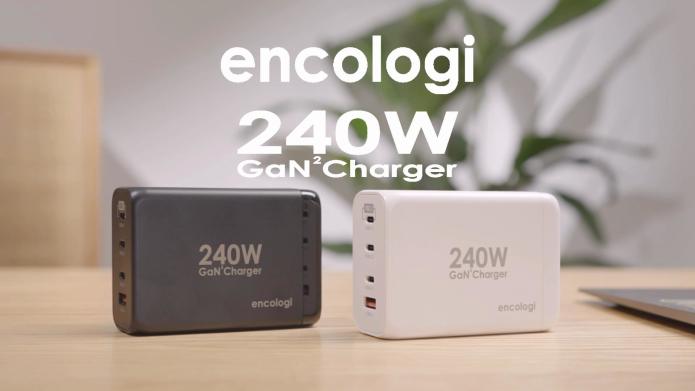 In our daily lives, with the advancement of technology, we use more and more smart devices. All these devices require charging, which leads to the following problems:
◆Slow charging speed.
◆The inability to charge multiple devices simultaneously with a single charger.
◆Cluttered desktops with various charging devices.

For those who are frustrated with slow charging speeds or carrying multiple chargers, enco240 is the perfect high-power charging solution.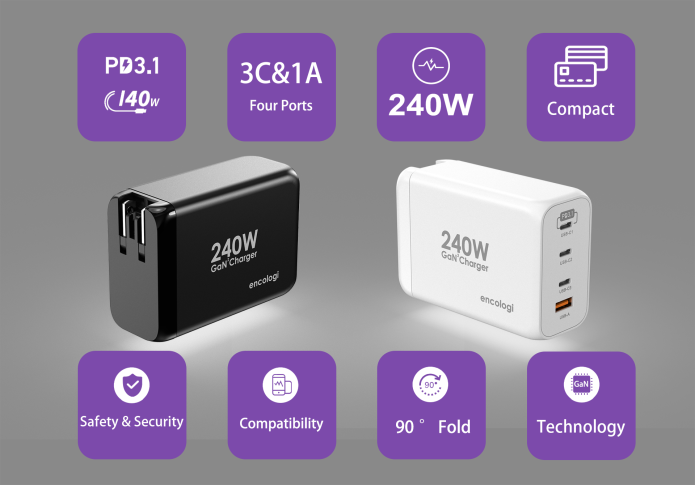 Enco240 adopts the latest PD3.1 protocol, allowing a single port to reach a maximum output power of 140W (28V/5A).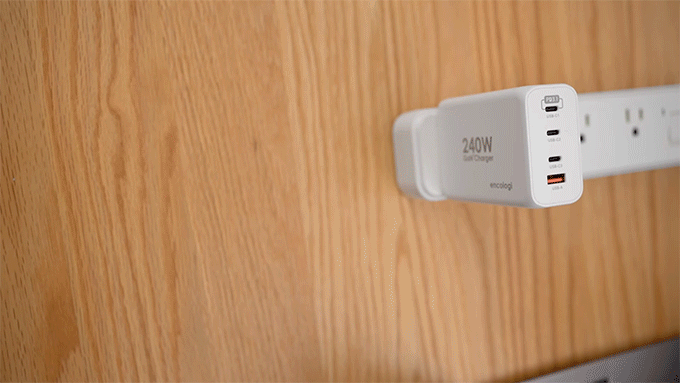 It is fully compatible with the MacBook Pro 16 and provides a fast and efficient charging experience in a short period of time.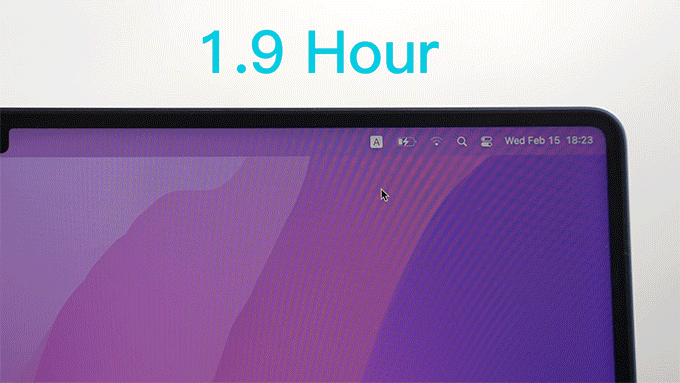 The charging time for the MacBook Pro 16 is only 1 hour and 50 minutes. With the ability to charge quickly within a short time, the device's efficiency is significantly improved.

Enco240 features 4 charging ports, 3 USB-C ports, and 1 USB-A port. Each port has different power outputs: 140W, 100W, 65W, and 60W. This allows for simultaneous charging of multiple devices with different charging needs, thereby enhancing device operational efficiency.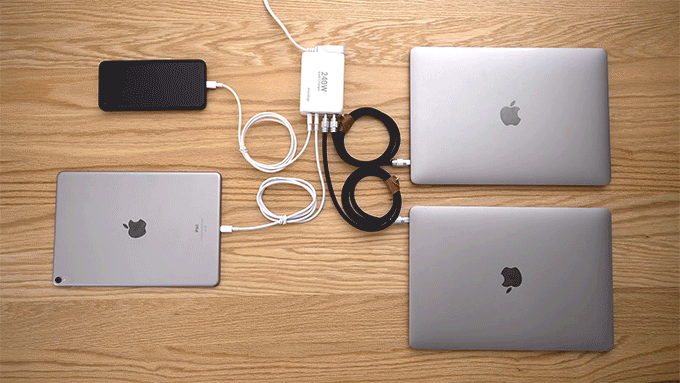 Type-C1:5V 3A、9V 3A、12V 3A、15V 3A、20V 5A、28V 5A、PPS: 3.3-21V 5A
Type-C2:5V 3A、9V 3A、12V 3A、15V 3A、20V 5A、PPS: 3.3-21V 5A
Type-C3:5V 3A、9V 3A、12V 3A、15V 3A、20V 3.25A、PPS: 3.3-11V 5A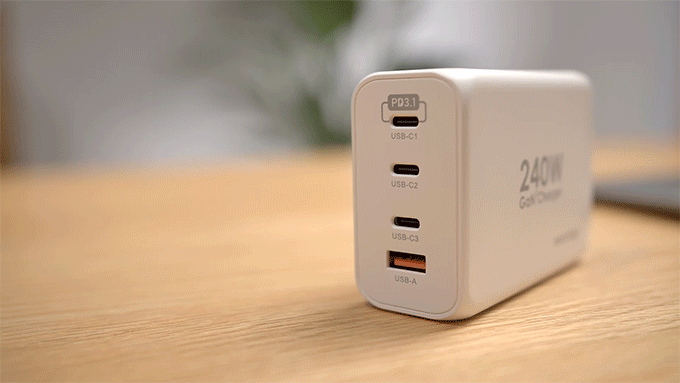 USB A:5V 3A、9V 3A、12V 3A、15V 3A、20V 3A

The The dimensions of enco240 are 90x65x36mm, about the size of a credit card, yet it can provide a charging power of up to 240W, achieving a power density of 1.14W/cm³.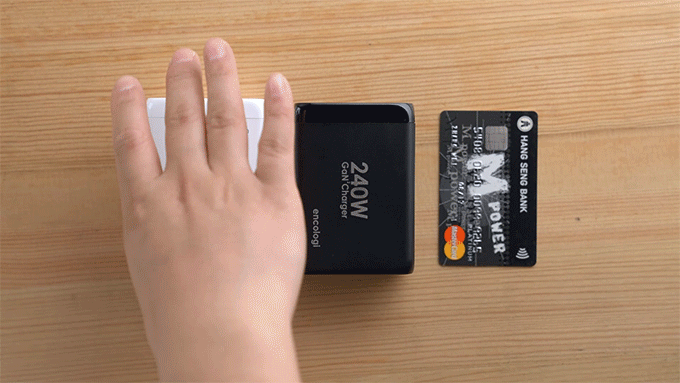 The Its compact design and mini size allow it to fit securely into a wall socket without falling off.

Enco240 is indeed very compact and lightweight, measuring just 90mm x 65mm x 35mm. It can be easily stored in a pocket or backpack, allowing you to carry it with you effortlessly and enjoy the convenience of fast charging anytime, anywhere.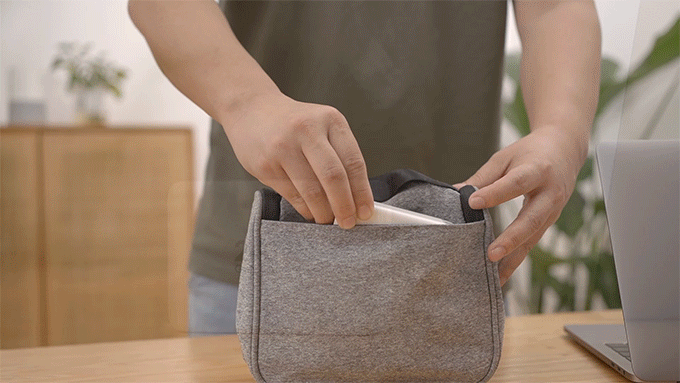 Enco240 is a convenient and powerful charger that is ideal for world travel. It supports a wide voltage range (100V-240V) and is compatible with various plug standards used in different countries. Simply by swapping the plugs, you can use it anywhere in the world without any issues.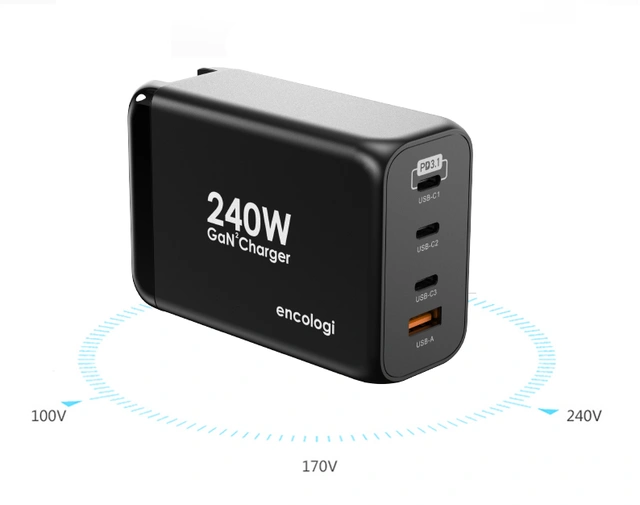 Frequent business travelers and avid travelers require a convenient and portable charger. enco240 is a versatile charger that supports plug standards from many countries, allowing you to charge various devices. This charger is a handy item for efficiently charging the necessary devices during business trips or travels. With enco240 by your side, you don't have to worry about charging wherever you are.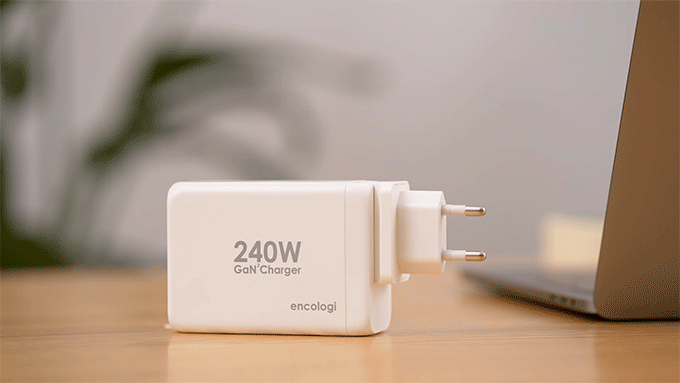 In Addition to meeting the charging needs on the go, enco240 can also adapt to more complex usage scenarios, such as transforming into a desktop charger by connecting an extension cable. It is designed to accommodate various charging environments and provide flexibility in its use.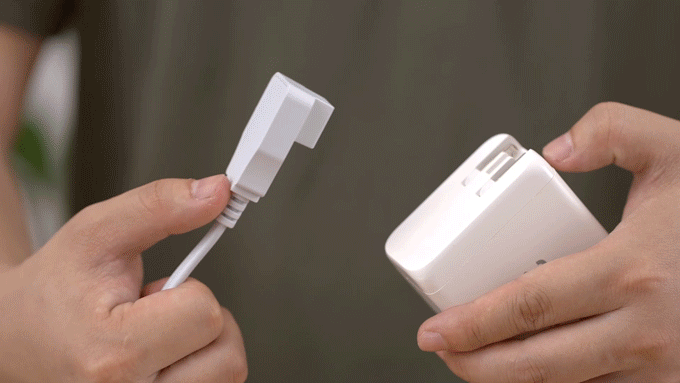 With Enco240, your desktop can be organized and decluttered as it allows you to meet all your charging needs with a single charger. By eliminating the need for multiple chargers and cables, enco240 helps create a clean and tidy desk space. You can charge multiple devices simultaneously using its multiple charging ports, reducing cable clutter and simplifying your charging setup. With enco240, you can enjoy a neat and streamlined desk environment.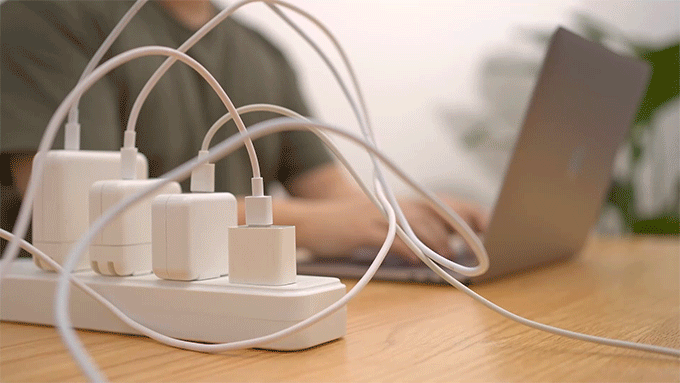 Enco240 boasts extensive compatibility and can be used with a wide range of smart devices and electronic products. Whether it's iPhones, iPads, MacBooks, Android smartphones, tablets, or other charging devices, enco240 provides fast and stable charging for them all. It supports both USB-C and USB-A interfaces, accommodating various charging cables and connectors. Whether you're at home, in the office, or on the go, enco240 is capable of meeting your charging needs.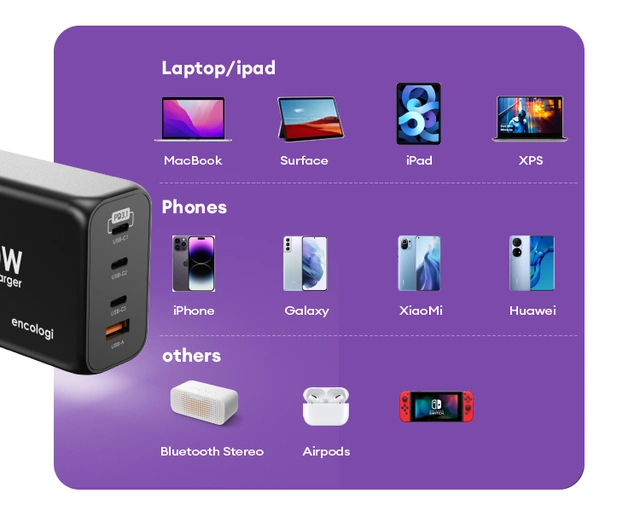 Enco240 has intelligent power distribution capabilities that allow it to efficiently allocate power to connected devices. With its multiple charging ports, each with different power outputs, it can intelligently distribute power based on the connected devices' charging requirements. This ensures that each device receives the optimal charging power without compromising overall charging performance. Whether you have high-power devices that require maximum output or multiple devices with different power needs, enco240 can intelligently manage the power distribution to provide efficient and effective charging for all connected devices.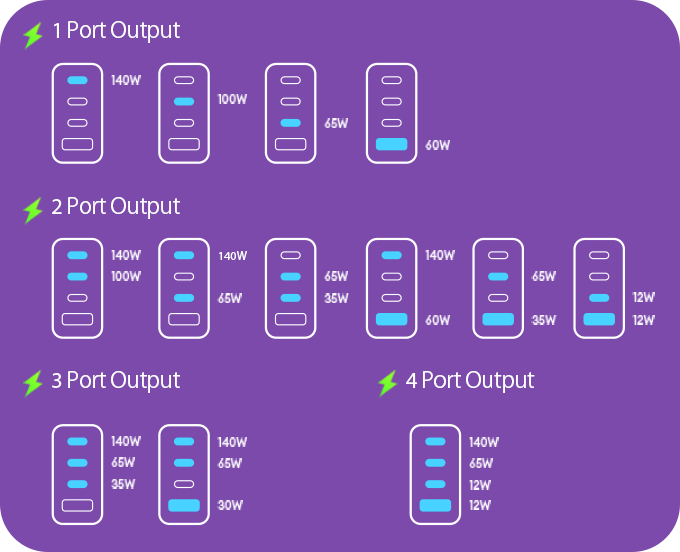 The charger adopting gallium nitride (GaN), a third-generation semiconductor material, features characteristics such as high voltage, high frequency, high efficiency, high temperature resistance, and chemical stability. This enables the charger to achieve compact and lightweight design, easy charging capabilities, and higher power conversion efficiency compared to conventional chargers. GaN-based chargers offer improved performance and advancements in power delivery technology.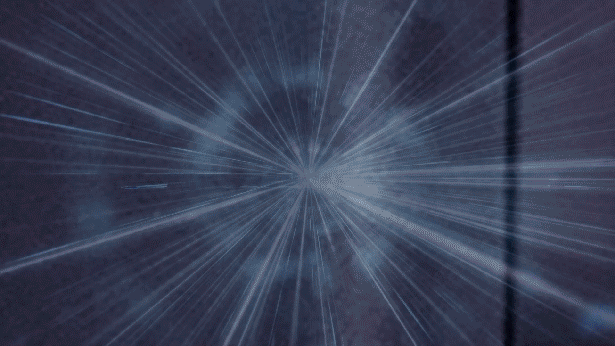 The Pawly Door detects when your cat tries to bring home prey, keeps intruders outside, and helps you find your missing cat.
  MAKA - The most powerful laser measuring tool for worksites? Recently, we have been asked by MAKA to review their universal measurement tool. Although most of us around here were not used to fixing stuff or doing home improvements ourselves, this trend is...
Search for awesome projects
You may also be interested in
Use day or night to become more focused, more productive, and more relaxed.
No More Tangled Cords | 165W Powerful Suction | Featuring 3D Pool Map Planning & Navigation System | 5 Cleaning Modes
The most versatile laser measure that integrates 9 materials stud finder, thermal imager, cross laser level and much more
You may also be interested in
Use day or night to become more focused, more productive, and more relaxed.
No More Tangled Cords | 165W Powerful Suction | Featuring 3D Pool Map Planning & Navigation System | 5 Cleaning Modes
The most versatile laser measure that integrates 9 materials stud finder, thermal imager, cross laser level and much more