SUPERHEXA Vision:Most Powerful Dual-Cam AR Glasses
Hands-Free Shooting| 1-15x Hybrid Zoom| Brightest AR Display| Real-Time Translation | Live Streaming
Pledge Here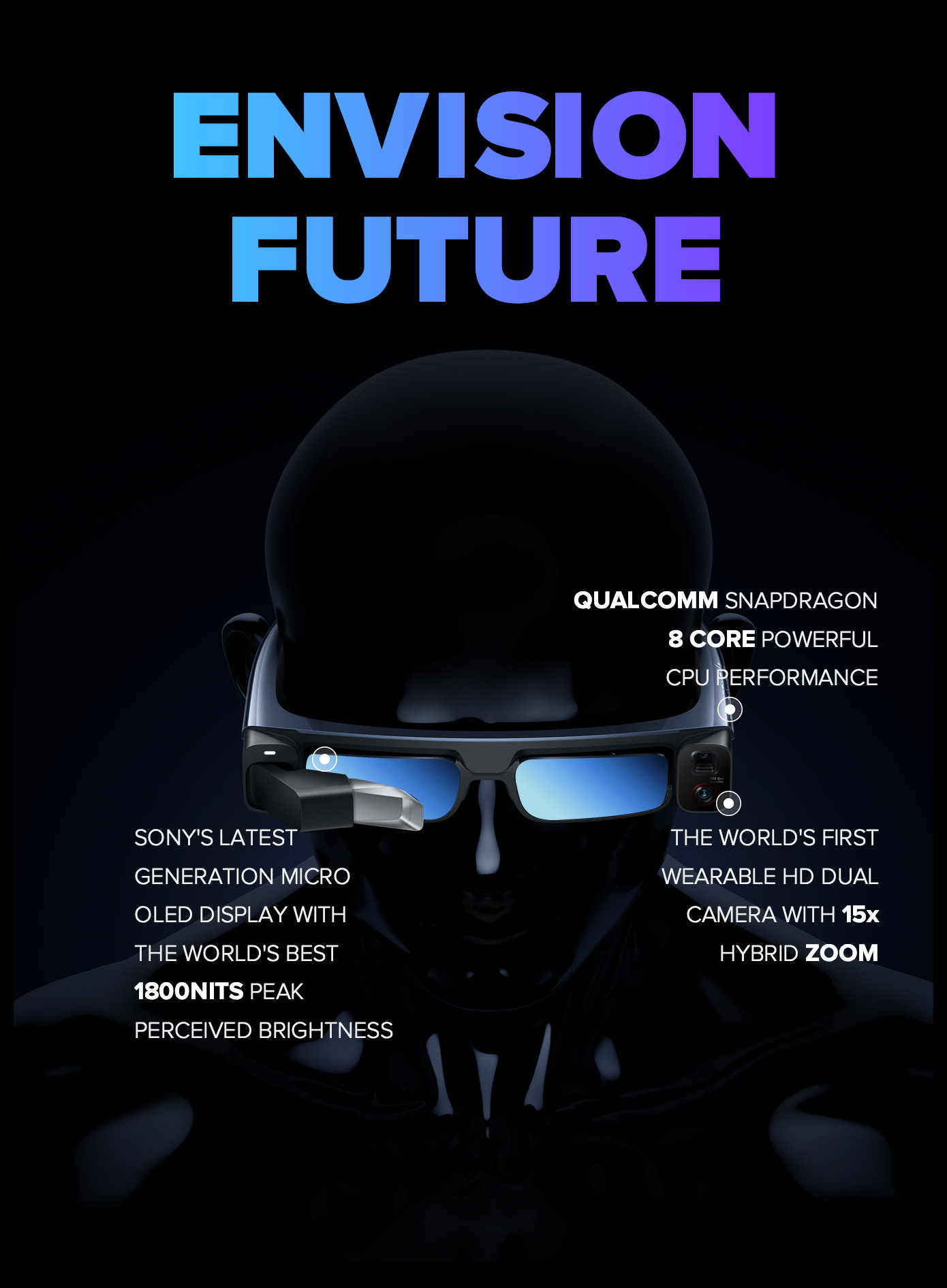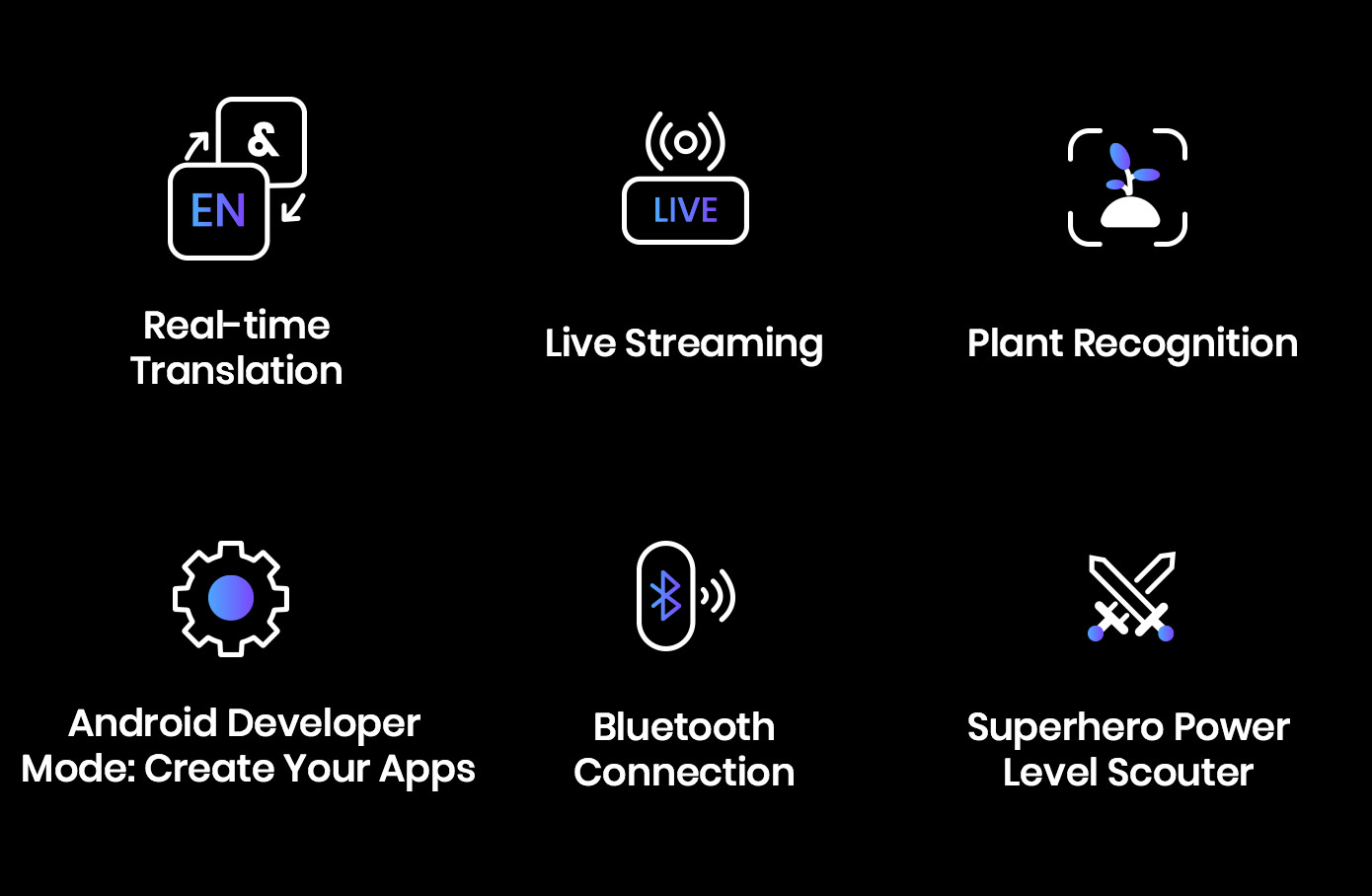 SUPERHEXA Vision AR glasses give new meaning to being 'camera-ready'. These smart wearables are always at the ready – available anytime and anywhere – without the usual concerns of outdoor glare and need to get into position to take a shot. Whatever image or scene you like the look of, your Superhexa Vision glasses are ready to capture the moment. This is the next level up from even the very best mobile phone or conventional camera.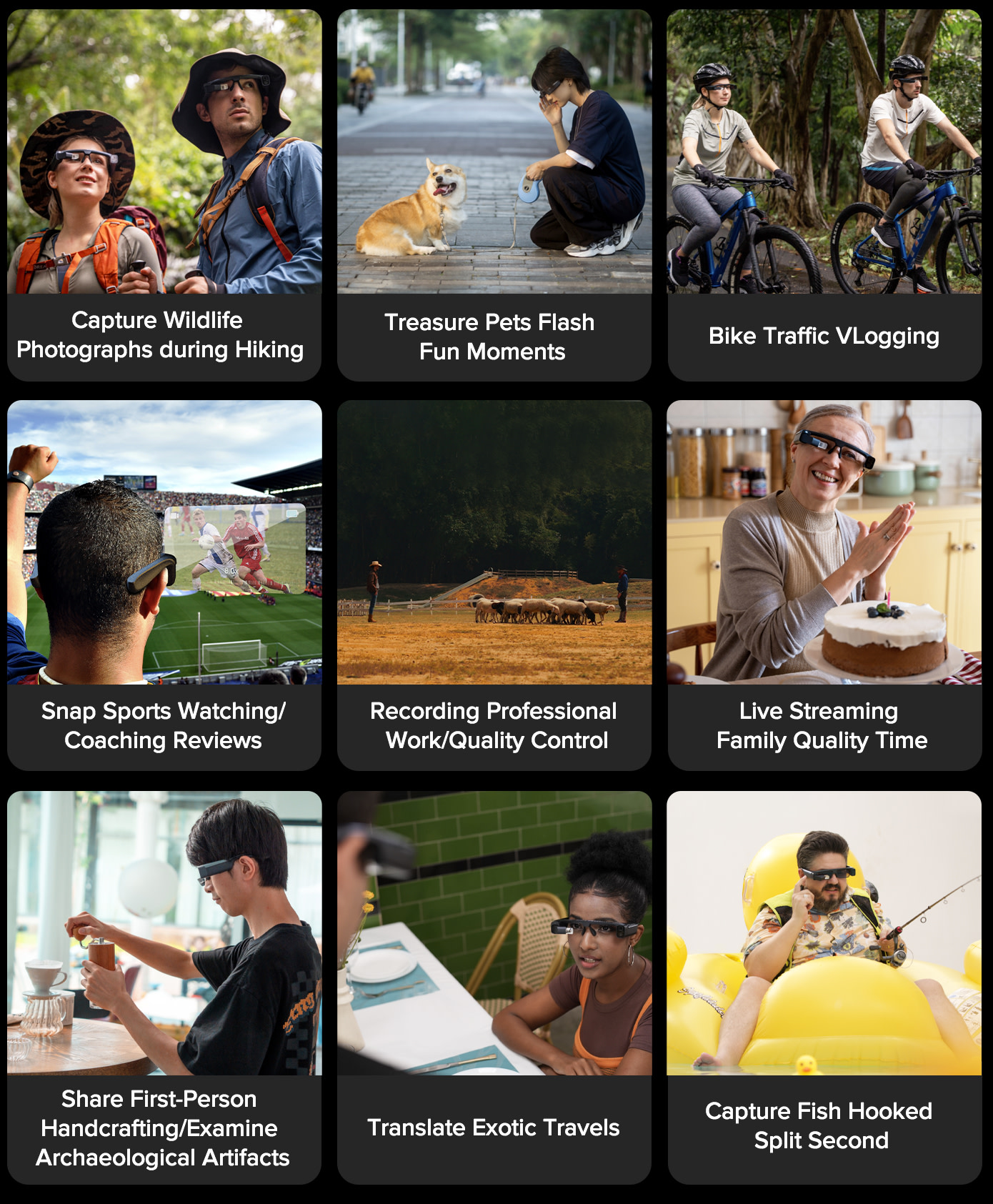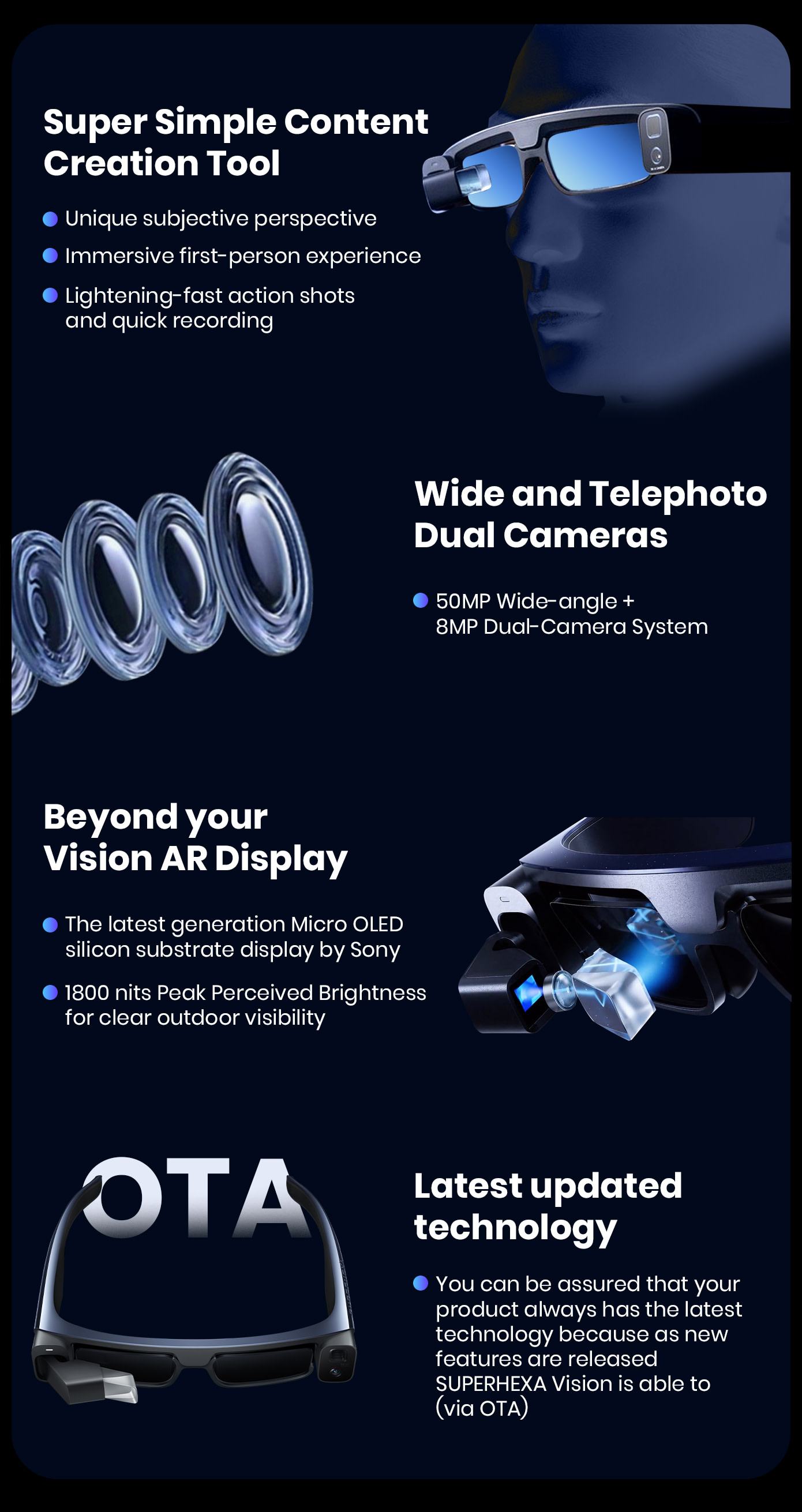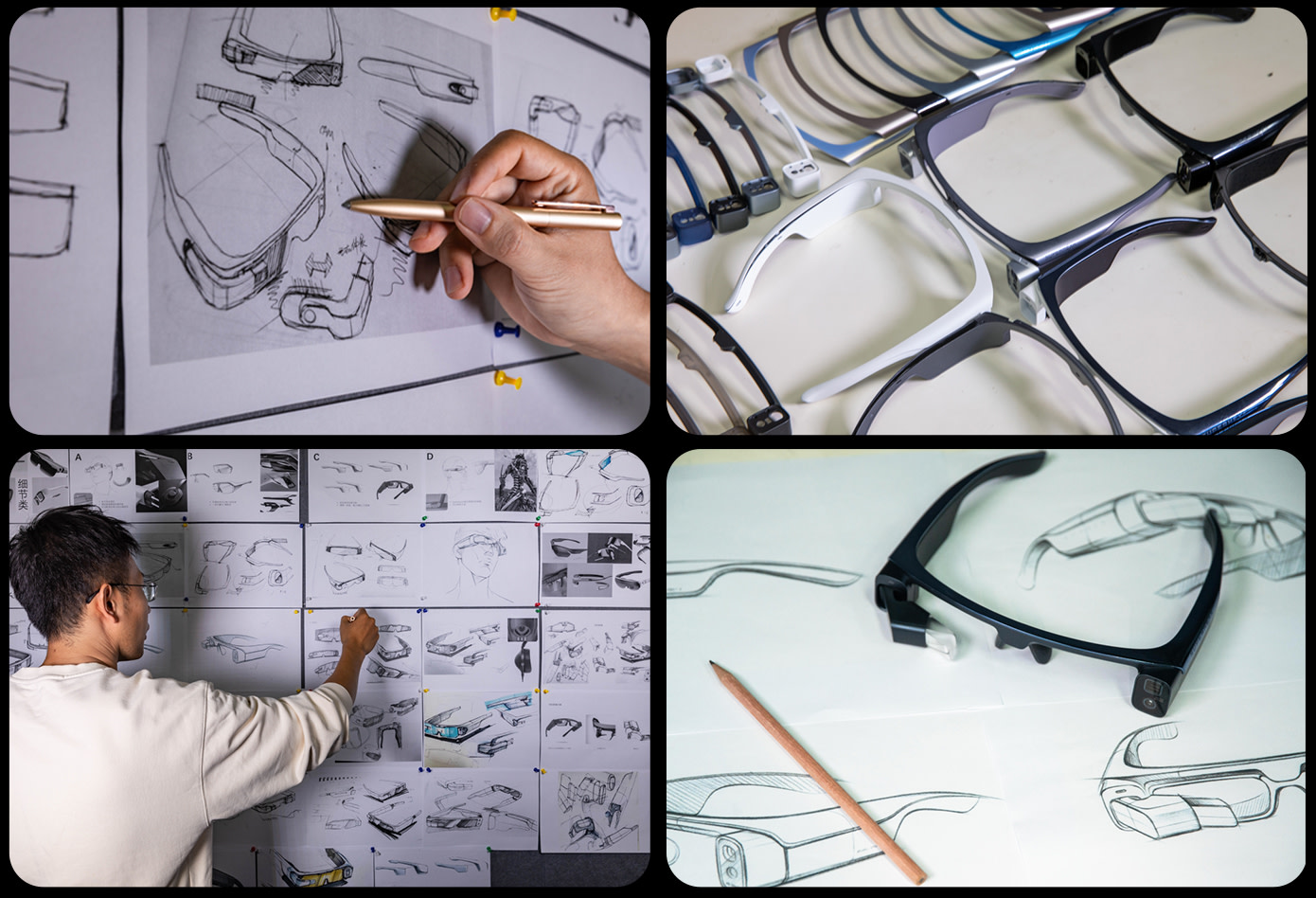 These smart glasses don't confine you to the virtual world. In fact, they open doors to seeing the real world through new eyes.
The team at SUPERHEXA Vision is committed to providing you with a fully immersed Augmented Reality experience, as well as helping you capture new possibilities in whichever 'real' environment you are in.  
Flexible AR
The AR that empowers reality
Now the power of the virtual world provides tools for an even richer real-world experience.
There is nothing more fascinating than where we are right now in this time-space reality. With SUPERHEXA Vision we expand the depth and breadth of what can be seen and captured in the real world. By breaking through the limitations of our human vision, we embrace a greater ability to explore the world and catch a glimpse of what our future holds.
So cool!
The NCVM coating of the glasses process has created a unique futuristic blue shine that not only looks uber-cool but also surpasses industry standards.


The most powerful camera system in the history of eyewear, SUPERHEXA Vision is the first in the field of eyewear to apply the dual camera solution. This dual camera provides the very best visual options at every moment. There's no 'lining up a shot' or positioning yourself differently, you just take in the view and record the moment simultaneously.

While you're enjoying a pure, first-person experience, SUPERHEXA Vision also frees up your hands, so you don't need to stop what you're doing in order to take a photo. You simply tap the touchpad to capture the images and keep enjoying the moment.

For a truly hands-free experience, Superhexa Vision is fully supported with voice control so there's no need to press a button, just speak your command.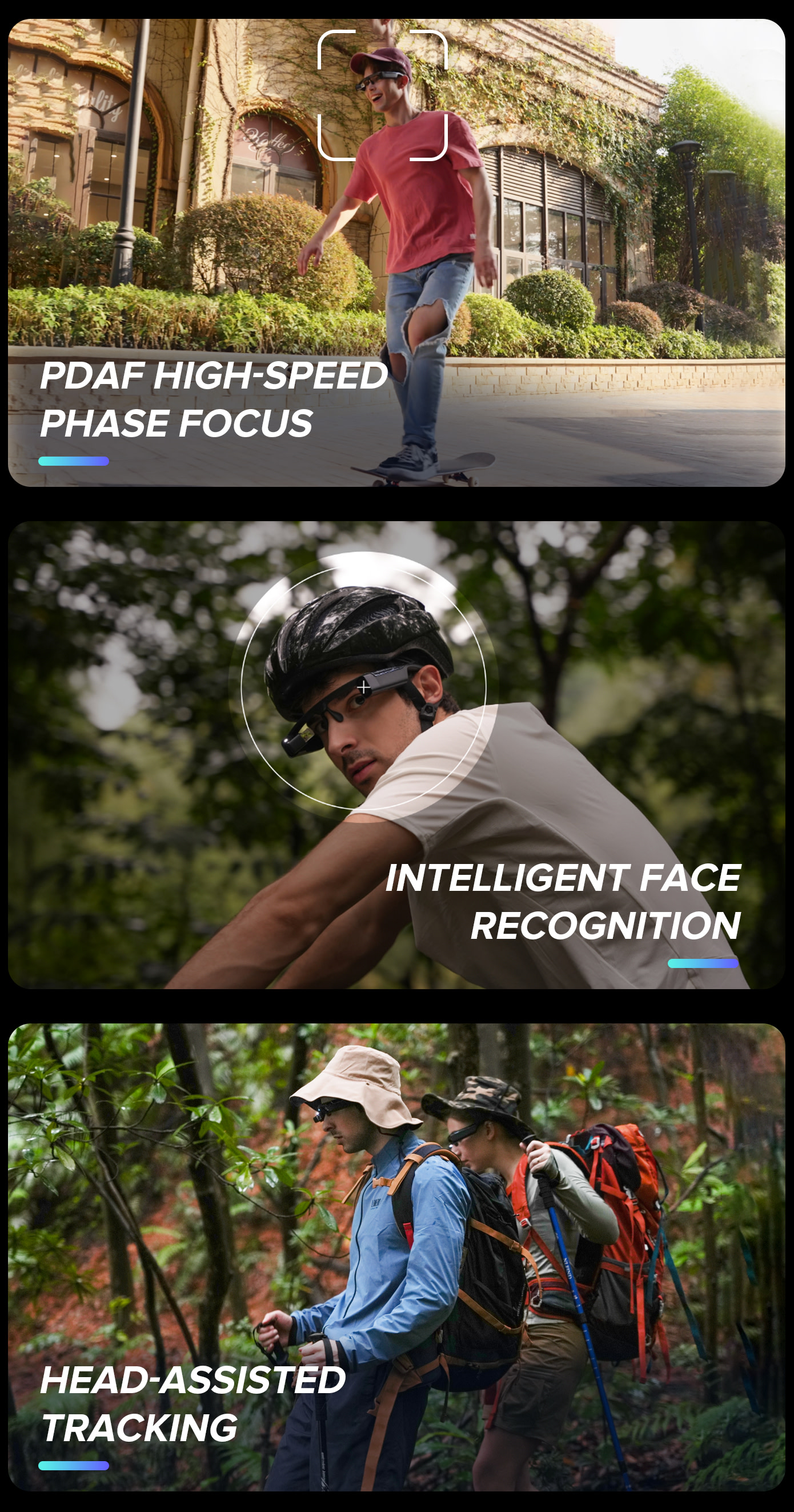 We created Hybrid AF for SUPERHEXA Vision so you don't have to manually focus or check the light or composition of the image, just keep looking at the subject and press the photo button.

Missed the moment? Don't worry! In Flashback mode, SUPERHEXA Vision actually pre-records the first 10 seconds of the video before you've even pressed the record button. Now you'll never need to live with the regret of missing any precious moment.

Super crystal clear near-eye display offers an incredible HD real-time viewing experience.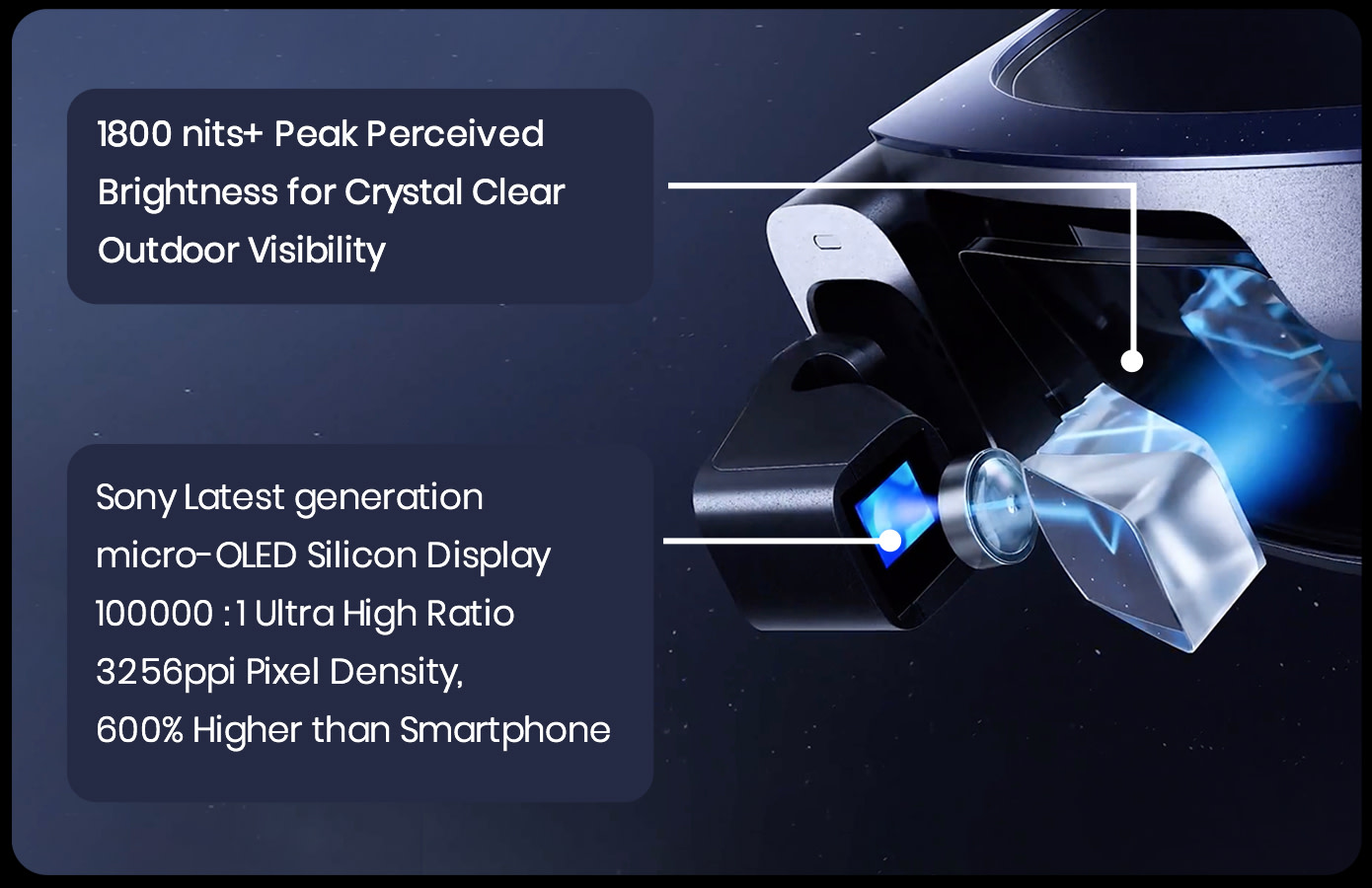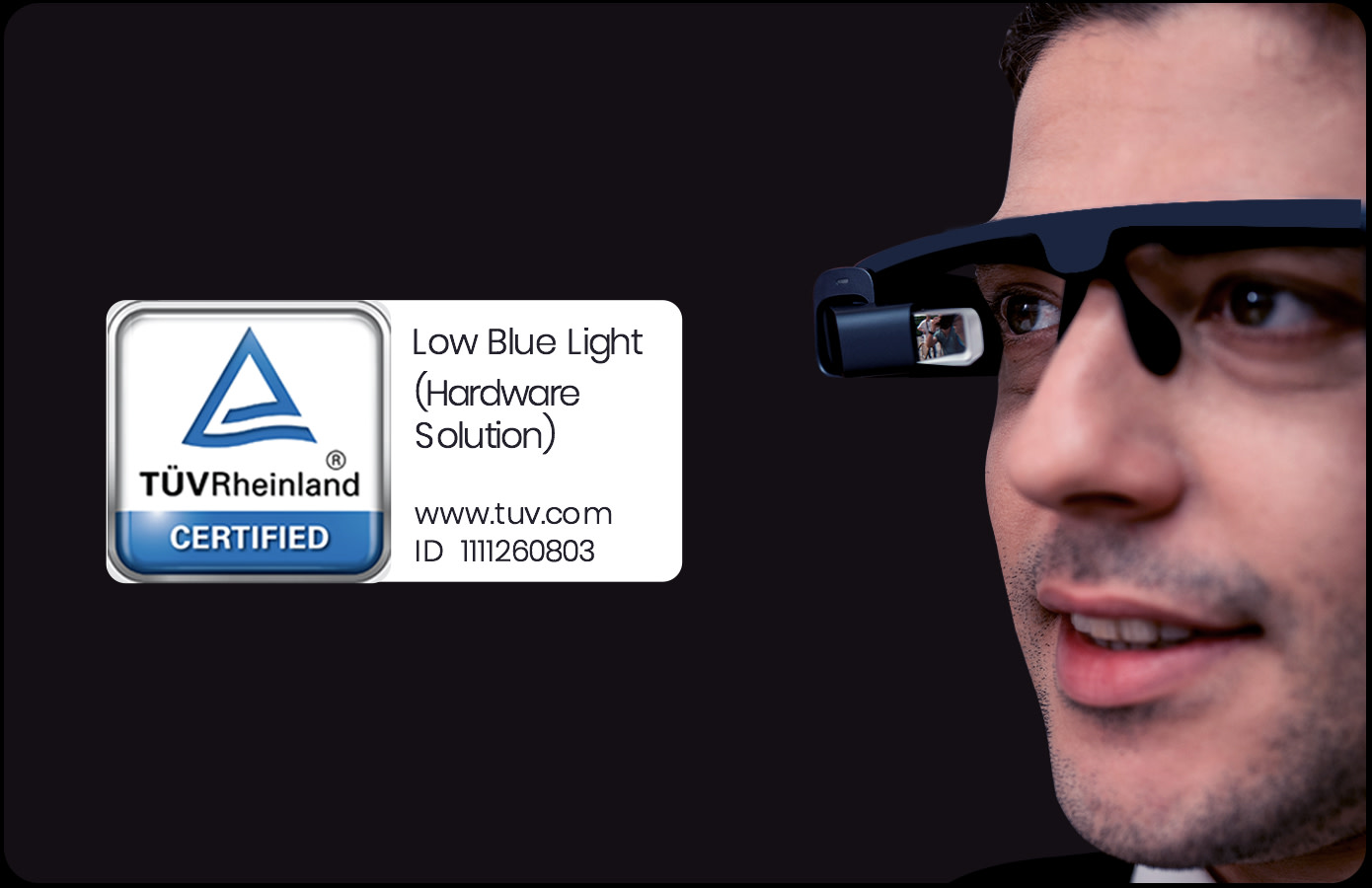 Eye Care Protection Internationally Certified. Tested and proven by Highest Safety Standard.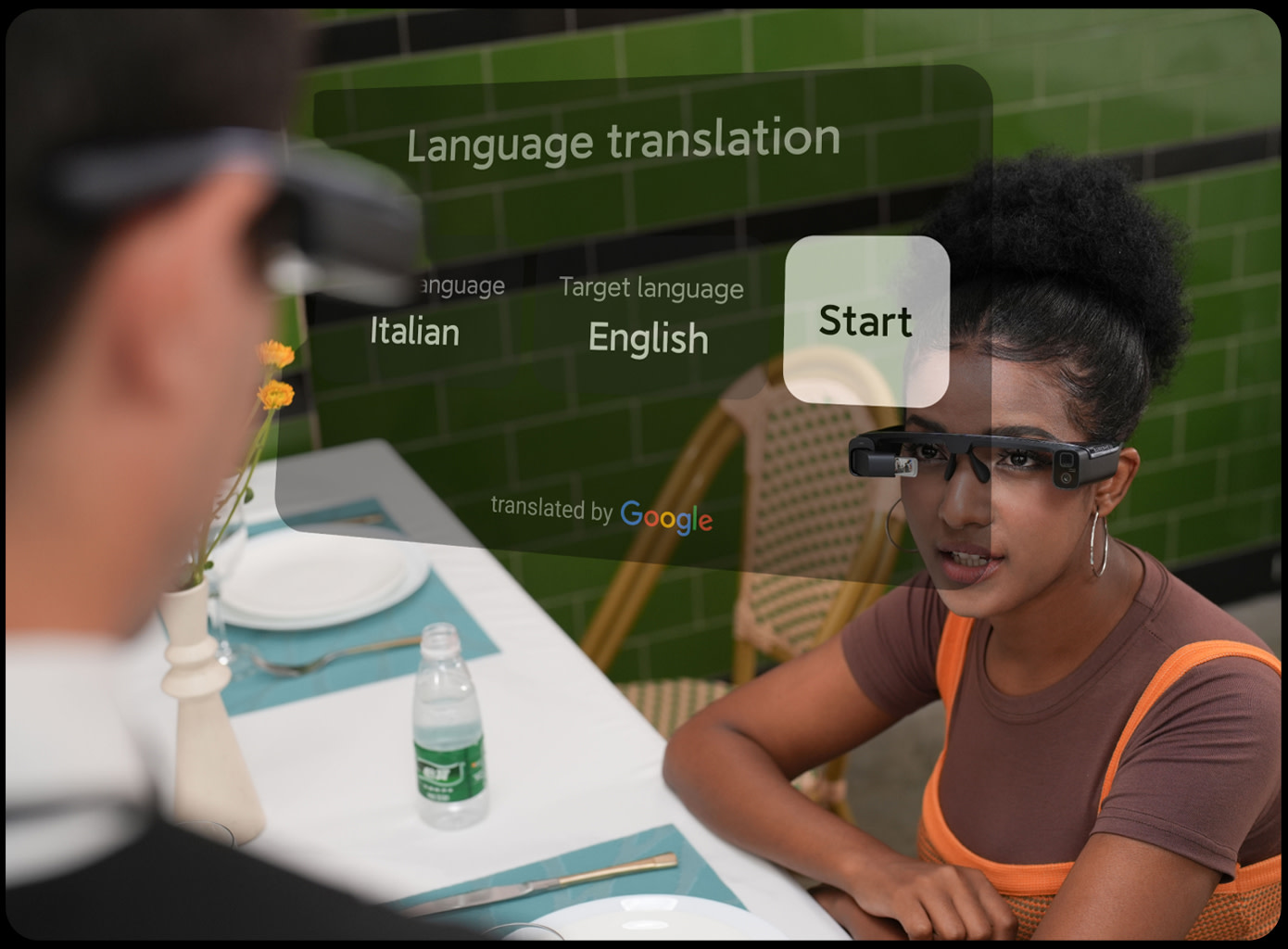 The benefits of Augmented Reality mean that you have access to real-time speech-to-text conversion in 10+ languages. It also supports real-time translation in 9 languages, all powered by Google. This means you can achieve seamless cross-language communication.

As you record, you can share! SUPERHEXA Vision supports real-time streaming, all from the unique first-person point of view.

For nature lovers, SUPERHEXA Vision has a special feature. When you're in the great outdoors and see a plant you don't recognize, all you need to do is take a photo and it is instantly identified. It also generates a professional-looking plant card at the same time.

An entertaining function for comic fans is using the camera to create your own superhero. Which crime-fighting character will you be? In this fully immersive experience, you and your friends can role-play all your favorite scenarios and have fun discovering your superpowers!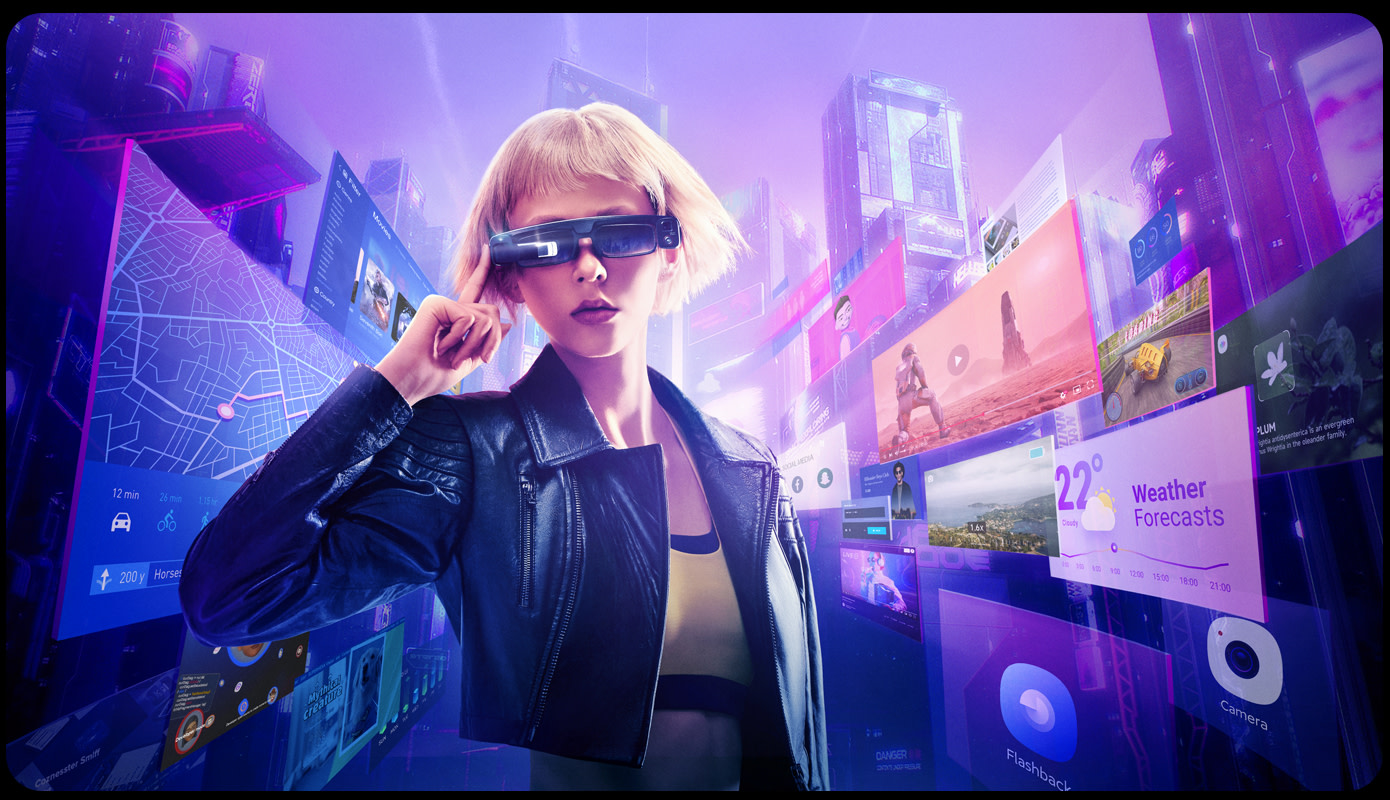 By registering as a developer, you have the opportunity to contribute to the future development of this leading-edge technology. Discover its full potential by using it in your own environment. Develop your own applications for it and de-bug any Android-based app.
Apps such as map navigation, or even assisting your poker game. Vision powerful CPU is ready to power your creativity.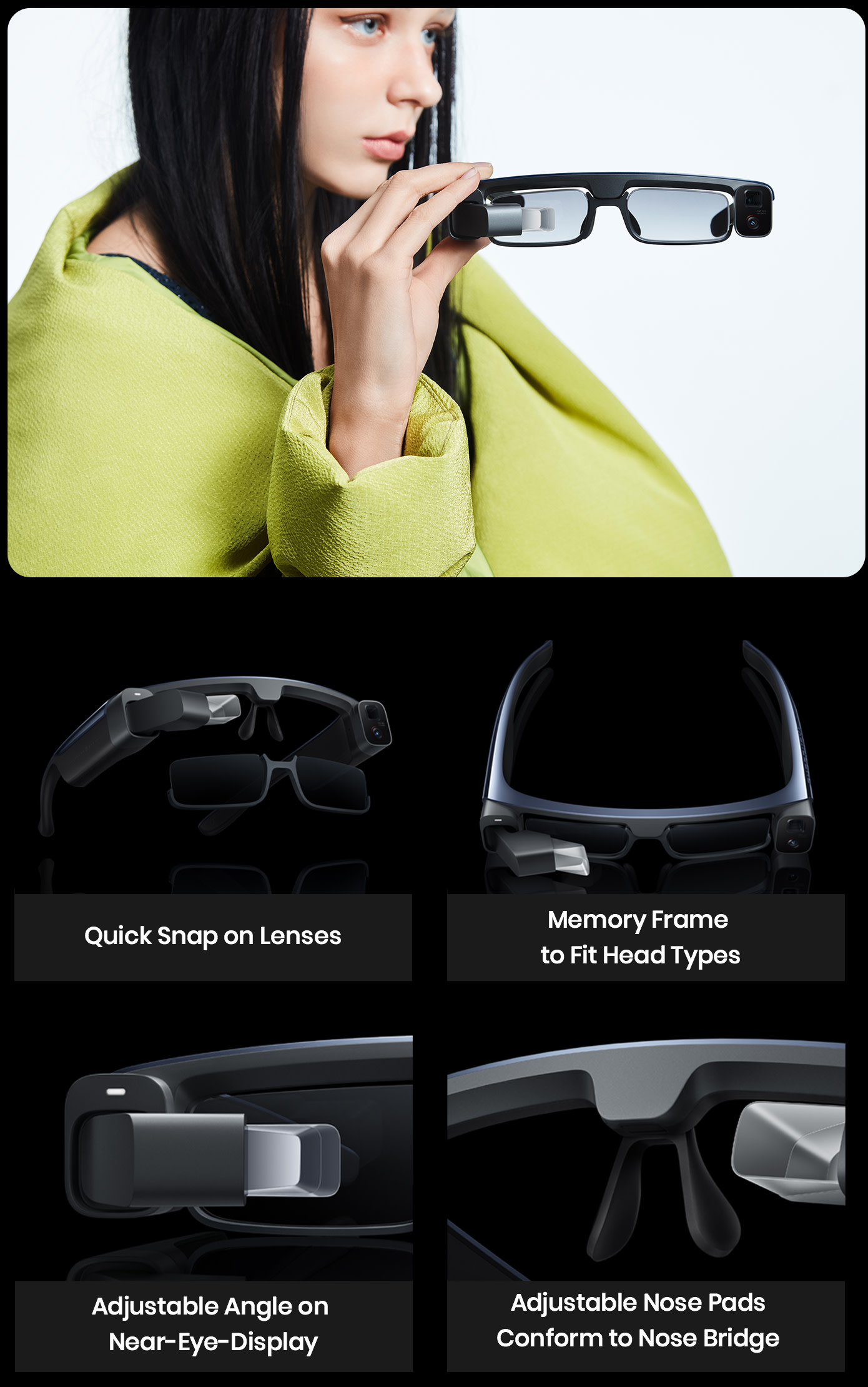 SUPERHEXA Vision glasses have been designed for the ultimate in usability and comfort. The snap-on quick-release frame allows users to adjust the glasses to suit their diopter strength, as well as to compensate for any near or far-sightedness.
The optical display is designed to be two-way adjustable (up and down 15, front and back 15), so that everyone enjoys their best personal viewing angle.
Made of TR90 Polymer memory material, the glasses are suited to all head shapes and are ultra-comfortable to wear for extended periods. Even the nose-pads are designed for comfort – made from skin-friendly silicone plastic material.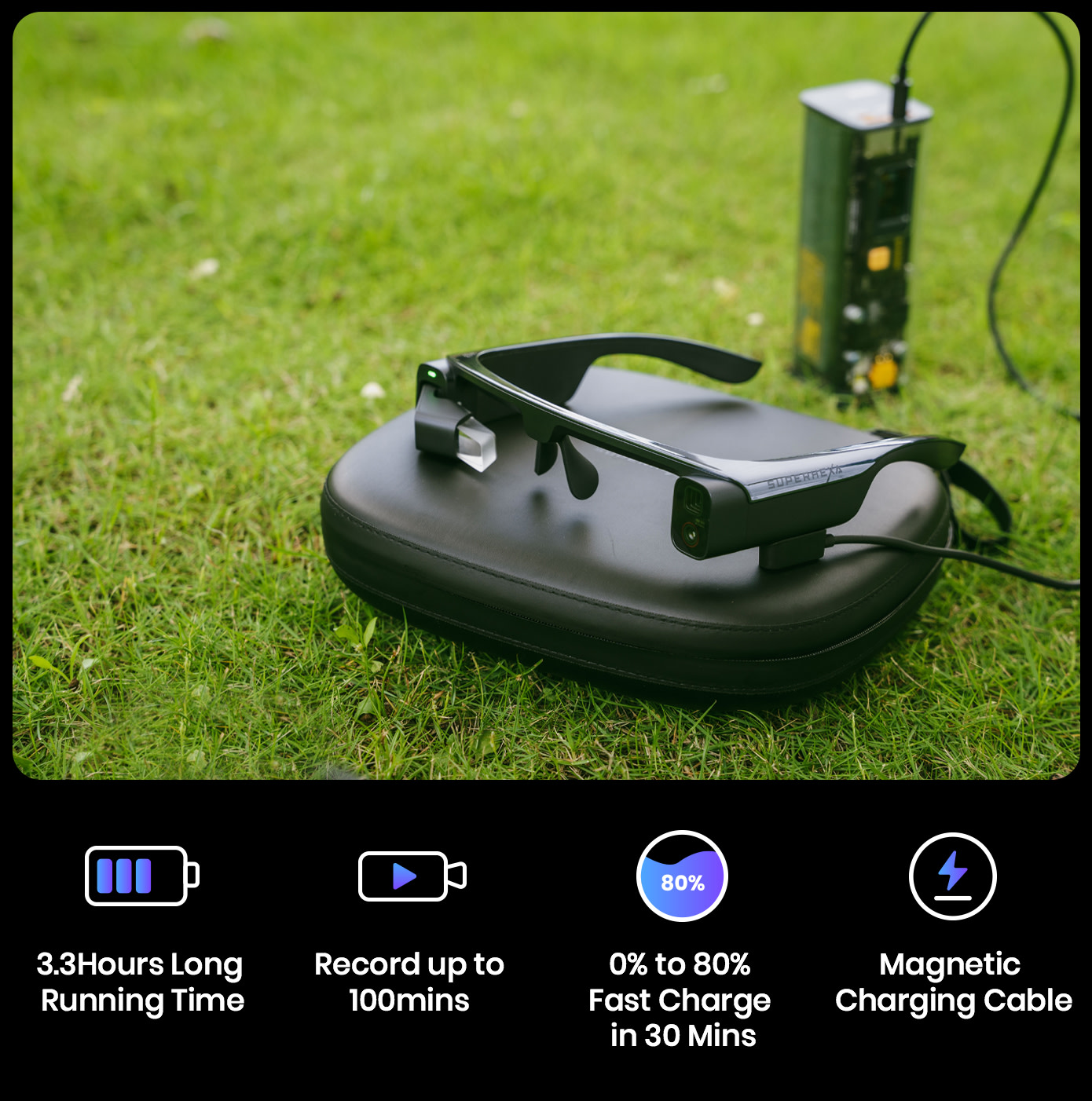 The SUPERHEXA glasses have a built-in 990mAh high-density battery which provides 3.3 hours of power, and 100 minutes of video recording time, when fully charged. They are conveniently rechargeable anywhere, anytime via magnetic suction, achieving over 80% charge in just 30 minutes.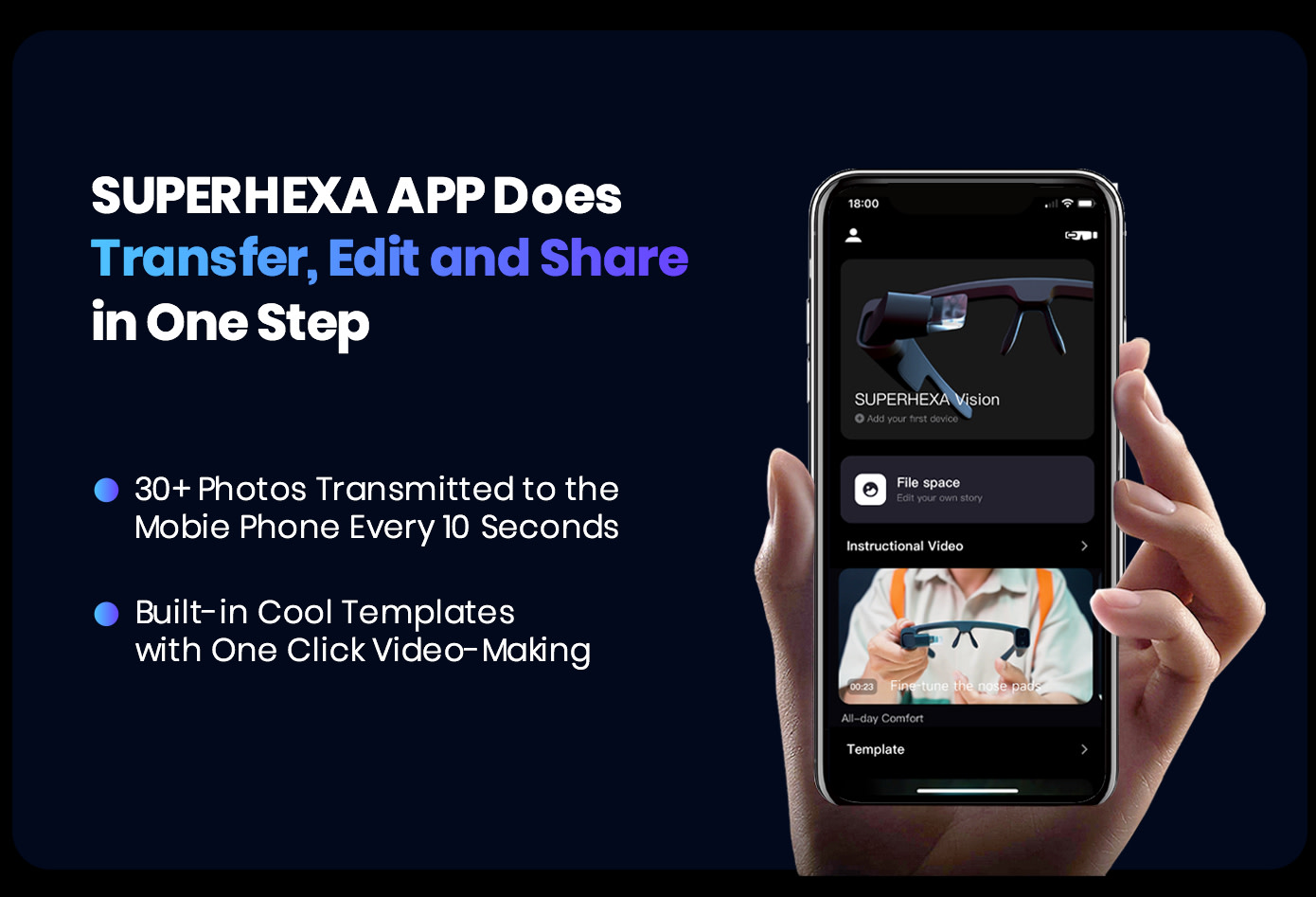 Using the SUPERHEXA App it's never been easier, safer or faster to import footage to your mobile phone. With a 5-G Wifi connection, you can import up to 30 photos in 10 seconds without having to connect manually each time. The built-in clip templates allow you to quickly generate production-quality videos which you can share instantly on Tiktok, Instagram and other social media platforms.


Shooting indicator: provides constant updates on your shooting status and is a key feature of the security and privacy monitoring of the device.
Encrypted binding: each device is connected to a mobile phone account which prevents any unauthorized accounts from accessing the contents.
Built-in storage: no external memory card is required which means the data from the device can never be leaked or transferred.
Local storage: photos and video data are directly transferred to the user's mobile phone and the material is then immediately deleted from the device's internal storage, preventing the possibility of an APP backdoor.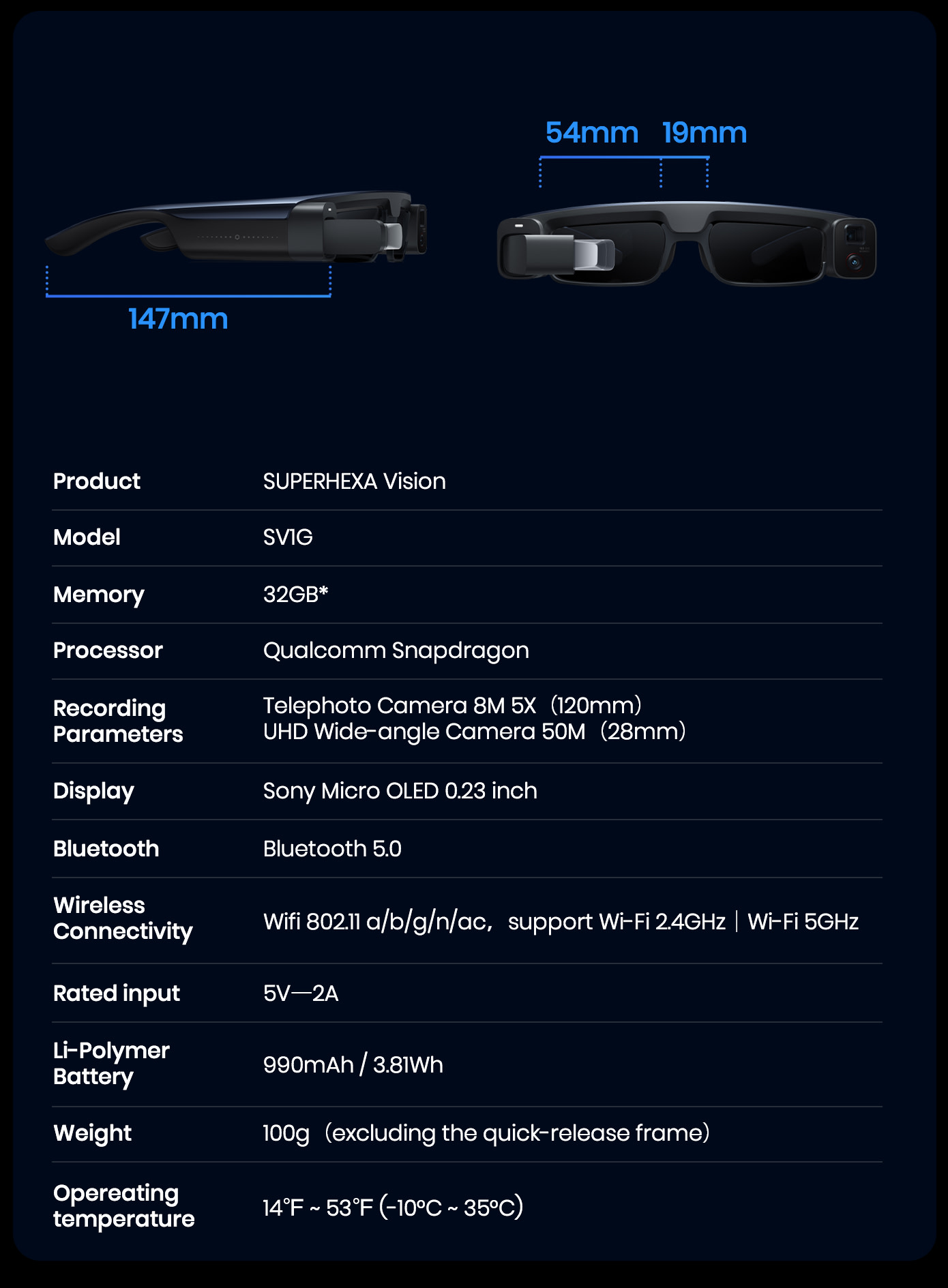 Use day or night to become more focused, more productive, and more relaxed.
No More Tangled Cords | 165W Powerful Suction | Featuring 3D Pool Map Planning & Navigation System | 5 Cleaning Modes
Search for awesome projects
You may also be interested in
The most versatile laser measure that integrates 9 materials stud finder, thermal imager, cross laser level and much more
One Device, Infinite Dreams
LiDAR SLAM Navigation | No Perimeter Wire | Intelligent Obstacle Avoidance | Multi-zone Management | Intelligent Path Planning
You may also be interested in
The most versatile laser measure that integrates 9 materials stud finder, thermal imager, cross laser level and much more
One Device, Infinite Dreams
LiDAR SLAM Navigation | No Perimeter Wire | Intelligent Obstacle Avoidance | Multi-zone Management | Intelligent Path Planning