ROIDMI NEO: 3 in 1 Self Cleaning Wet & Dry Vacuum
Electrolyzed Water Sterilization | 3-in-1 Vacuum&Mop | One-Button Water Spray | Self-Cleaning & Air Drying
Pledge Here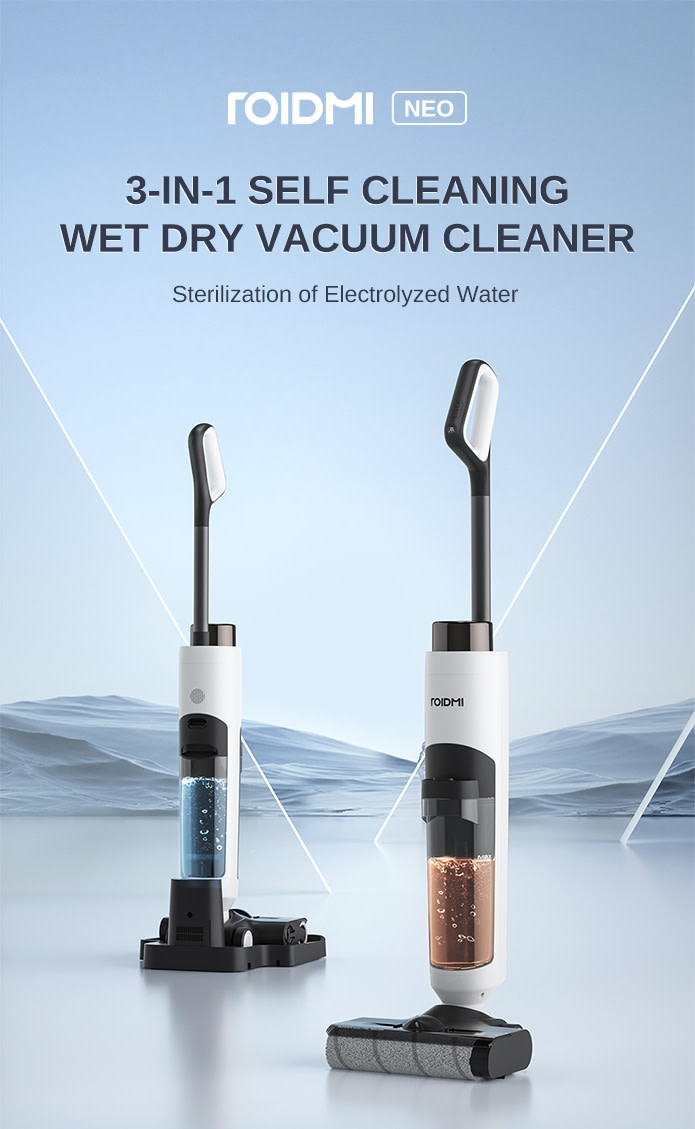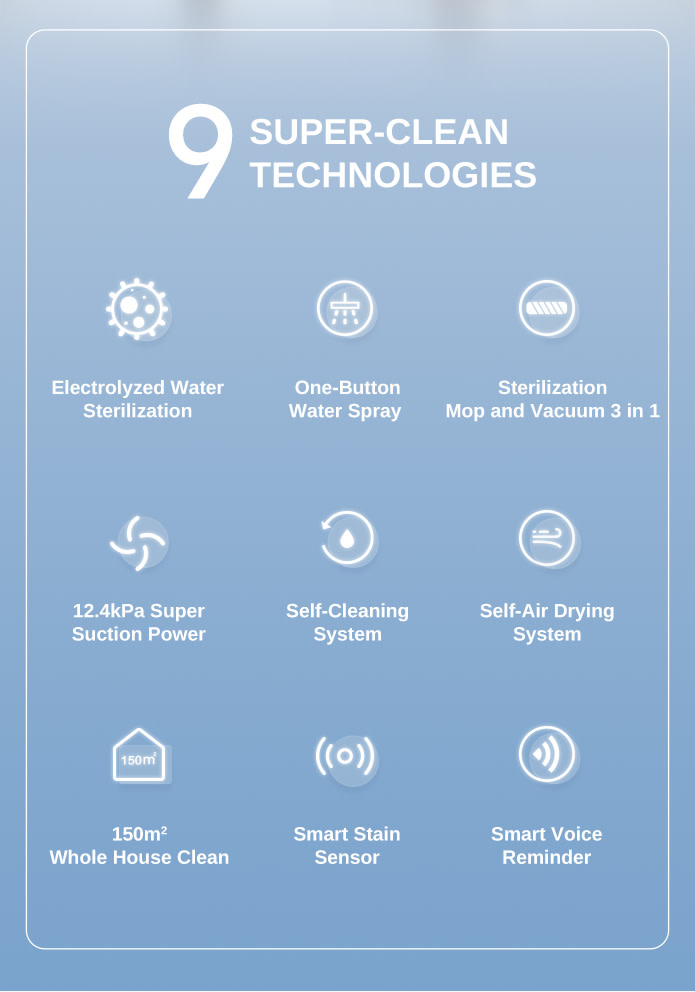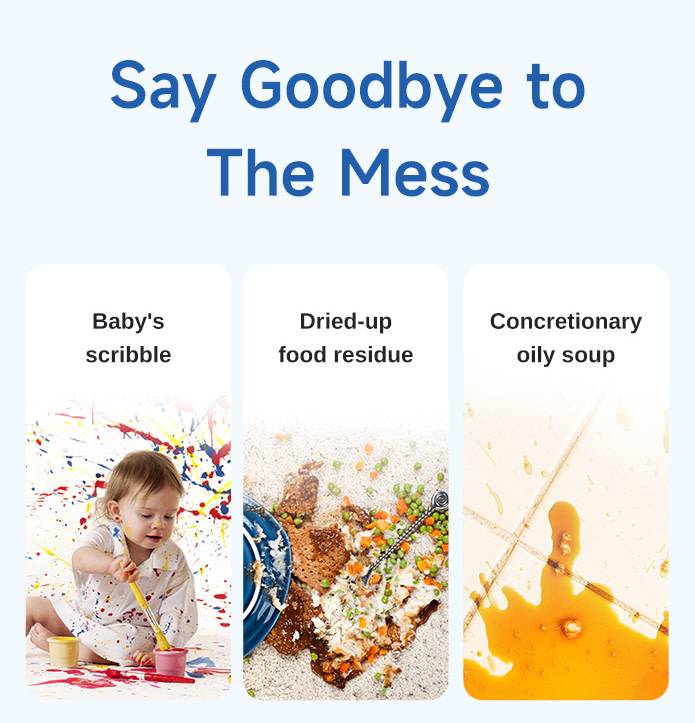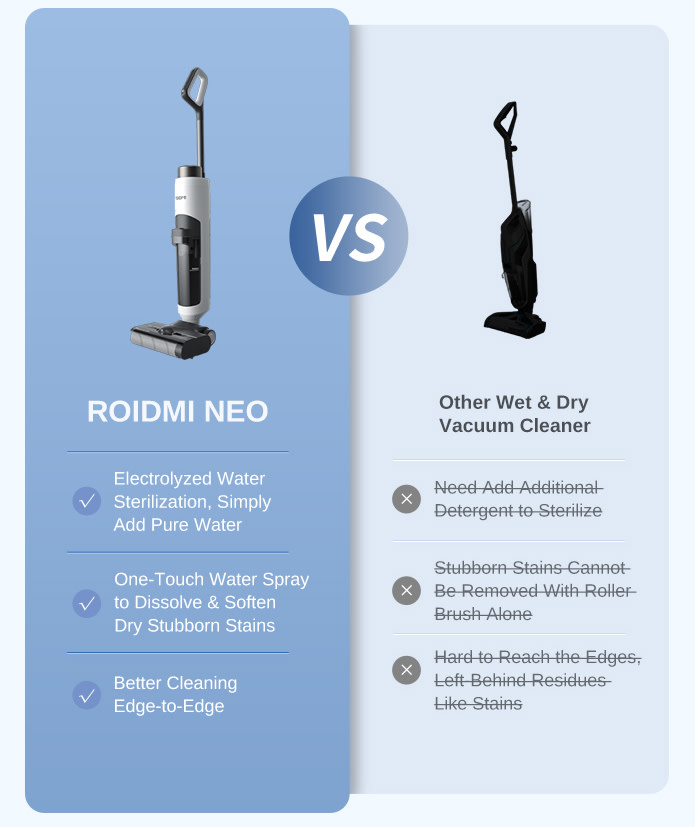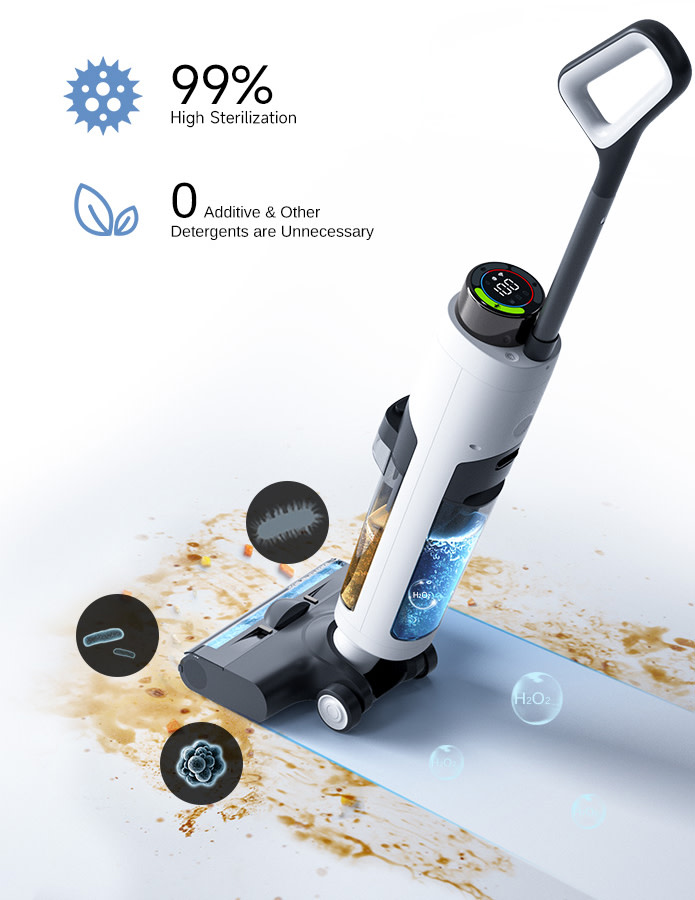 Just add pure water to achieve 99% sterilization. Nowadays in modern society, everyone is impacted by dirt or viruses on our lives. Thus, we have to add detergents and pro rata into the cleaning equipment in order to achieve sterilization. ROIDMI NEO can save you extra expenses, works and effort. Its integration of distinct electrolyzed water technology which can electrolyze water into H₂O₂, achieving a 99% sterilization effect.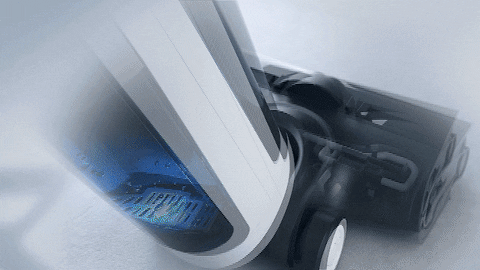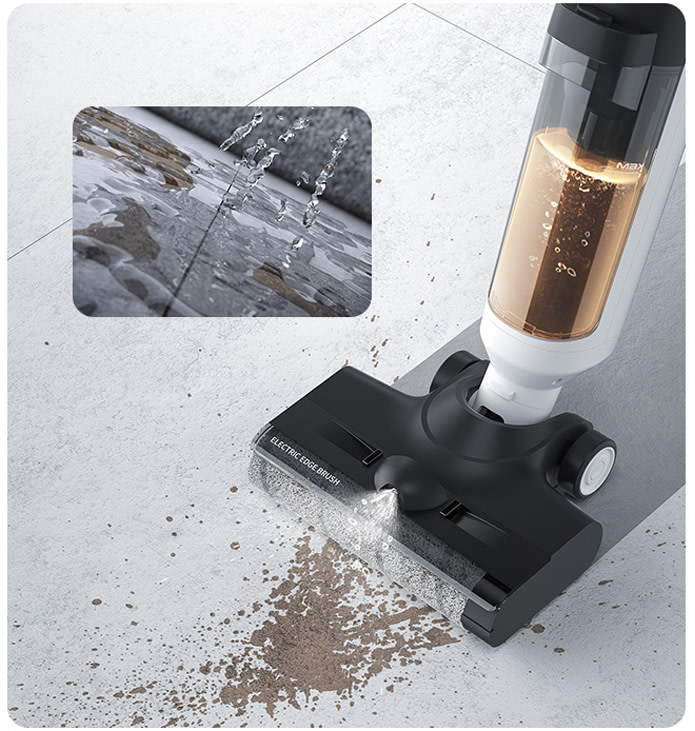 Traditional mop and vacuum cleaners invariably optimize the rotational speed and power of the roller brush only,  but in fact, the most important in daily life is to tackle those stubborn stains. After all, you won't be able to discover the stains at any time and clean them promptly. Stains are so much harder to remove once they become dry and set. ROIDMI NEO thoughtfully considers of this and develops the best solution. The roller brush is designed with an exclusive water spout. One touch water spray to dissolve the tough stains before removing them. Then driven by the suction of the vacuum cleaner, the roller brush runs at high speed to clean the floor. Get more done with less effort.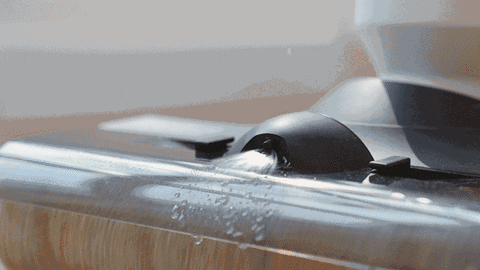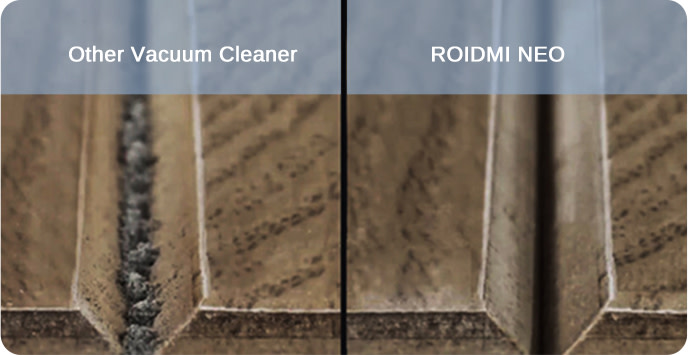 ROIDMI NEO is versatile and powerful enough to clean up almost any kind of mess with one quick and easy way only. It can tackle with spilled grains, coffee, ketchup, cola and most wet and dry household clutters easily. Along with the high-performing 12.4kPa super suction power, improves the cleaning capability of the stubborn stains.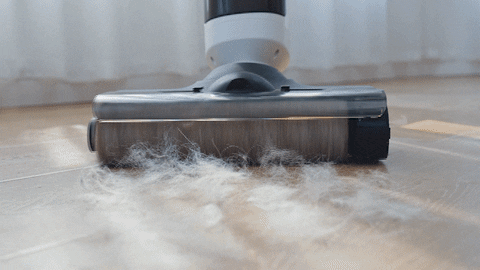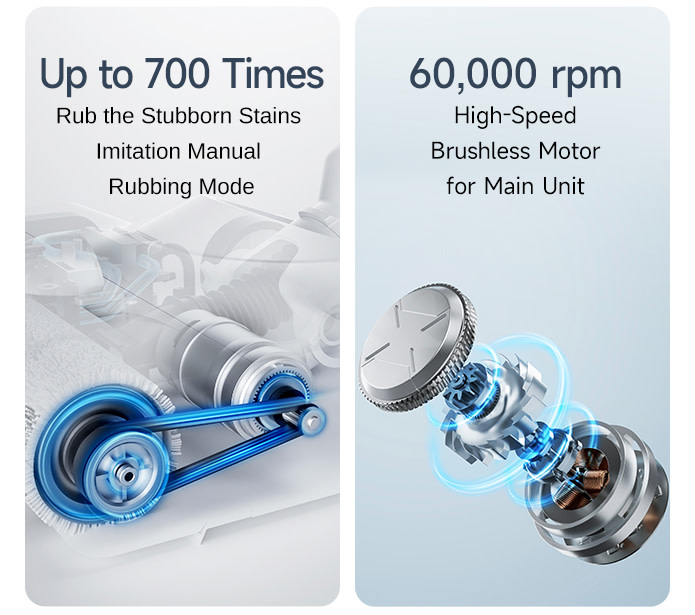 Beautiful inside and out, the look of ROIDMI NEO is in simplicity industrial design and the core uses a powerful 60,000 rpm high-speed brushless dry and wet vacuum motor with power up to 180W. Sweep, mop and vacuum 3 in 1, which can perform wet and dry cleaning at once. It can also rub stubborn stains up to 700 times per minute, imitates manual rubbing mode. Offer the most powerful and efficient clean yet effortless.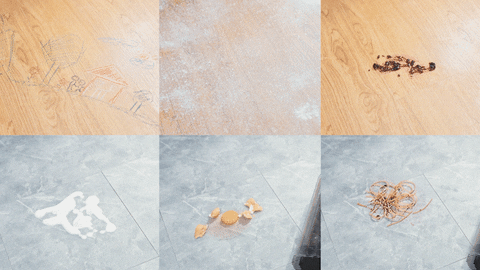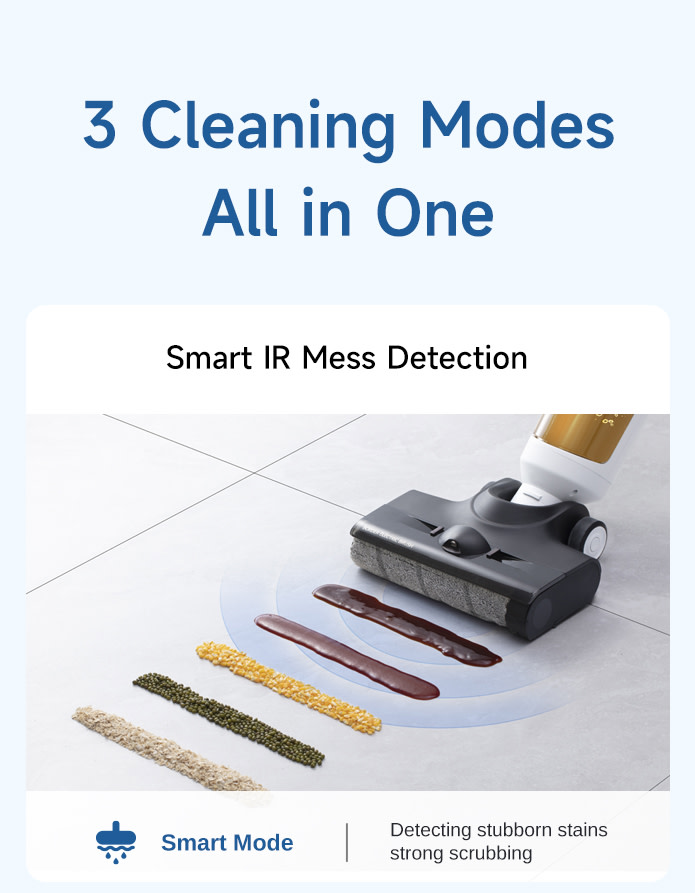 There are different floor surfaces, messes and cleaning needs in every home but who wants to spend time worrying about replacing cleaning tools every few minutes? In order to save precious time, ROIDMI NEO breaks through the limitation and offers a combination of cleaning modes. Simply with the touch of a button, multi-Floor performance to adjust the suction and water level for cleaning the messes of any surface. ROIDMI NEO is not just durable but also versatile, which is smart enough to tackle all kinds of challenging messes. Whether it's bathroom tiles, hardwood floors, marble floors or even vinyl, stains can be easily removed.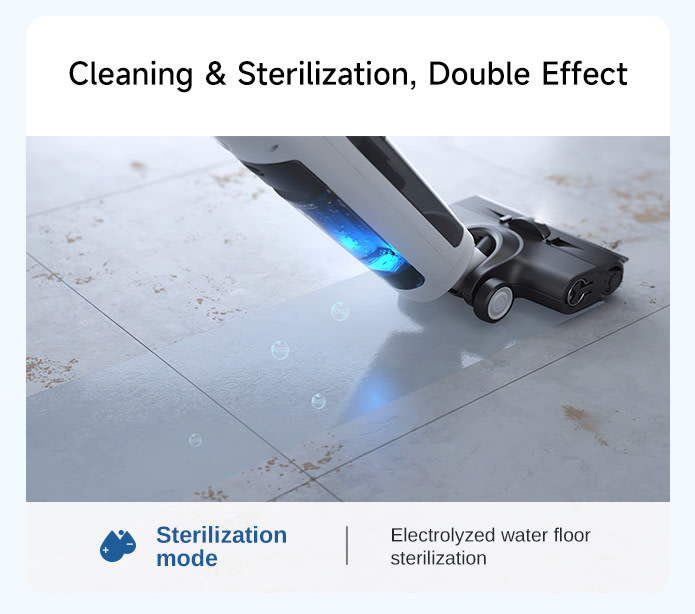 Break with tradition, no making without breaking! Electrolyzed water technology. Highly effective sterilization. Successful in sterilizing 99.9% of harmful bacteria.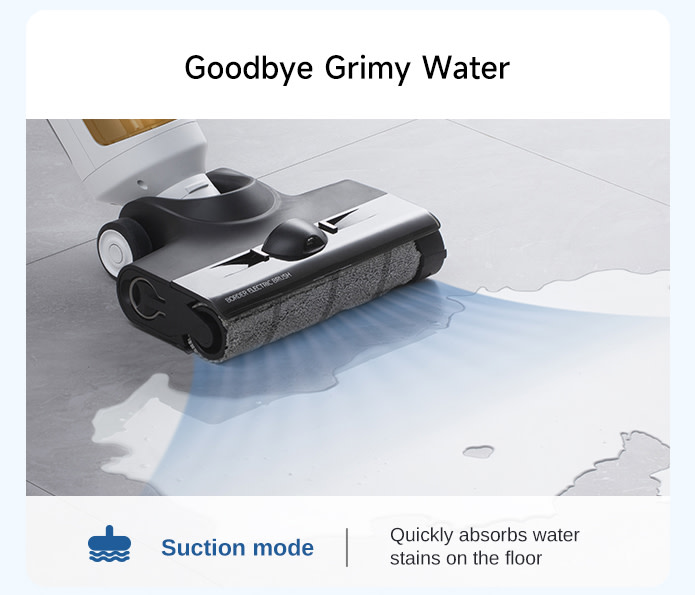 With the unique internal design of ROIDMI NEO, it quickly absorbs and sucks the water stains on the floor. Keep the floor dry and clean. In vacuum cleaning mode, ROIDMI NEO can adjust its suction level automatically based on the early detection of disturbance by the sensor. Use the battery wisely and tackle the mess properly. And washing the roller brush while moppin the floor to keep the floor refreshed. The roller brush is scraped with clean water in real time, the floor is cleaned with clean water, and sewage is disposed immediately. Make sure it mops the entire house with clean roller brush.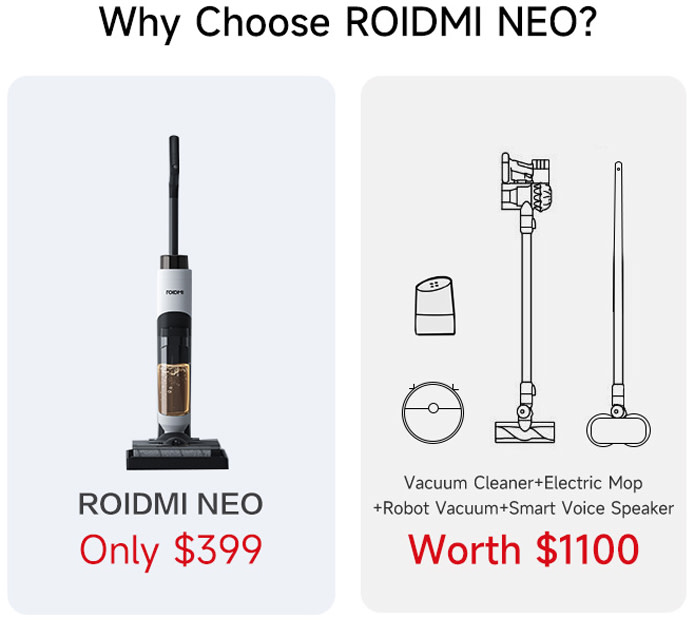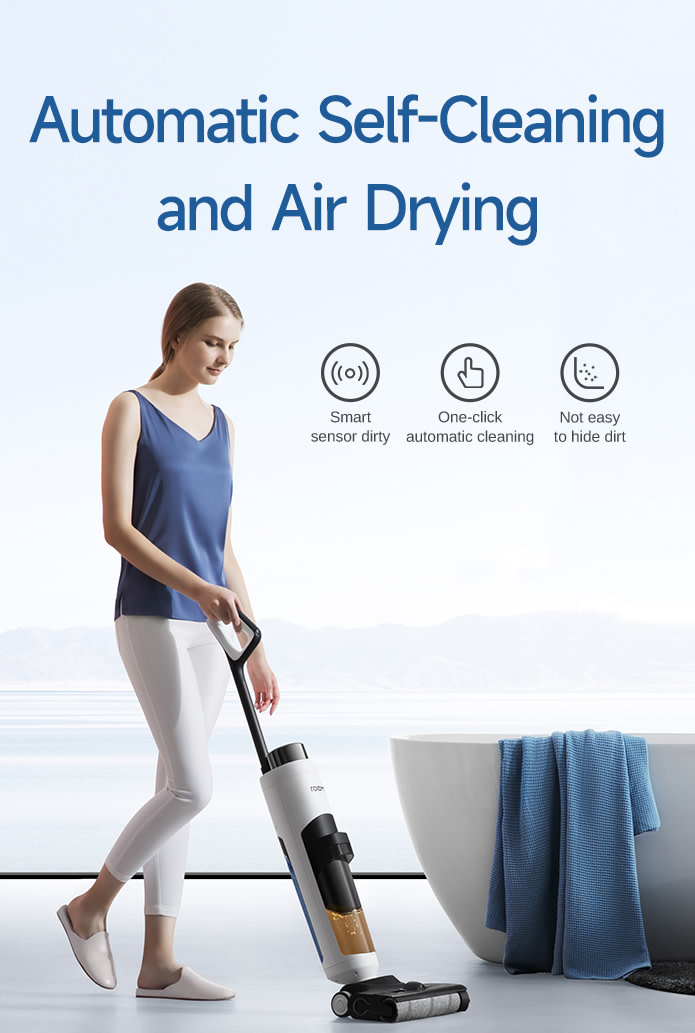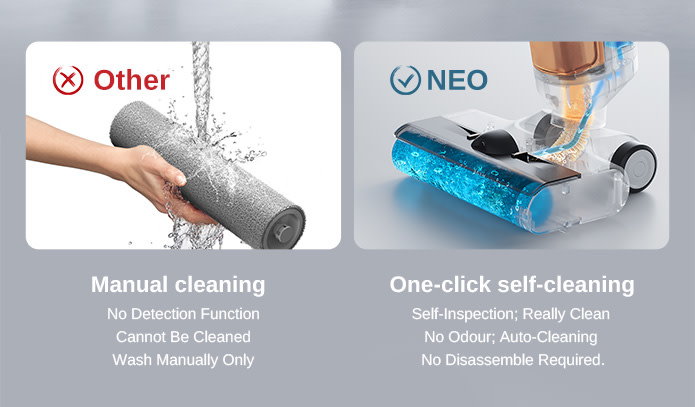 Only a clean roller brush can clean well. The scraper on the self-cleaning base of the ROIDMI NEO helps to deep clean the roller brush. Effectively suck in all the debris on the roller brush and make sure the roller brush is clean during the cleaning process. ROIDMI NEO can even clean itself on the base. Turn a dirty roller brush into a clean one with one touch of the button. After cleaning, the solid dirts are separated from the dirty water in the sewage tank. All it left to do is just empty it.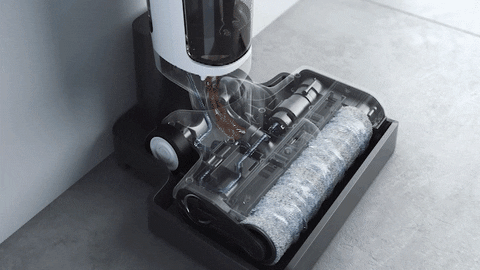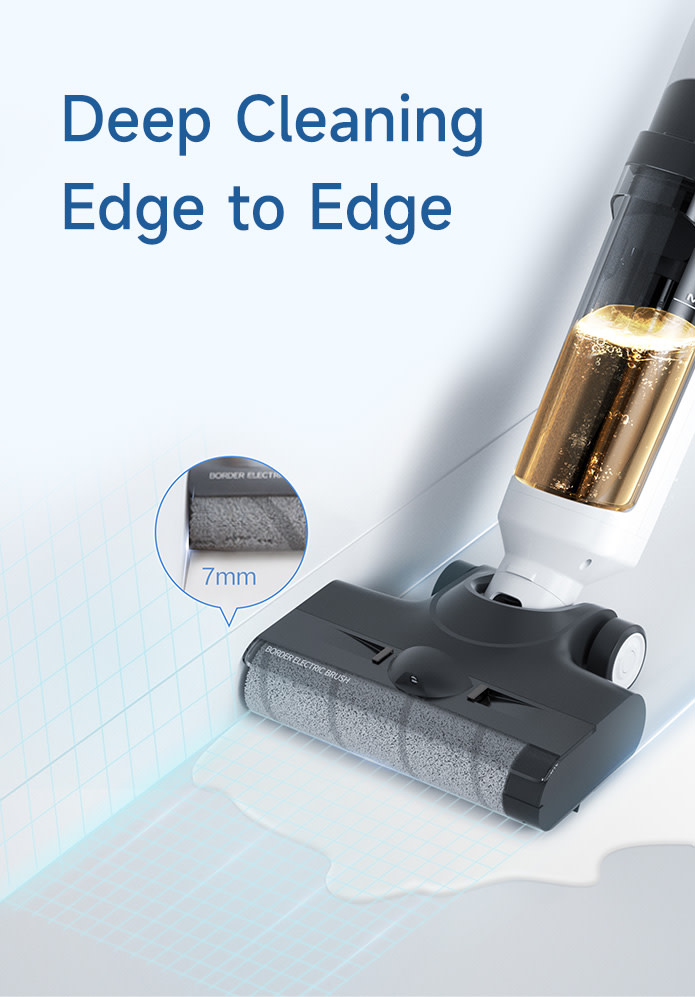 The porosity free design of ROIDMI NEO brush roller ensures the edge of the brush roller completely fits the floor surfaces, really with no hidden dirt residue.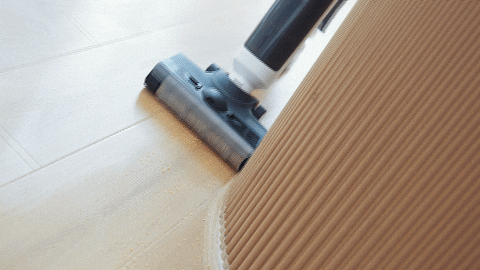 The roller brush of ROIDMI NEO can flexibly get dirt and dust off around the furniture leg and intricate cylindrical corners. With the help of the two counter-rotating scroll wheels, you only need one finger to push and pull. ROIDMI NEO can definitely clean every nook and cranny of your home.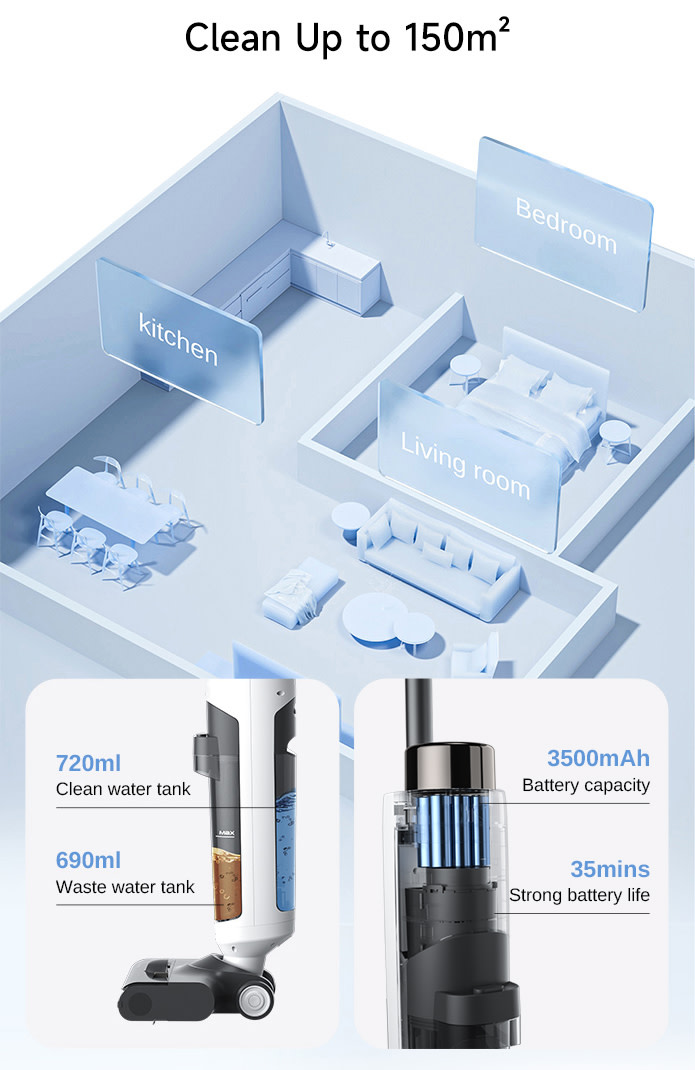 It's frustrating when the battery of your vacuum cleaner runs out before finishing its job. The built-in large-capacity battery of ROIDMI NEO can achieve uninterrupted cleaning of 150㎡. It also comes with a clean water tank and sewage tank, 720ml each to meet the cleaning needs of 150㎡. Say goodbye to the demand of constant water refillment. Whenever you need, ROIDMI NEO is always ready to clean.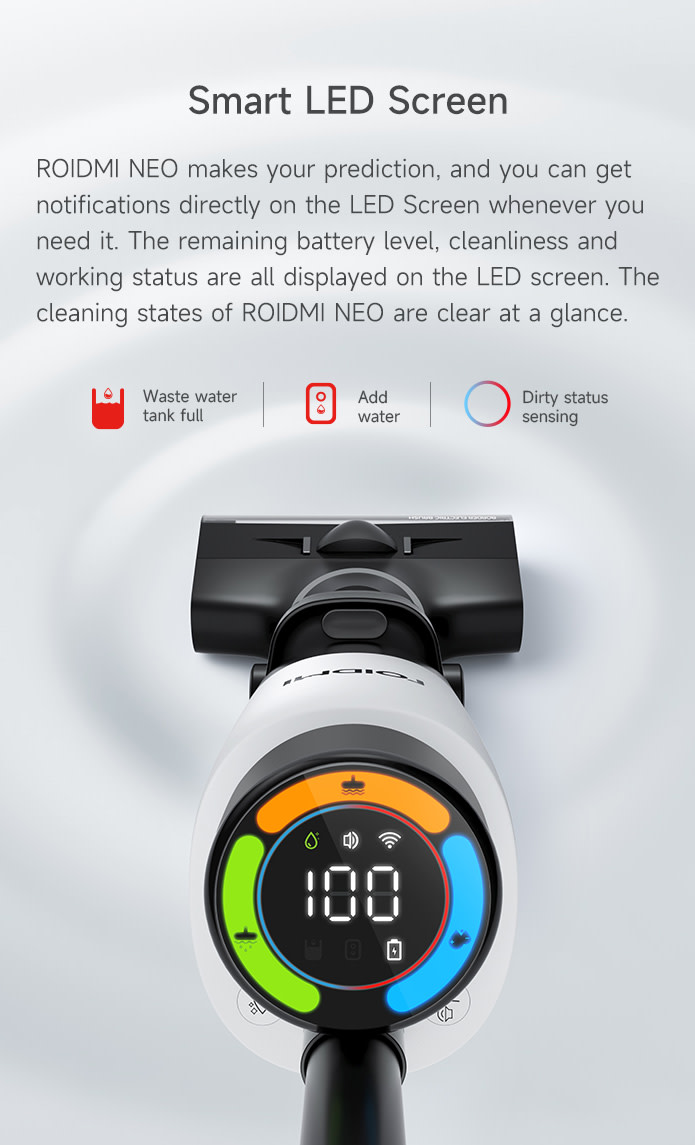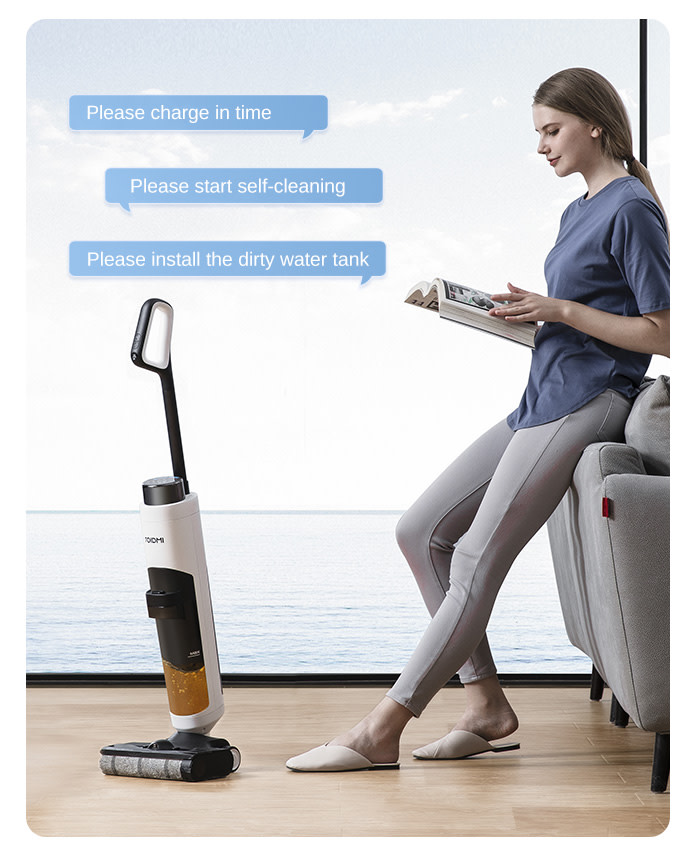 When you are too focusing on the stubborn stains during normal cleaning, you'll always miss a lot of other information easily. NEO is equipped with an intelligent voice assistant that can prompt through their smart speaker to alert you important information that you'll need to know.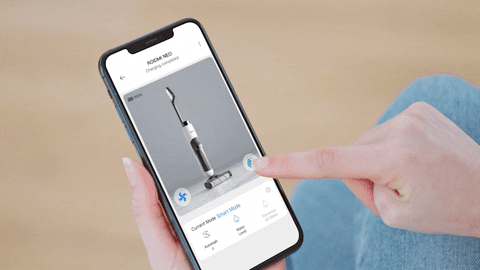 Use the App to connect NEO to the phone via Bluetooth and Wi-Fi. You can view the data of ROIDMI NEO directly on your mobile phone. One touch to switch among different cleaning modes and also control the automatic cleaning and drying.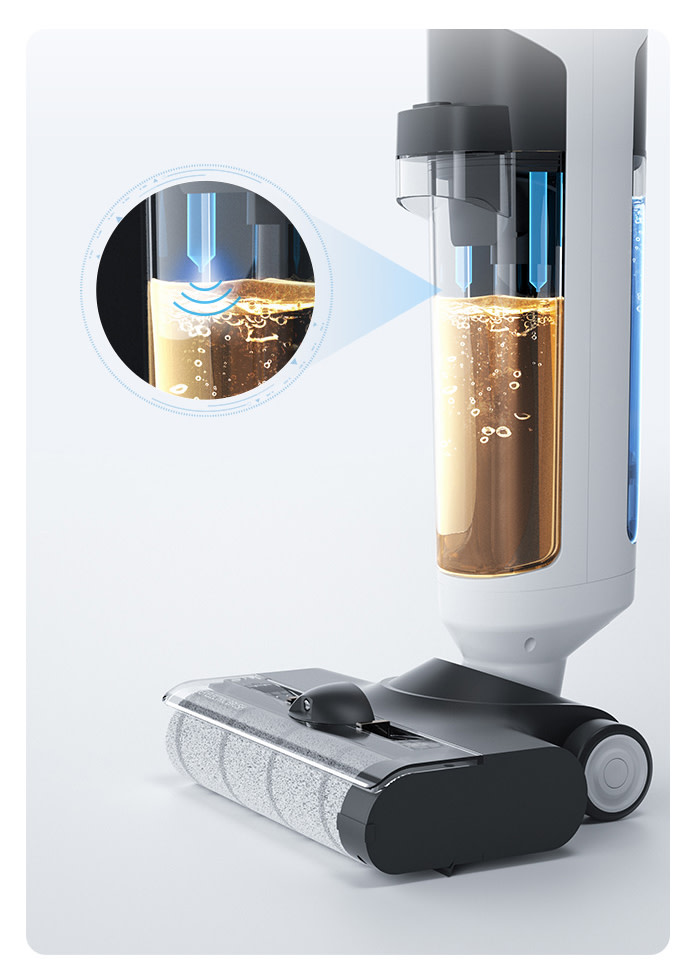 The optical flow water level sensor in the ROIDMI NEO water tank will alert you instantly for the replacement of full sewage water tank and clean water tank. Achieve real intelligent design and full automation completely.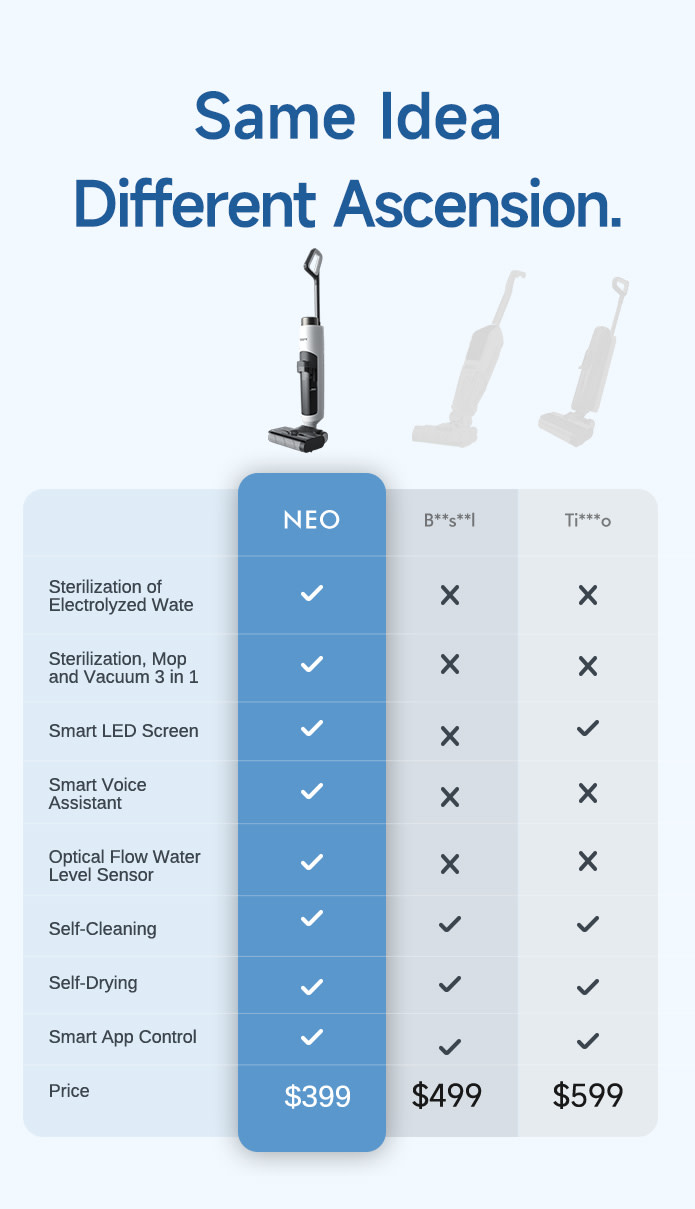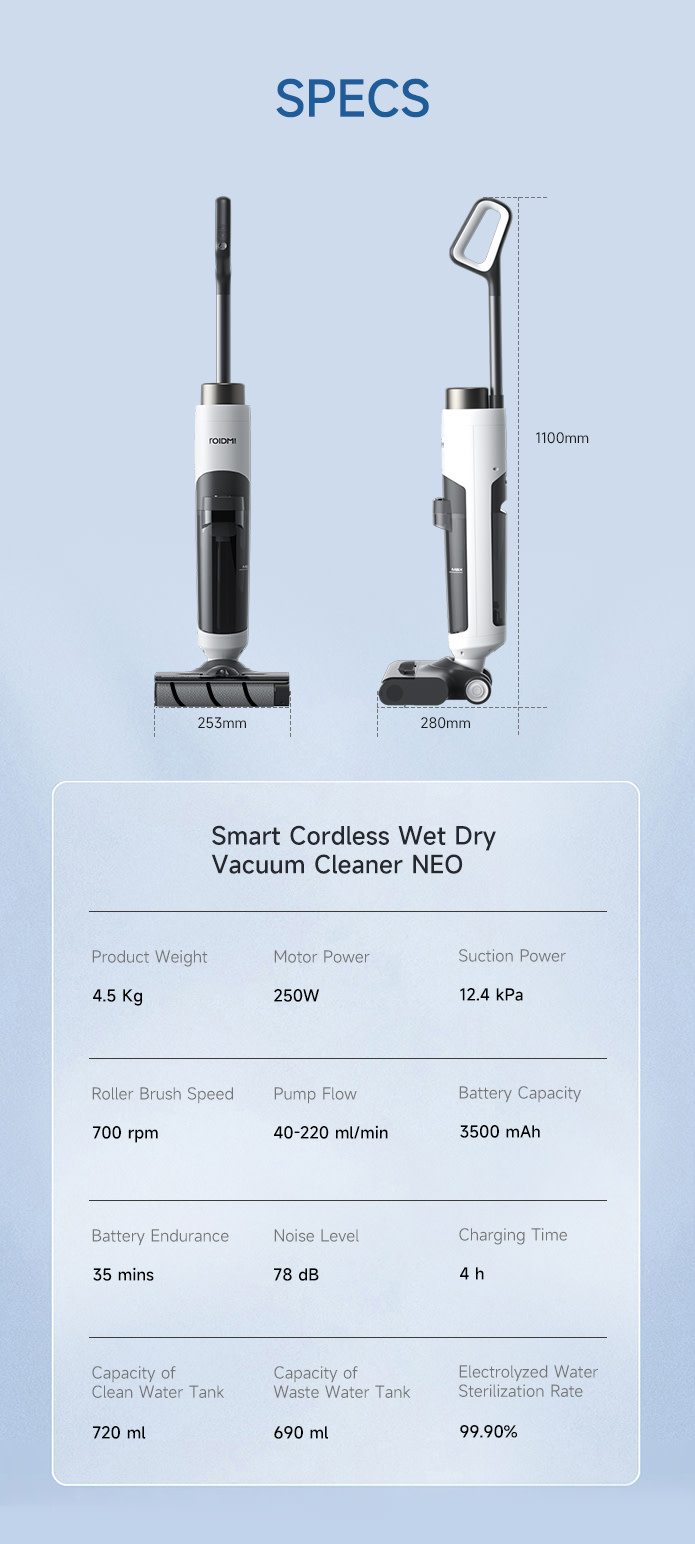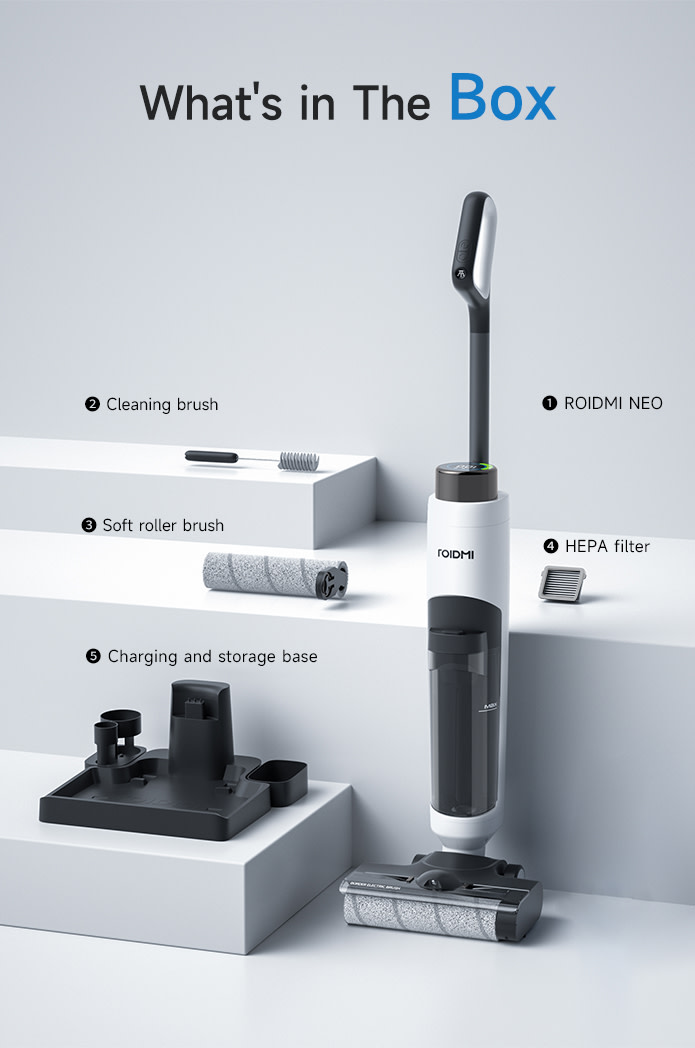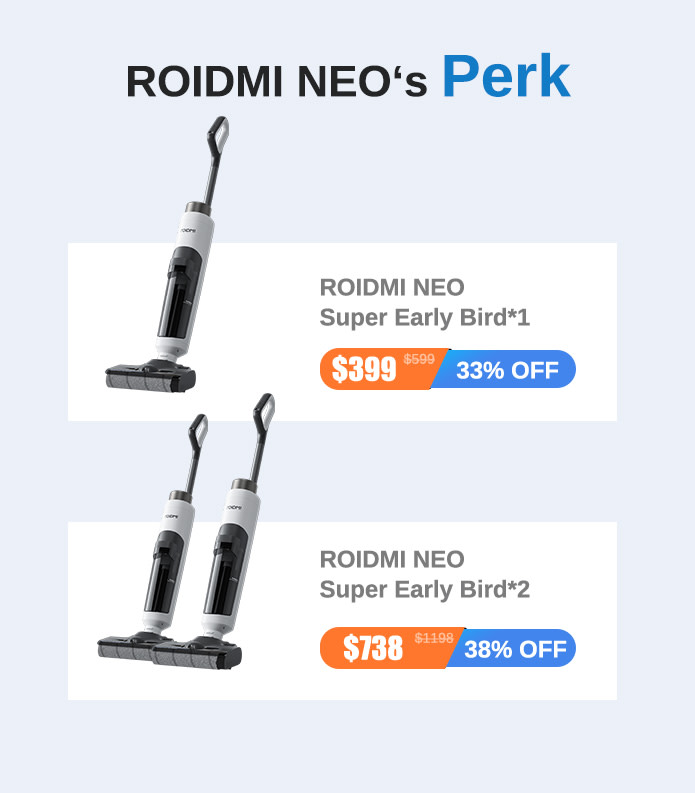 Use day or night to become more focused, more productive, and more relaxed.
No More Tangled Cords | 165W Powerful Suction | Featuring 3D Pool Map Planning & Navigation System | 5 Cleaning Modes
Search for awesome projects
You may also be interested in
The most versatile laser measure that integrates 9 materials stud finder, thermal imager, cross laser level and much more
One Device, Infinite Dreams
LiDAR SLAM Navigation | No Perimeter Wire | Intelligent Obstacle Avoidance | Multi-zone Management | Intelligent Path Planning
You may also be interested in
The most versatile laser measure that integrates 9 materials stud finder, thermal imager, cross laser level and much more
One Device, Infinite Dreams
LiDAR SLAM Navigation | No Perimeter Wire | Intelligent Obstacle Avoidance | Multi-zone Management | Intelligent Path Planning