ROIDMI Miro: Most Affordable High-speed Hairdryer
65m/s Rapid Air Flow|59 dB(A) Low Noise|Only 315g Smart Temperature Control|20 Million Negative Ions
Pledge Here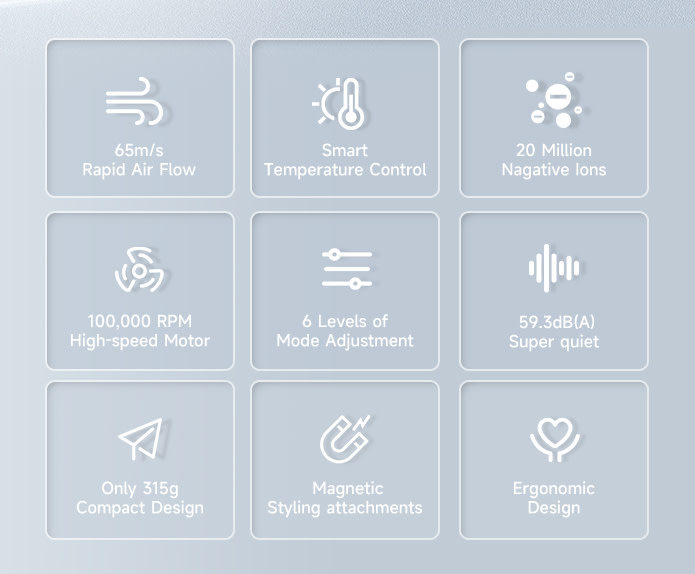 The Miro high-speed ionic hair dryer is equipped with a powerful 100,000rpm high-speed motor, that generates wind speed up to 65m/s for fast drying in 3 minutes. Built-in intelligent temperature control chip, with 3 temperature settings as you like. The advanced heat control feature measures the airflow temperature to resist extreme heat damage. 20 million negative ions are generated simultaneously to deeply penetrate into your hair for lasting protection, keeping your hair frizz-free and shiny.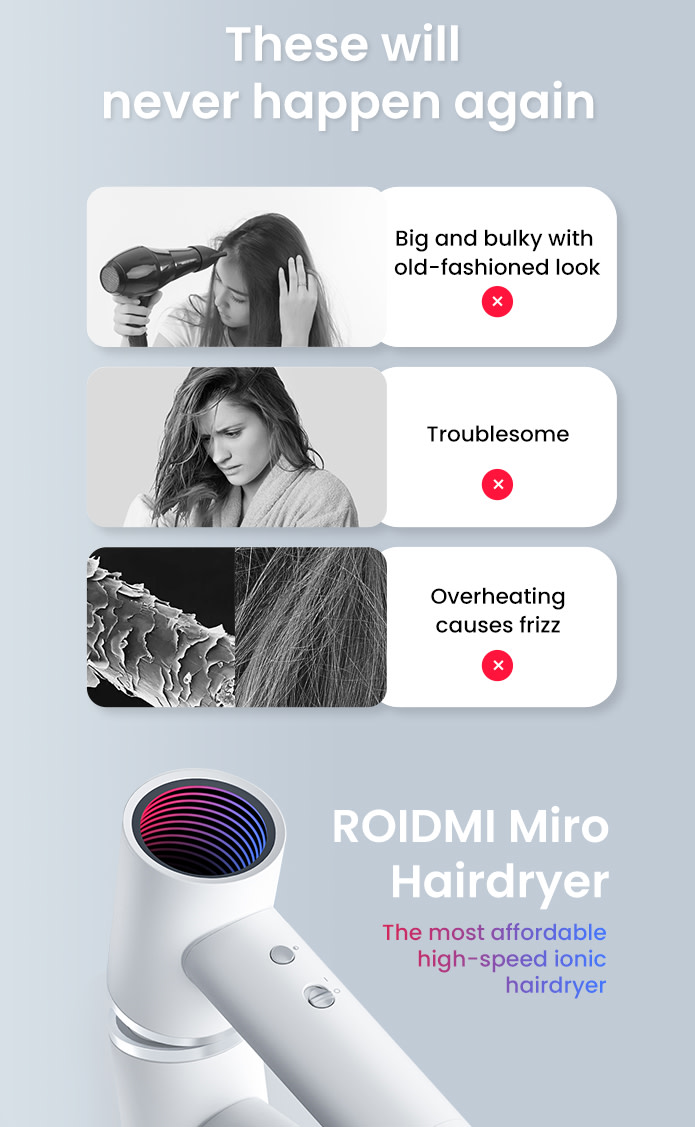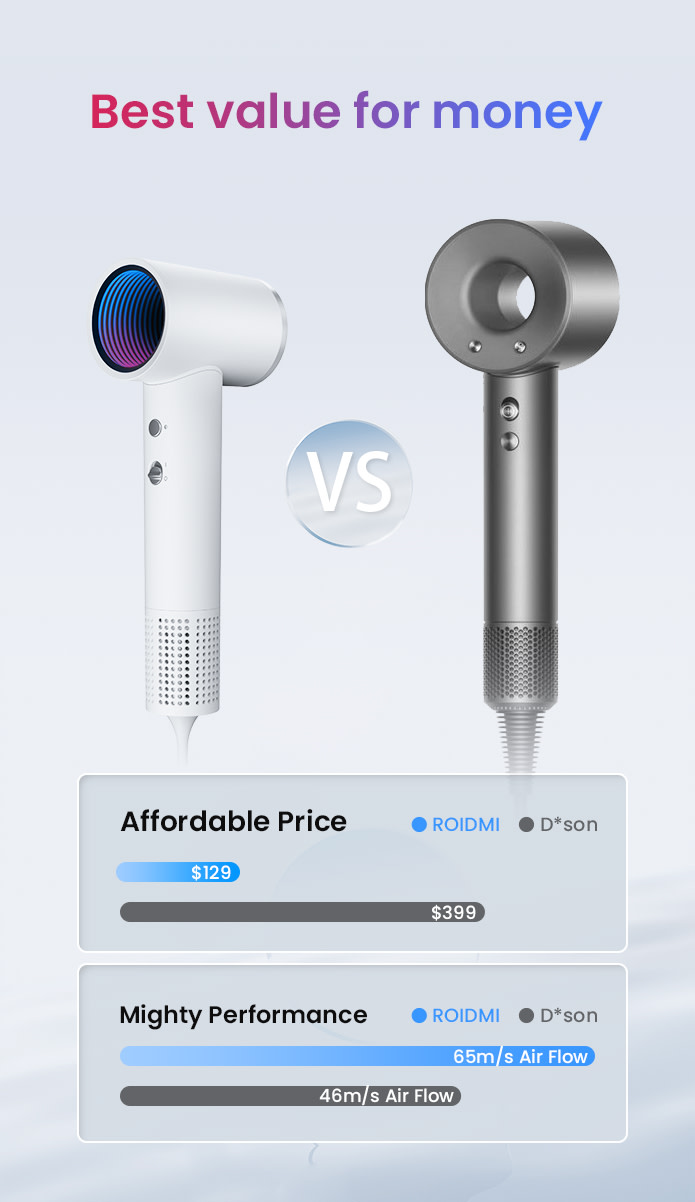 Beautiful things always give you a kind of enjoyment. We have been constantly innovating and filling the concept of beauty in people's daily life, in order to let people enjoy both beauties of technology and art combined. Miro hair dryer was born in the pursuit of beauty. Integrating the design concept of time, the back of the hair dryer is embellished with a mirror design. It creates a stronger sense of vision with RGB lighting and a dazzling infinity mirror effect. Not merely makes a big breakthrough in function, but it also brings you a brand-new look and fresh feeling.
Miro hair dryer gives a modern, stylish and cool look. Its unique mirror looping interactive LED light design makes blow-drying voguish yet dynamic.

The greatness of technology improves the way people live their everyday lives. Same to the evolution of hair dryers, since the first invented hair dryer was in the last century and up to now, beautiful styling and faster drying time is always the mission of hair dryers. While the continuous innovation of technology, we also strive to enhance the hair-drying speed, so there is the Miro high-speed hair dryer.  

Miro is equipped with a high-speed motor that can produce a high wind speed of 65m/s. Hair drying only takes 3-5 minutes, just about a cup of coffee time.
The ROIDMI Miro's ultra-silent high-speed 100,000 rpm motor provides unrivaled air speed and volume. ROIDMI picked the premium grade ducted brushless high-speed motor with 0.001g dynamic balance and precision machining of 0.001mm, which is ultra high speed but also quieter in operation. It can run smoothly for 16 years*
* Runs 10 minutes per day
AirTurbo 2.0 air multiplier technology doubles the airflow output, achieving 65m/s super wind speed. Speed-dry your wet hair in 3 minutes, which greatly reduces your hair drying time.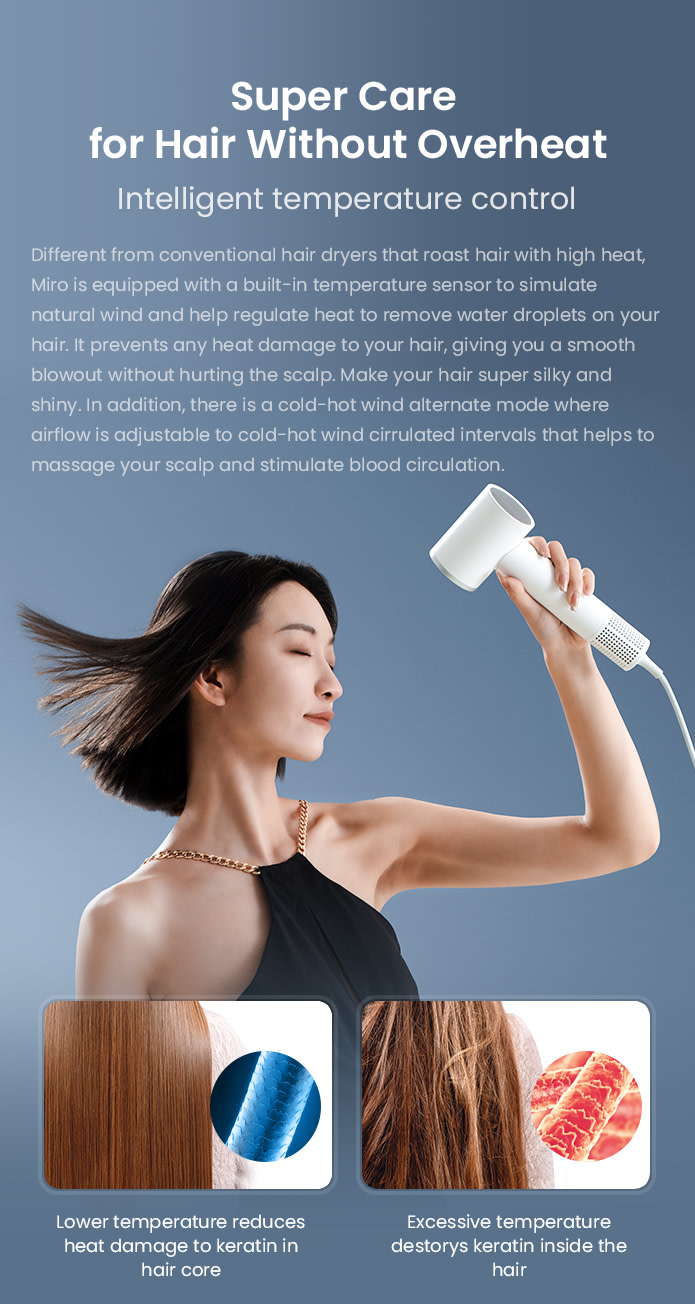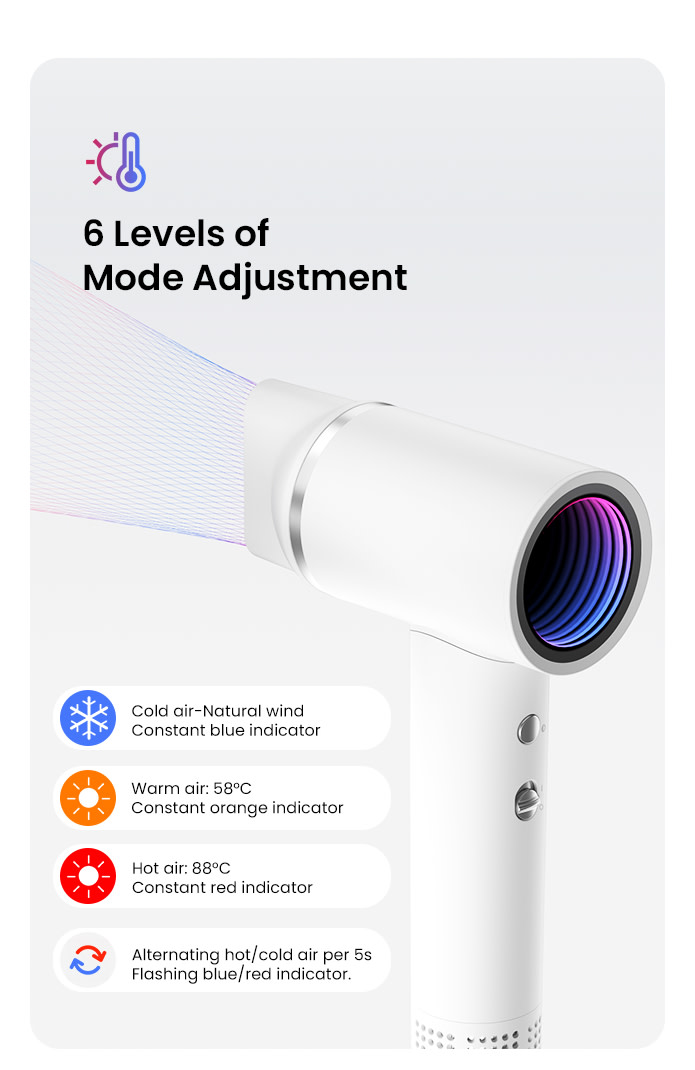 The Miro hair dryer achieves a breakthrough in 6 levels of mode adjustment. The temperatures and wind speeds can be set according to different preferences. The variety of temperatures meets the daily needs of various hair stylings. Miro is suitable for both at-home and professional use.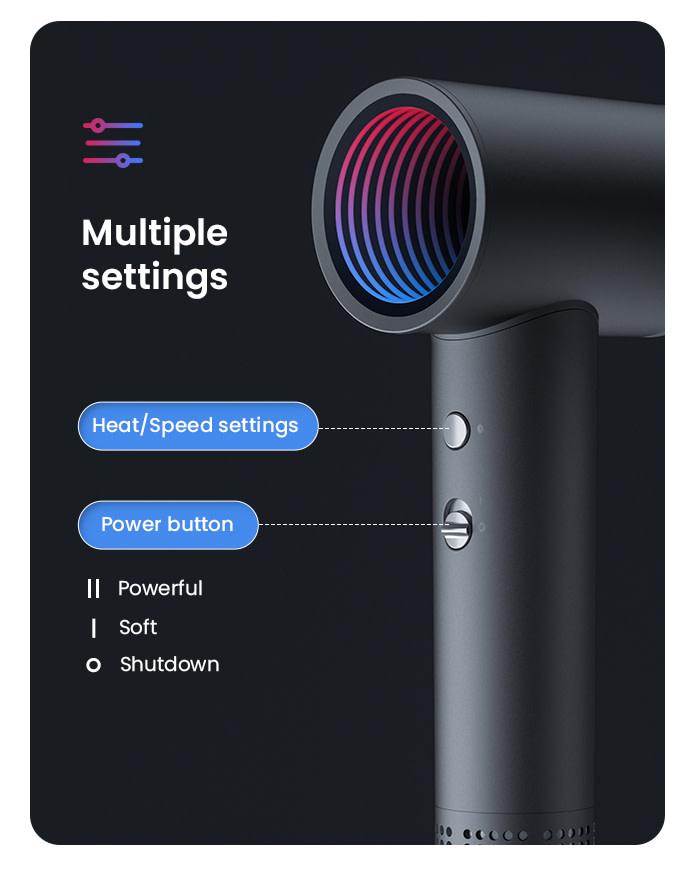 With 3 settings (natural /warm /hot wind) and 2 wind speeds (strong /soft), you can easily switch between different settings by pressing the button. Miro contains an auto-saving memory setting function that allows the user to save the desired temperature for later use.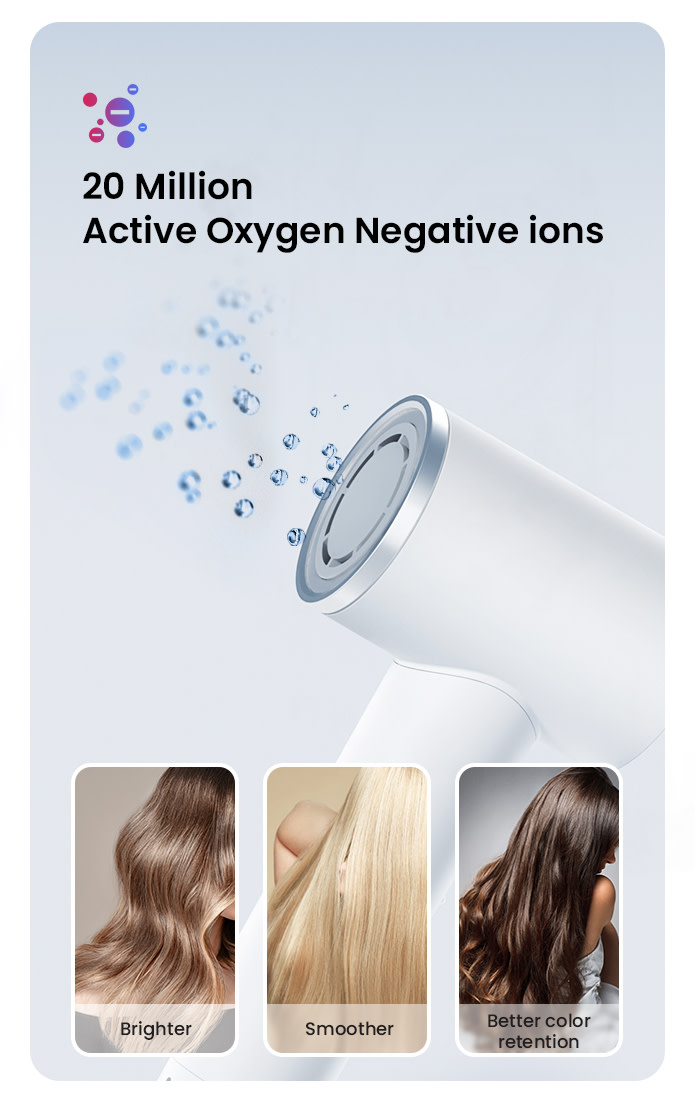 ROIDMI Miro can generate 20 million active oxygen-negative ions to reduce the static electricity of the hair and form a protective layer that retains the natural moisture content of the hair, as well as caring for hair roots for a smooth and glossy result.  Blow-dry your hair quicker than ever with reduced frizz and increased shine. Give you silky, smooth, hydrated, and healthy strands of hair.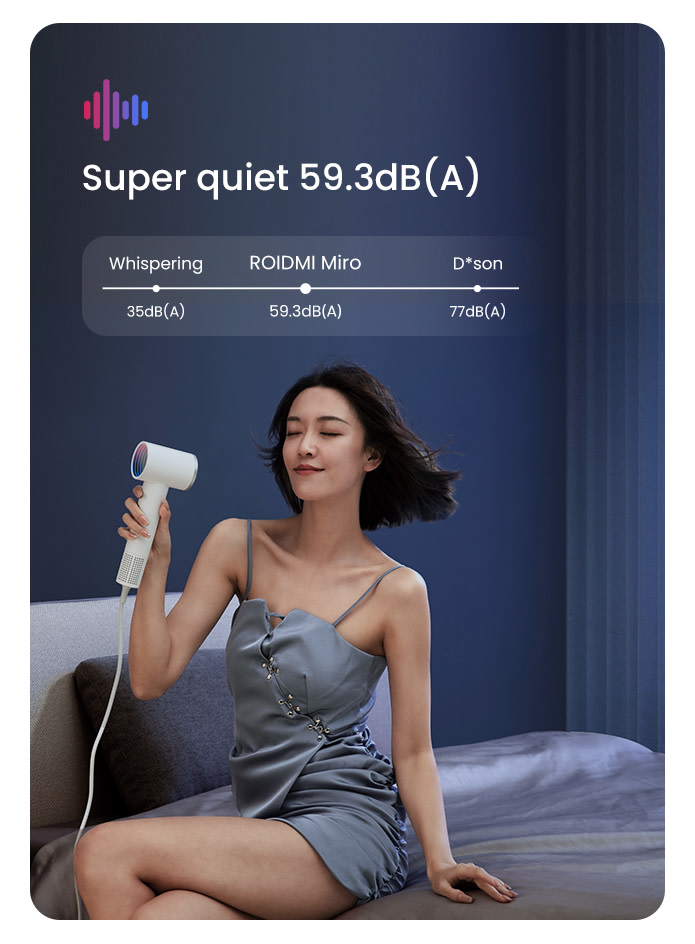 The 6-layer damping noise reduction technique of the Miro high-speed hair dryer reduces the operational sound level by 50% of conventional hair dryers. The adoption of a brushless motor reduces the roter friction noise. The optimized design of the air duct reduces the windage friction noise. And the electromagnetic noise was optimized to over 20kHz which greatly reduce the noise level of the Miro hair dryer to 59.3dB(A)*.
*59.3dB(A) This data was derived from a third-party laboratory testing at rated voltage and frequency. When the hairdryer (without attachments) was operated under the cold air low-speed setting, noise measurement was conducted at a position of distance at least 1 meter from the microphone, the average noise is 59.3dB(A); When the hairdryer (without attachments) was operated under the cold air high-speed setting,  noise measurement was conducted at a position of distance at least 1 meter from the microphone, the average noise is 69dB(A). Report number: GREENTECH 0508-22A-01
Soft and quiet. If you dry your hair at night it will not disturb the family members, and even can be used on pets.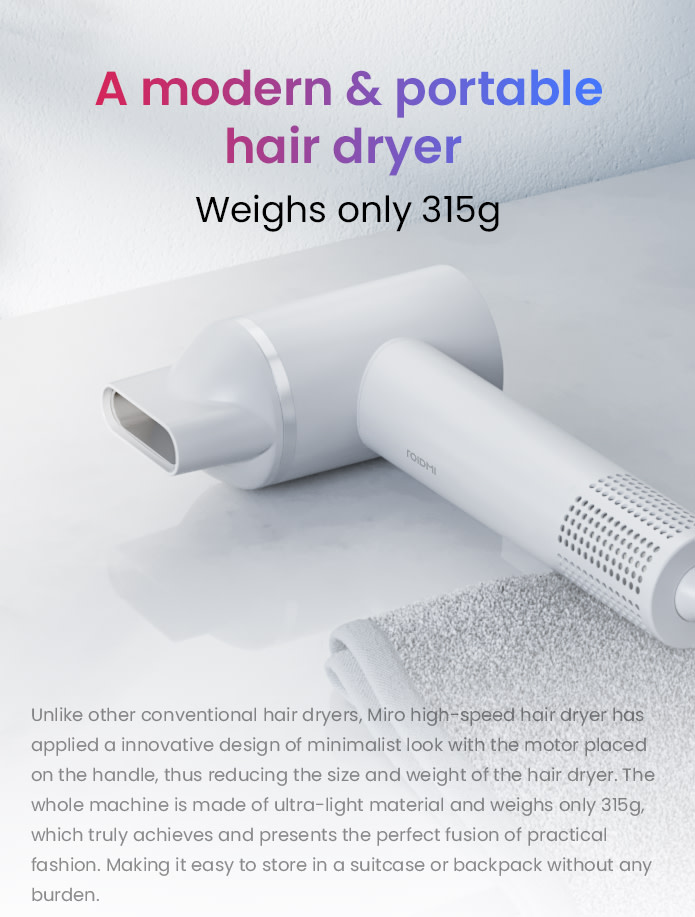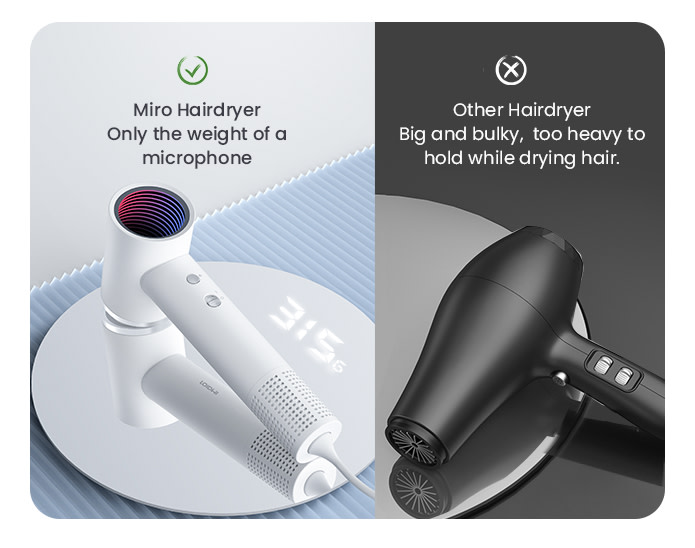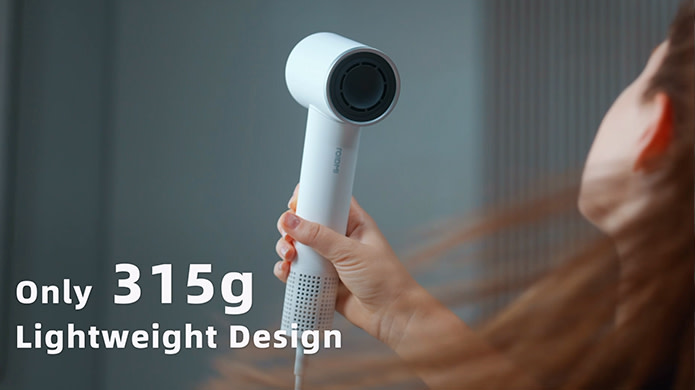 Weighs only 315g, Miro high-speed hair dryer is truly small and portable. The diameter is only 9.1cm. Its weight has evenly distributed among the body and handles that feel light in hand. Make sure no burden even if you hold for a long time. This professional hair dryer can help you achieve salon-quality hair blowouts.
With a curved body and ultra-light ergonomic design, Miro is made with an extremely comfortable grip. Smooth UV coating of the body provides durable protection against scratches and abrasion, it also has better heat insulation to prevent overheating. It's perfect to use for yourself or as a gift to a loved one.
The Miro comes with a 360° freely rotating magnetic nozzle, very easy and convenient to install. Equipped with a magnetic concentrator nozzle for the most concentrated airflow that's perfect for fast styling.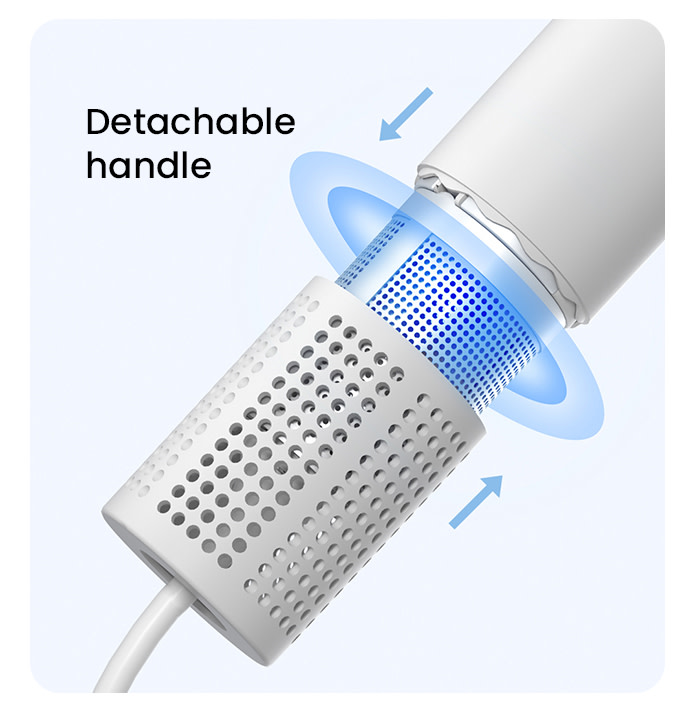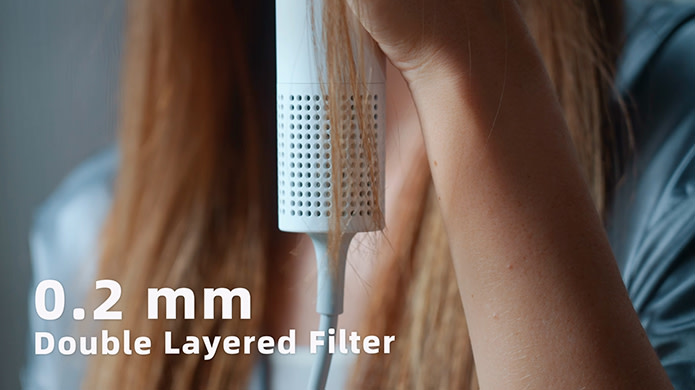 The air inlet is located on the handle of the hair dryer to reduce its weight. Come with a magnetic 0.2mm double-layered ultra-dense filter that prevents inhalation of hair,  and is removable for easy cleaning.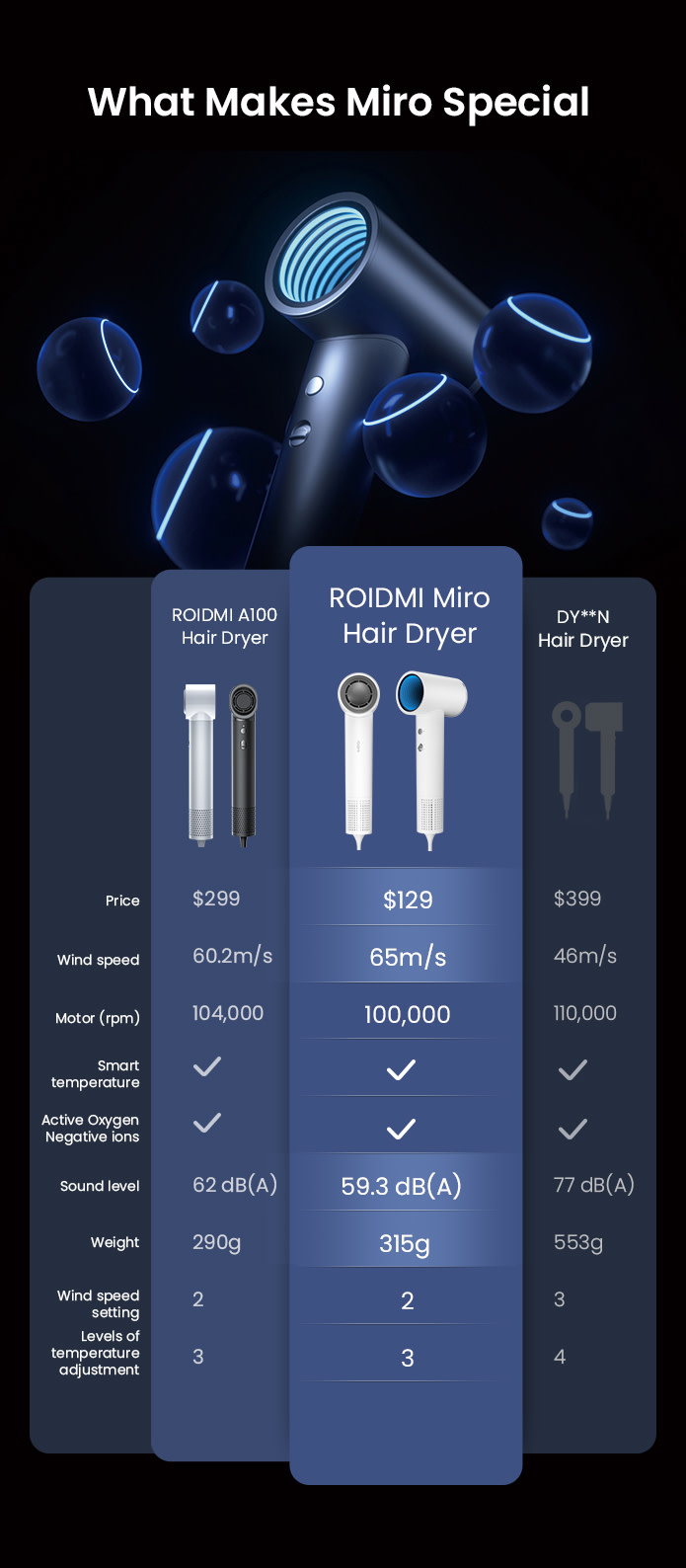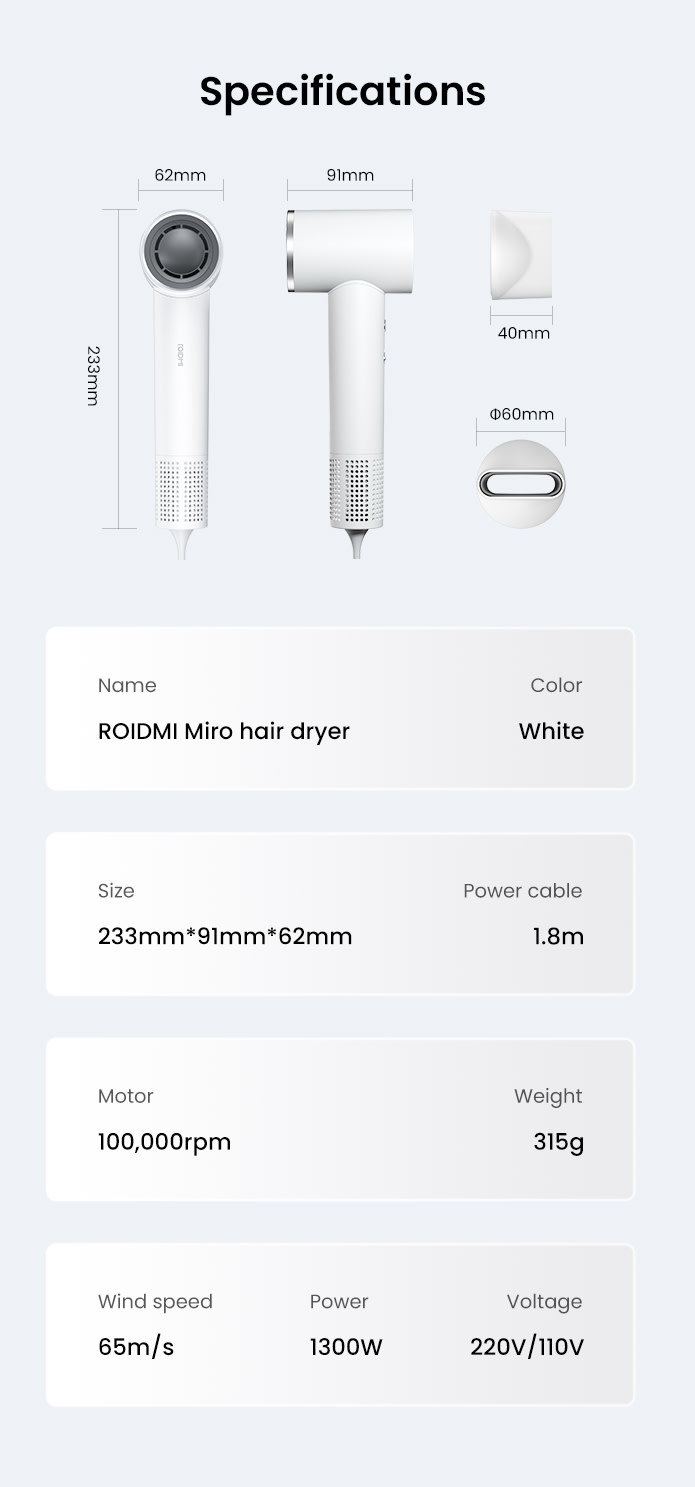 Use day or night to become more focused, more productive, and more relaxed.
No More Tangled Cords | 165W Powerful Suction | Featuring 3D Pool Map Planning & Navigation System | 5 Cleaning Modes
Search for awesome projects
You may also be interested in
The most versatile laser measure that integrates 9 materials stud finder, thermal imager, cross laser level and much more
One Device, Infinite Dreams
LiDAR SLAM Navigation | No Perimeter Wire | Intelligent Obstacle Avoidance | Multi-zone Management | Intelligent Path Planning
You may also be interested in
The most versatile laser measure that integrates 9 materials stud finder, thermal imager, cross laser level and much more
One Device, Infinite Dreams
LiDAR SLAM Navigation | No Perimeter Wire | Intelligent Obstacle Avoidance | Multi-zone Management | Intelligent Path Planning