Poputar: A Smart Guitar with Free App for Everyone
1st smart guitar with immersive learning experience. Learn to play guitar like a pro in 10 days.
Pledge Here




Poputar has modified the guitar learning journey so that you don't lose motivation.
Hang on, Rock on!
No monotonous and boring practicing session. But rather an enjoyable journey.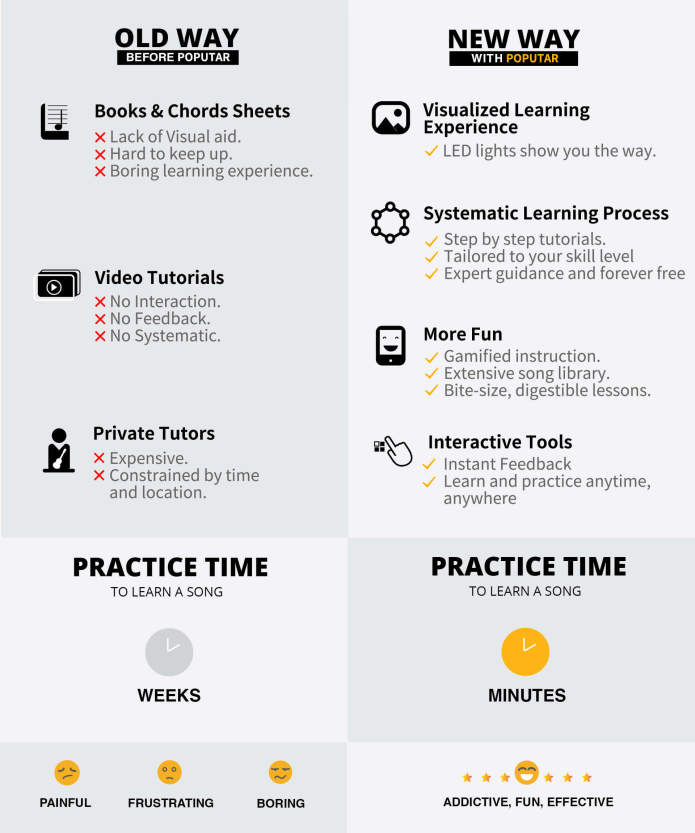 Extremely Fun Learning Experience 
Unique LED lights synced with the PopuMusic App will allow you to play any song.
Play, repeat, learn and improve daily.
Just follow the lights on the fingerboard to find the position of left hand, which sync with those in the PopuMusic App which tells when right hand plunking strings

Our secret is immersive learning experience. Shh! Don't tell anyone.
Playing guitar is cool but the practice is what really makes you a pro and we have just shortened the time that it will take you to get there.
PopuMusic, the Poputar App, has transformed the learning experience in a unique gamified manner which will keep you entertained, hooked and craving for me.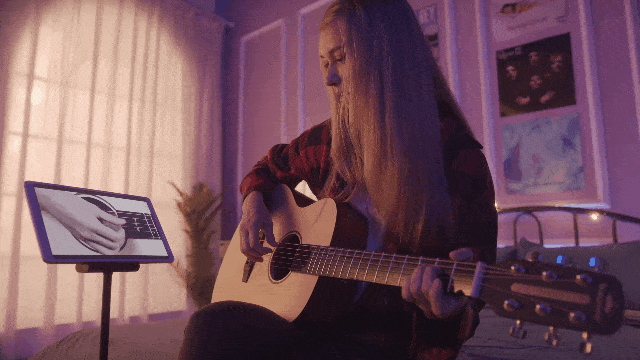 With the learning by playing settings, you will jam with friends or perform on stage very soon.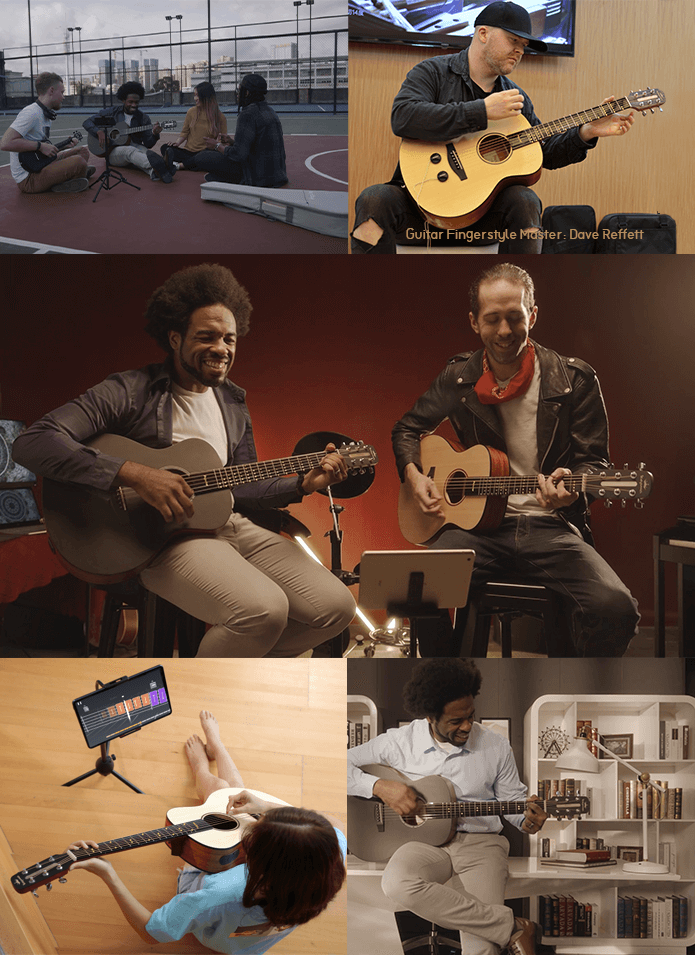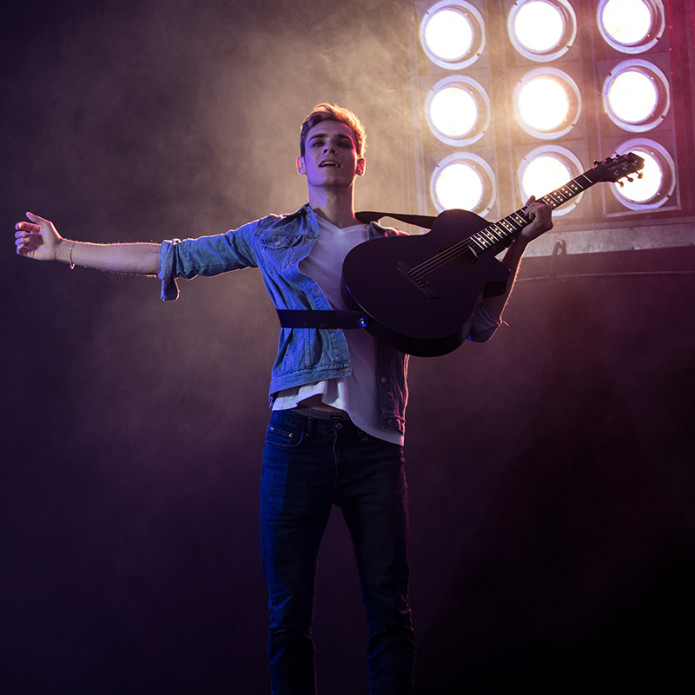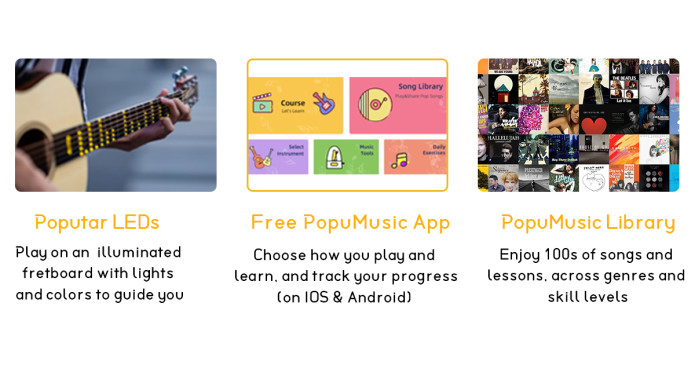 Real Time Feedback & Guidance 
Choose a song and start to play one note after another at your own pace.
The illuminated fingerboard guides you through every step you've made.
The real time guide & feedback loop boosts your personal practice up to the next level.
The PopuMusic App installed in your phone or tablet sends out the signals in 0.02s, delivering almost no delay experience.
The add-on interactive E-learning courses will walk you through all the fundamentals and troubleshooting anytime you get stuck.

Poputar awakens your inner musician and helps you visualize the invisible through the unique light guidance, smart sound recognition, and interactive gamification App.
Innovations like transformed Bluetooth guitar, fingerboard lighting system accelerate the cycle from a beginner to an expert.
​
Illuminating LED Lights Guidance
Poputar makes your practice and learning process enjoyable at every stage with 96 smart LED lights on the fretboard.
Stay focused all the time.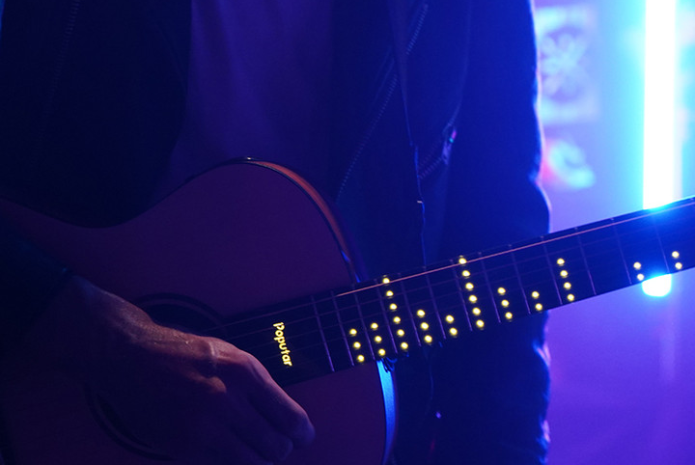 Poputar instantly and wirelessly receives the rhythm signals from your smart devices with the latest Bluetooth 5.0 and displays the fingering on board with LED lights.
Practice anytime & anywhere.
Poputar's 36 inches design was designed to perfectly match the human body sizes.
Enjoy your jam session with friends with a long battery life of up to 10 hours of "full illumination" mode.

The PopuMusic App: Interactive Dynamics
Along with the LEDs that show you what notes to play, PopuMusic App also listens closely to you and gives you instant feedback if you make any mistakes.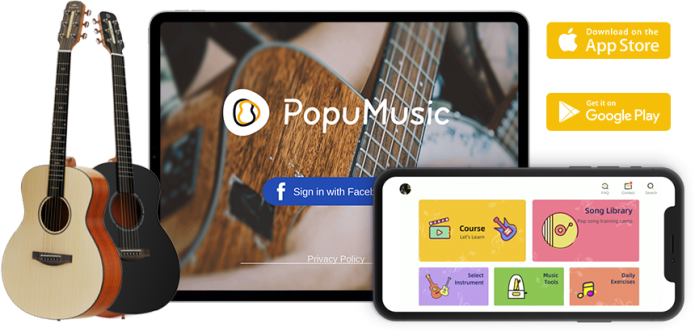 Playing Poputar with PopuMusic App
NOTE: App is in final testing process, coming soon in applications store!


PopuMusic App introduce an interactive guitar playing experience.
The game style practice lessons will take you from beginner stage to an expert level in no time.
Skip the boring and tedious practice and level up in an entertaining way.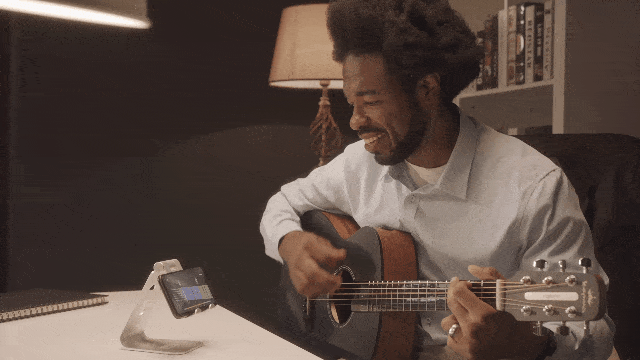 Get Started From Single Chord Practices
Visualize the invisible notes dancing on the screen.
Neither need to know the sheet music, nor load the burden to remember everything.
Don't worry, you know where you are, and what's coming next with PopuMusic's smart readings displayed on the screen.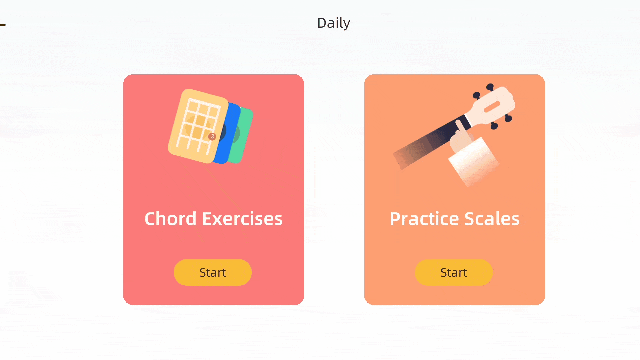 Learn Complex Chords at Ease
Playing a song is so difficult, but once you master a few chords, feel free to learn to play a song.
The secret behind is that you can combine the chords you've learned as the way you want, and even create a new song.
PopuMusic make it easier by helping you make progress with chords learning step by step.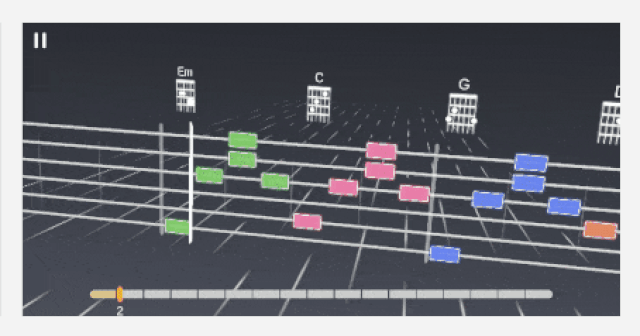 The journey starts by choosing a song from the PopuMusic song library.
PopuMusic's weekly updated song library, imagine you can keep playing from one of your favorite songs to another.
Sitback, relax and start playing as the lead singer on stage!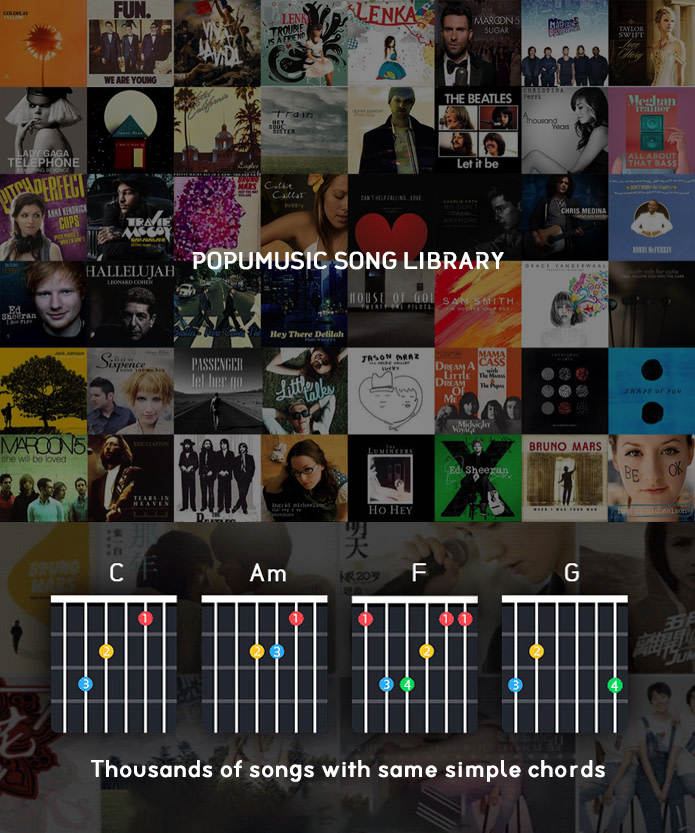 As Easy as Catching a Ball
Gamified guitar lessons in strumming, plucking, chord switching, and more!
When you play a note, the guitar sends a signal back to the PopuMusic App.
Instantly evaluating whether or not you've played correctly.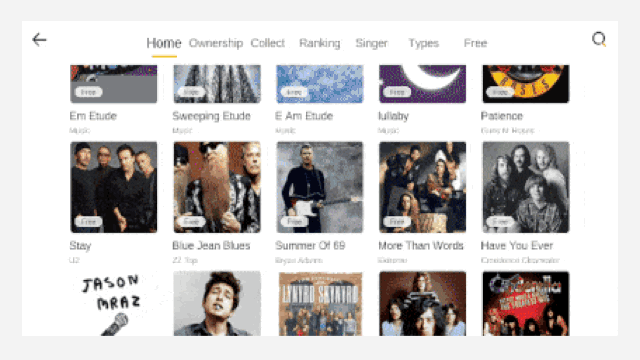 ​Make yourself comfortable and confident by adjusting the chord or the songs playing speed.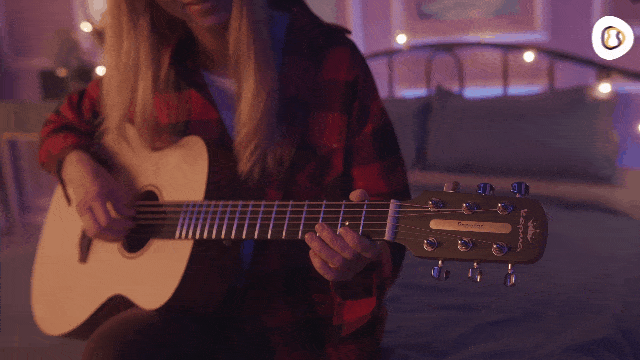 Level Up with Sheet Music 
Move on to play with sheet music after you've mastered playing the notes, rhythms, and fingering positions.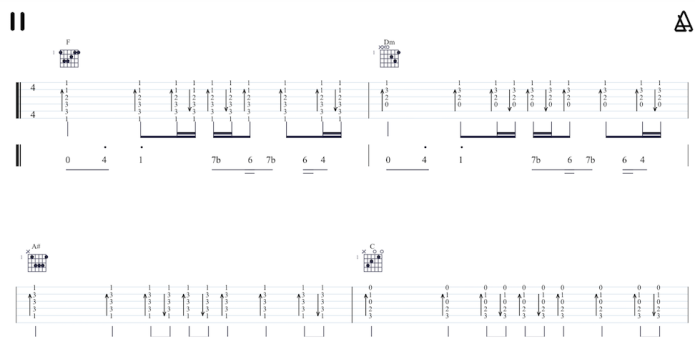 Record and Share with Friends
Track your personal guitar learning journey and see how you make progress step by step!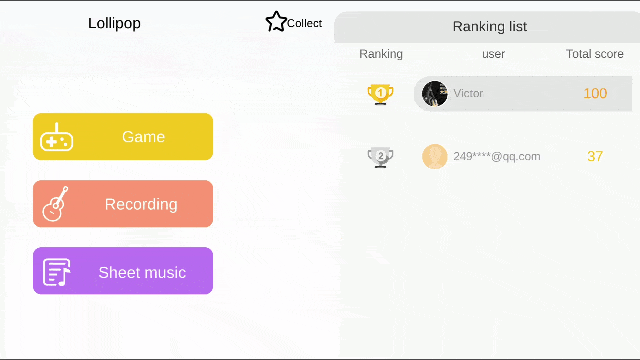 Interactive Video Tutorials
​Don't worry about forgetting what you learned in class! PopuMusic designed a series of learning tutorials for you to refer back to. Rewatch your lessons and review them anytime.
​
PopuMusic is not like the average tuning devices. It has an integrated tuning process within the smart PopuMusic App.
Simply tap the tuning tool to follow the interactive guidance.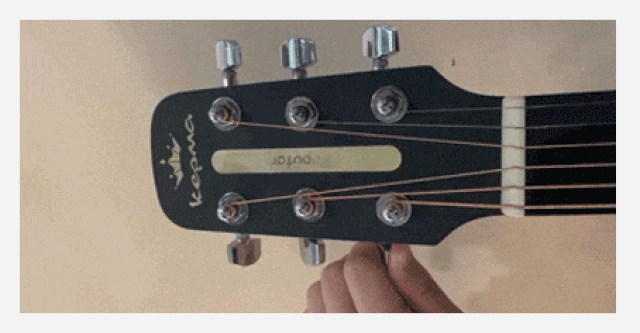 Chords and Fingering Dictionary
PopuMusic App has a strong chords dictionary.
It emcompasses most chord inversions and scales – all available to be put on the LED indication feature.
This dictionary is a powerful & useful tool – even for professional level guitar players!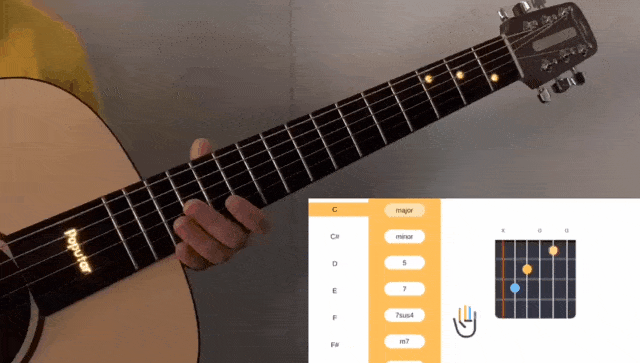 Light-Up Mode & Dazzling-Mode
​​Turn on the Light-Up Mode for when you're composing a song.
It'll help you visualize the chords that you're writing.
Complex chords and unique patterns can all light up at once according to your wish.
Switch on Dazzling-Mode when you want to play a cool frequency song.
The LED light will change along with the dynamics of the rhythm.
Elevate your performance with the fast-changing shapes and brightness of the lights.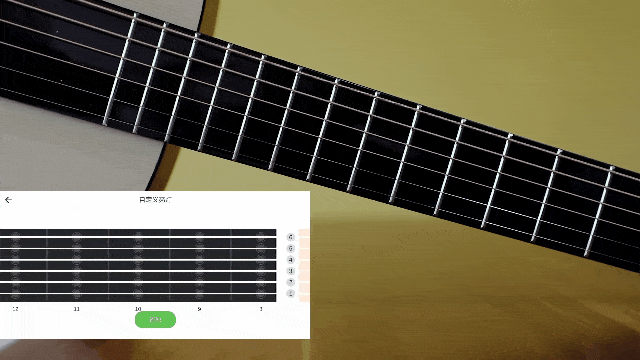 Populele & Poputar in One App
Freely switch between learning the Poputar smart guitar and the Populele smart ukulele. The PopuMusic App operates with both instruments. Learn everything across one App.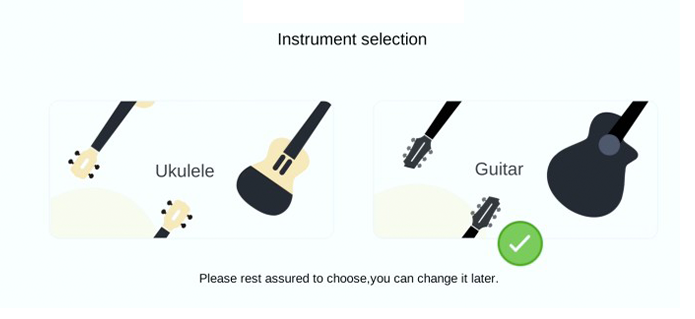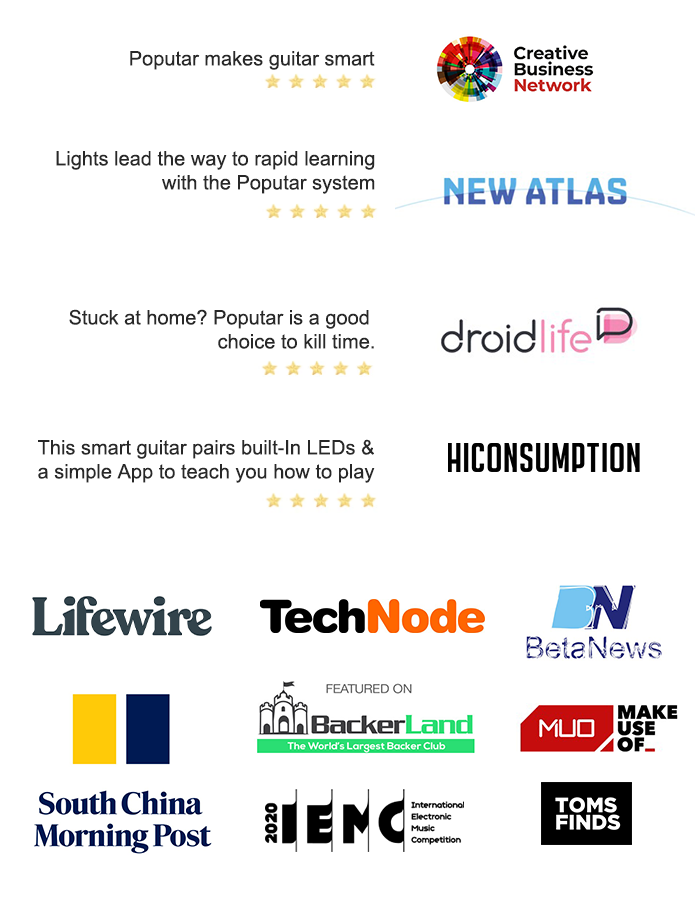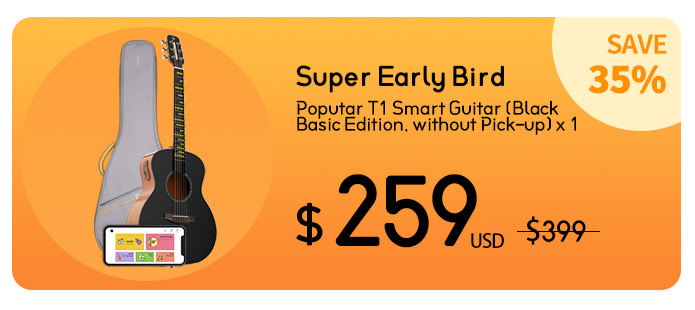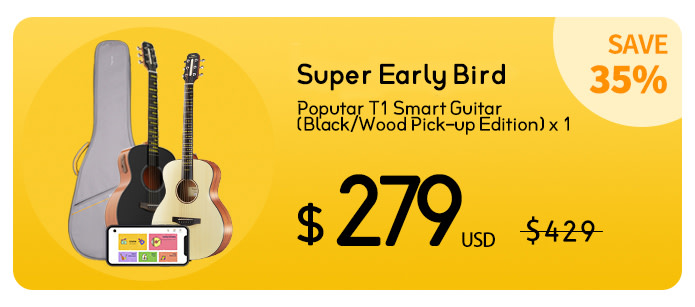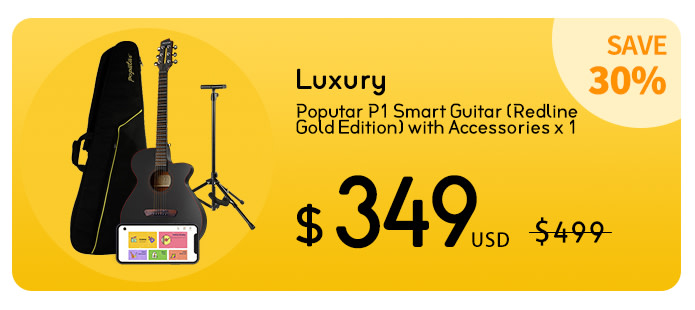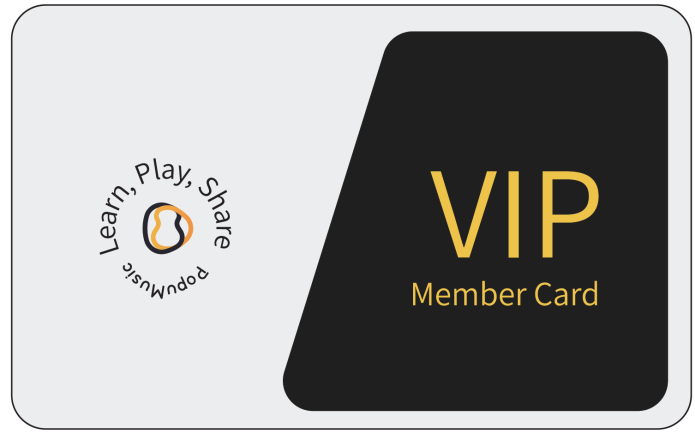 "Poputar P1 Red Line Edition is designed for music beginners to learn basic guitar skills in an extremely fun way. With 120 LEDs built inside the guitar neck, users can visually locate the chord position and never worry about forgetting where to put their fingers on the fretboard. Along with the App, Poputar can provide a music rhythmgame with real-time sound recognition, making music learning visually receptive." - IDSA INDUSTRIAL DESIGNERS SOCIETY OF AMERICA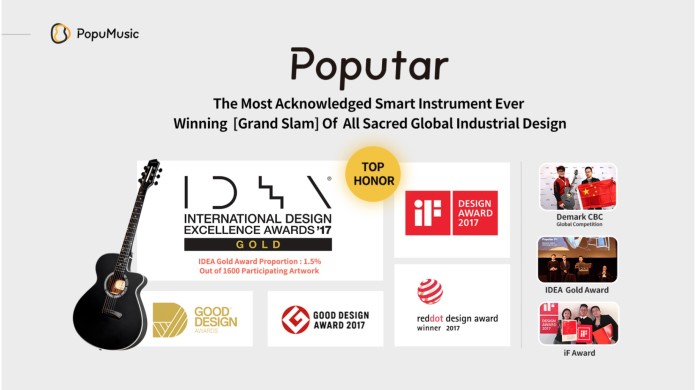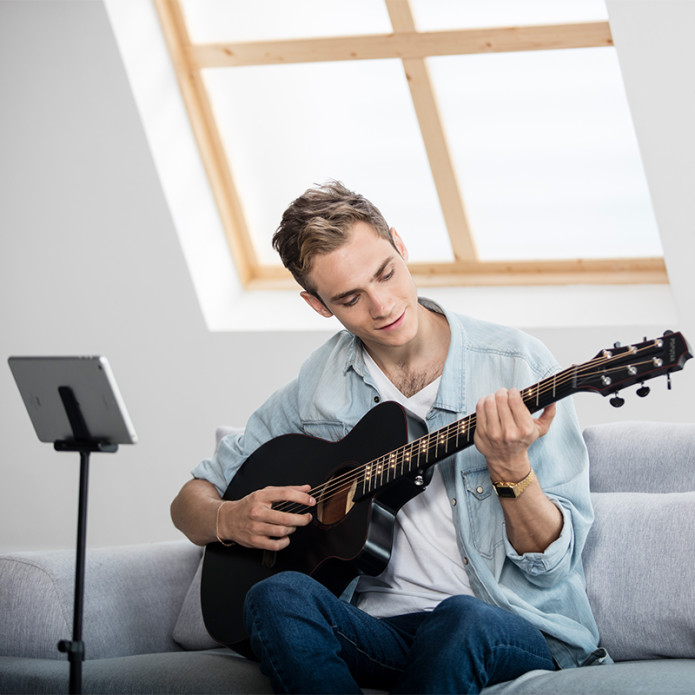 A specail perk for Poputar P1 Red Line Edition with Indiegogo discount price is avaliable now!
Includes: Poputar P1 x 1, Free PopuMusic App x 1, PopuBag x 1, Multifunctional Guitar Standx 1, Guitar Capo x 1, Hexagonal Wrench x 1, Custom Nail Clippers x 1, Custom Picks x 2, Guitar Spare Strings x 1, Charge Cable x 1, Manual x 1, VIP Member Card x 1
PopuMusic App Compatibility: IOS 10.0 and above, Android 5.0 and above; Mobile and Tablet.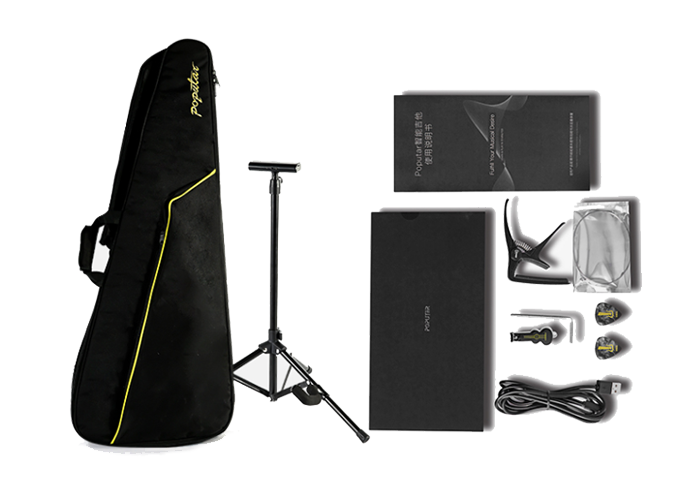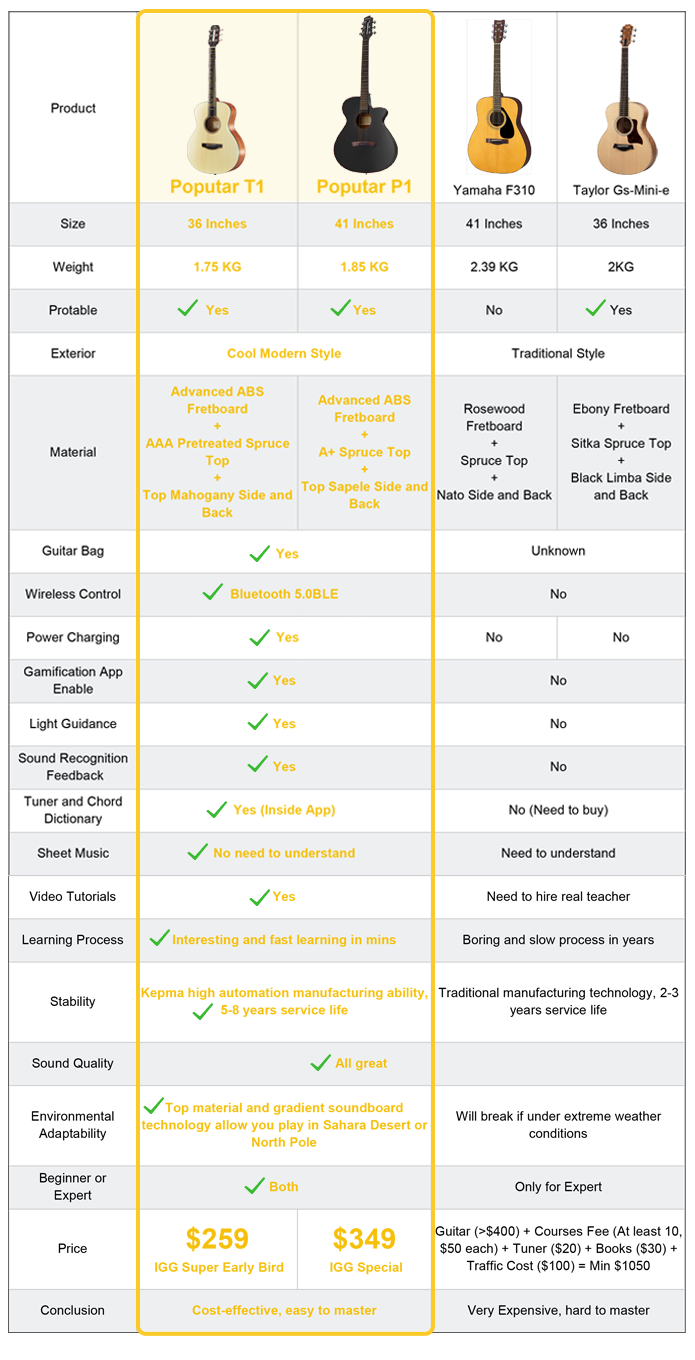 As a beginner guitar, Poputar also shows great performance in sound, portablility and quality.

Master Players Love Poputar
Dave is one of the top guitar players in the world, now he is also a guitar teacher, let's see his comments about Poputar.
Is Poputar provide any convenience or benefit to the teacher?
Poputar allow beginners quicker and easier to get started. it is powerful tool to guide students. One-to-many, high-efficiency classrooms can be achieved. Teachers only need to guide the key details. Students can approach to advanced courses in short time.
Pick-up Your First Song with Poputar
For advanced learners or Guitar players, the pick-up is a great companion for your show in a band or solo. The Poputar pick-up amplifies your passion inside and share it with your beloved audience.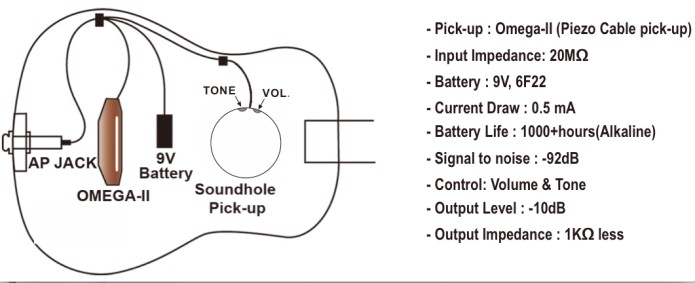 The advanced ABS material of the guitar, play and see the LED lights in action.
Poputar is a strong unipolar vibration guitar, with a full, lively sound, compared with the traditional 36 inches guitars.
The gradient soundboard technology, through high-precision programs controlled by CNC and laser machines enhance the responsiveness and enriche the sound.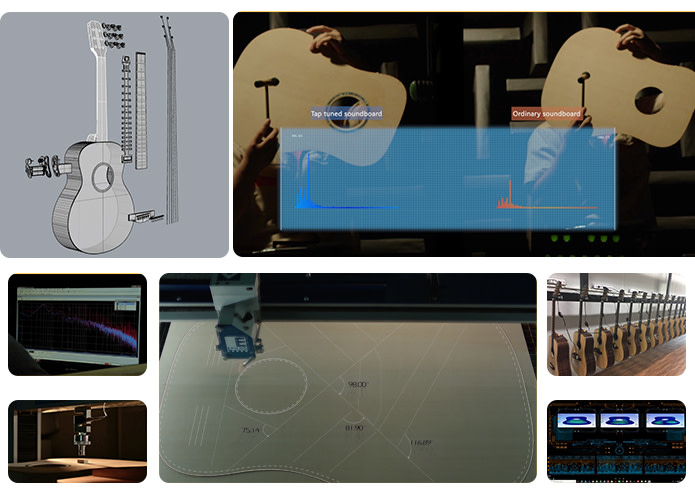 The Egormatic Design with for the Average Hand  
Poputar better fits the average human hand.
On Poputar fingerboard, a 420R trace arc is designed on the surface of the smart fretboard.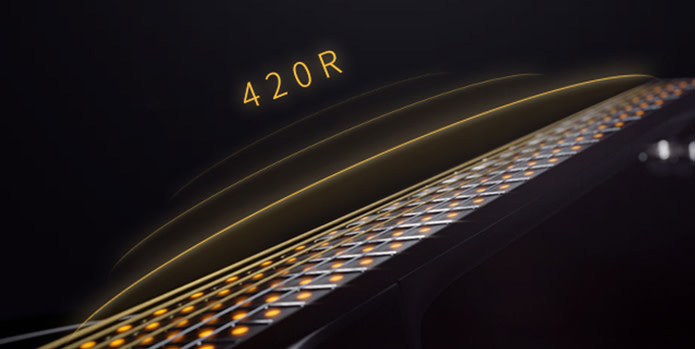 Frets are independently cast and formed, with a 360-degree arc fillet, no edges feelings, and it is more suitable for playing.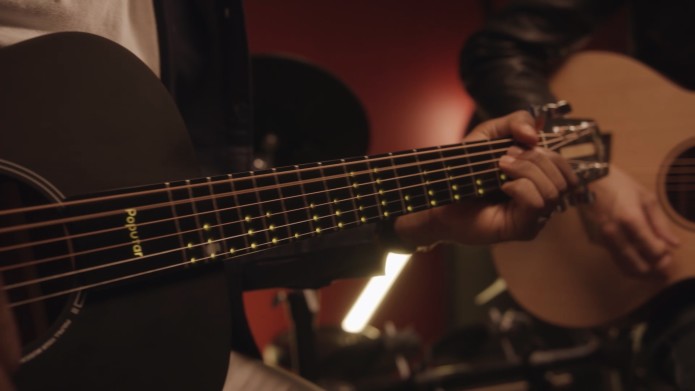 We take responsibility for the environmental footprint of our products throughout their life cycle.
Poputar Kepma Co-brand Edition is designed with the following features to reduce its environmental impact:
Made with better materials
100% recycled copper and stainless steel in the strings and tuner
100% recycled artificial wood in the body of guitar
50% or more recycled ABS plastic in multiple components
Energy efficient
Recycled AA dry batteries take place of lithium battery, no charging time, more portable and convenient
Advanced Bluetooth chips, 5.0 BLE, higher transmission efficiency, less power consumption
Kepma has one of the most technologically advanced factories and very scientific production process
Smarter chemistry
Heavy Metal-free smart fretboard
Mercury-free LED
BFR-, PVC-, and Beryllium-free
Responsible packaging
100% of virgin wood fiber comes from responsibly managed forests
Recyclable, majority-fiber packaging
Green manufacturing with artificial wood instead of endangered Wood

We are in partnership with Kepma, the world leading guitar manufacturer.
Every Poputar guitar solid spruce top is completely evaluated and graded for frequency response, tap-tuned and tapered to produce the perfect sounding solid top.
Perfect. Every time.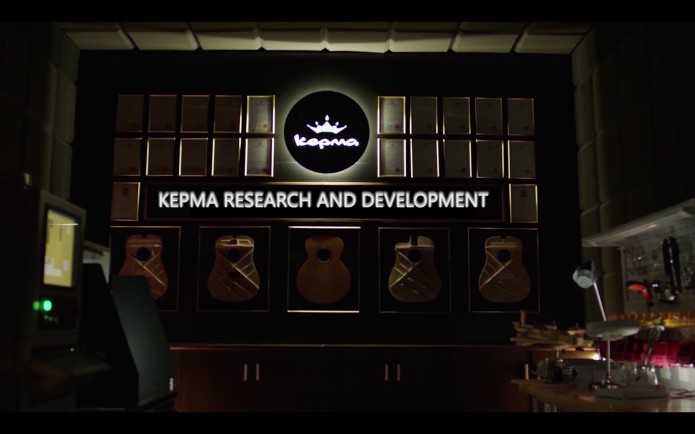 Inside a constant temperature and humidity production workshop, Poputar's top spruce panels, mahogany back side panels are through strict selection of materials.

The premium guitar would also take their production to a new, unrivaled level.
In addition to adding more custom computer-controlled machines, the new guitar would be produced using more precision automation and robotics than ever before – including in-house manufactured custom machinery built specifically for new methods of production, instead of manually assembling.
All of these ensure us to get perfect sound quality.

At Poputar, there's no distinction between art and science — they're one in the same.
The approach to design and build guitars for the world stage is unprecedented…
We blend science and technology in such an artful way to produce guitars that in the hands of a player evoke the feeling and emotion intended by the artist.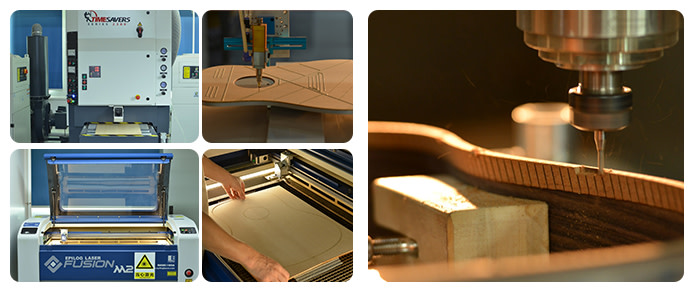 A guitar isn't just a tool, it's an extension of your soul. Put Poputar in your hands and you'll instantly know — it's perfect. Every time.

Bluetooth Signals to Light Signals
When you are playing a song, PopuMusic App simultaneously display the fingering of next note, and send the note code to Poputar LEDs on fingerboard via Bluetooth. You will tap where it lights up and then play the note!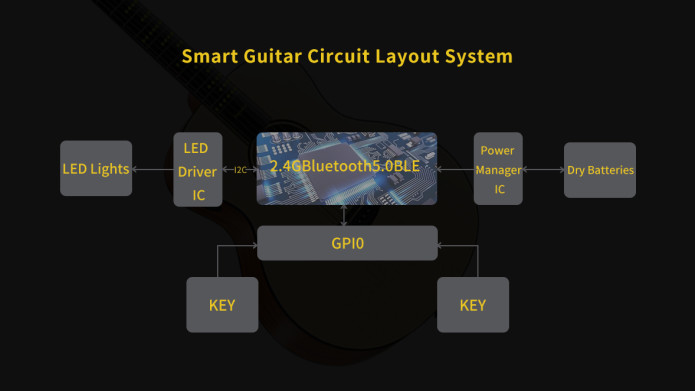 While you playing the notes, the sound is picked up by the smartphone's or tablet's microphone, and processed by the sound card inside.
The smart PopuMusic App's noise reduction recognition algorithm will recognize the frequency to give feedback, accurately display "Pefect, Good, Late, Early" on the App even under the background music interference.
Lights display and sound recognition, input and output, happening at the same time, no delay, everything is clear at a glance!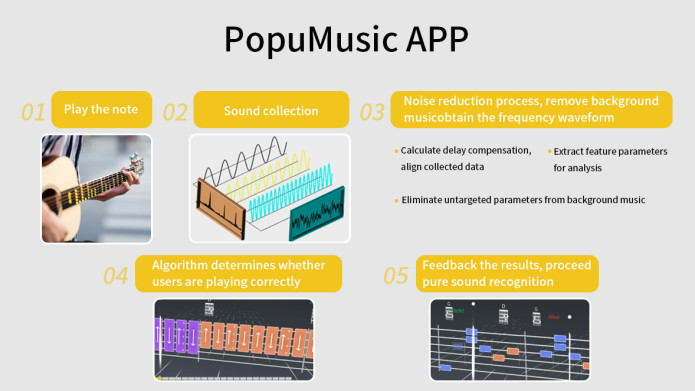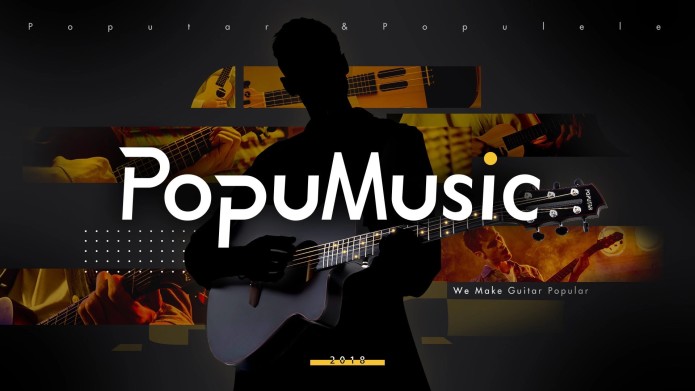 ​
We believe playing an instrument is not the privilege of a minority.
PopuMusic is the naughty disrupter in the instrument learning field.
We pushed the instrument learning experience to the limits through a perfect combination with both cutting-edge technology and classical instrument.
With gamification user experience, we are dedicated to making learning instrument fun and easy!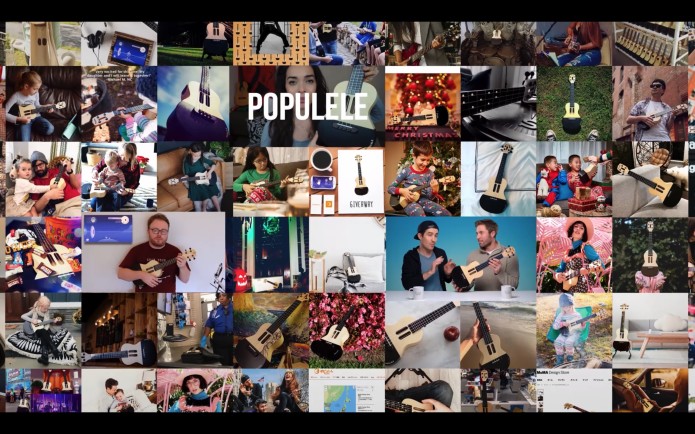 We've made brilliant progress with Poputar, but we're not finished yet! Please support PopuMusic team of mechanical engineers, audio programmers, industrial designers, and musicians as we all  put the finishing touches on a project that's years in the making. There are unmissable deals for early birds!
If we hit $200,000, we'll add a MAKE A WISH section to the PopuMusic App.

In the MAKE A WISH section, you can input the names of songs and singers you wish us to include in the song library, they will be scheduled in our weekly update list, soon you will listen, learn and play with your loved songs. And that's all free.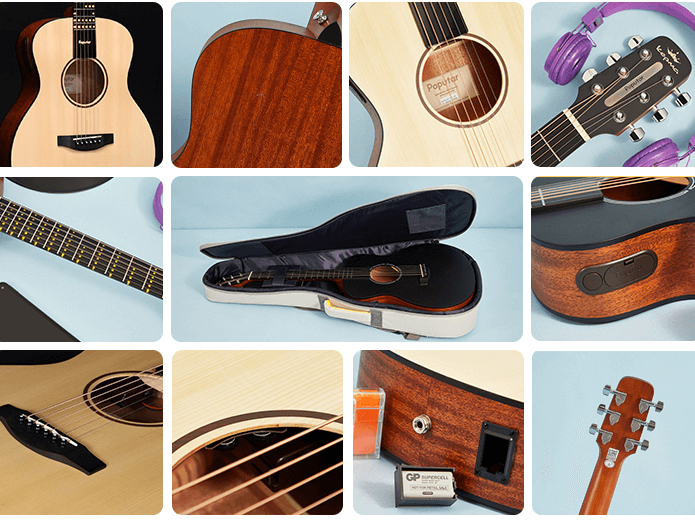 We can ship Poputars during the crowdfunding stage!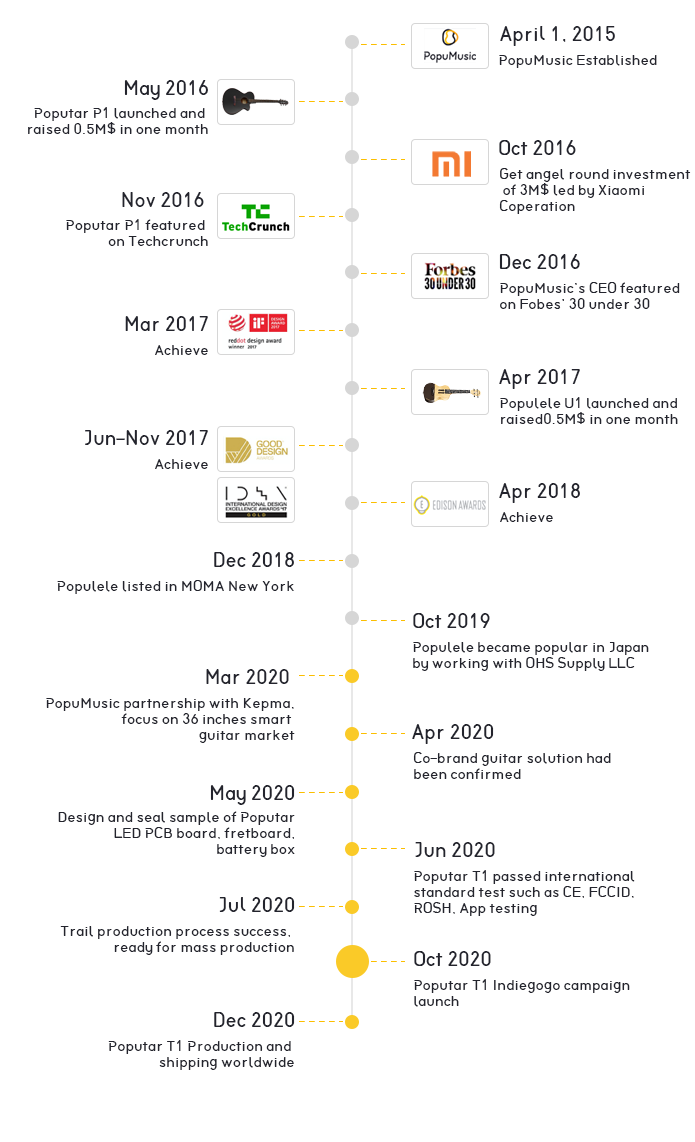 The Pawly Door detects when your cat tries to bring home prey, keeps intruders outside, and helps you find your missing cat.
  MAKA - The most powerful laser measuring tool for worksites? Recently, we have been asked by MAKA to review their universal measurement tool. Although most of us around here were not used to fixing stuff or doing home improvements ourselves, this trend is...
Search for awesome projects
You may also be interested in
Use day or night to become more focused, more productive, and more relaxed.
No More Tangled Cords | 165W Powerful Suction | Featuring 3D Pool Map Planning & Navigation System | 5 Cleaning Modes
The most versatile laser measure that integrates 9 materials stud finder, thermal imager, cross laser level and much more
You may also be interested in
Use day or night to become more focused, more productive, and more relaxed.
No More Tangled Cords | 165W Powerful Suction | Featuring 3D Pool Map Planning & Navigation System | 5 Cleaning Modes
The most versatile laser measure that integrates 9 materials stud finder, thermal imager, cross laser level and much more