MediQ: Non-Toxic Reusable Sterilizer & Air Purifier
Your Own Non-Toxic Reusable Household Sterilizing Solution | Just Table Salt + Tap Water = EO Water
Pledge Here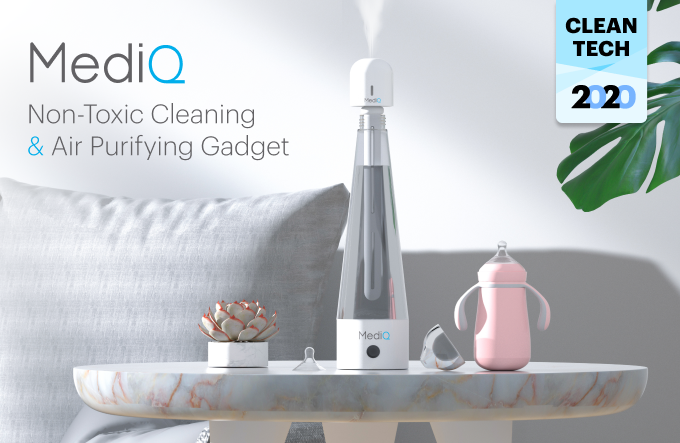 MediQ is a revolutionary new household sterilizing and air purifying device that creates a powerful non-toxic disinfectant out of just table salt and tap water.
Portable, affordable, environmentally friendly and baby-safe, the reusable device brings the latest cleaning technology to your home and office.


Designed to meet any household needs, MediQ cleans your kitchen, bathroom, living room, car, workplace or anywhere else you need spotless, and want fresh and clean air.
MediQ challenges the common belief that you need toxic and dangerous chemicals to clean.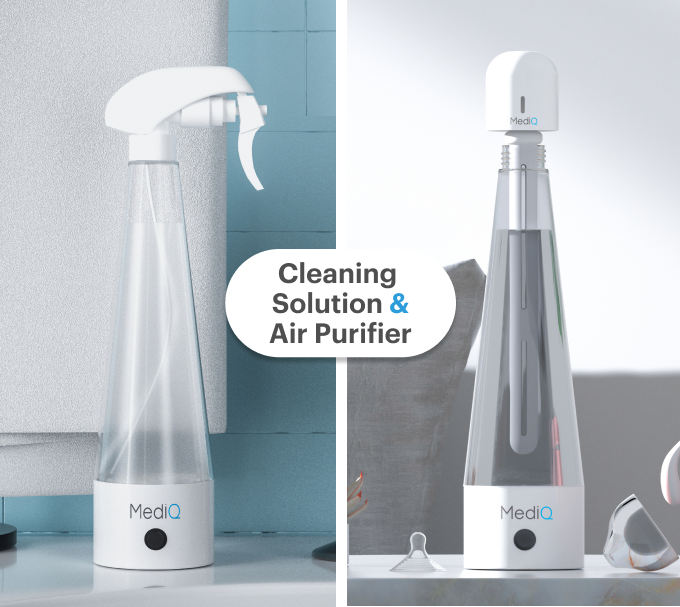 Non-Toxic Sterilizing Solution
Spray MediQ on any surface around your household, any hard-to-reach-place and enjoy a chemical-free sterilizing experience.
Turn on the MediQ Air Purifier and remove dust, mould, fungus and other particles from the air in your home.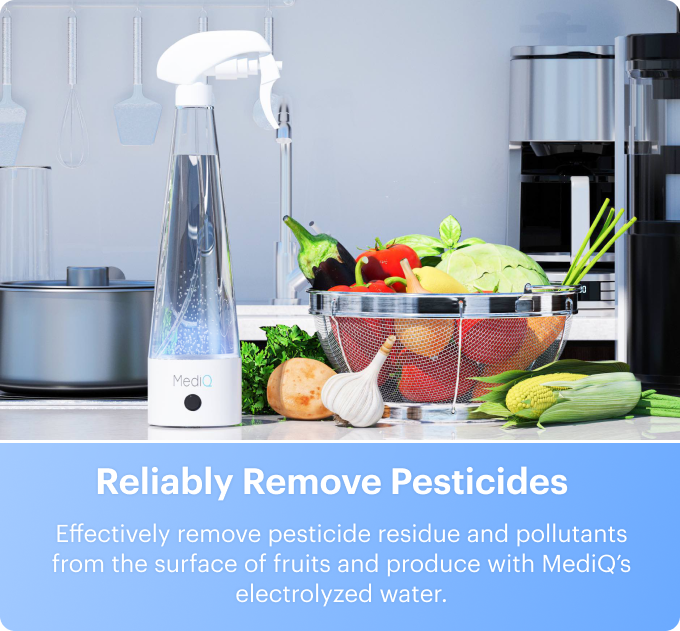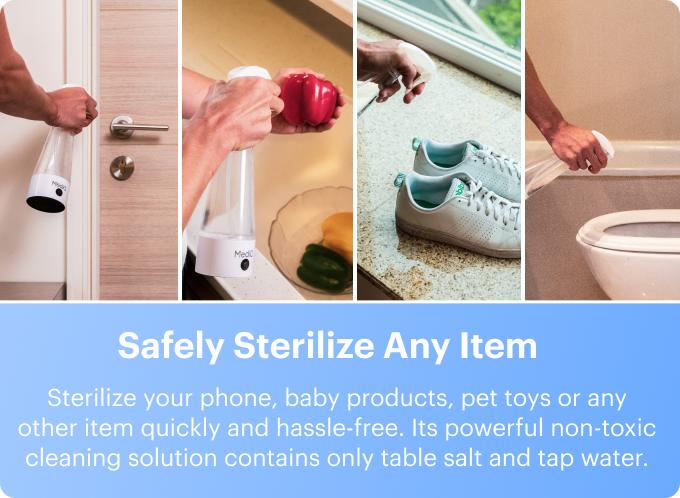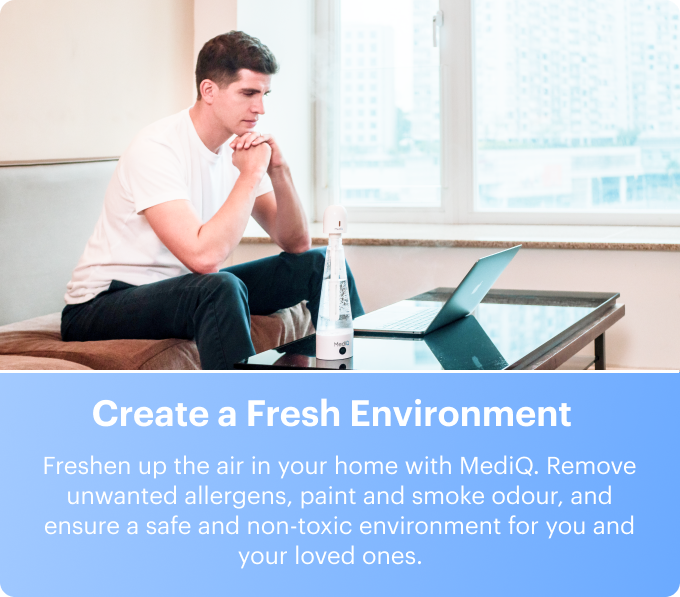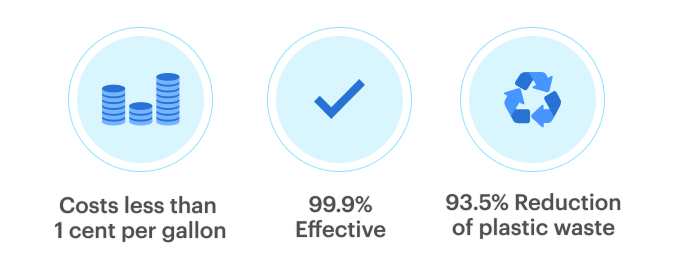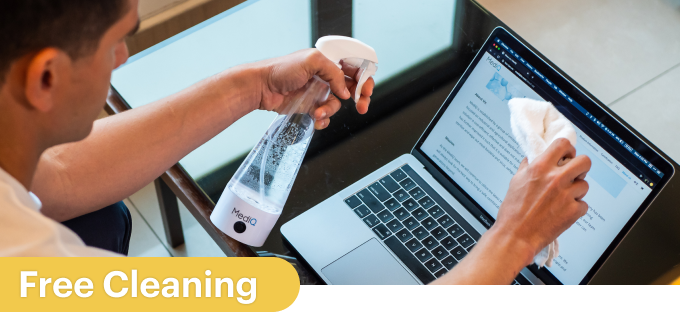 Make your own eco-friendly solution at almost no cost. Say goodbye to buying chemical cleaning solutions and solvents (bleach, cleansers, etc.).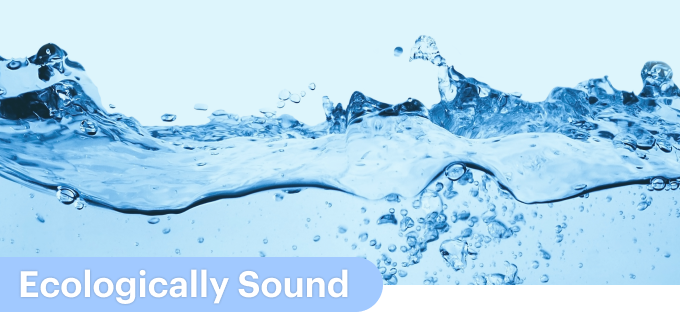 You just need table salt and tap water to clean anything with MediQ. This makes any harmful chemical disinfectants obsolete and defines a new eco-friendly sterilizing standard.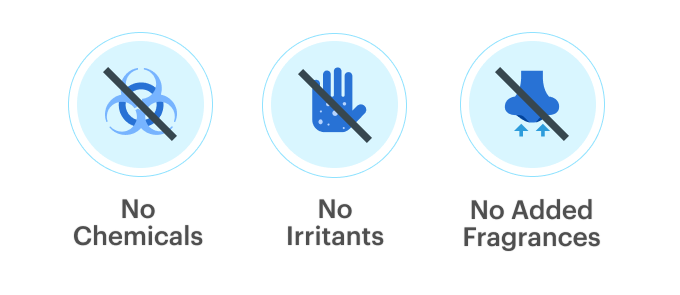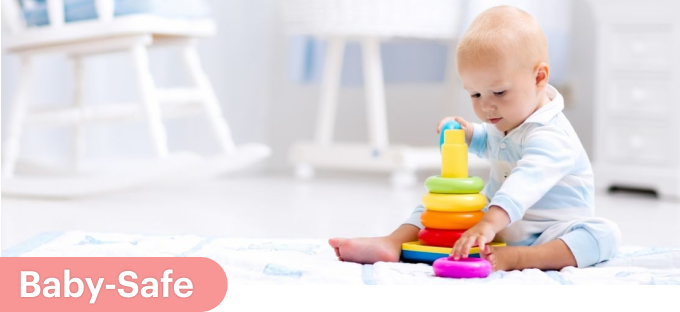 Safely sanitize any baby product, as MediQ's electrolyzed water solution is made of natural ingredients (salt and water), and does not have added fragrances.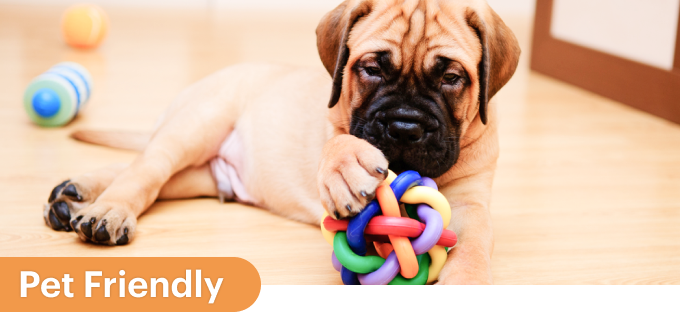 Remove and kill pathogens from your pet's favorite toys, without using any chemicals that can be harmful to your pets.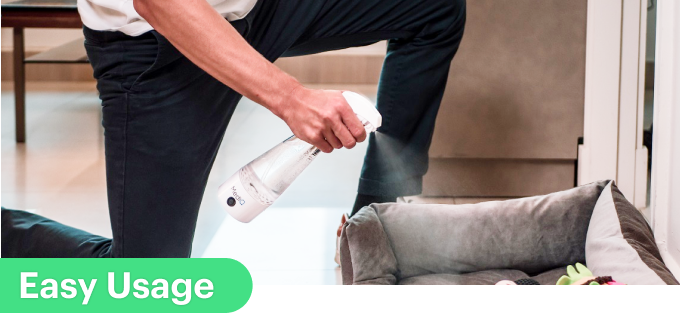 Produce your own MediQ solution as many times as you want. In 5-10 minutes, MediQ turns regular salt and water into non-toxic electrolyzed water without the need of refillers or additional devices.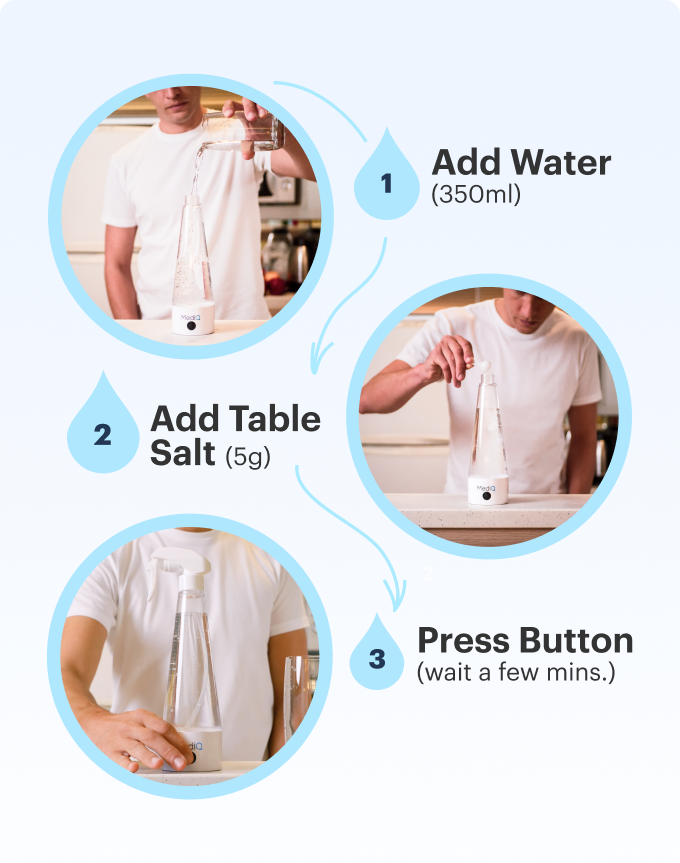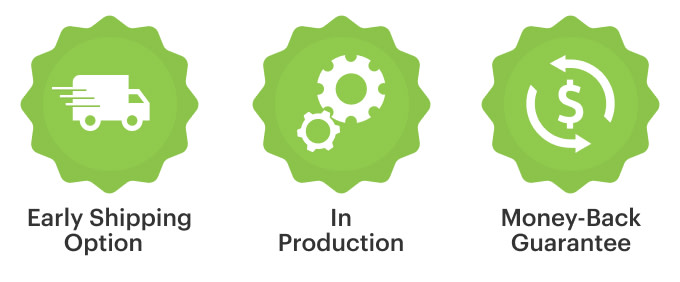 MediQ Air Purifier freshens up your air to a higher level. It does not just remove bad smells from your surroundings, it can also clean your space from harmful airborne particles, including allergens, germs, car exhaust and industrial pollution (PM2.5).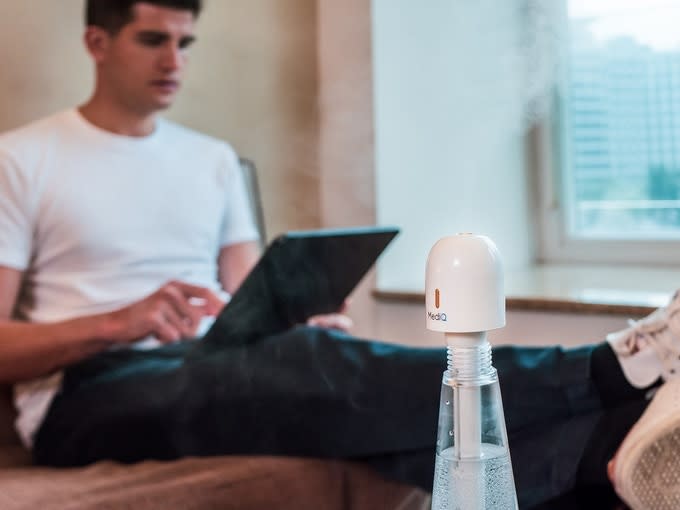 Remove pollutants that are released by furniture, stoves and plastics, and lower your home's TVOC (Total Volatile Organic Compounds) levels. You can even use it wirelessly, making it portable and easy to use anywhere – even in your car.
MediQ's Mist Head allows electrolyzed water to vaporize more effectively, spreading further and wider to occupy the entire space. Place one on your desk or inside your car and it will get rid of all these harmful particles, from floor to ceiling.  
 Switching to Air Purifier Mode is simple. Easy to install. Easy to use.All it takes is switching the included head. MediQ takes care of the rest!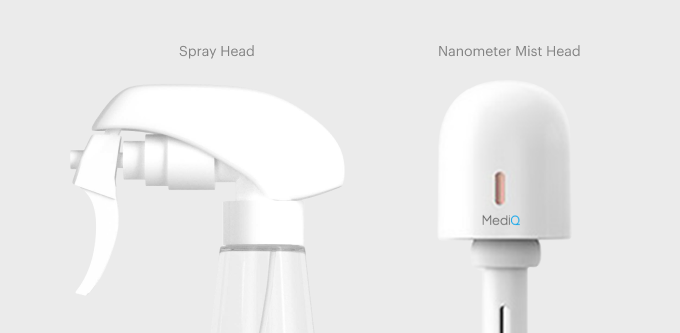 MediQ has two interchangeable heads for cleaning and purifying.
Spray Head
A few sprays is all it takes to sanitize hands, smartphones and other gadgets, clothing and shoes, door handles and steering wheels, baby toys and pet accessories. The concentrated mist effectively gets to those hard-to-reach places.
Mist Head
The vaporizing technology within the Mist Head spreads nanometer particles of electrolyzed water that are lighter than air. These tiny droplets are 50,000 times smaller than the width of a human hair, and essentially float around the room and capture harmful particles.


MediQ can clean and sterilize anytime and anyplace, inside and outside of your home!
Use it in your car, on the plane, in mass transit and more. Wash fresh fruits and vegetables to remove pesticides, clean baby's and pet's toys, and purify the air around you.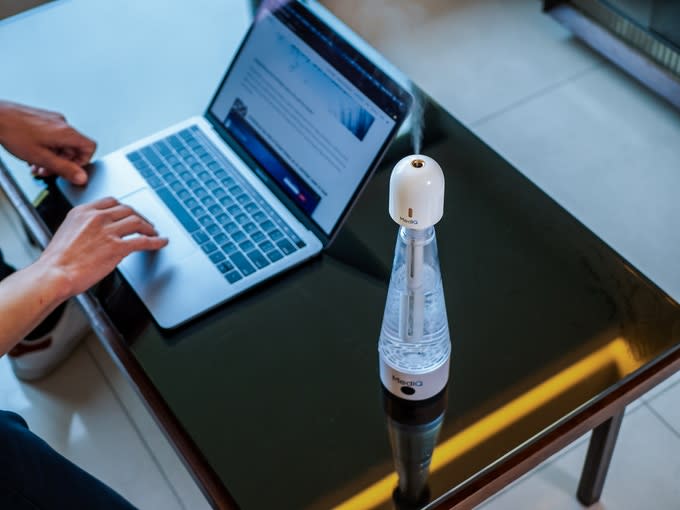 Home & Office
Clean your floors, furniture and door handles. Wipe fabric or leather surfaces. Rinse with water if needed. The MediQ Air Purifier can also deodorize the air around it. By placing it near new furniture and paint, it will decrease TVOC level.
Kitchen
Spray cooking utensils, stove tops, tables and ovens to clean grease and stains. MediQ reduces odors inside your fridge, and effectively remove pesticide residues and pollutants from the surface of fruit and food products.
Bathroom
Keep your bathroom clean and sterilized with MediQ. Use it just like bleach and detergent – pour it down the toilet bowl and sink, and soak washcloths to clean floor and wall tiles. It will also stop the growth of fungi and mold.
Baby Products & Pet Accessories
Make sensitive items safe by spraying them with non-toxic MediQ and rinsing with tap water. As MediQ's solution does not react with fabric, plastic and paint, you don't have to worry about damaging the items.
Car Interior
Clean your car's dashboard, steering wheel, seats, and carpets, and remove unwanted scents from the air. Freshen up the air by turning on the Air Purifier – it removes all smells from tobacco smoke to stale food.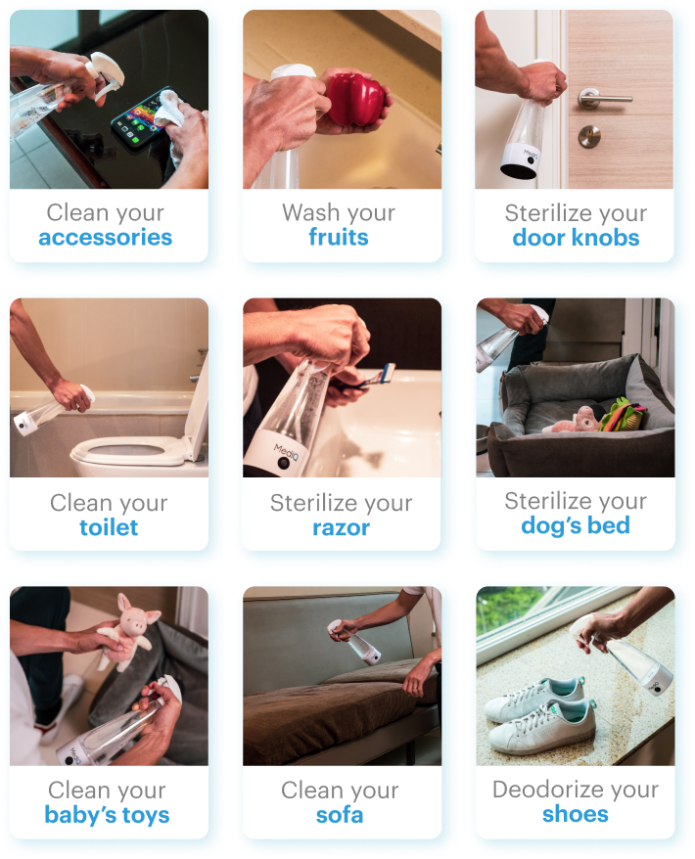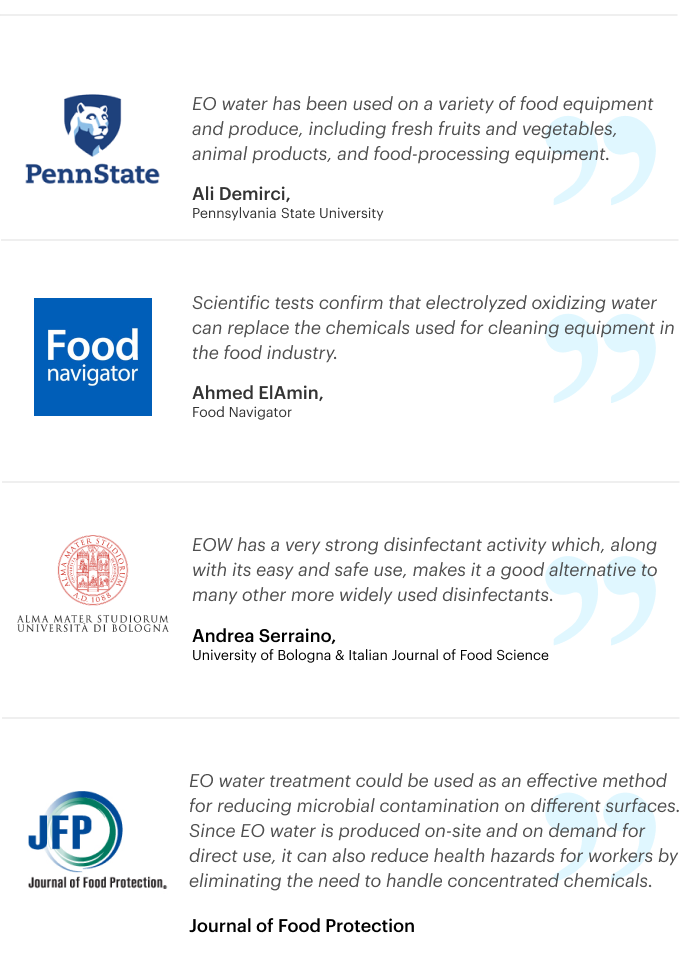 The above video shows MediQ contains sterilization function. The amount of microorganism has decreased significantly after spraying EO water on the items.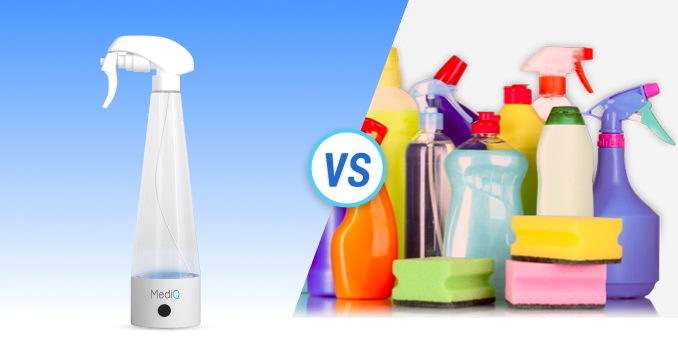 Our everyday household cleaning products are a threat to nature and the environment for a number of reasons:
The chemicals in many cleaners contribute to smog and are toxic to animals.
The plastic packages do not decompose and their re-use may cause unexpected and unwanted chemical reactions, which can be dangerous to people and the natural environment. 
Replacing new cleaners consumes lots of plastic bottles. More than 80 billion bottles per year are cast adrift into our oceans and landfills with each bottle taking over 400 years to decompose.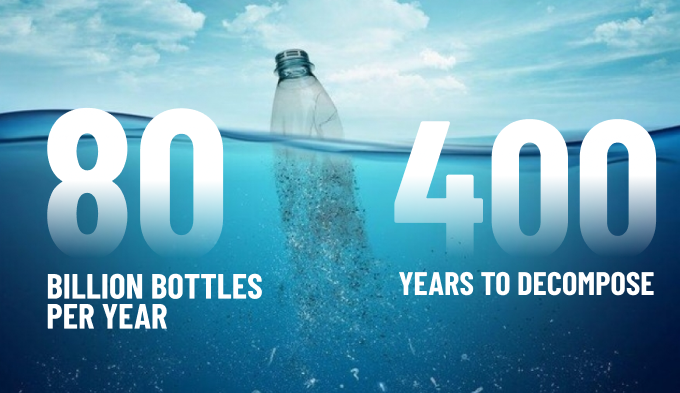 At MediQ we are committed to developing products and solutions that are 100%  environmentally sound. Our CleanTech solution, composed of table salt and tap water, is 100% natural and evaporates after spaying. It doesn't cause any harm to the ozone layer, doesn't leave any harmful residue remains and doesn't add harmful chemicals to the water cycle.
Switch your cleaning products to MediQ now to reduce toxic waste and pollutants. It's everyone's responsibility to save the planet!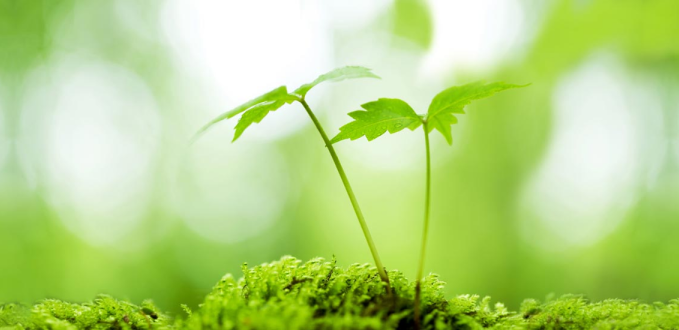 It's everyone's responsibility to save the planet. MediQ solution is 100% natural. As it is generated with merely salt and water, the solution will naturally evaporate after spaying. No harmful residue remains.  Switch your cleaning products to MediQ now to reduce toxic waste and pollutants.

MediQ shares in the responsibility to preserve the Earth too. When you support MediQ, we donate 1% of all proceeds to our charity partner Project AWARE.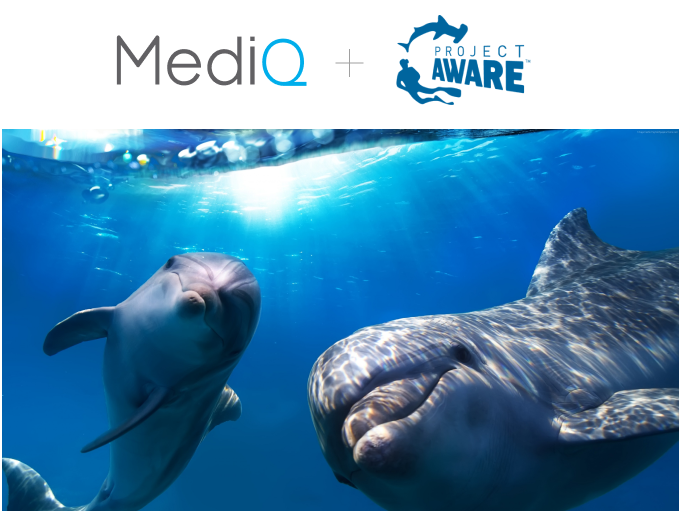 Project AWARE is at the forefront of emerging ocean issues and pressing global challenges. We engage in global movements for ocean protection and marine conservation. Our actions push local and global changes to improve the situation of our oceans and the communities that depend on them.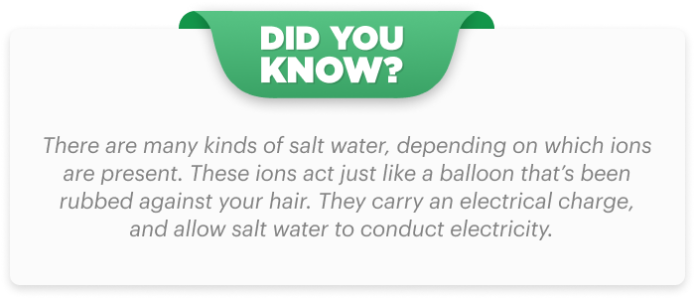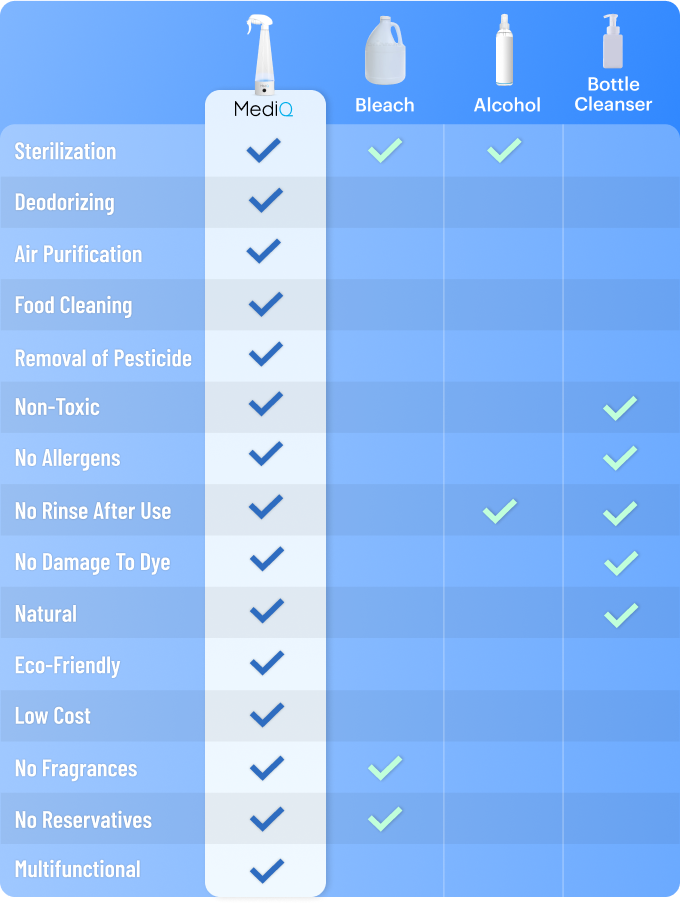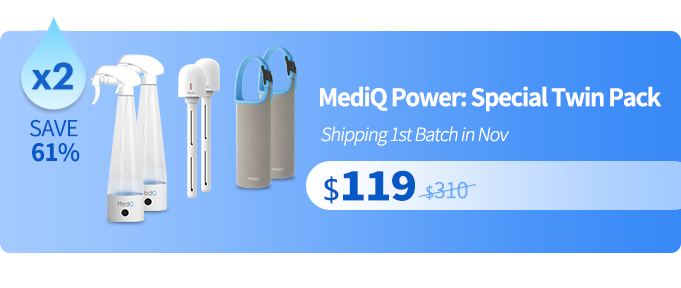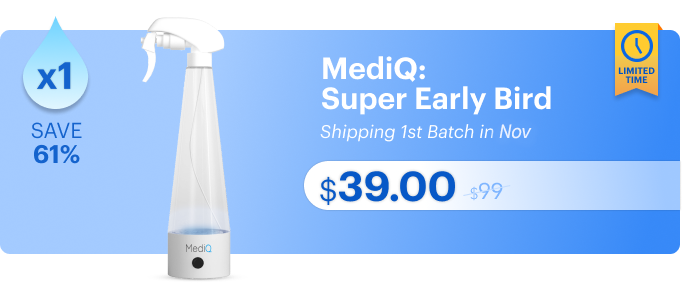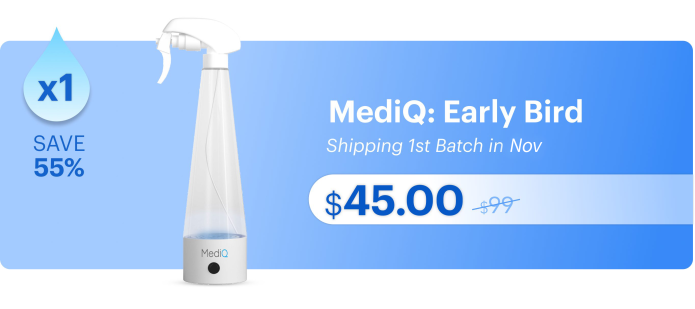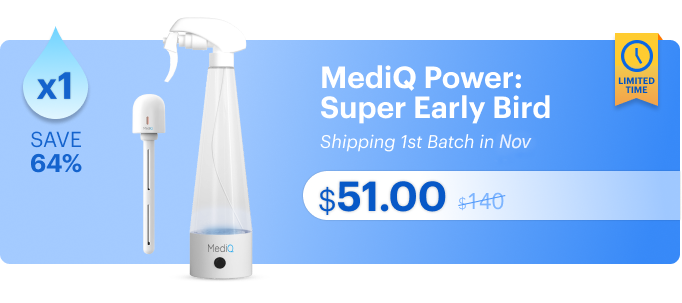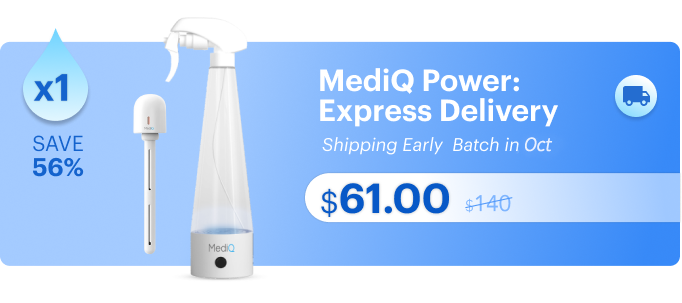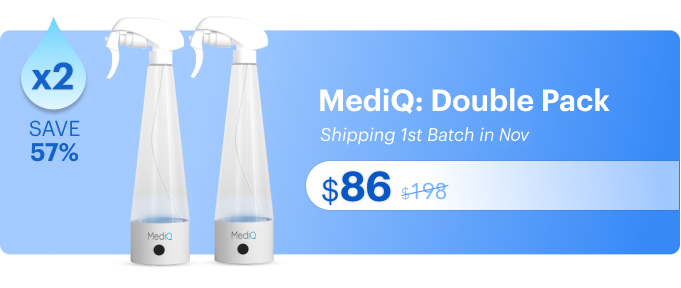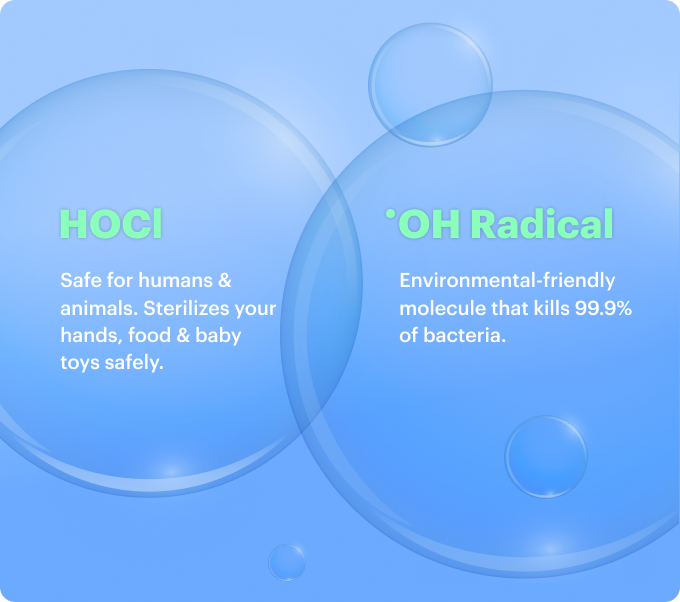 MediQ generates Hypochlorous Acid and OH Radicals by electrolyzing table salt and tap water.
Hypochlorous Acid is produced naturally in your white blood cells. It eradicates all sorts of fungus and micro-bacteria. Outside of human organisms, this substance works like a non-toxic, non-alcoholic, kid- and pet-friendly bleach. It is suitable for sterilizing food, vegetables, baby pacifiers and pet toys.
Commonly found in cleaning agents, the OH Radical is a powerful natural cleanser that removes all pollutants. MediQ generates OH radicals less concentrated than other conventional cleaning agents, and they perform the same task even better. You can enjoy a safer way to clean, while still disinfecting your surroundings effectively.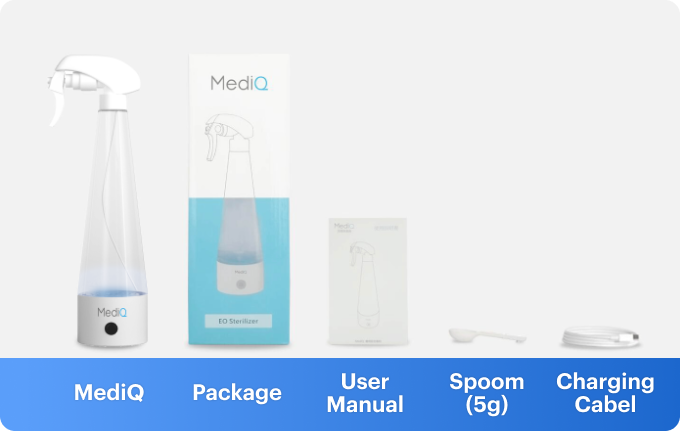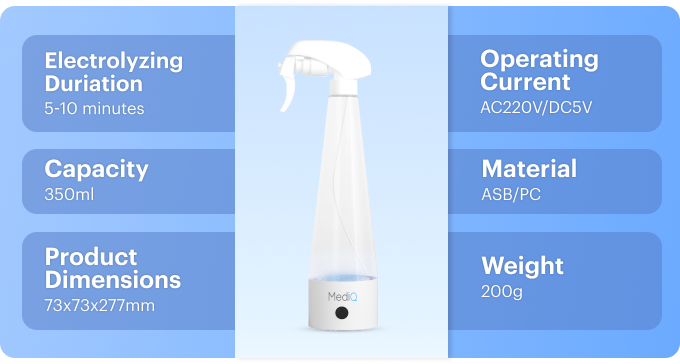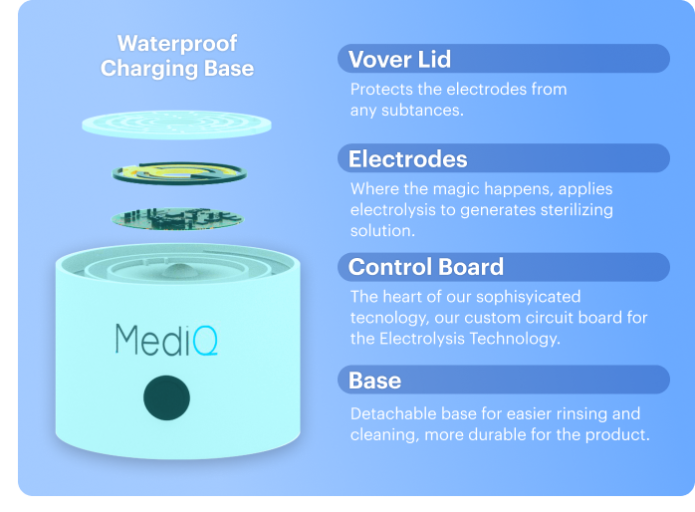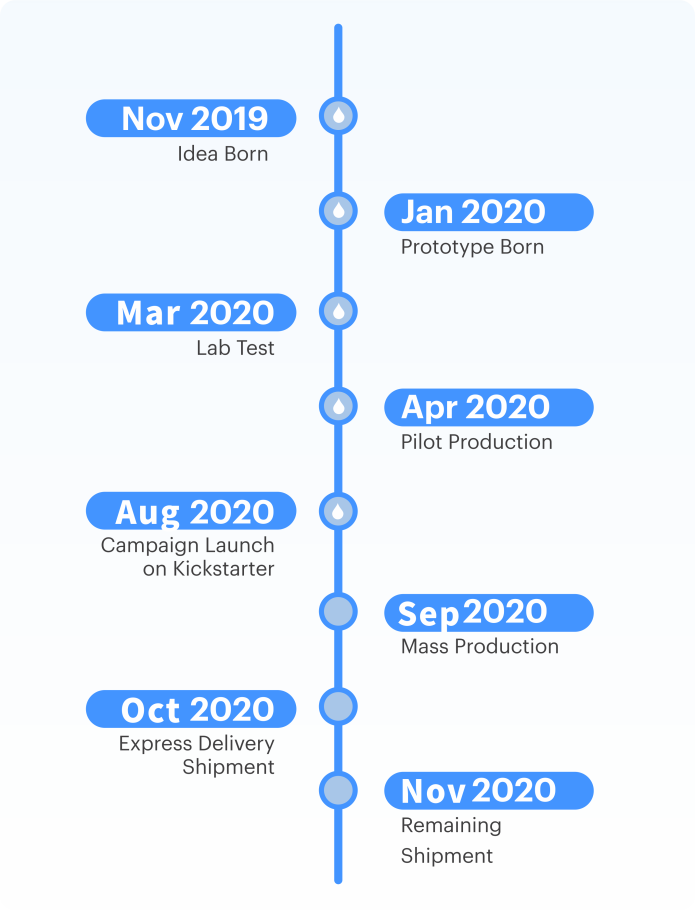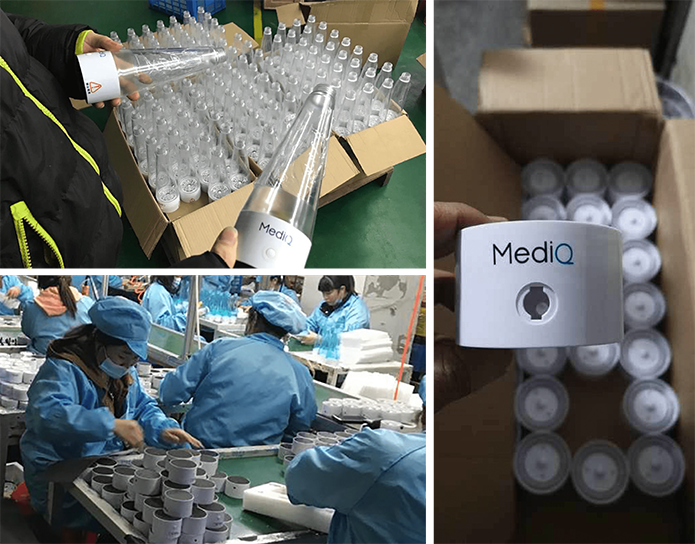 Refer some of above pictures from our production line .We have completed the pilot production already. Our first batch will start shipping on October and we will fulfill the orders of express delivery on time. We can't wait to get yours to your home.


MediQ was established by a group of innovative and energetic young designers and engineers with a passion for CleanTech. We have been focused for years on the industrial and agricultural application of Electrolysis Water (EO Water).
This multipurpose cleaning solution is cost-efficient, effective and does not induce harm or allergies. After years of studying and applying this technology, our team has further improved it such that it is suitable for family use.
As the MediQ team, we will continue to utilize the latest technology to create a positive and sustainable future. We will always look for the best way to bring a safe, comfortable, clean and sustainable environment for the people and generations beyond.
The Pawly Door detects when your cat tries to bring home prey, keeps intruders outside, and helps you find your missing cat.
  MAKA - The most powerful laser measuring tool for worksites? Recently, we have been asked by MAKA to review their universal measurement tool. Although most of us around here were not used to fixing stuff or doing home improvements ourselves, this trend is...
Search for awesome projects
You may also be interested in
Use day or night to become more focused, more productive, and more relaxed.
No More Tangled Cords | 165W Powerful Suction | Featuring 3D Pool Map Planning & Navigation System | 5 Cleaning Modes
The most versatile laser measure that integrates 9 materials stud finder, thermal imager, cross laser level and much more
You may also be interested in
Use day or night to become more focused, more productive, and more relaxed.
No More Tangled Cords | 165W Powerful Suction | Featuring 3D Pool Map Planning & Navigation System | 5 Cleaning Modes
The most versatile laser measure that integrates 9 materials stud finder, thermal imager, cross laser level and much more