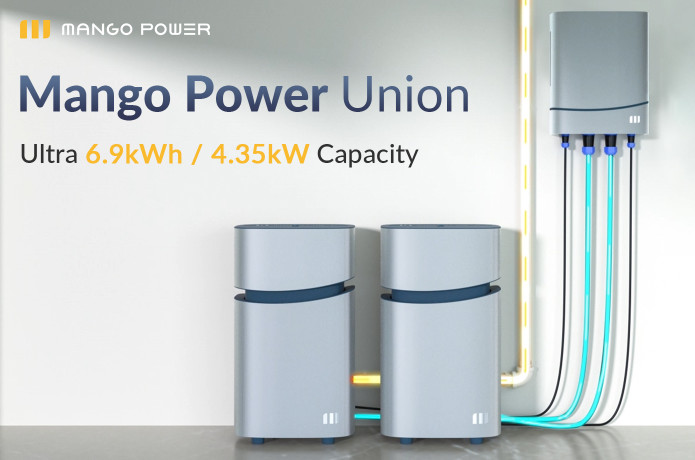 Mango Power: Super-Capacity Home Backup Battery
6.9kWh Large Battery|4350W Output|Ultimate 95% Efficiency|Detachable & Expandable|2.5H Fast Charging
Pledge Here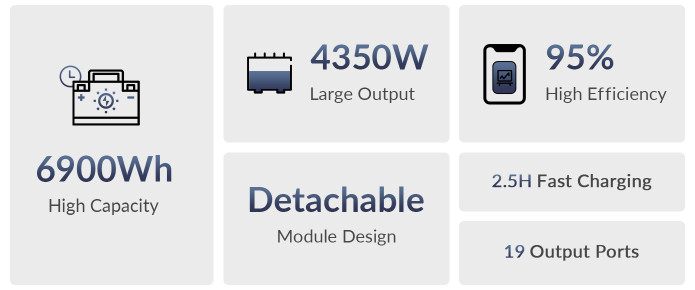 Your home is your castle. And it's worth protecting.
Massive power outages have become more common than ever, caused by wildfires, ice storms, and poor energy management. This means huge risks for you and your family if you can't run your fridge, AC, or important equipment during an outage.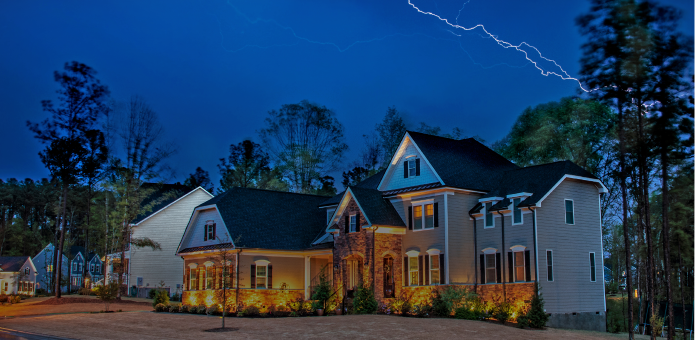 Problem with today's power stations…low power output, and small batteries. 
They just don't have the power to protect your family long enough during an emergency. What's worse? They're far too expensive for most homeowners, and have no detachable parts – so using them outside or around the house is out of the question.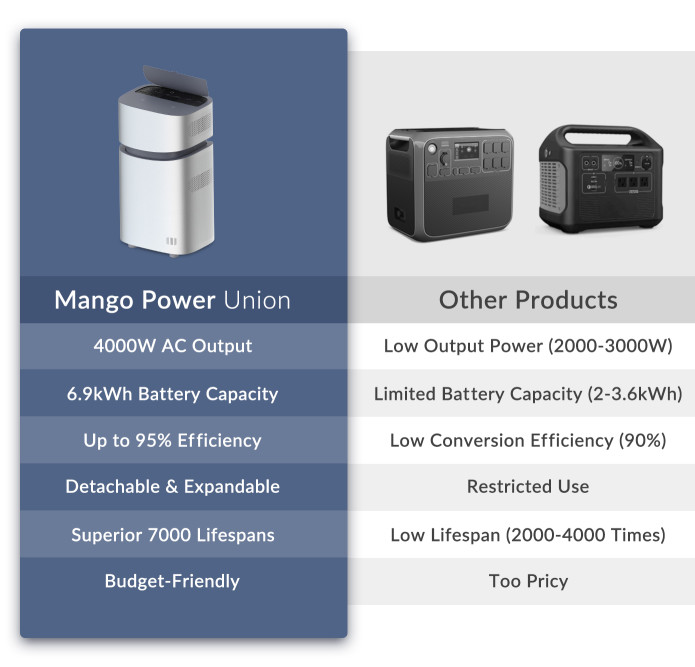 A new era of energy independence. All at your control.
Off-grid power can now live right in your home with the Mango Power Union, the world's first detachable home battery, with a supercharged 6.9 kWh capacity battery (one of the highest of any home battery), running like a dream even while powering your most energy thirsty appliances. Indoors and out.


All the power you need. And then a little more. Unlike other power stations, the Mango can pump out a massive amount of power – with a 4000W AC & 350W DC output, or up to 6600W in a surge.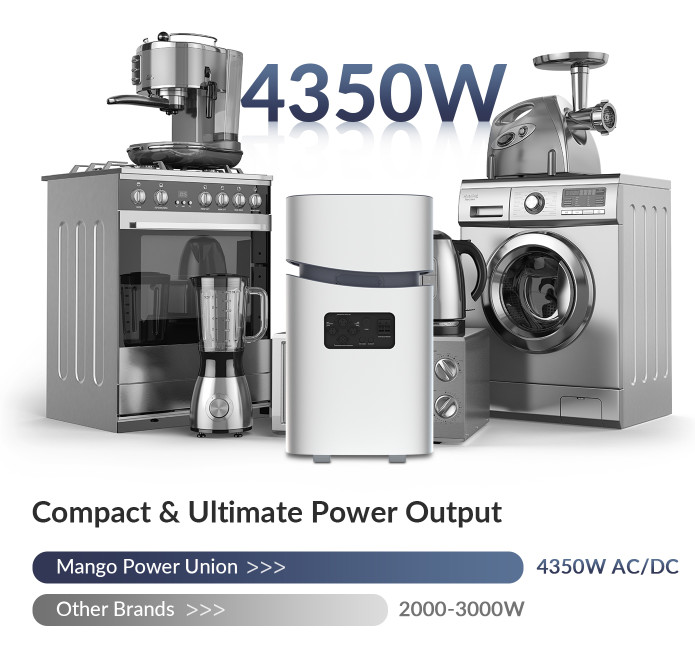 That means you can power your biggest appliances and devices for longer – whether it's running your fridge during an outage, or running your welder on a Saturday afternoon. Mango Power gives you more juice than other brands so you can get the job done, and keep your family protected.

Your home needs a battery that doesn't quit. While other battery stations can only power your appliances for a short time during an outage, the Mango will keep them running for days. With 6.9 kWh, it offers double the power of most home battery stations – at only half the price.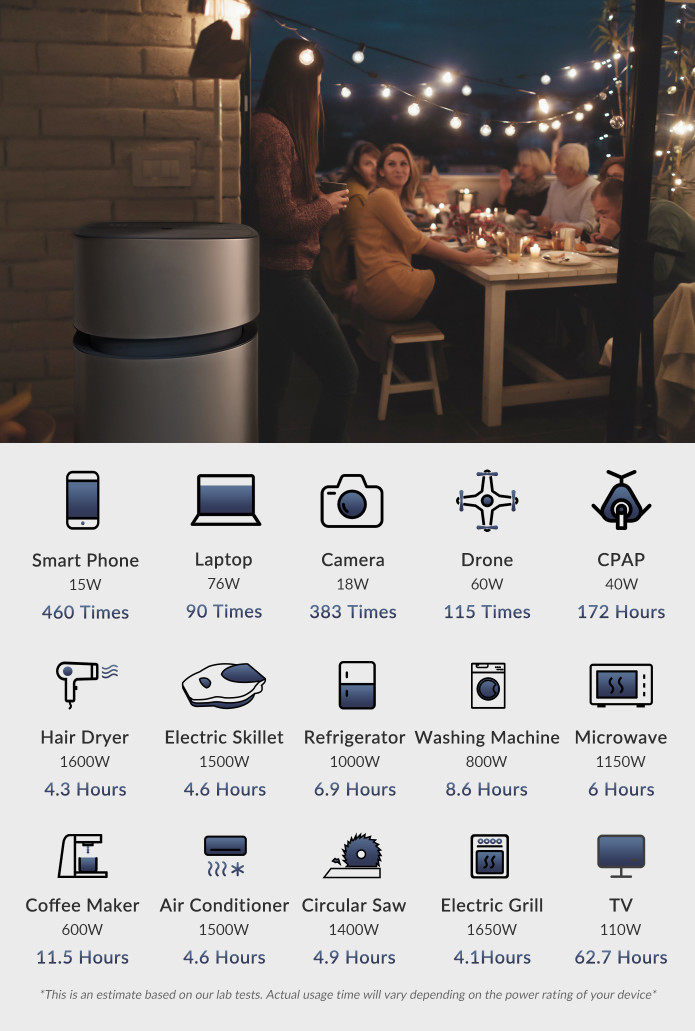 That milestone comes from a combination of Mango's industry-leading GaN/SiC 3rd generation semiconductor and 9 high-speed processors, giving you higher levels of efficiency, performance, and safety than other power stations. And it's the first power station to offer built-in dual inverters, so you no longer need to waste hundreds or even thousands of dollars on an external inverter.


Hit the road – fully charged.
Use the Mango to charge your electric vehicle. It's got enough juice to fuel a Tesla for 50km per charge. With a simple EV charging connector, the Mango Power Union can become your home EV charging station in a fix.

The Mango Power Union allows you to combine and connect up to 10 units for greater energy security and a full energy ecosystem.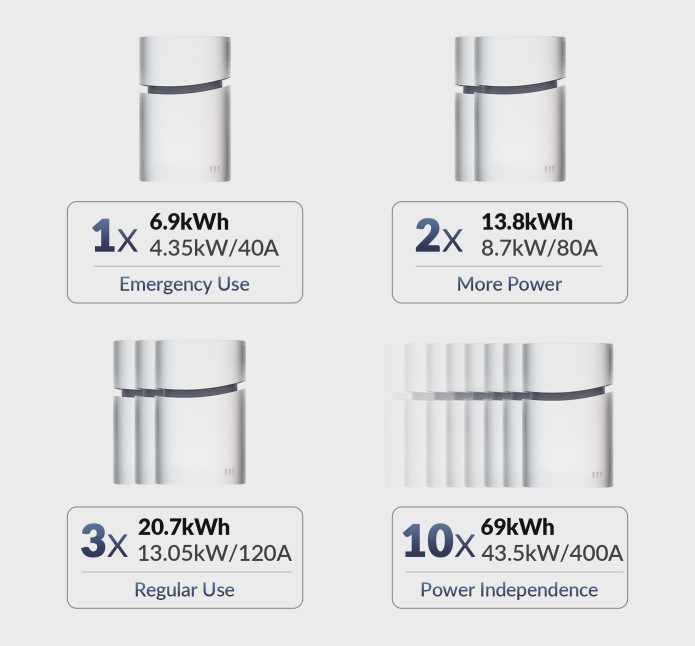 It's your own mini power plant, with a massive 69kWh of energy – safe, stored, and under your control.
*Additional mPanel accessories are required to combine multiple Mango Power Unions . Please check product specifications for details.


The Mango comes with two powerful parts. The upper part is the detachable Mango Power Move — a smaller power solution that you can take anywhere. Built for fun jobs, garage jobs, and life outdoors, it easily lifts off the base and can be carried to other parts of your home, backyard, or loaded into your car for a road trip.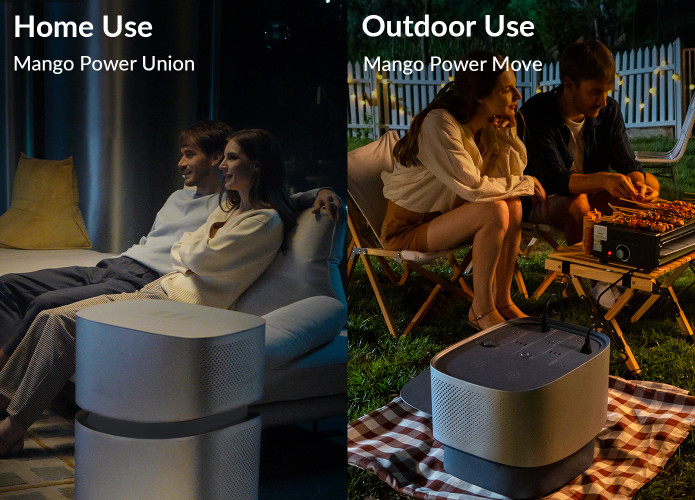 The Mango Power Move is combined with the lower part–Mango Power Home, through a unique, ultra-fast linking mUnion, which is equipped with electric shock prevention mechanisms so you can split them safely any time. And when you split the units, the connectors are insulated and safe to touch, making them child proof and pet proof, for protecting curious fingers and curious paws.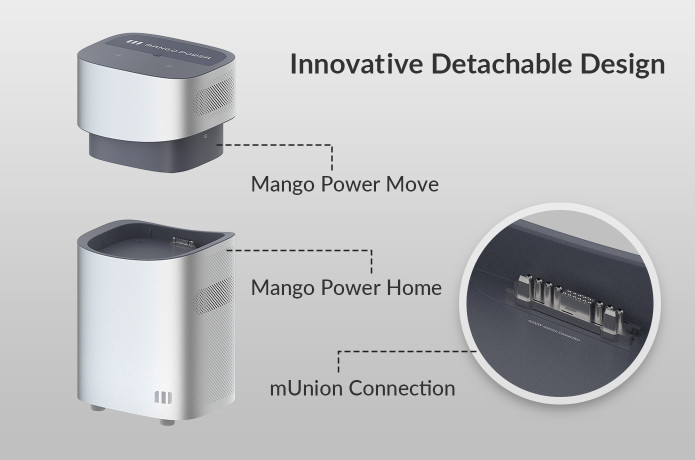 The powerful 2.3 kWh battery inside the Mango Power Move makes it perfect for life in an RV or camp site, where it can easily charge all your phones and laptops, fuel your movie projector for late night screenings, and run the espresso machine for that morning cup you've been dreaming about.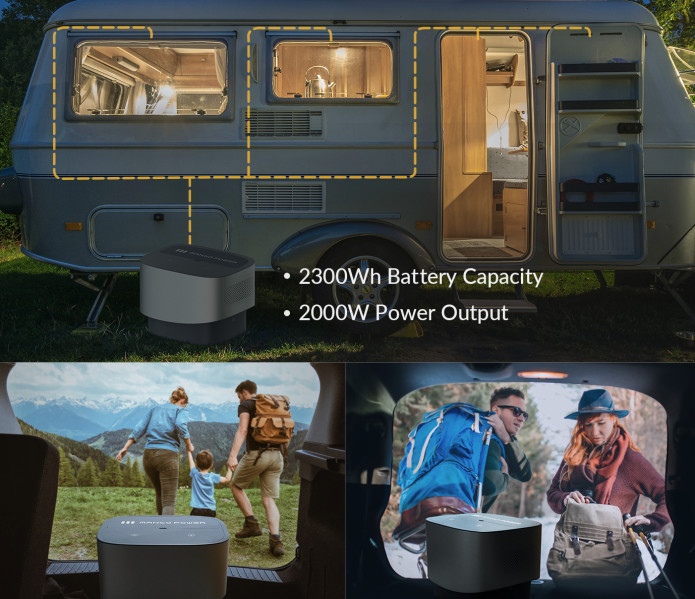 And with 2000W AC output – or up to  3300W in a surge – it can handle tough jobs around the house too, whether you're welding in the garage or running power tools in the backyard, far away from wall sockets.

Struggling to find a plug? Your family will always have a place to charge their devices fast with the Mango. The Mango gives you 19 different ports for charging all your various devices, including a 120V@30A port specially for your RV, and a unique 40A home backup port.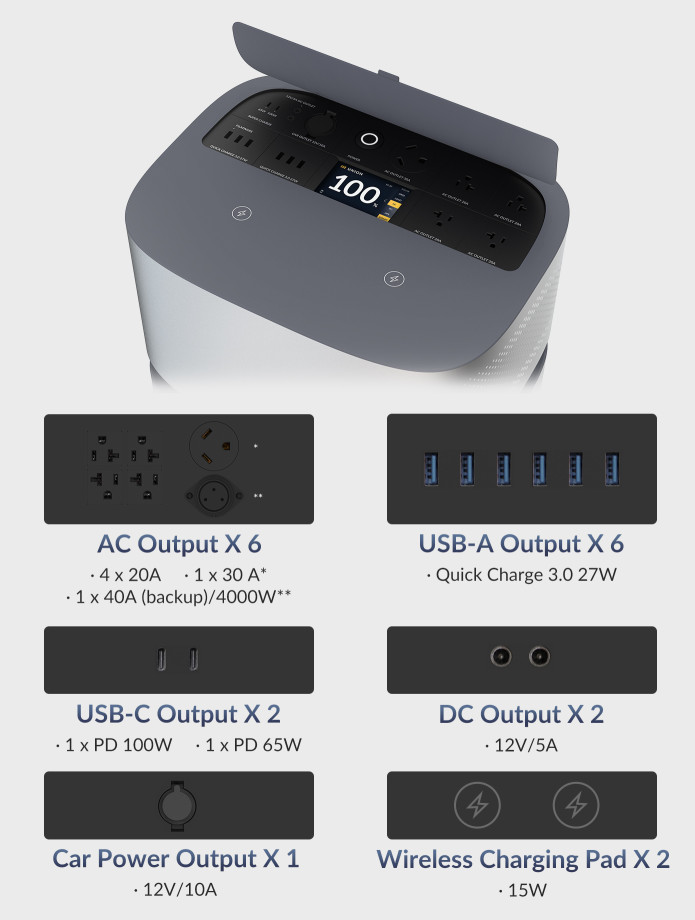 It also includes two wireless charging pads for smartphones, so no more fighting over who charges their phone first.


AC wall outlet,  grid charging with our accessory mPanel, a gas generator, or home and portable solar panels. Choose the fast-charging method that's best for you.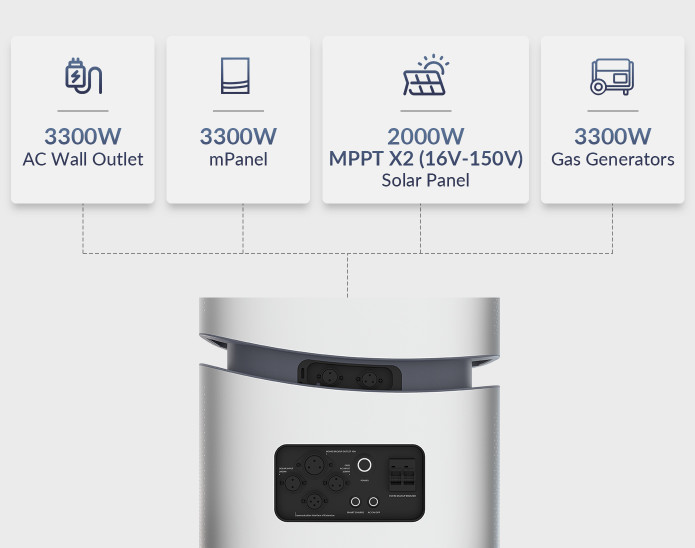 Mango is one of the world's fastest charging power stations. It features super-fast 3300W charging, while the smaller Mango Power Move charges at a brisk 1300W. So just plug the Mango into any wall outlet, and it's fully charged in 2.5 hours. And if you need power even faster, the Mango reaches 80% battery capacity in just 1.5 hours, much faster than others.
Powered by Mango's Smart-Charge technology, you can not only enjoy fast charging but also safe charging.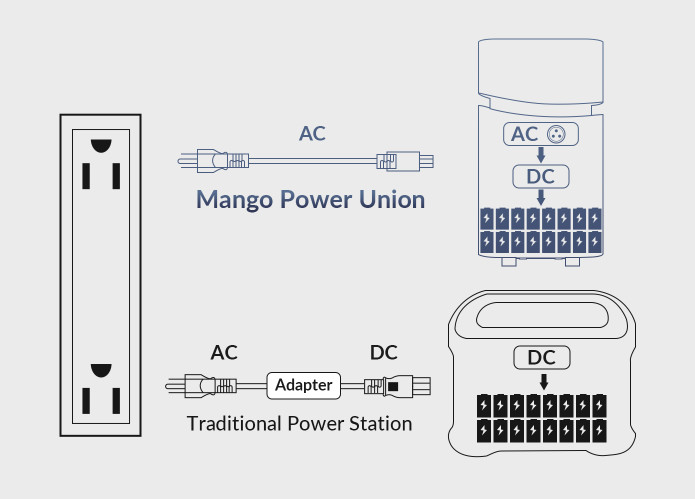 Reduce your reliance on the grid by storing cheap solar energy. Then use it for free when the sun doesn't shine. Simply connect the Mango Power Union to your home solar panels and let it charge.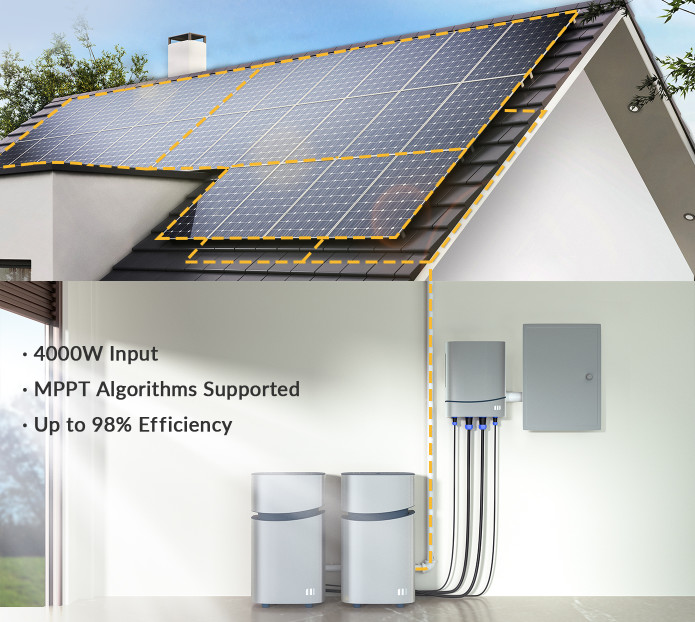 The Mango supports up to 4000W of solar charging. And the MPPT algorithm is always working to keep your power supply steady and strong – no matter what the sun does. Plus a built-in PV inverter means you can easily connect to both your home solar system and portable solar panels with no extra purchase.

Designed to work in perfect harmony with the Mango Power Union, our four-folded solar panels are the highly efficient, clean-energy way for you to produce your own power — and then save it off-grid at your home.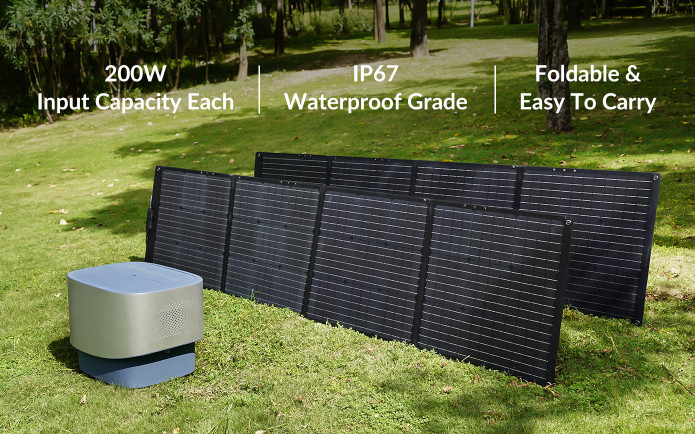 Efficient, portable and water-resistant, our solar panels have a 200W input capacity, making them the sustainable and affordable way to power your home. Energy independence never felt so good.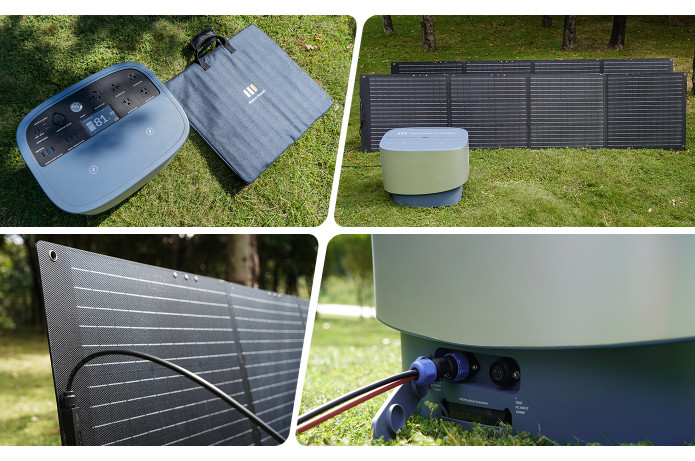 The new mPanel is the heart of the Mango Power home ecosystem. It enables you to integrate Mango Power into multiple circuits in your home grid, while giving you uninterrupted power supply during blackouts.
Two options available. The standard mPanel provides uninterrupted power for up to 4 individual breaker circuits, and the premium version, mPanel Smart, offers bigger possibilities, managing up to 18 individual breaker circuits and connecting more units together, enough to cover every circuit for most households.

Stay ready for anything. Back-up Power Mode stores energy in the Mango in case of a power outage.

We all know energy prices change throughout the day. So stop over-spending on energy. Instead, use the Time-Based Mode to bank power during off-peak hours, then use your cheaper, stored energy during peak energy hours. You can also use the Economical Mode, to fill the Mango with solar energy during the day, then use it to power your home all night.
Both modes help you save energy effectively and smartly. It's the cost-effective way to power your home, slash energy bills, and lower your carbon footprint.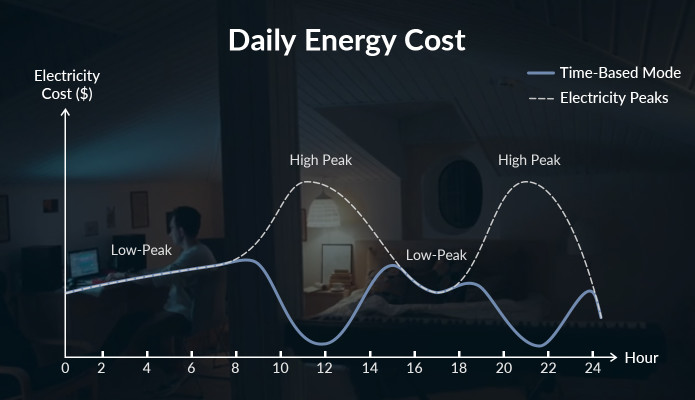 A battery that goes the distance. The Mango uses a new, enhanced lithium iron phosphate (LFP) battery that's made to last a whopping 7000 cycles. That's 10 years of use in your home – and more than three times longer than the 2000 cycles you'll get from most standard batteries.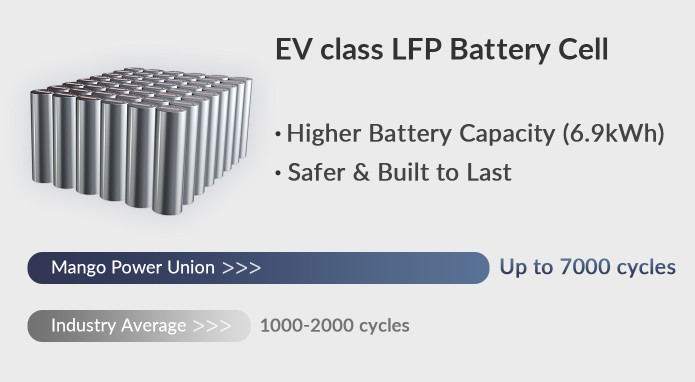 The Mango will keep more than 80% of its charging capacity after a full 4000 charges, and more than 50% after 7000 charges. A decade of energy savings for you.

The Mango doesn't just power your home efficently– it powers it safely, using a high-performance Battery Management System (BMS). So you stay protected from overcurrent, overvoltage, and overcharges. And the Mango is safe to use in extreme weather. So come an ice storm or heat wave, you'll be ready.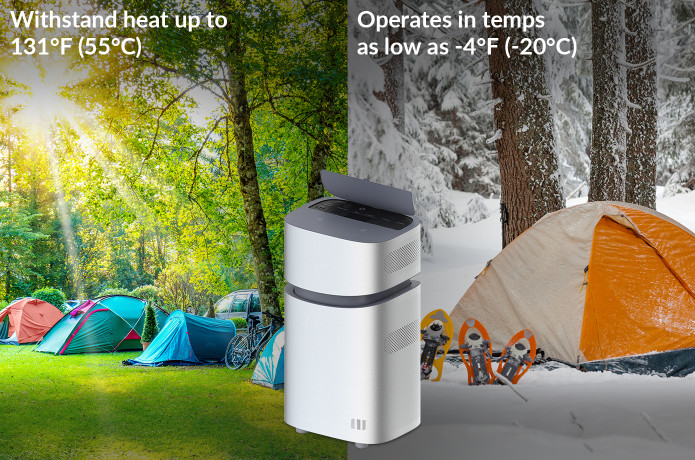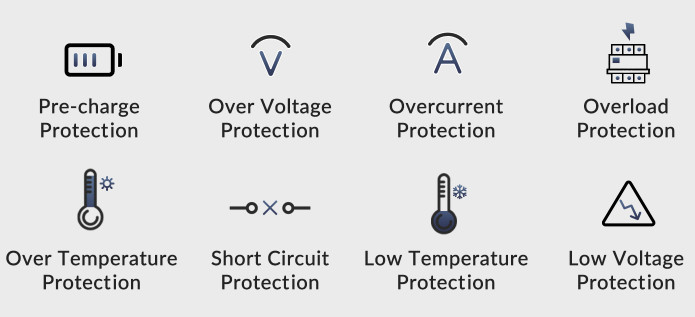 The coolest part. There are four sets of low-noise (under 45dB) cooling fans in each part of the Mango Power Union. Enough to keep both units cool without making a sound, making sure your Mango never overheats… or interrupts movie night with its background noise.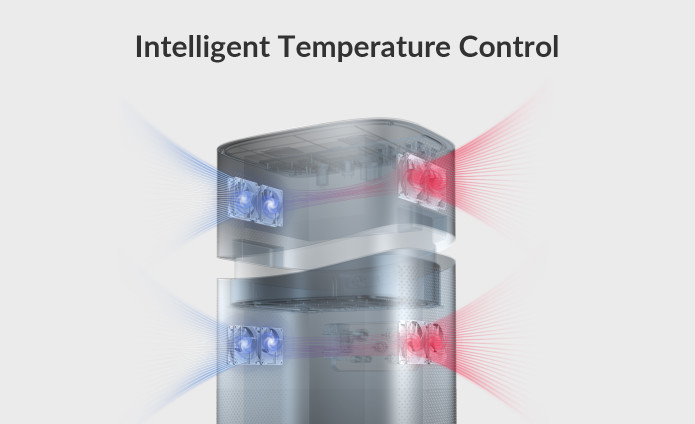 The Mango app lets you monitor and control the energy throughout your home. Get real-time battery updates on each section, plus notifications about your latest power reports – so you can see where you're using the most power, or where you need to make changes.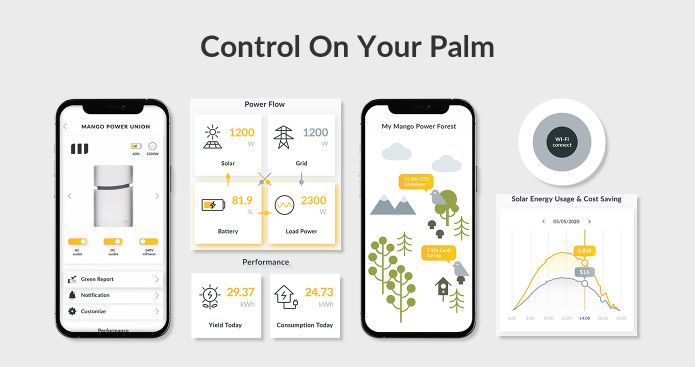 A large 4.3-inch touch display makes energy control easy and intuitive. With all the controls you need in one place. No need for remotes or phones.

A beauty, and a beast. With a modern and minimalist design, the Mango Power Union hides its power in plain sight. It's made to complement a variety of home designs. Just wheel it comfortably to any room in your home.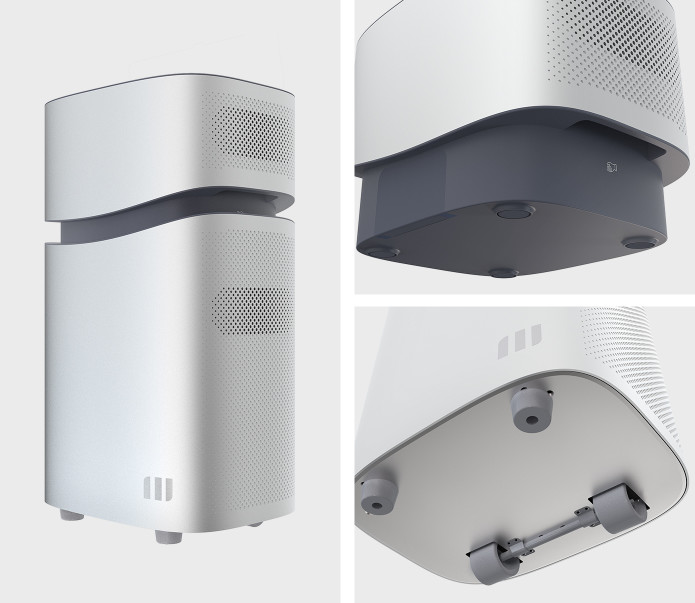 As the product is such a unique innovation in every detail, we find it quite difficult to succinctly explain its advantages. We hope this comparison table of the Mango Power Union with other products is helpful for our early supporters.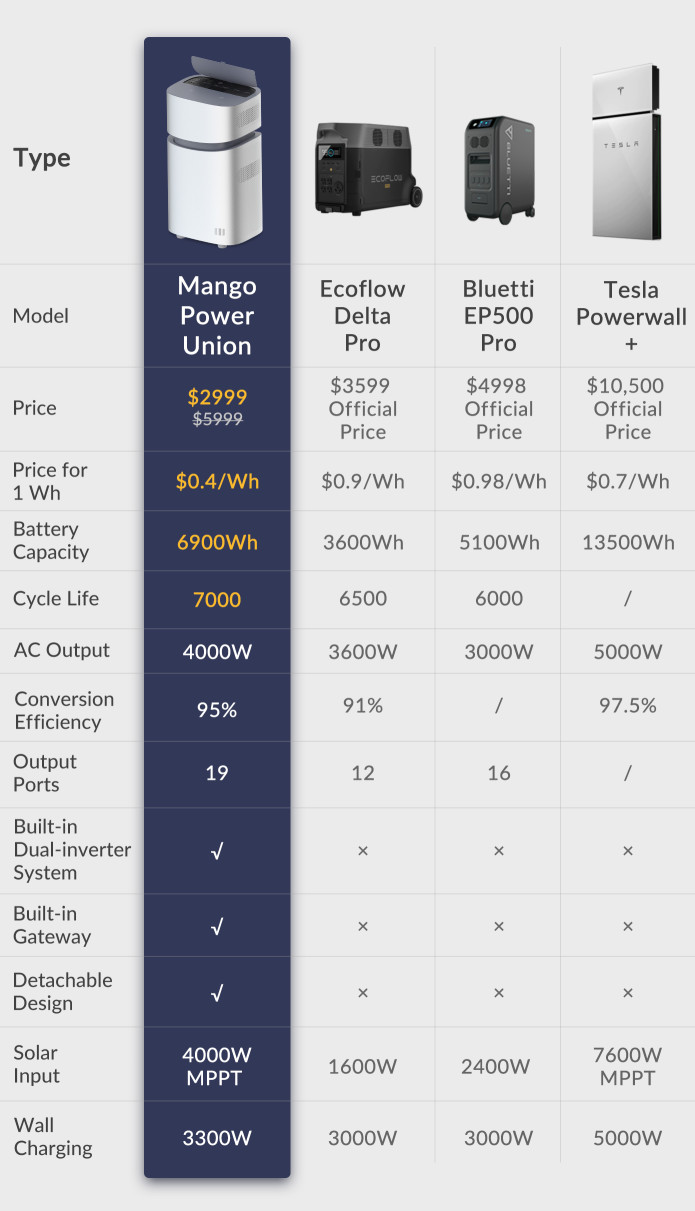 And here also comes the comparison between Mango Power Move and other brands.


*The Mango Power Union has different versions and takes an input voltage of 100-240V. We will be providing country-specific versions of machines for backers in the US, Canada, Australia, EU, and Japan according to your shipping address. Backers in the UK will receive the EU version machine. More versions are to be updated.*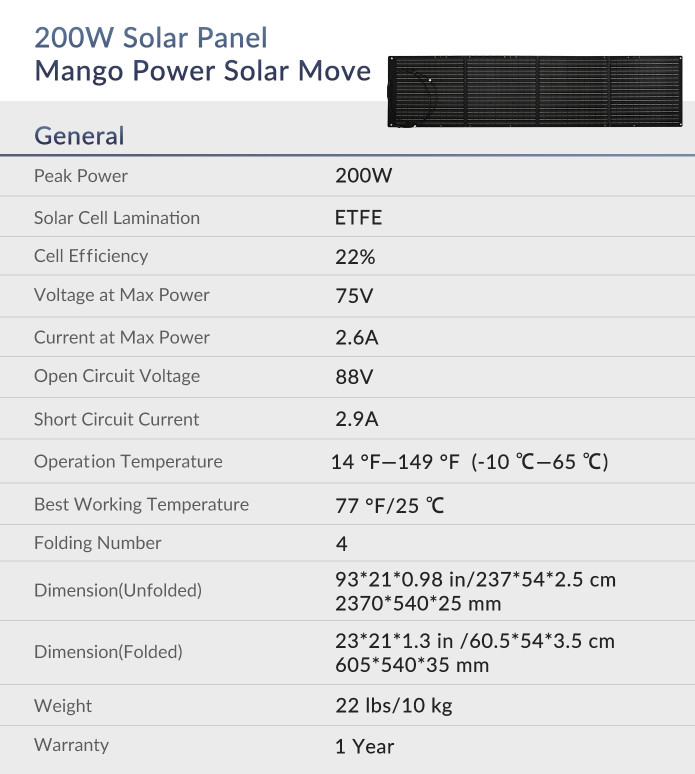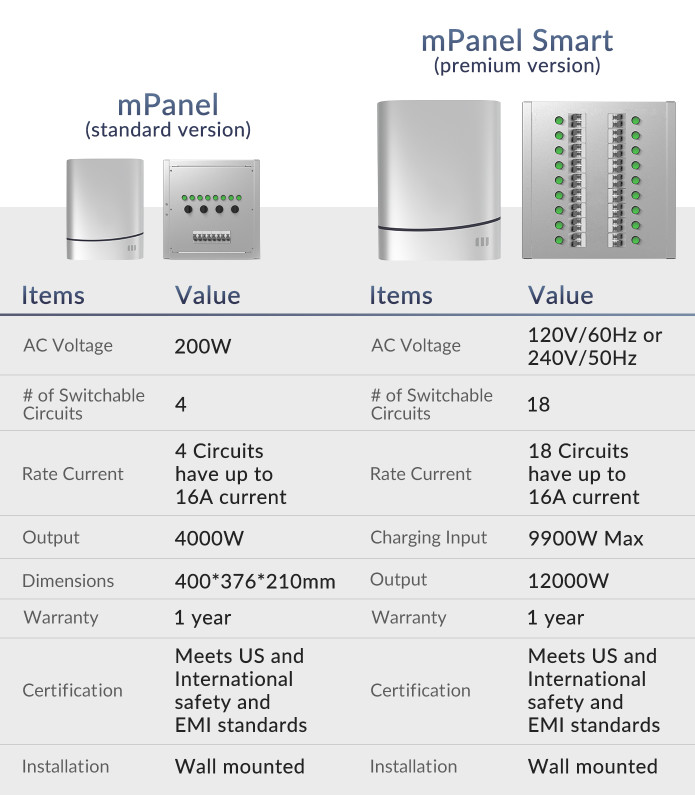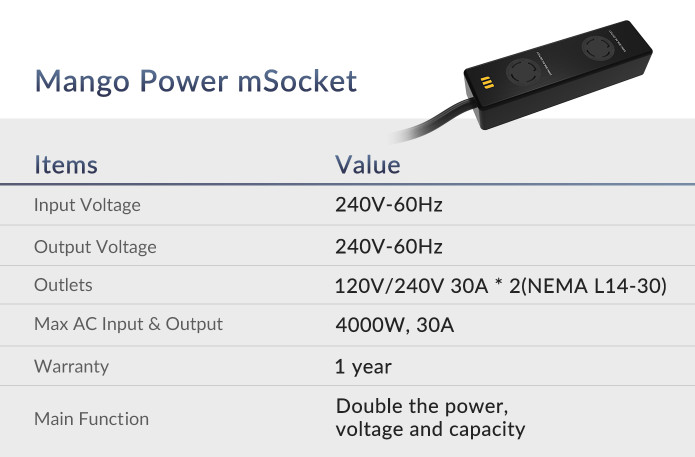 *This accessory is specially designed for the backers in the US and Canada. With the mSocket and the mBoost mode enabled on our Mango Power App, you can use devices that require a higher voltage output at 240V. As for backers in Australia, EU & UK, and Japan, you will receive the machines that adapt to your local voltage standard and don't need to purchase this accessory.*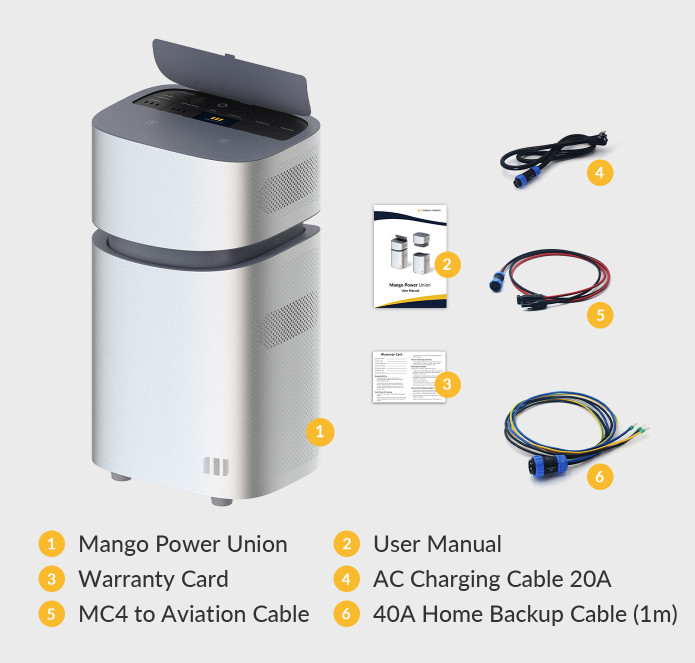 We recommend choosing the combo perk – Mango Power Union with the mPanel (standard version)*1+Portable Solar Panel*1. It's the best deal with up to 48% OFF.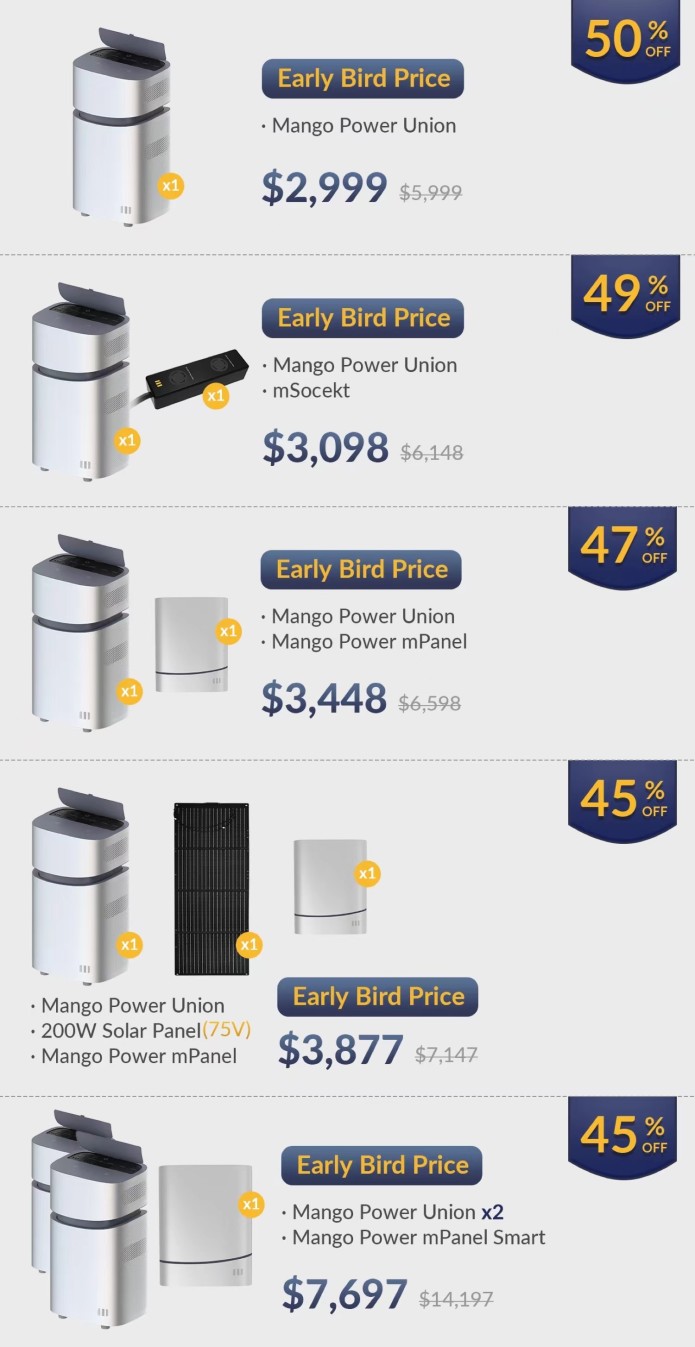 Use day or night to become more focused, more productive, and more relaxed.
No More Tangled Cords | 165W Powerful Suction | Featuring 3D Pool Map Planning & Navigation System | 5 Cleaning Modes
Search for awesome projects
You may also be interested in
The most versatile laser measure that integrates 9 materials stud finder, thermal imager, cross laser level and much more
One Device, Infinite Dreams
LiDAR SLAM Navigation | No Perimeter Wire | Intelligent Obstacle Avoidance | Multi-zone Management | Intelligent Path Planning
You may also be interested in
The most versatile laser measure that integrates 9 materials stud finder, thermal imager, cross laser level and much more
One Device, Infinite Dreams
LiDAR SLAM Navigation | No Perimeter Wire | Intelligent Obstacle Avoidance | Multi-zone Management | Intelligent Path Planning