LAMBOCHARGE: Smallest NUOVO SI 20W Fast Charger
Nuovo Si Technology| Minimal | USB-A | USB-C | 20W | Fast Charging | Universal Compatibility
Pledge Here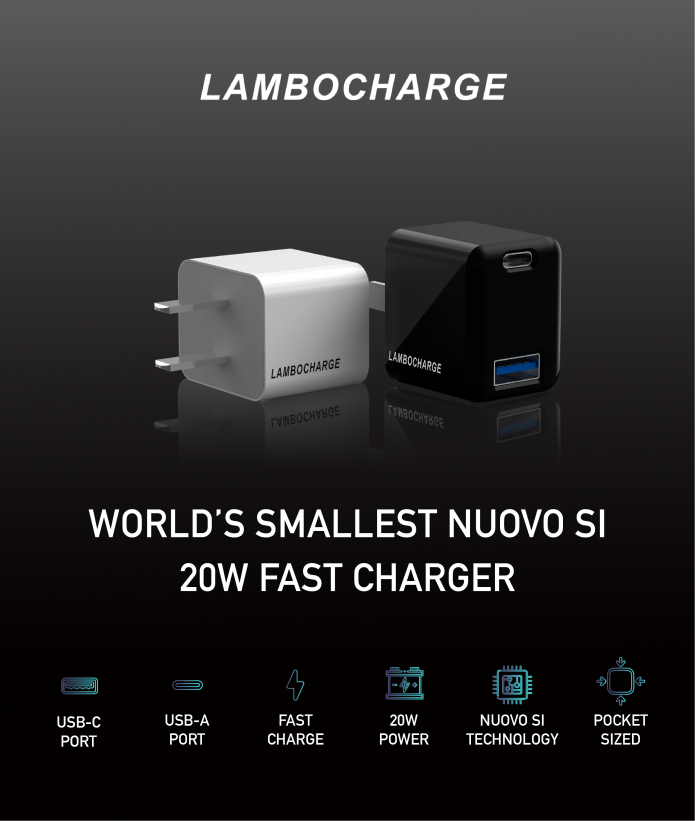 An extraordinary charging adapter that incorporated the latest Nuovo Si technology to feature it's incredible dainty size with one USB-C and one USB-A port as well as fast charging and universal compatibility.

Extraordinary Nuovo Si Technology 
High Speed 20W USB-C and USB-A Port 
Universal Compatibility 
iPhone 12 Pro Max 0-50% in 15 Mins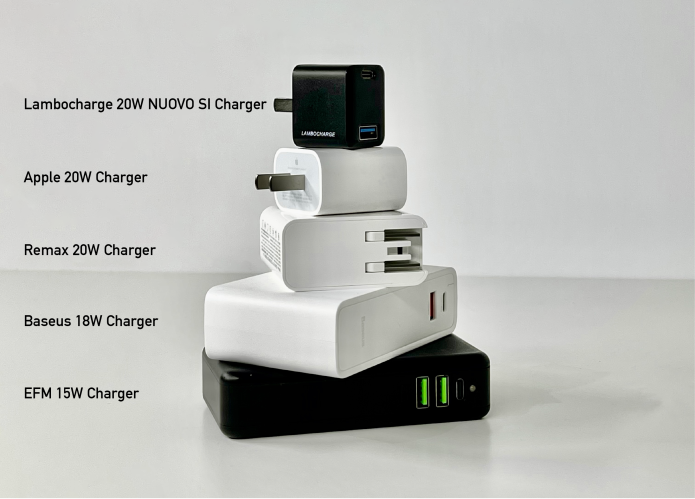 Introducing an extraordinary Nuovo Si technology fast charging adapter that is mini, compact, and widely compatible.  The pioneering portable adapter from Lambocharge is the ultimate charging adapter that enables you to charge all your work and entertainment devices.
Lambocharge utilizes the industry-leading Nuovo Si Power IC pin to minimize components usually found in conventional chargers. The new PC+ABS and IC Pin allow for power devices that can operate at higher voltages and switching frequency which results in smaller and more efficient chargers. 

Lambocharge stands out from your 5W USB Power Adapter that may take you hours to charge, but Lambocharge featuring fast charging that can charge your iPhone 12 from 0-50 in 15 mins.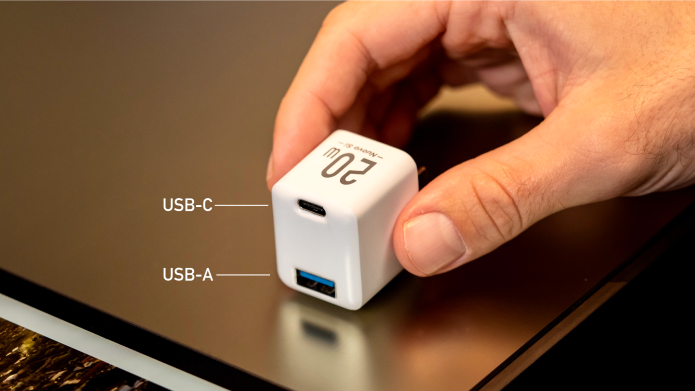 Lambocharge features a USB-C and a USB-A port despite how small it is, and it can charge two devices at once maintaining 20W maximum power output. 

Lambocharge is compatible with many electronic products, gadgets, and Bluetooth devices like DJI Osmo, GoPro, cell phones, tablets, Nintendo Switch, and you can charge up to two devices at once.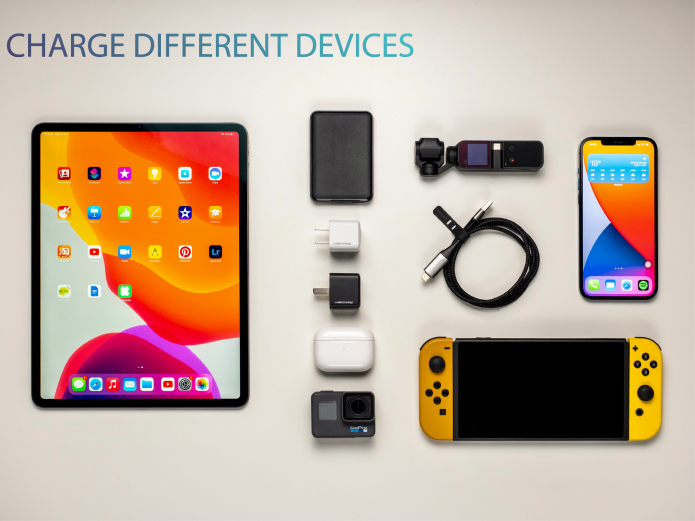 Lambocharge will deliver a fast charge to a variety of Apple devices and more, you can now charge your latest devices anywhere anytime you desired!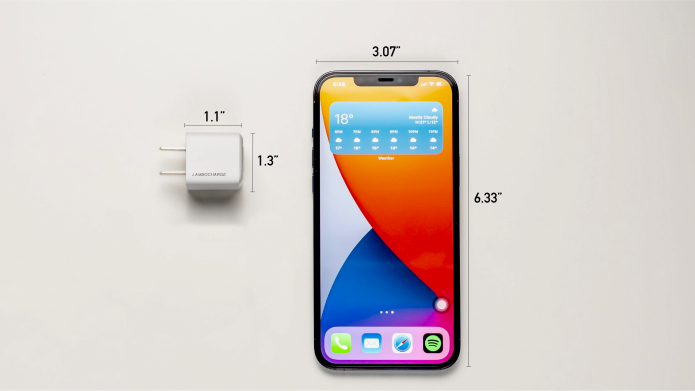 Lambocharge is truly a gamechanger, the smallest 20W fast charging you can find with two USB ports. Lambocharge, it's simply a matter of plugging your electronic device into an outlet. You can plug in your Lambocharge anywhere you desired without carrying another enormous adapter.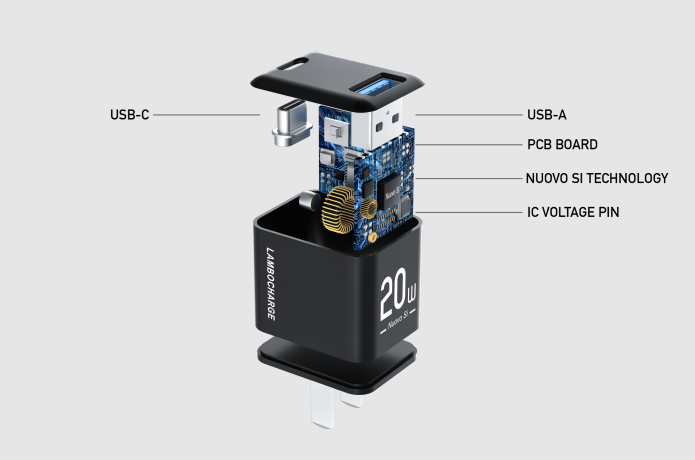 Lambocharge is made of a PCB motherboard. Therefore, it can maximize performance and durability. Nuovo Si technology ensures peak efficiency in the multi-layered design so it can minimalize the size of Lambocharge with no wasted space.
The IC pin is designed to ensure the insulation distance of the high and low voltage pins. The high and low voltage pins are designed to separate the middle two pins to increase safety.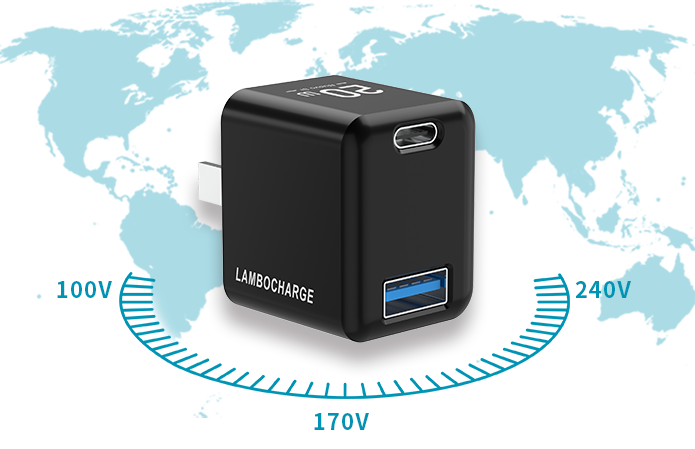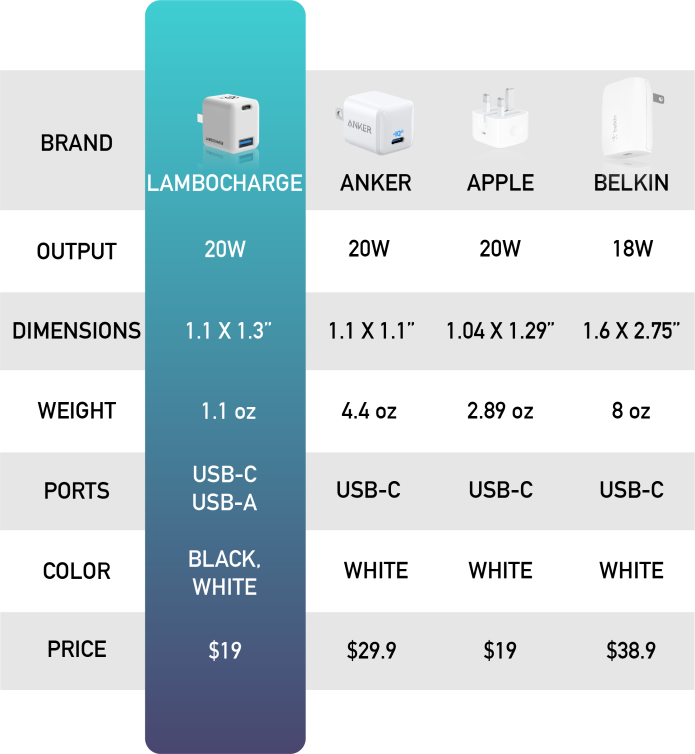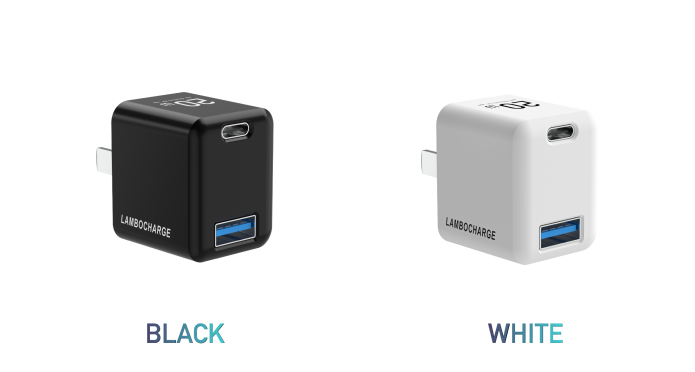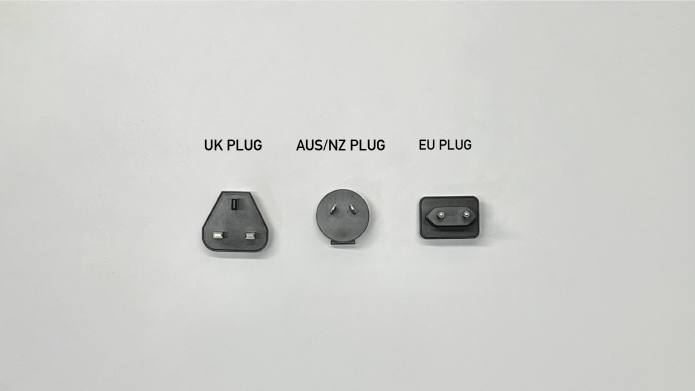 Lambocharge comes in a standard US Plug, but there will be an adapter option, which you can choose from the survey after the campaign. Thanks for supporting Lambocharge.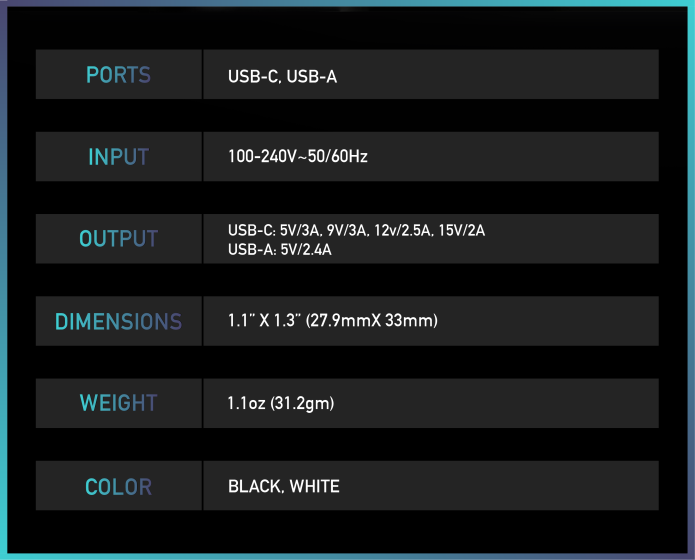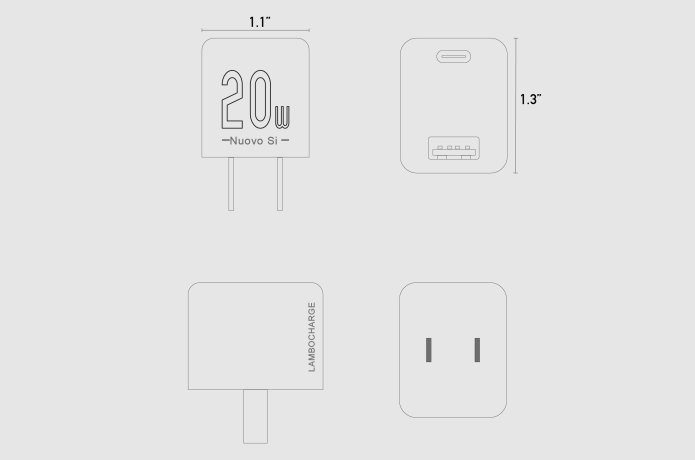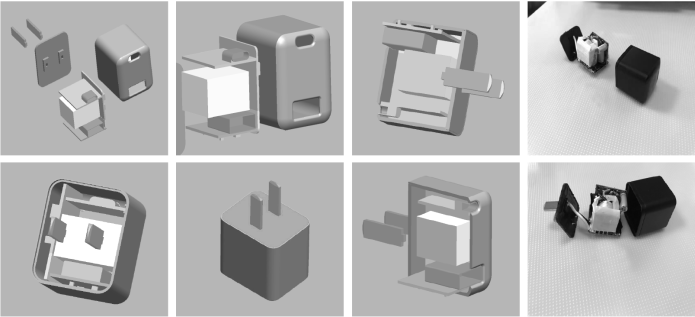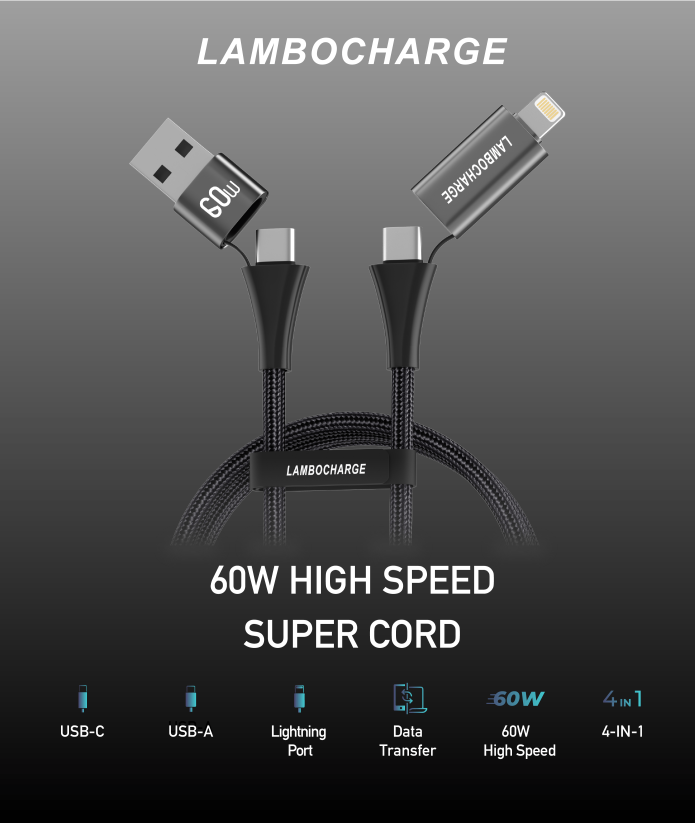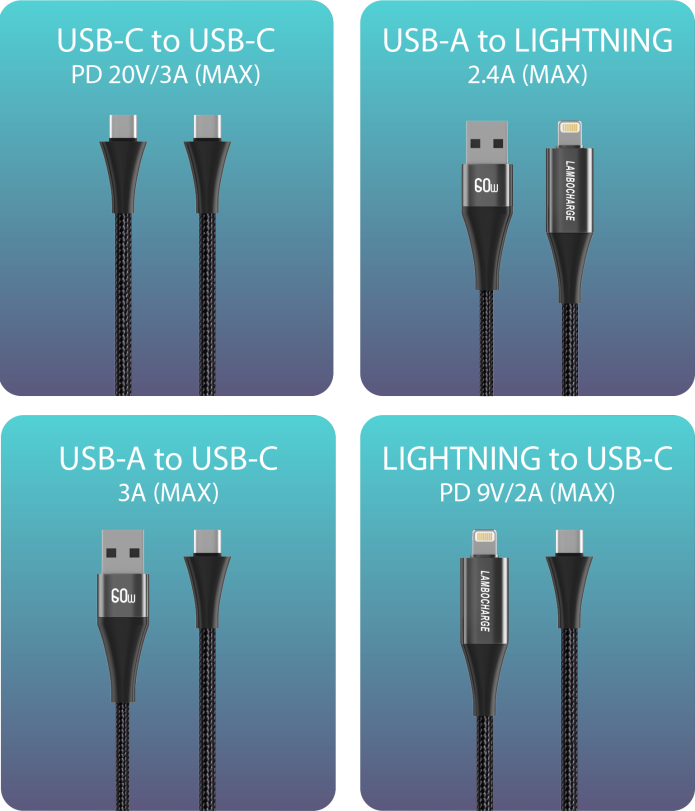 Lambocharge 4-IN-1 Super Cord isn't your average charging cable, combining the avant-garde design with the nylon braided material, making it more durable than the average cable you will find. Offering 60W fast charging that allows you to charge your devices in no time with 4 different cable types for you to choose from.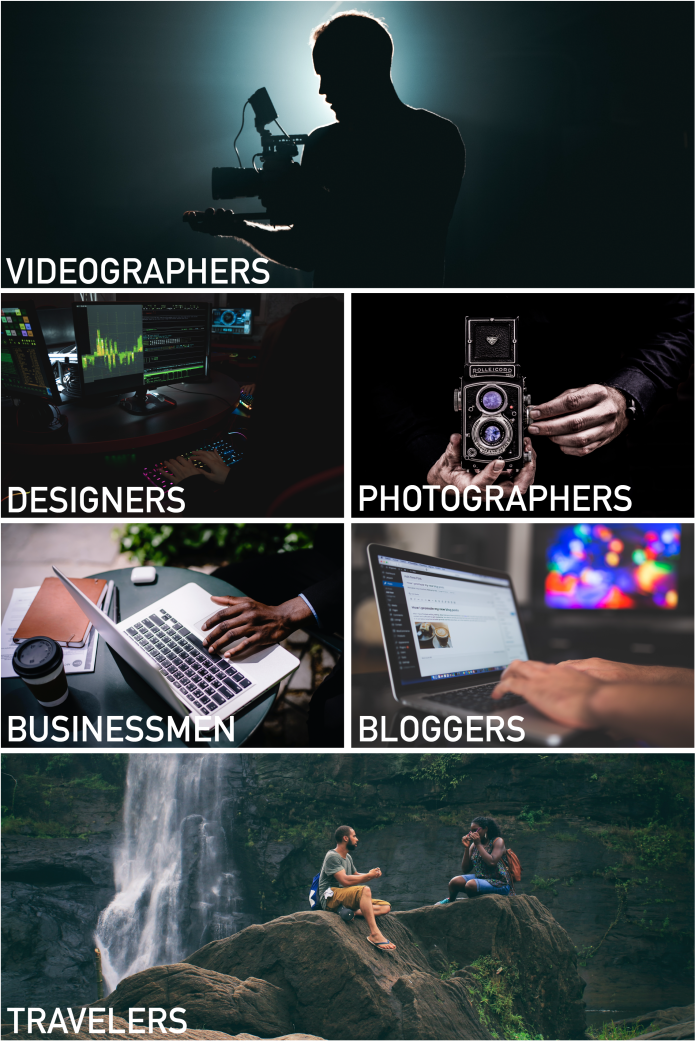 With this new Lambocharge 4-IN-1 Super Cord cable, it will change your charging experience. Apart from the innovative Nuovo Si technology, we also wanted to bring people with convenience combining Type C to Type A and Type C to Lightning into one super cord cable, you will never have to bring multiple dongles when you are out and about anymore!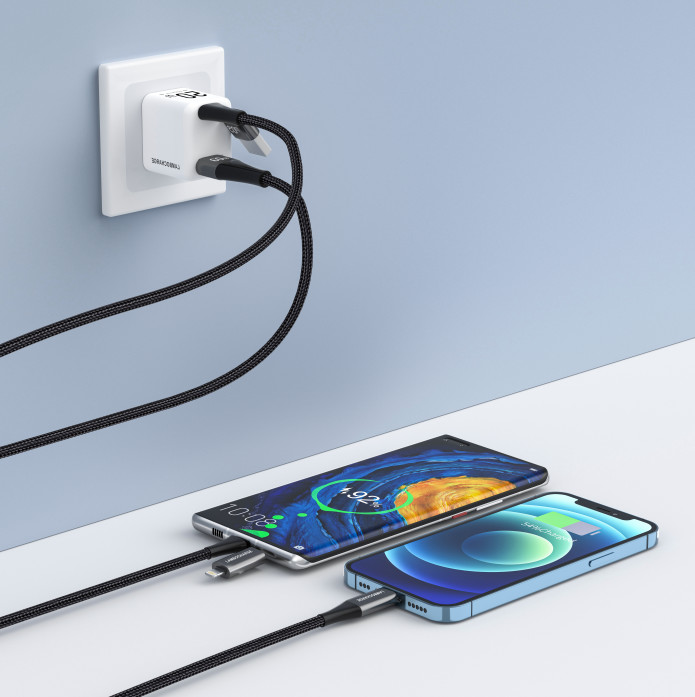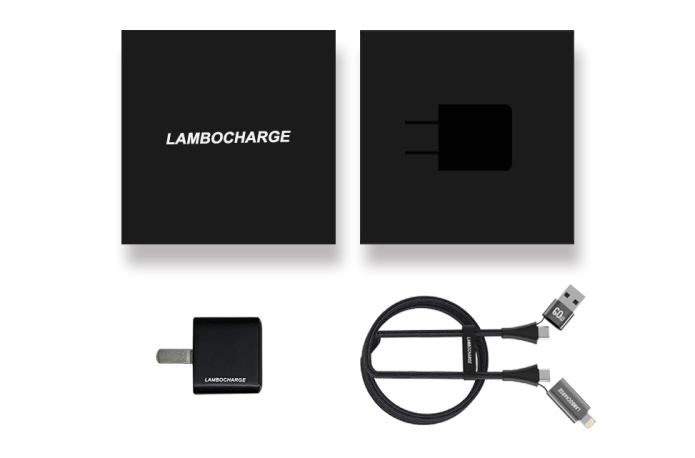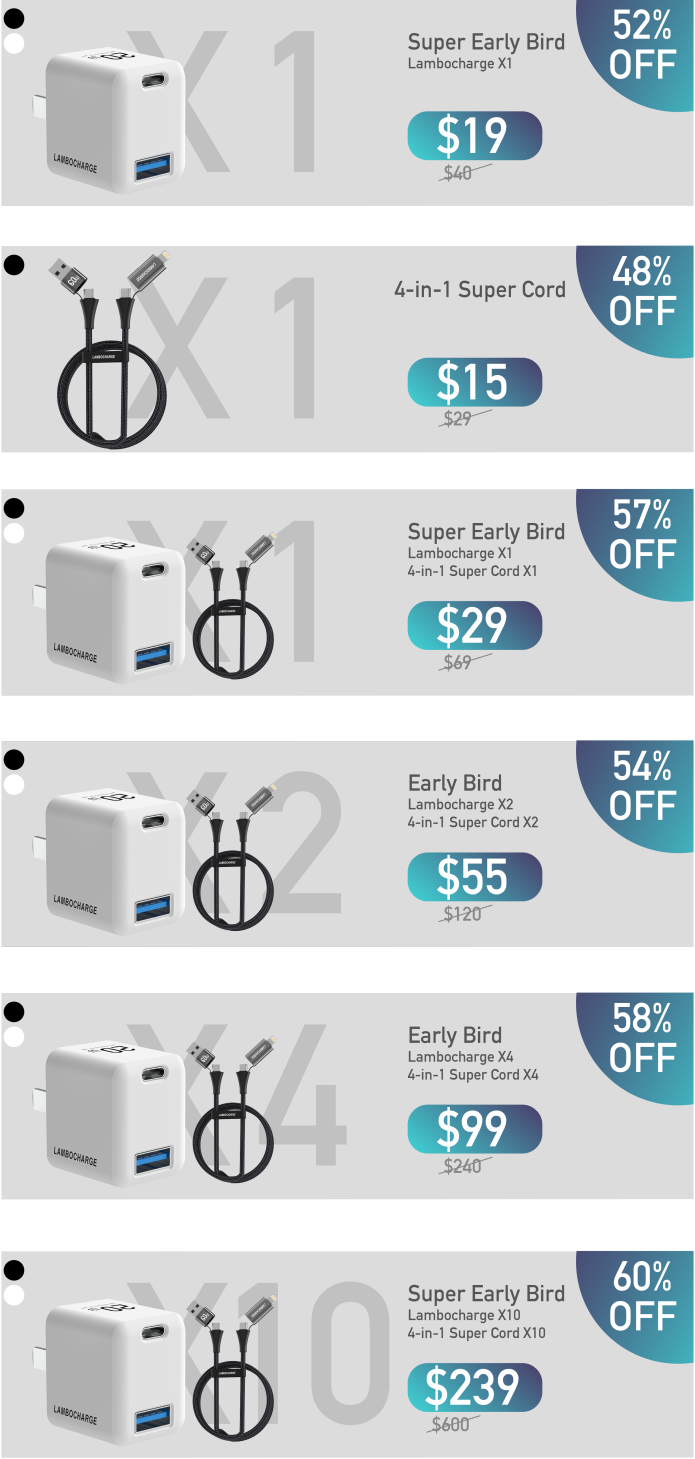 The Pawly Door detects when your cat tries to bring home prey, keeps intruders outside, and helps you find your missing cat.
  MAKA - The most powerful laser measuring tool for worksites? Recently, we have been asked by MAKA to review their universal measurement tool. Although most of us around here were not used to fixing stuff or doing home improvements ourselves, this trend is...
Search for awesome projects
You may also be interested in
Use day or night to become more focused, more productive, and more relaxed.
No More Tangled Cords | 165W Powerful Suction | Featuring 3D Pool Map Planning & Navigation System | 5 Cleaning Modes
The most versatile laser measure that integrates 9 materials stud finder, thermal imager, cross laser level and much more
You may also be interested in
Use day or night to become more focused, more productive, and more relaxed.
No More Tangled Cords | 165W Powerful Suction | Featuring 3D Pool Map Planning & Navigation System | 5 Cleaning Modes
The most versatile laser measure that integrates 9 materials stud finder, thermal imager, cross laser level and much more