JMGO U2 4K Tri-Color Laser TV Projector
Patented Native Triple Laser Projector with 114% REC.2020/3600 ANSI Lumens/DYNAUDIO/50000h Lifetime
Pledge Here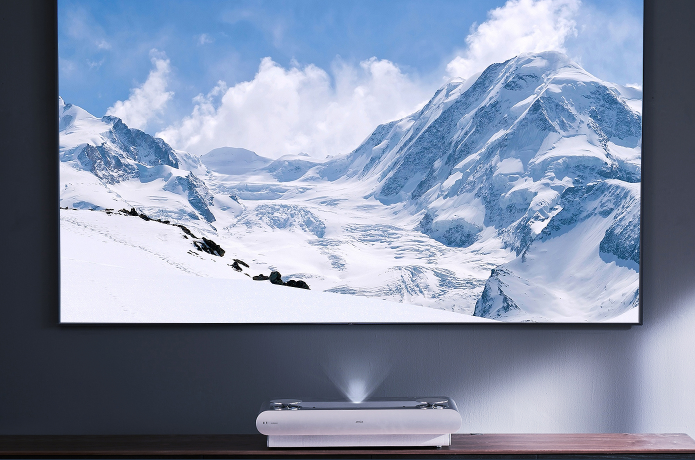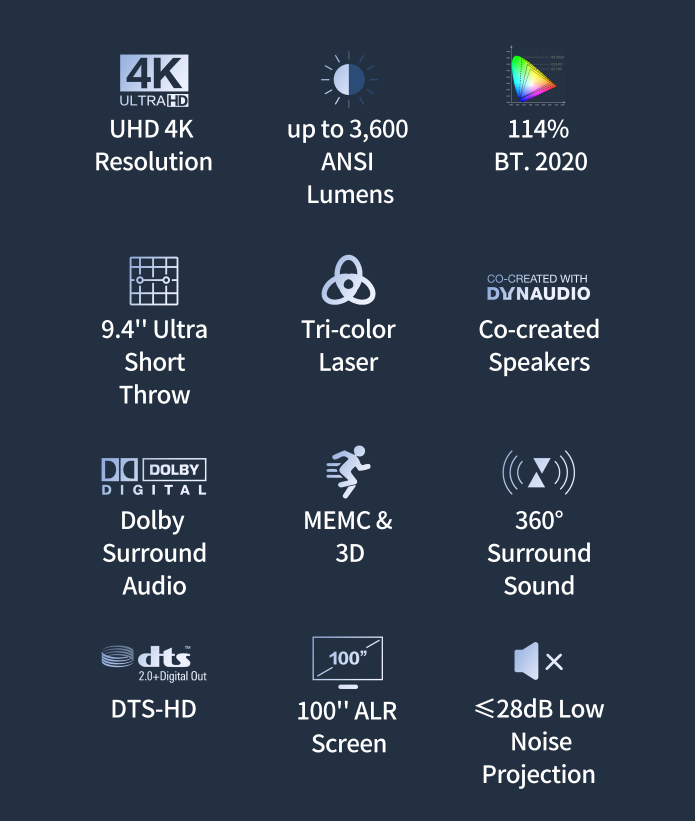 Introducing JMGO U2, a best-in-class 4K projector with cutting-edge tri-color laser technology, unrivaled surround sound, and stunning design, offering a full home theater experience in the truest sense.   


Established in 2011, JMGO has won more than 400 patents and design awards, and it is the brand of choice for hundreds of millions of families around the world. This time with the U2, we aspire to redefine your home projector by incorporating the most recent patented tech, Native Tri-color Laser Solution, achieving 114% of the REC.2020 (i.e. BT. 2020) color gamut, well beyond what other projectors in the market offer.   
What's the advantage of NATIVE Tri-color Tech?
This technology was used primarily in cinemas and theaters because of its high price tag. Unlike other compromised solutions that still have to rely on the addition of the Phosphor Wheel component in front of the light source to project images, U2 can directly project a native tri-color laser source, without the loss of colors. In this way U2 could produce 114% of the rec.2020, exceeding the BT.2020 standard by 14%, and the IMAX standard by 159%.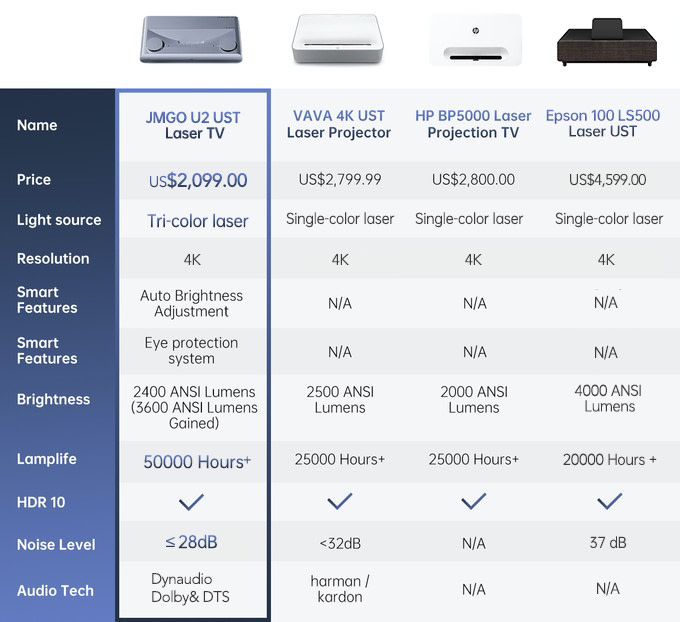 To present our product realistically, all the images of JMGO products on our campaign page (except renderings) are taken in real life during our photo shooting. Please note that all images and gifs uploaded have been compressed automatically by Indiegogo. For
real performance in 4K full resolution
, please check below the video from the YouTubers. Make sure to switch to 4K quality, and enjoy. 
Ultra-HD video filmed by JMGO

The JMGO U2 features an attractive, futuristic silver design, intended to complement any living space. Its sleek, modern profile allows it to blend seamlessly with your home decor, while its unique, inverted cone speakers present a distinctive and memorable profile.                
The unique inverted cone design was actually inspired by the outstretched hands of the E.T. original movie poster. This innovative design is not just eye-catching but also allows the speakers to better resonate, improving the acoustics of the device – a perfect combination of aesthetics and functionality. 


The JMGO U2 utilizes the industry-leading triple laser projection system to provide cutting-edge color reproduction. The U2 achieves
114% BT.2020
color gamut with leading-edge technology, 159% greater than the color standard required of IMAX movies, allowing you to distinguish even the subtlest colors while perfectly reproducing the stunning sights of the natural world.  
The best-in-class Wide Color Gamut (WCG) provides stunningly vibrant and true-to-life colors, so precise you can see the difference in lipstick shades at a glance, while also capturing the most breathtakingly colorful sunsets or iridescent dragonfly wings and flawlessly reproducing them in your own home. Bring a truly striking cinematic experience into your home, with the JMGO U2.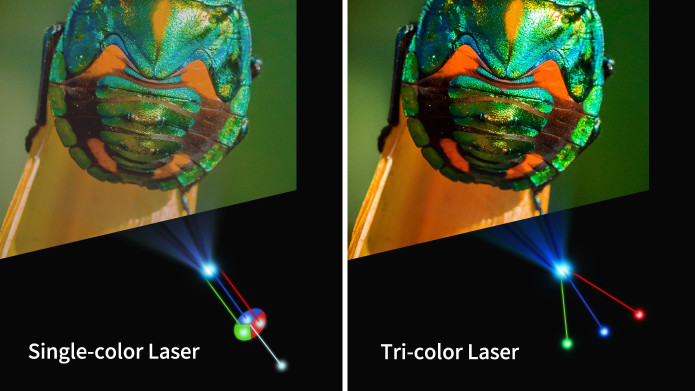 The JMGO U2 uses advanced XPR technology by Texas Instruments, for pixel-shifted 4K with 8.3 million distinct pixels. That means it's capable of playing 4K video at a fraction of the cost of native 4K displays while maintaining the sharp, crisp look of high-resolution video.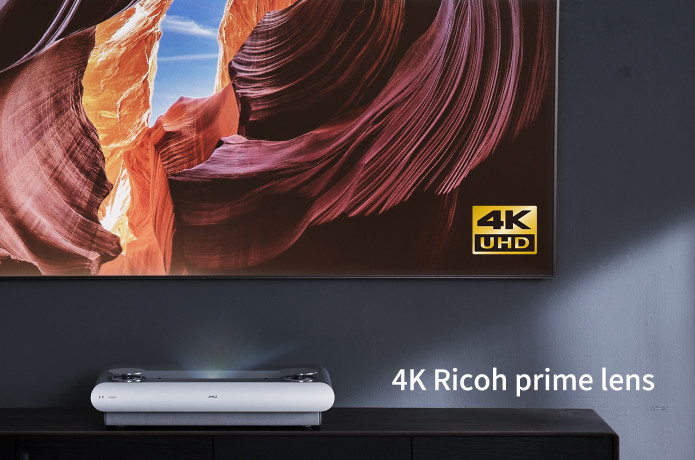 Take your home entertainment to the next level, with graphical fidelity so sharp you'll feel like you're right there in the action. Watching movies will be a whole new jaw-dropping experience with the U2 – you'll be able to count the threads in Vader's cape, or see the stubble on Thanos' cheek!  
*Note:
Please switch to 4K for watching.

You won't need a lightproof home theater to get the most out of the JMGO U2. It features a powerful lamp, capable of producing 3600 ANSI Lumens on an ALR screen (2400 ANSI lumens without screen), providing crisp and clear images even in daylight – without having to close the curtains or draw the blinds.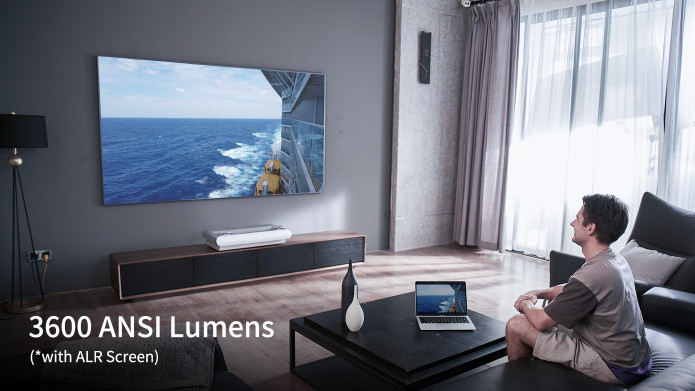 Worried that your kids or elderly family members may struggle to make adjustments to the brightness level? Don't sweat it! Using a built-in photosensitive camera, the U2 can automatically adjust the brightness of the screen according to the brightness of the ambient light. So no manual adjustment of brightness is needed, no matter what your surroundings are like.

Motion Estimation and Motion Compensation (MEMC) is a technology used to smooth out images and is especially useful in any situation when each frame counts, like action movies or when watching sports. Make even the fastest-moving images crystal-clear, so you can get the most out of every frame!
Finally, the U2 is also fully 3D compatible with the JMGO 3D glasses, available as an add-on. There is no more immersive or powerful viewing experience than watching something in 3D, and now you can do it any time you like, in the privacy and comfort of your own home!

The JMGO U2 is perfect for home theaters, living rooms, or even offices,  and its limited lens-to-screen distances mean more obstructed views. The JMGO U2 uses ultra-short-throw technology and boasts a 0.25:1 throw rate. Place it just 9.4" from the wall for a stunning 100" projection.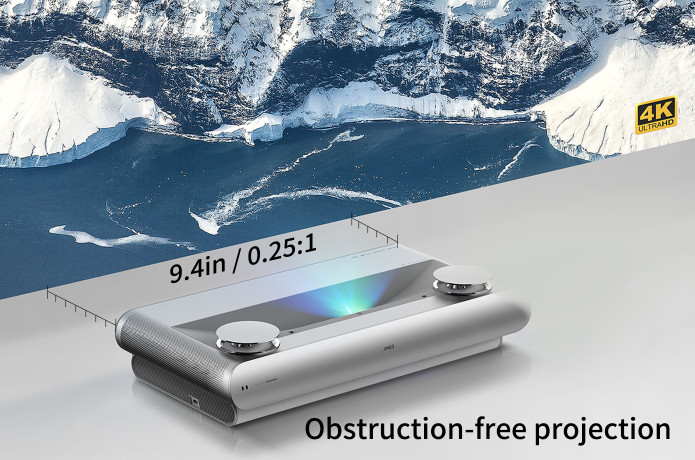 And with such a short space required from the projector to the screen, you can enjoy crystal-clear picture quality, a cinema-standard 15000:1 contrast ratio, and an unrivaled 100" image size in any size room, all without having to worry about tricky layout or shadows obscuring your view.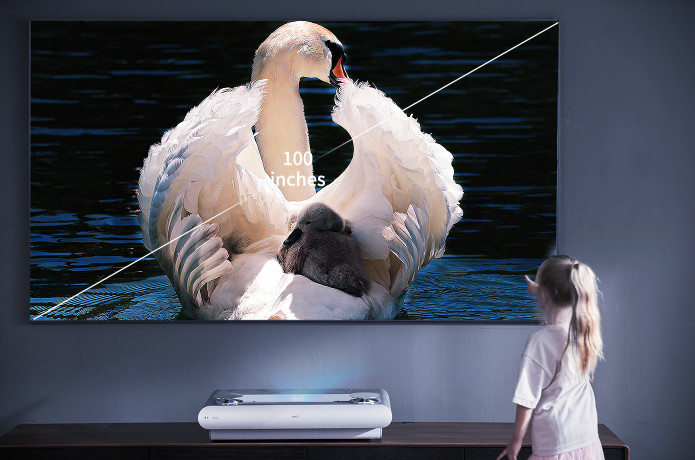 The U2 isn't just a crystal clear projector- it also features an amazing surround sound system built into the same device! Co-created with Dynaudio, the U2's four powerful electromagnetic speakers earned dual certification from both Dolby Audio and DTS-HD, to ensure the absolute highest quality auditory experience.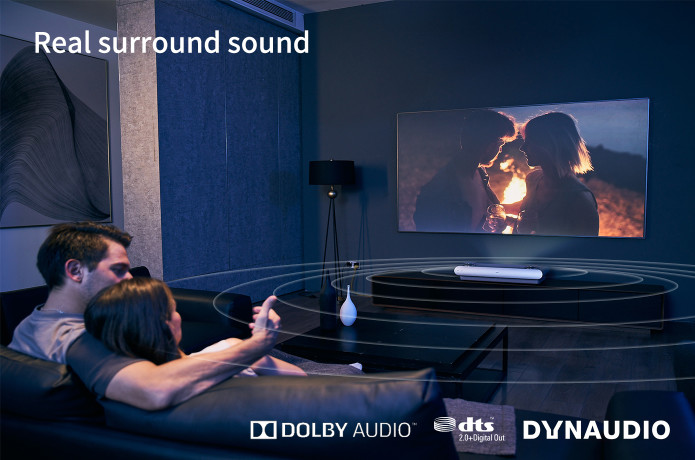 The U2 utilizes Omnidirectional Stereo Compensation Technology to create a full surround sound experience with deep, driving bass and perfect, clear highs. With a 2400cc ultra-large sound cavity, it elevates sound with exceptional clarity, detail, and dynamics at an impressive sensitivity. Fill your entire room with music or even podcasts, and enjoy an immersive, flawless sound experience no matter where you're sitting.
If there's a car driving across the screen, you can hear it transition from left to right as it speeds by. No matter what your audio demands, U2 delivers incredible surround sound to perfectly complete the home cinema experience.

The U2 also offers a number of features to help keep you feeling your best. The projector automatically stops playing when the built-in sensor detects that viewers are within 40 inches of the light source, so as to reduce the impact on your eyes.
Blue light reduction reduces the blue laser source light being emitted, reducing eye strain even after many hours of viewing, something particularly important for children and the elderly. This technique also minimizes the impact on your circadian rhythms, so watching a movie or show on the U2 won't disrupt your normal sleep patterns.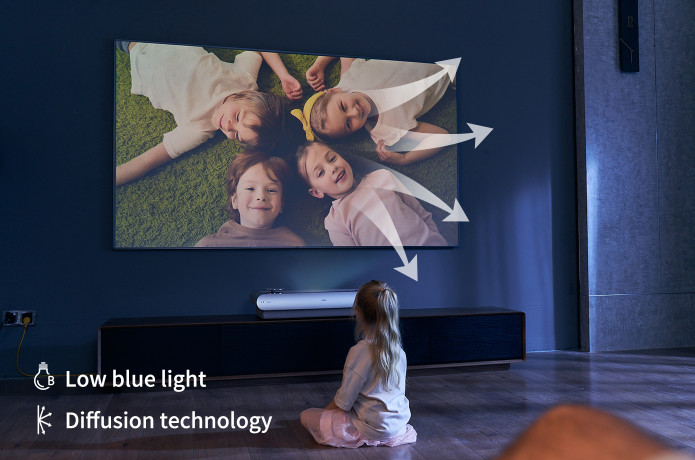 The U2 also incorporates a smart temperature control system. It will automatically activate one or more of the five low-decibel built-in cooling fans, so even after running for hours, the U2 stays cool and quiet.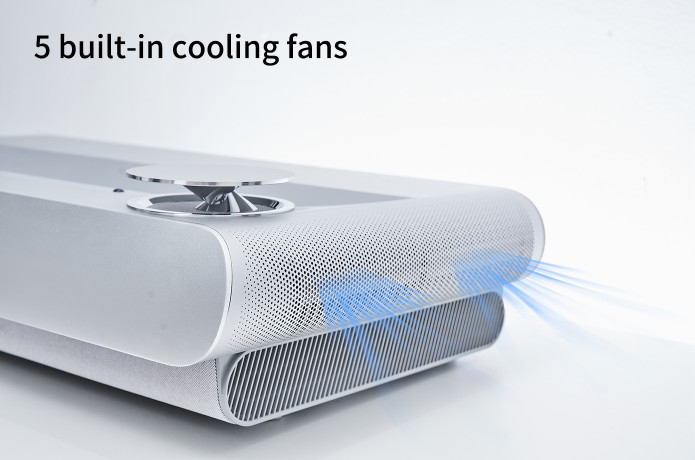 With fans that stay under 28 decibels, there will be no annoying sounds to distract you when the movie gets good – or to wake up the little ones if you decide to stream something all night. And laser projectors are more energy-efficient than traditional lamp projectors so you will have no trouble staying cool, calm, and collected with the U2.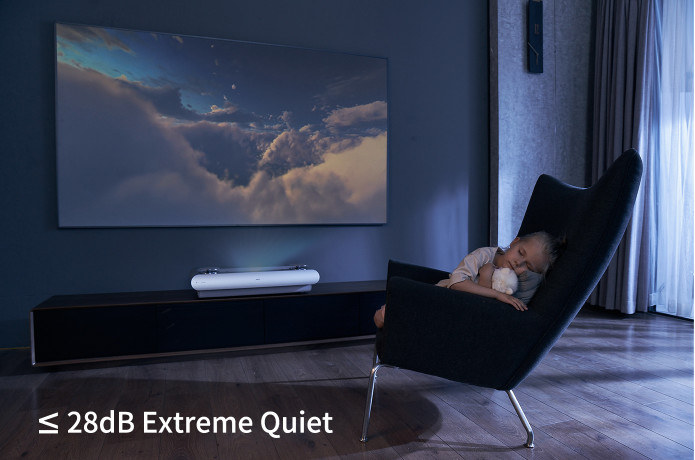 *Note: All images, gifs, videos uploaded have been compressed by Indiegogo and there may be noticeable flaws in resolution and brightness. 


JMGO U2 features Luna OS with a built-in smart Android system, connecting you to a world of premium entertainment.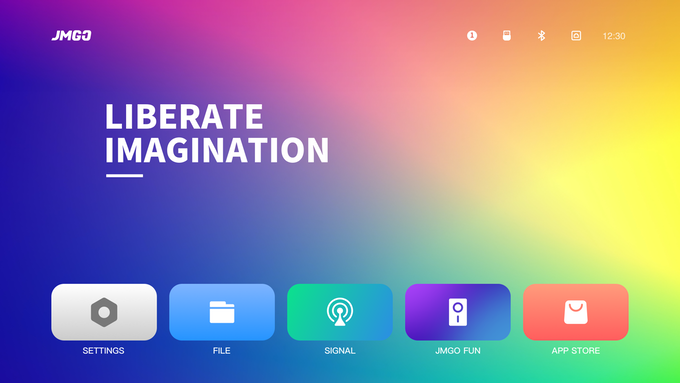 The JMGO U2 has unparalleled connectivity, with  2*HDMI (1 HDMI ARC), 1*Optical, 1*LAN, 1*Service, and 2*USB Ports allow plug-and-play connection to TV sticks like Amazon Fire Stick, Roku, or Chromecast, with ample connections left for cable TV boxes, video game consoles, or other devices. The U2 has everything you need for endless entertainment.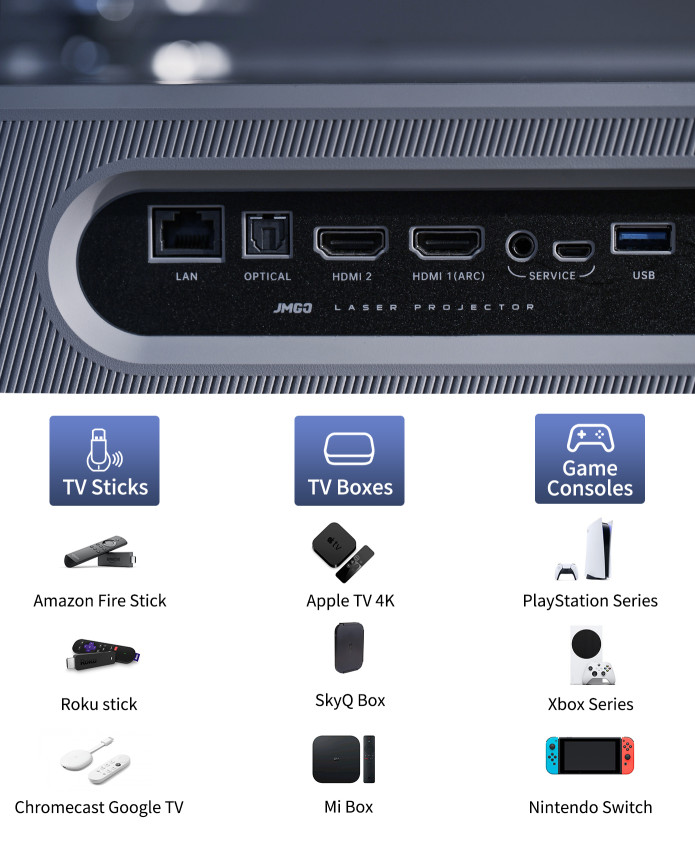 The easy-to-use JMGO APP completely replaces traditional remote controls, so you'll never need to worry about digging through couch cushions to track down your lost remote control, ever again. And with a tap of the App, you can easily toggle between input channels, letting you switch from one console or device to another at the press of a button.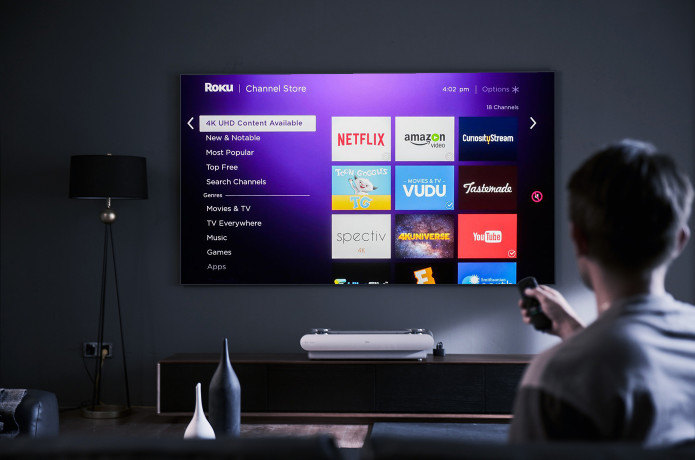 Need to cast from your laptop or mobile device? No problem. The U2 features Bluetooth 4.0 for wireless screen projection and supports iOS, Mac OS, Airplay and more. Play a file from your phone to your 100" screen at the push of a button – it's that easy.

Image quality demo from @sami tech tips.
Luna OS demo from @all things tech.
Screen as a picture frame.  
Auto-brightness adjustment demo.
Video game demo from @all things tech. The U2 is compatible with most game consoles, including the Playstation 4 and 5, Xbox 360, Xbox Series X, and the Nintendo Switch. 

The best part of all? The U2 is insanely durable, with a 50,000-hour laser diode lifespan – vastly longer than CRT or lamp projectors. That's enough to watch the entire Star Wars original trilogy 7,000 times! You'll never need to replace a bulb again. Instead, spend less time fixing and maintaining your device, and more time enjoying it!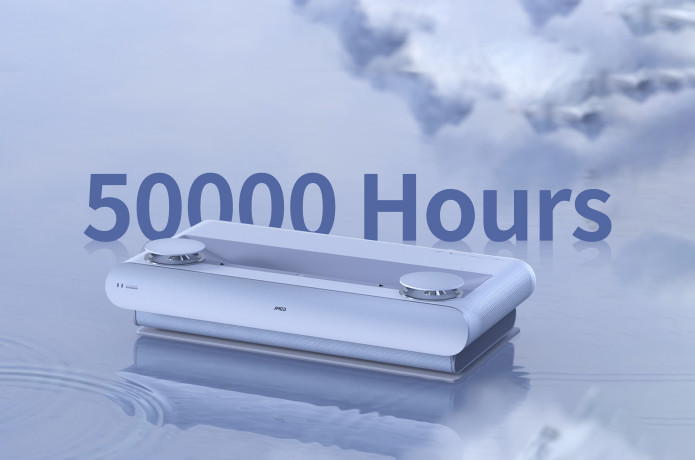 What's the best way to get the most out of your U2 purchase? Make sure to grab the JMGO 100-inch Ambient Light Rejecting (ALR) screen to bring out the absolute most in your projector.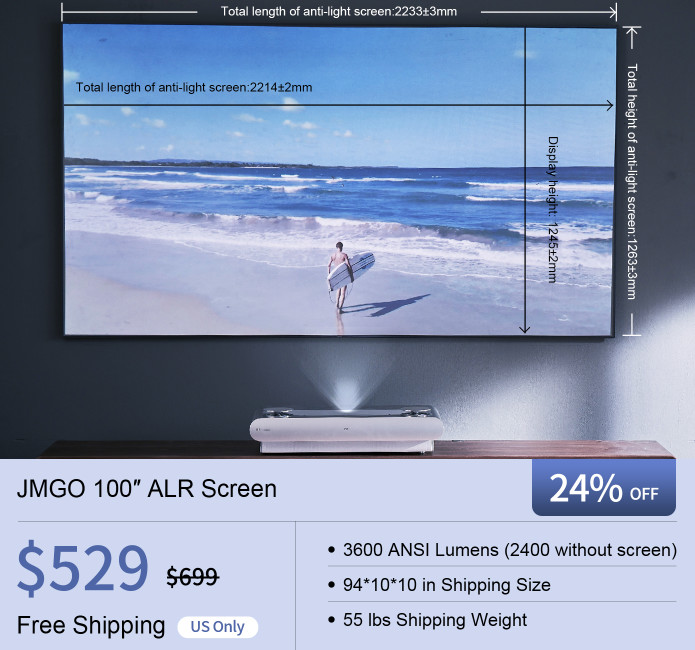 The perfectly smooth, even surface ensures you'll always enjoy flawless picture quality, while the unique 8-layered structure uses multiple precisely calibrated reflective materials to reflect ambient light away from the user and reflect projected light towards the user, increasing gain by 50%!  
Better yet, you can use the screen as a compliment to your room's ambiance by using the screen as a crisp clear picture frame for you to project photos, paintings, or illustrations.  
The JMGO 3D glasses use a DLP-Link chip for smooth image transition. The rechargeable glasses will last 45 hours on a full charge and will switch off automatically when not in use. With an ultra-lightweight frame of only 26g, enjoy your movies without feeling a burn on your nose bridge.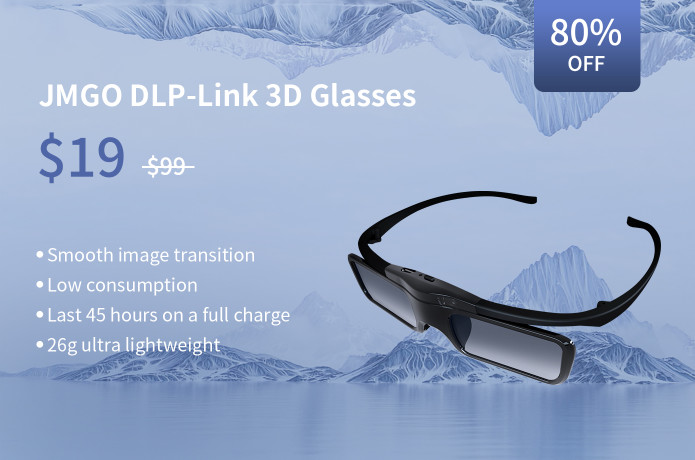 For US backers, we recommend choosing the combo perk with an ALR screen. It's the best deal of all since we are covering the shipping and customs fees for both the projector and ALR screen. For non-US backers, please choose the projector perk since the screen is currently not available due to logistics limitations. Contact the JMGO team at u2@jmgo.com for custom orders or larger quantities.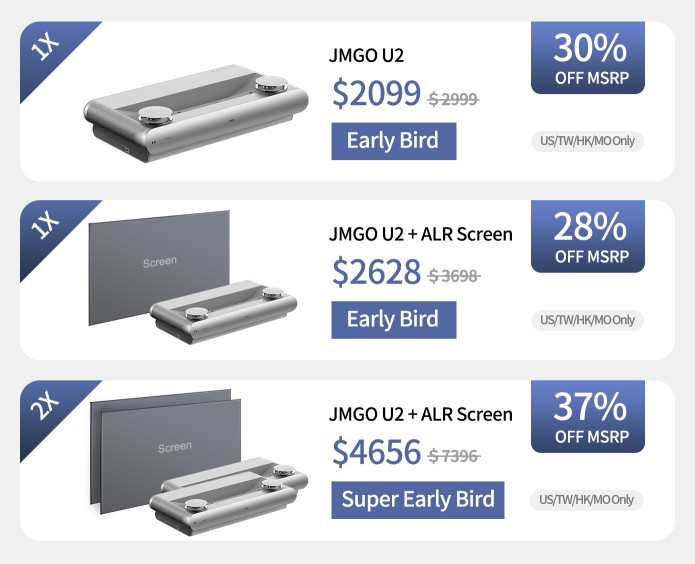 For US backers, you will be able to grab the add-ons (screen and 3D glasses) from the next page after you choose your preferred perk.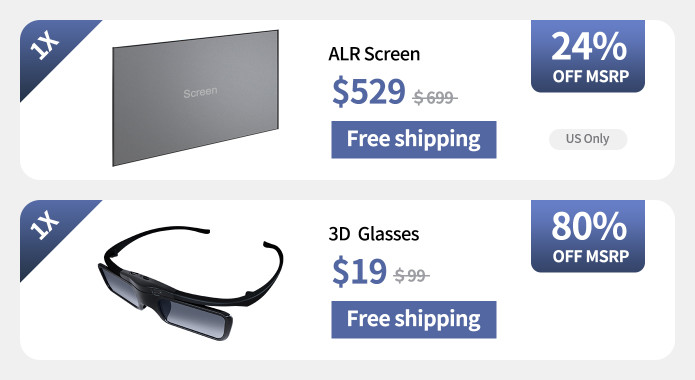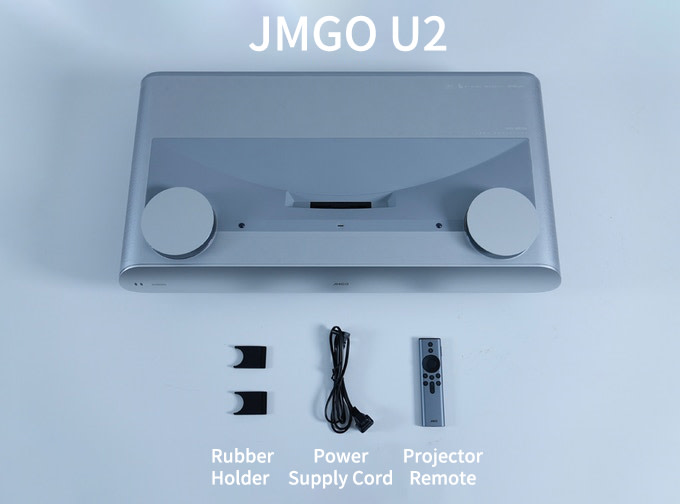 BOLTZ Cutter - The first cordless ultrasonic cutter is an interesting new gadget Following their successful cordless rotary tool campaign, BOLTZ has created another DIY tool, this time an ultrasonic craft knife called BOLTZ Cutter. Ultrasonic knives are...
Real Archery Gaming | Smooth Archery Experience | From Novice to Pro | Easy Set-Up | 600g Lightweight | Metaverse Possibilities
Search for awesome projects
You may also be interested in
A sleek, reusable yearly calendar – elegant, easy-to-use, and doubles as a whiteboard for notes.
A Camera Trigger packed with: High-Speed, Wireless Flash Control, Timelapse, HDR, AI Suggestion, Geo-Tag, File Manager and more
More than just a security camera, Genie S is a state-of-the-art, full-featured, recording device.
You may also be interested in
A sleek, reusable yearly calendar – elegant, easy-to-use, and doubles as a whiteboard for notes.
A Camera Trigger packed with: High-Speed, Wireless Flash Control, Timelapse, HDR, AI Suggestion, Geo-Tag, File Manager and more
More than just a security camera, Genie S is a state-of-the-art, full-featured, recording device.