JIRENO CUBE4-The Brightest 100% Sealed Portable Projector
1080P FHD&4K Decoding|Enclosed Optical Machine|500 ANSI Lumens|HDR10+|VIDU Audio|Fully Auto-Focus
Pledge Here
The JIRENO CUBE4 features a native resolution of 1920 x 1080P and full 4K decoding. In combination with a brightness level of 500 ANSI Lumens and our unique VIDU audio technology, this resolution ensures the CUBE4 delivers an exceptional cinematic experience whether it is used inside your home or outdoors.
Irritating fan noise is minimized, and because this device is completely sealed, it does not accumulate the dust that often creates spots when viewing a projected image.
The CUBE4's all-aluminum space-gray design is extraordinarily appealing, and its portability ensures the projector can be moved easily outside or to a neighbor's house.
Whether you are sitting in your living room or relaxing in the garden, this projector's auto-focus and automatic keystone correction allow you to quickly set up and enjoy a 200-inch display with bright and sharp images.
As a projector brand that insists on high image quality, HD image quality has always been our top priority. The CUBE4 supports 4K decoding and boasts a native resolution of 1920 x 1080P. This assures a cinema-level experience, whether you project a 30-inch image against a bedroom wall or utilize the side of your garage as a 200-inch screen.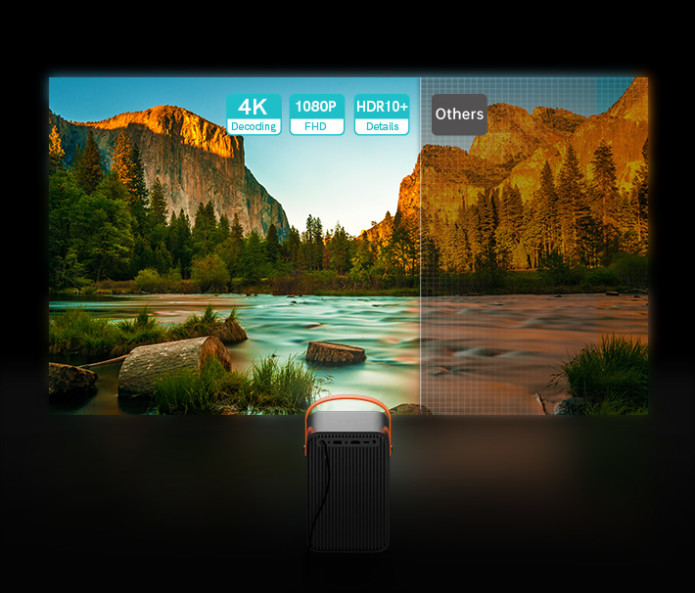 With HDR10+ support, CUBE4 can provide you with richer light and dark details, so that your TV programs, movies, and sports events have a more natural color transition and more realistic images.
The fully upgraded CUBE4 features a brightness level of 500 ANSI Lumens. With a light output significantly brighter than other portable projectors, it can even be operated in the living room during the day. Draw the blackout curtains, and enjoy a relaxing afternoon at the movies!
What is ANSI Lumens you might ask? Check out the differences between ANSI Lumens, LED Lumens & Light Source Lumens.
CUBE4 adopts advanced VIDU audio technology, and utilizes dual built-in 5W speakers with customized diaphragms, stimulating the spatial sound effect of a larger cavity. This speaker system provides crisp and clear treble without sacrificing the bass that helps to create an immersing cinematic experience. The huge volume of sound erupts from the compact cavity fills every corner of the room, great enough just like your enthusiasm for watching movies.
Nothing is more frustrating than watching as dust gradually accumulates on your projector's lens, increasingly creating tiny black spots that interfere with your entertainment. The CUBE4 projector benefits from the implementation of totally sealed optical machine technology. Black spots are prevented because the interior of the device remains dust-free.
Over two years, our team designed, modified, and thoroughly tested this system. Even though the optical enclosure is totally sealed, many alterations and subsequent testing resulted in effective heat dissipation. Thanks to this technology, the lamp's service life is rated at 30,000 hours. If you were to watch two movies each day, it should last for 20 years.
It is normal for the chip to generate heat when the projector is operating. Our engineering staff devoted a great deal of time and effort, determining the optimal spacing between the cooling fans and the associated heatsink. Heat pipes conduct this heat to an aluminum heatsink which is kept cool by a pair of fans. These endeavors resulted in a circulatory system that works effectively to maintain a constant temperature.
CUBE4 is equipped with a USB port, HDMI port, 3.5mm headphone jack, Type-C port, and DC power Cable, providing ample options for external hard drives, monitors, Bluetooth devices, etc.
Support for dual-band Wi-Fi and Bluetooth 5.0 is incorporated into this projector. You can quickly connect to various wireless and Bluetooth-enabled devices, providing the capability to enjoy your favorite content practically anywhere.
Who said that a projector could only be used at home? This portable unit is equipped with a sturdy hand strap, allowing it to be carried easily to whatever location you desire.
When projector owners describe the advantages and disadvantages of their system, noisy fans are among their biggest gripes. It's difficult to enjoy a big-screen thriller when the hiss produced by the projector threatens to override the movie's dialogue.
Happily, CUBE4 is designed with the innovative dual-fan heat dissipation system and air duct, as well as software buffer, the CUBE4's noise level maxes out at a whisper-quiet 30dB. It is barely noticeable even when placed in a quiet bedroom. The result is a theatre-like atmosphere, with nothing disrupting the lifelike soundtrack of your favorite movie.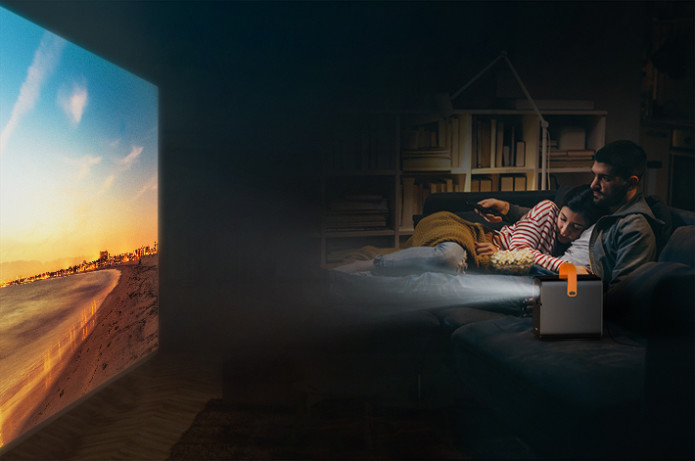 The CUBE4 is fitted within an attractive space-gray all-aluminum shell constructed utilizing the same manufacturing process used to sheath the Mac Pro. Computer Numerical Control (CNC) machines are programmed to conduct 128 different processes—including 200-mesh fine sandblasting—which craft this projector's exquisitely designed outer case.
The bright orange colored hand strap provides an eye-catching contrast to the sleek gray finish of the device's body. With its fashionable and stylish temperament, it can help shape the quality of your life even if it is placed in a corner.
Portable projectors, which are typically used in various locations, benefit significantly from the inclusion of a user-friendly automatic focusing system. The CUBE4 automatically focuses within five seconds of being turned on. It features a camera combined with IR ranging technology, a sophisticated CMOS camera algorithm, and a lens memory function. This system measures the distance between the projector and screen, automatically adjusting the focus to provide a clear image.
This feature, along with automatic keystone correction, ensures that the younger and older of us—who may not be technically inclined—can operate this projector.
If you should inadvertently bump against the projector, shoving it slightly out of place, 6D correction quickly calculates the change in keystone error and readjust the image.
CUBE4 is fitted with 6D automatic correction, a significant step forward in the development of keystone correction systems. Compared with the ordinary keystone correction, it is much better in terms of adjusting time, accuracy, and user experience. The CUBE4 scans the surrounding area and its beam's impact point. Then it automatically completes the adjustments required to produce a picture that is completely flat and rectangular.
CUBE4 comes with a self-developed JIOS intelligent advanced system on the basis of the latest Android TV system and is equipped with 2GB RAM+16GB large internal storage. This means that you can download and access your favorite applications freely via the inbuilt operating system, such as Netflix, YouTube, Disney+, Tubi, etc. Even better, the projector's remote is equipped to receive voice commands. You need only press the appropriate button while requesting the availability of whatever television show, movie, or soundtrack you wish to play.
CUBE4 features an unlimited upgraded function that can not only upgrade the latest projector firmware but also strive to explore and create new modes, providing more novel experiences for your life. In the dream creator mode, you can listen to the sounds of nature and quickly immerse yourself into the dream world. In the artist mode, the projector adds artistic flavor by using fashionable light and shadow.
CUBE4 has adopted the Amlogic T972 high-performance chip. The Amlogic T972, commonly used in laser projection televisions, combines the central processing unit, graphics processor, and several other components onto a tiny chip. This component provides excellent system performance and high-speed image processing.
Compared with the light that directly enters the cornea from the TV, the light of CUBE4 is projected from the machine to the wall and then enters your eyes after the reflection, which can greatly reduce the direct irritation of the strong light source to the eyes. This allows you to watch cinema-quality movies without discomfort.
The Pawly Door detects when your cat tries to bring home prey, keeps intruders outside, and helps you find your missing cat.
Use day or night to become more focused, more productive, and more relaxed.
Search for awesome projects
You may also be interested in
Use day or night to become more focused, more productive, and more relaxed.
No More Tangled Cords | 165W Powerful Suction | Featuring 3D Pool Map Planning & Navigation System | 5 Cleaning Modes
The most versatile laser measure that integrates 9 materials stud finder, thermal imager, cross laser level and much more