HybridDrive - Expandable Storage Hub with Fast SSD
Up to 2TB High-Speed SSD | USB 3.1 Gen 2 | USB-C All Function | 4K60Hz HDMI HDR | SD HUS-II & UHS-II
Pledge Here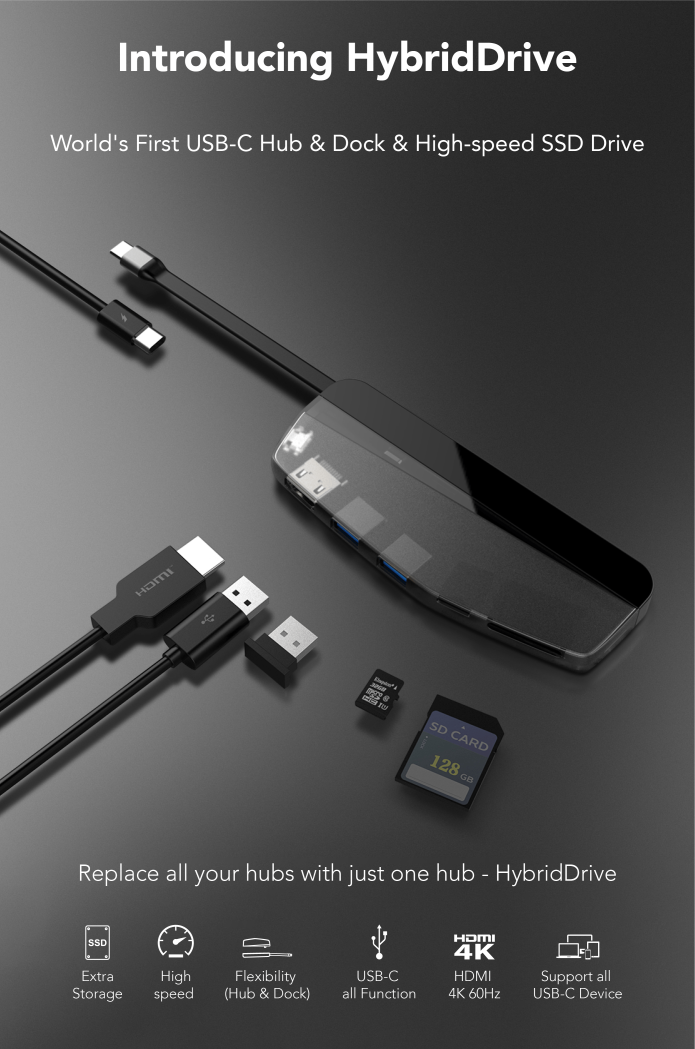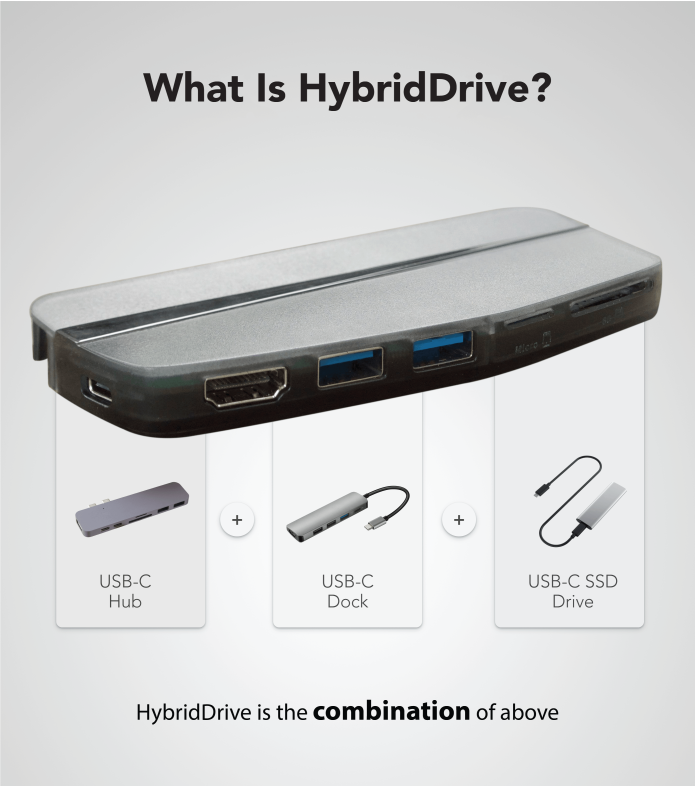 HybridDrive is the instant USB and SSD storage extension
As more laptop devices are converting to USB Type-C, many gadgets and devices have not. HybridDrive acts as a bridge to connect, providing a smooth connection to gadgets that are incompatible otherwise. Besides, up to 2TB SSD storage is included for your disposal. 
HybridDrive solves all your missing ports and storage needs.
Integrated 2TB SSD
HybridDrive combines all your separated ports into one. It also comes with a much-needed storage boost – the integrated 2TB SSD.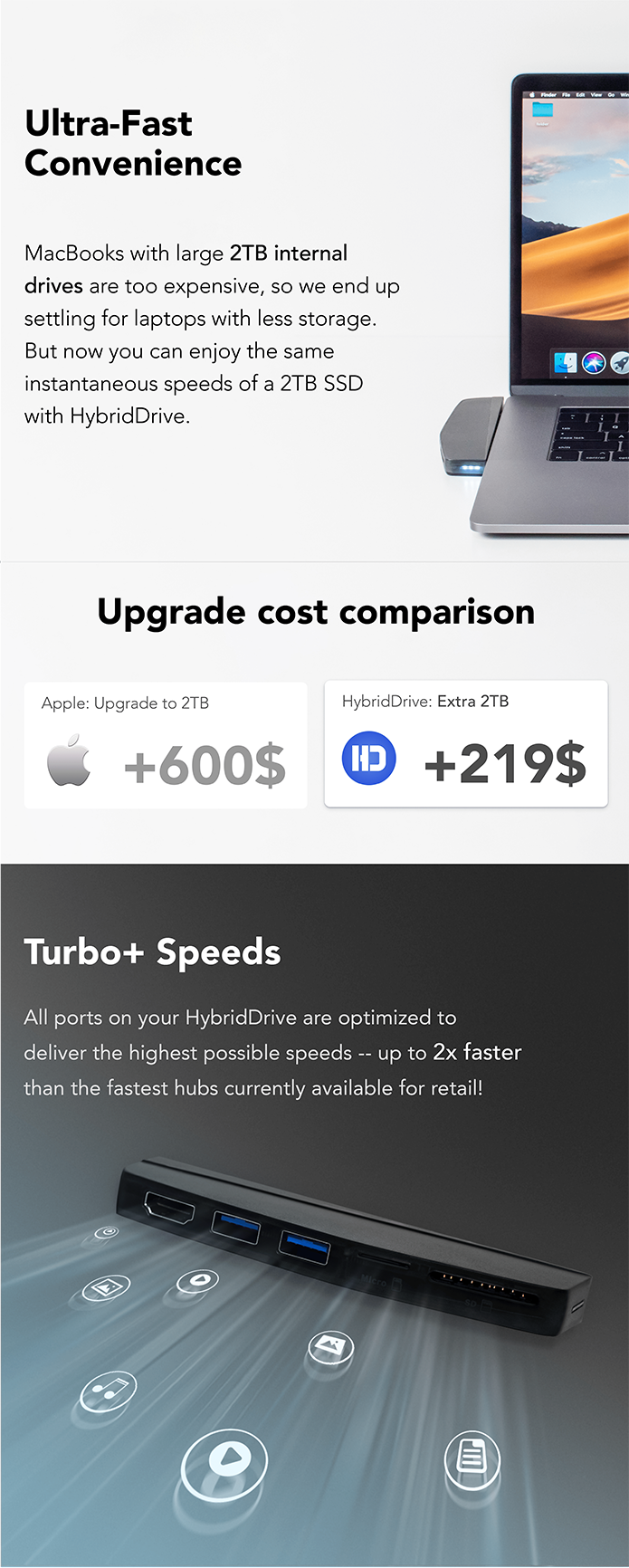 450 MB/S Read & Write Speed
Thanks to its USB-C 3.1 Gen 2 NGFF (Next Generation Form Factor)interface, you can access your 2TB storage at speeds of up to 450 MB/s (read and write!). That's 3x faster than your typical external hard Disk!
SSD Speed test video: 
Use It For Everything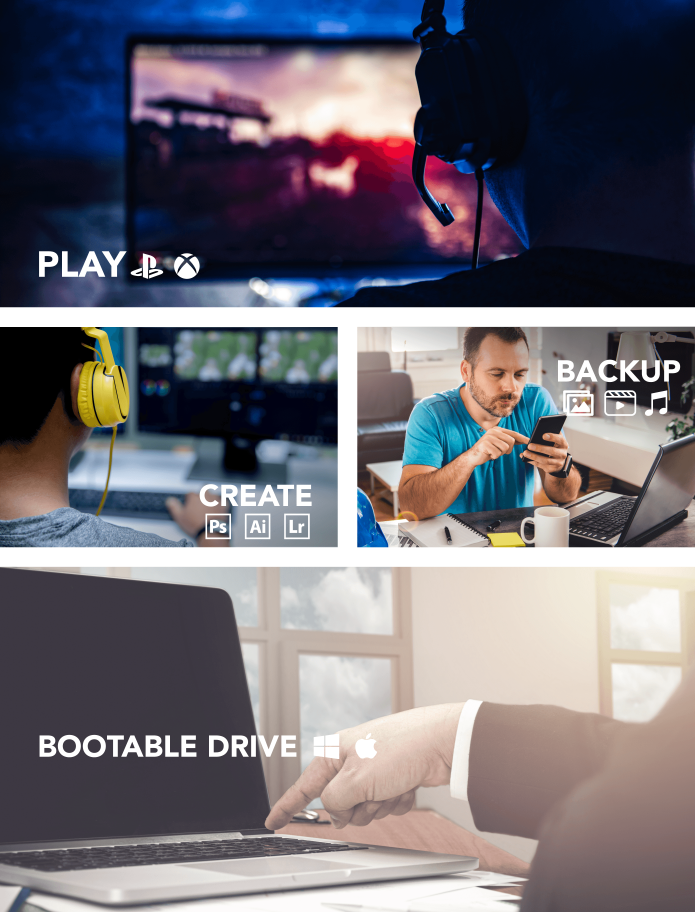 Play – Use it to boost storage of your video game consoles.
Create – Create and edit files from Excel to Photoshop instantly on SSD.
Backup – Keep your PC, laptop and phone data safe with a copy on HybridDrive.
Bootable Drive – Keep a complete OS on this hub, just plug in and boot it when you need!
Demo HybridDrive with ipad video: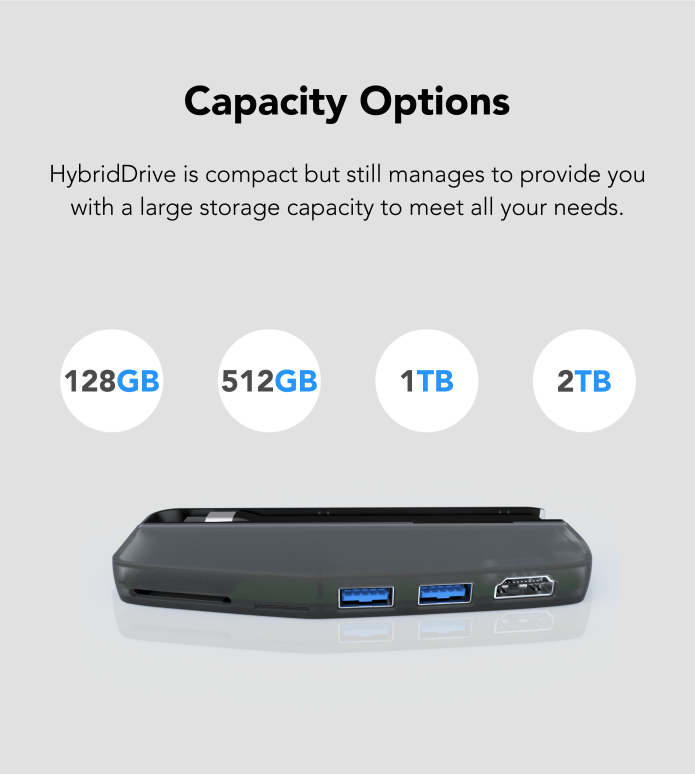 Connect Everything At Once
You can simultaneously access all the ports you need. HybridDrive significantly boosts the number of ports on your MacBook!
You will find HybridDrive helps your performance at work. All ports on HybridDrive are specifically routed such that you can access them all at the same time at the highest possible speed.
MacBook Case-Friendly
HybridDrive can fit with any Apple MacBook's plug via the Dock or USB-C Plug option (if you don't want to remove the protection case).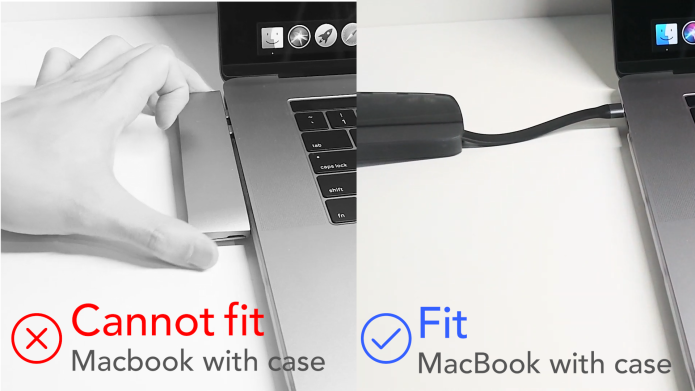 Connect To Any Device
With so many USB gadgets and peripherals available today, the default ports on a laptop are rarely enough.
While HybridDrive is designed to fit the compact design of an Apple MacBook Pro, you can also use it as a hub and extra storage for any device, such as smartphones, tablets, PS4 and laptop.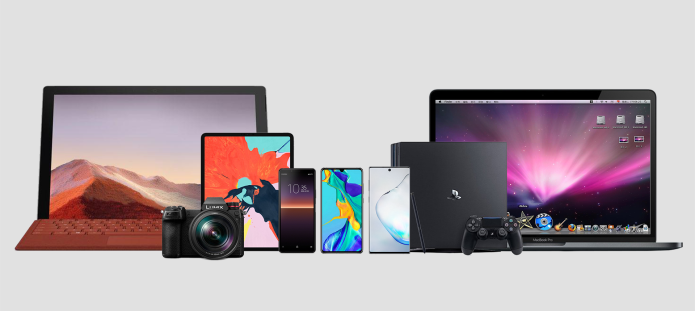 Simply disconnect the MacBook interface, and you'll find a USB-C cable. You can now share files and ports from any desktop computer, Windows or Linux notebook, mobile phone, tablet, TV and other smart devices!
With HybridDrive, you can now leave all your cables connected at work or at home without any hassle. 
All The Ports You Need In One Device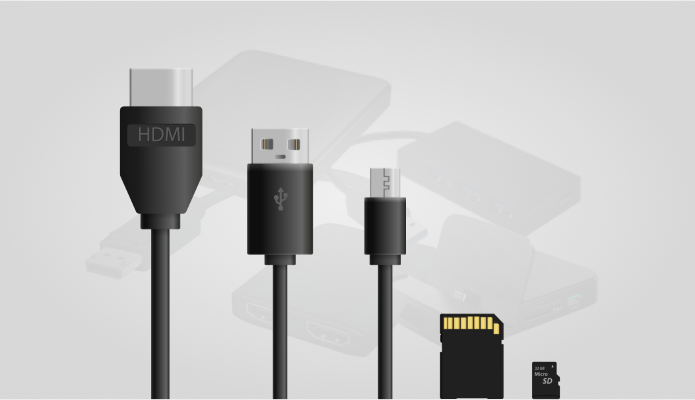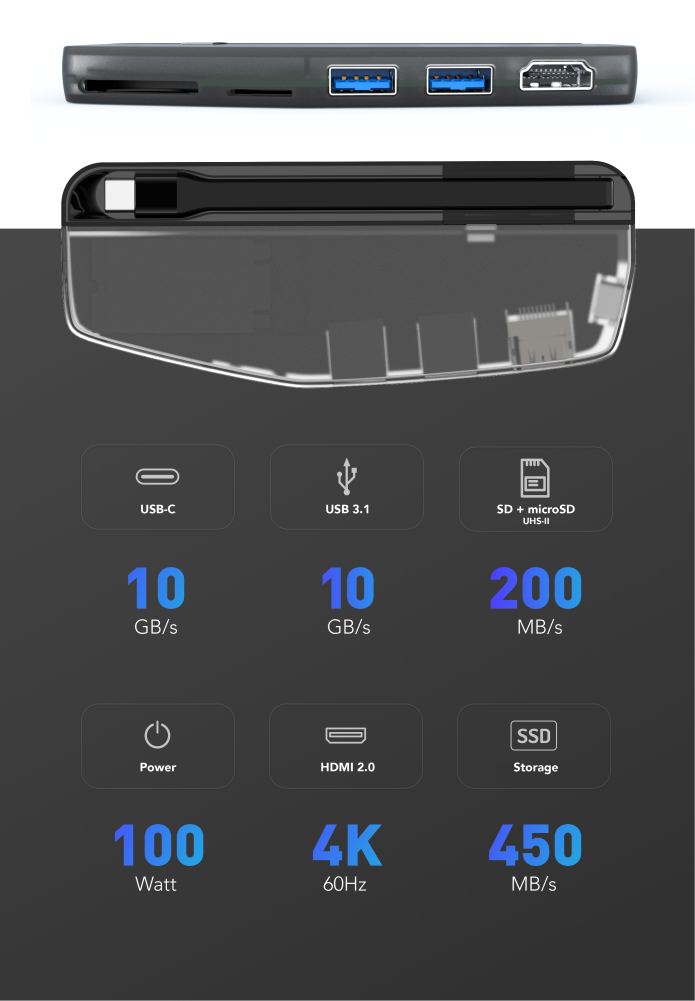 With full UHS-II compatibility (200 MB/s), you can transfer a 5-minutes 4K videos from high-end professional cameras in 18 seconds!
By optimizing the path between the USB 3.1 ports and the USB-C interface, HybridDrive doubles the data transfer speed of the fastest hub available on the market.
USB transfer speed demo video: 
HybridDrive is capable of 4K 60 Hertz video output and give you a great experience.
4K 60Hz video demo (MacBook):
4K 60Hz video demo (iPad):
Power Saving
Unlike other dongles on the market, HybridDrive doesn't overheat or drain your battery.
Each component and element, from chipsets to the card reader, has been designed to save power.
This means it won't overheat, and works at up to 96% efficiency, while offering full power and speed to every single port at the same time!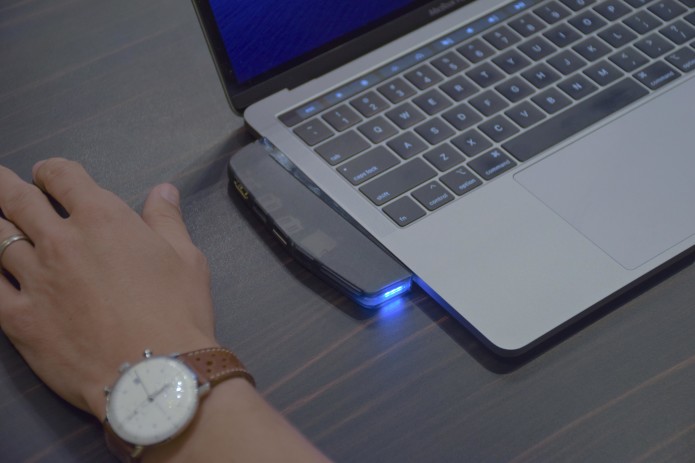 With its smartly integrated design, it takes up 30% less space than the tasty chocolate bar. And at 58 grams (2 oz) it is nearly as light!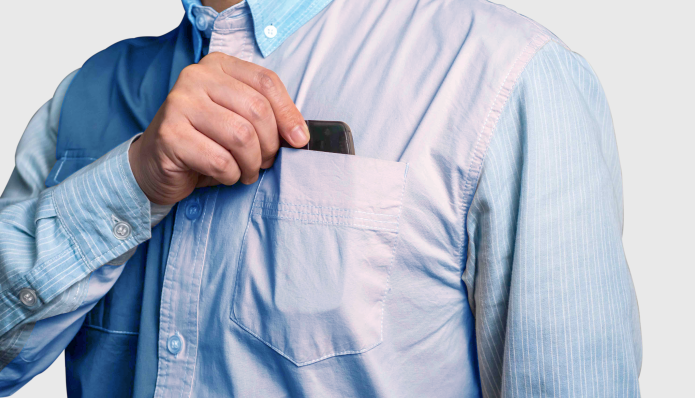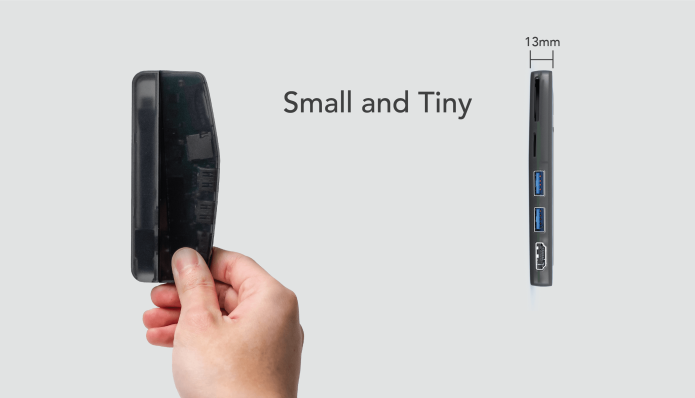 Color Options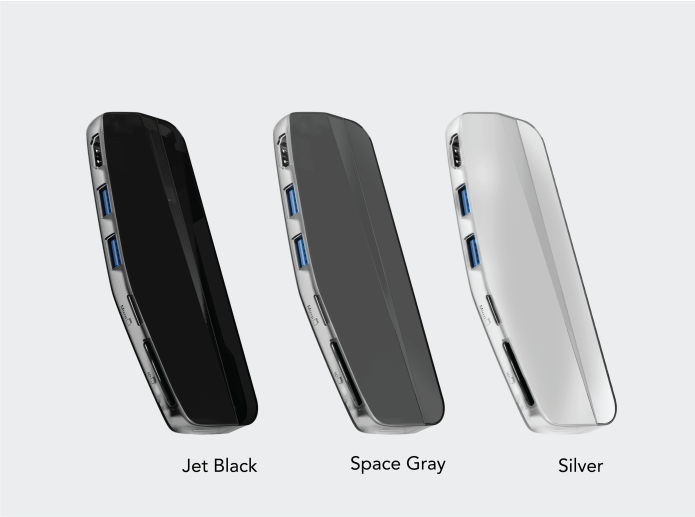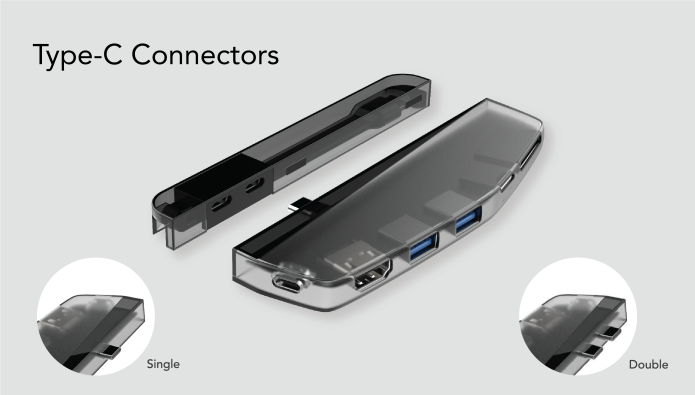 You can choose between single or double Type-C connectors for a more seamless and stable connection with your MacBook. Single and Double version and technically the same. 
Rewards








M.2 NGFF 2242 SSD
We use Kingspec SSD in HybridDrive, with USB Type-C 3.1 Gen 2 NGFF interface, the HybridDrive provides high-speed data transfer up to 450MB/s read and write, which is 3x faster than the average external HDDs.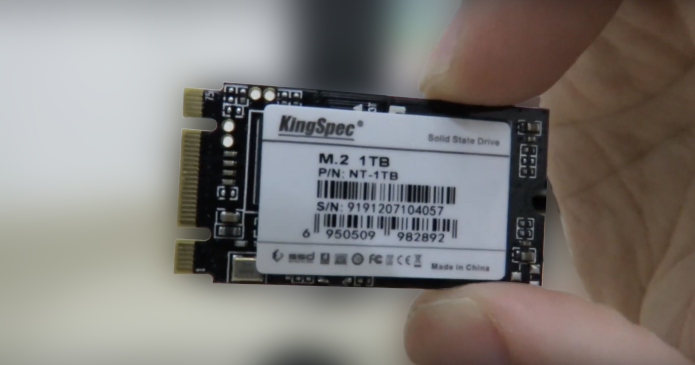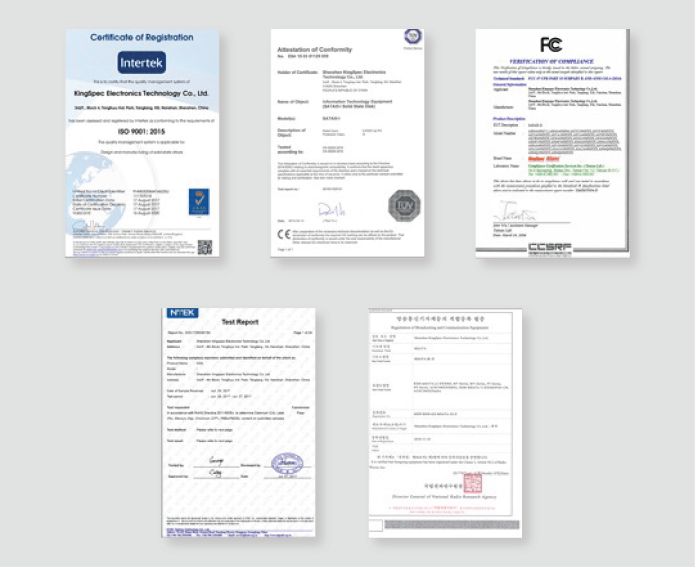 The Design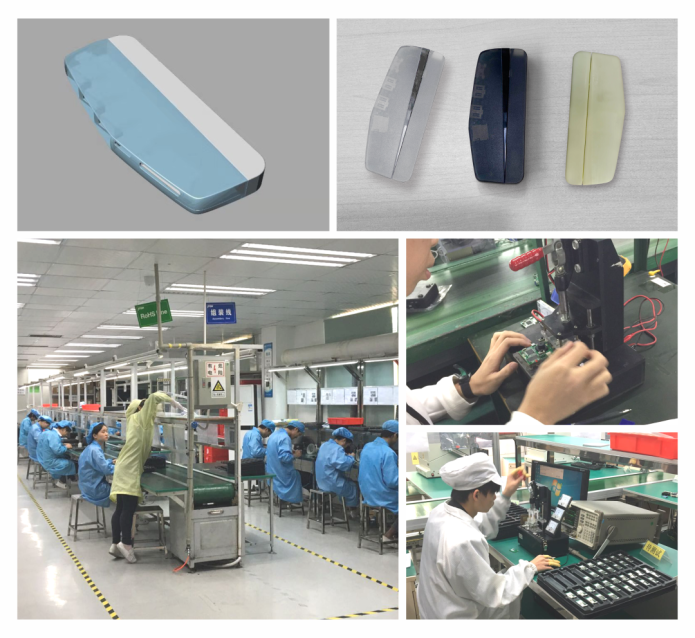 Sharing the passion in making life easier with digital products, we have nearly 100 years of experience in the industry and many of us have been involved in designing products that you use everyday!
Unimpressed by the current products readily available on the market, we teamed up to design HybridDrive from scratch.
As the design was not limited by the availability of existing components and parts—thanks to our experience and network for designing and manufacturing new electronics—we were able to create a USB hub that suits all.
Our Story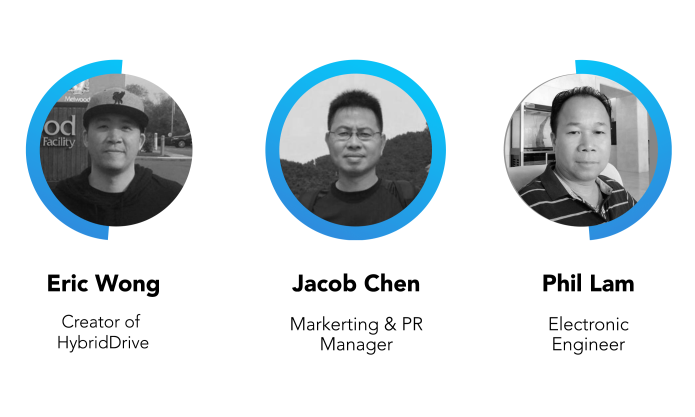 Eric Wong is our team leader. As a veteran in the industry, He has been designing electronics and digital products before Steve Jobs announced the Apple iPhone and micro USB was just becoming a standard. His insight and experience, combined with the expertise of our team helped us to create the first prototypes of HybridDrive.
On this wonderful platform, we hope to gather support and pledge so we can complete HybridDrive and introduce it as soon as possible!
As Seen On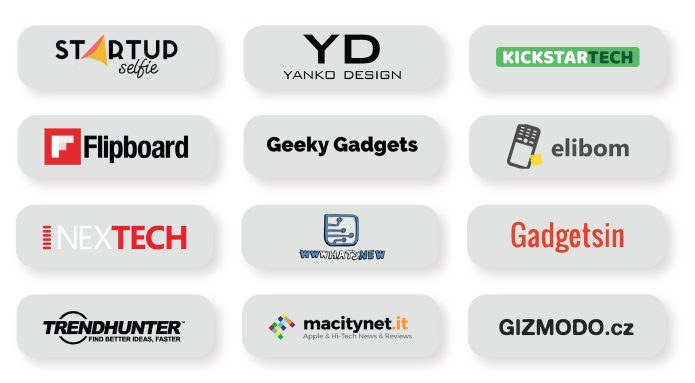 Timeline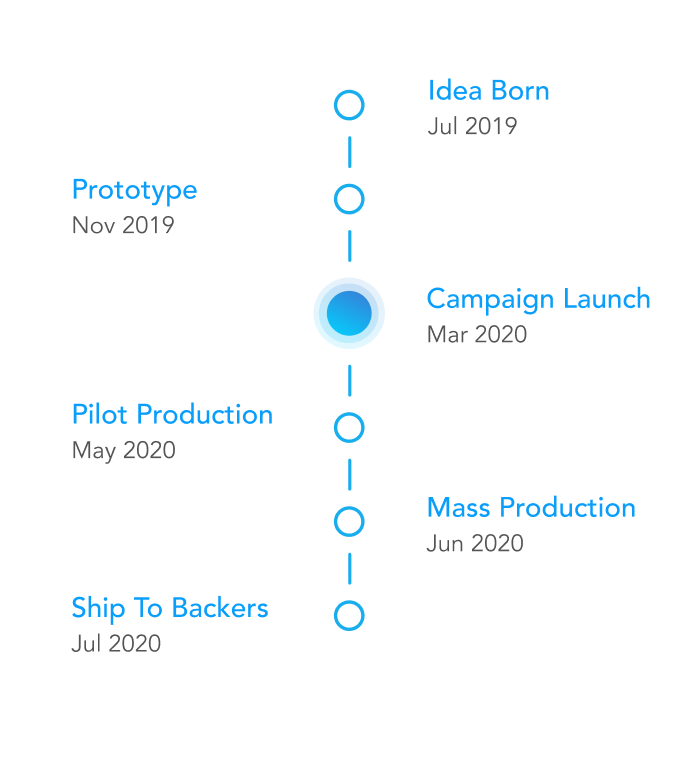 2.39 to 3.87 Feet Adjustable Height | Integrated 17-in-1 Docking | 3 Monitors Output | SSD Enclosure up to 8TB | Wireless Charging
30 seconds tool-free installation. Fits all bike. Intelligent assistance. Sold at an honest price.
Search for awesome projects
You may also be interested in
3 Moods, 3 carrying ways and built-in organization Sling
The smart camera that corrects your movements during your workout sessions
No Perimeter Cable | Multi-zone AI Mapping | 0.1s Obstacle Avoidance | 25-85mm Cutting Height | Mow up to 1800m²| 57% Slope | Smart App
You may also be interested in
3 Moods, 3 carrying ways and built-in organization Sling
The smart camera that corrects your movements during your workout sessions
No Perimeter Cable | Multi-zone AI Mapping | 0.1s Obstacle Avoidance | 25-85mm Cutting Height | Mow up to 1800m²| 57% Slope | Smart App