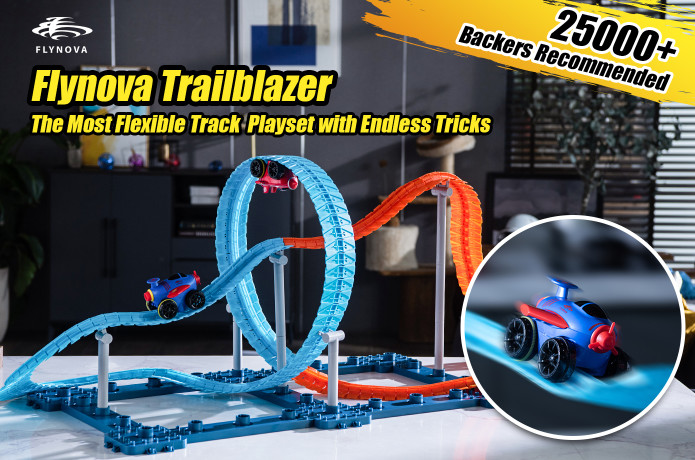 Flynova Trailblazer: Most Flexible Track Playset
Christmas Gift for All Ages | DIY Challenging Racecourse | Endless Creative Stunts | Safe & Durable
Pledge Here
Let imaginations fire at full speed around the Flynova Trailblazer – the world's most flexible racetrack playset designed for both kids and adults. Where if you can dream it, you can build it. 
Flex your creativity to build towering tracks and 360° loops that turn any room or outdoor space into your DIY racetrack dream course.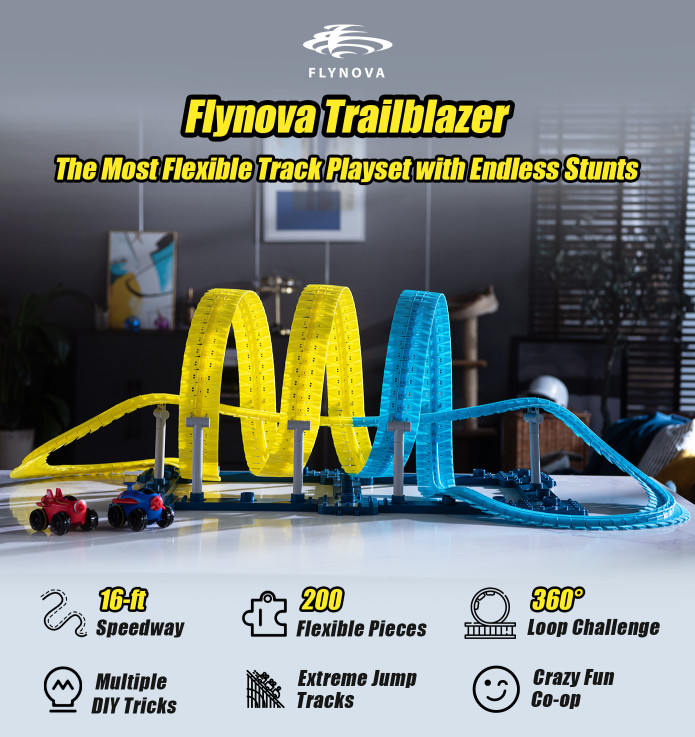 The Trailblazer is also a toy that teaches, through STEM. 
Science. Technology. Engineering. Mathematics. 
Racers of any age can give boredom the boot while practicing problem-solving skills and teamwork skills as they build up their tracks to bigger excitement. 
So don't just build a racetrack this Christmas. Build memories that last.


Welcome to Flynova racing – where you can build your own dream track. Start with one of the ideas below and add twists and turns to make it truly your own! Cliff race, loop challenge…This is your track, this is your world!

Build it sky high. Then build up enough speed for your car to conquer the ultimate mountain.

Forget gravity. Flynova Trailblazer can race sideways or upside-down, just like spiderman. You can even use glue or nano tape to stick Trailblazer tracks to your cupboard, wall, door, or even your window, and watch in awe as your cars race sideways through your home.

Hang around upside down. Run your car through vertical 360° loops, or even run tracks upside down under your table. Your Trailblazer car can handle it all without falling off the track.

Can you ride all night? Build a flat circle, figure eight, or hamster wheel track and watch as your Trailblazer race car goes for lap after lap.

Turn everyday items into daring race course obstacles. Challenge your racecar to various climbing courses and make it climb, swerve, and ride through your own creation.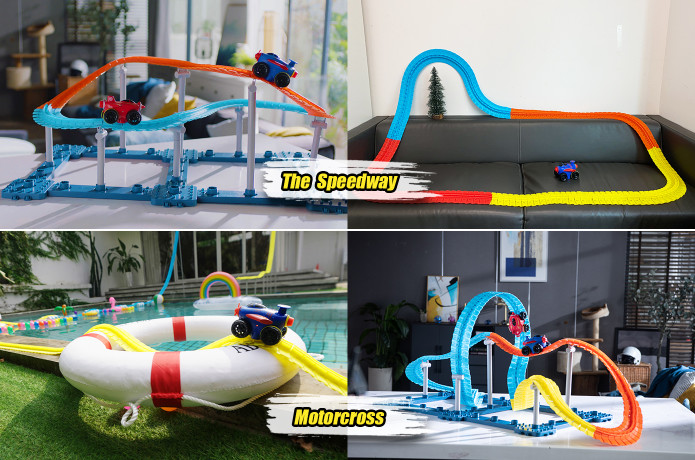 Ready for a real adventure? Get tricky with more advanced tracks by turning everyday items into exciting obstacles and daring courses. Take your creativity into high gear to design courses that connect rooms, conquer couches, and rip through your backyard. 

Take your fun on the road, wherever you go. Parties, grandma's house, or the great outdoors. The Flynova Trailblazer playset is light, compact, and easy to pack up and take with you on the road. So you can take it with you on your camping trip, or your weekend at aunt Lisa's. And race into fun wherever you go.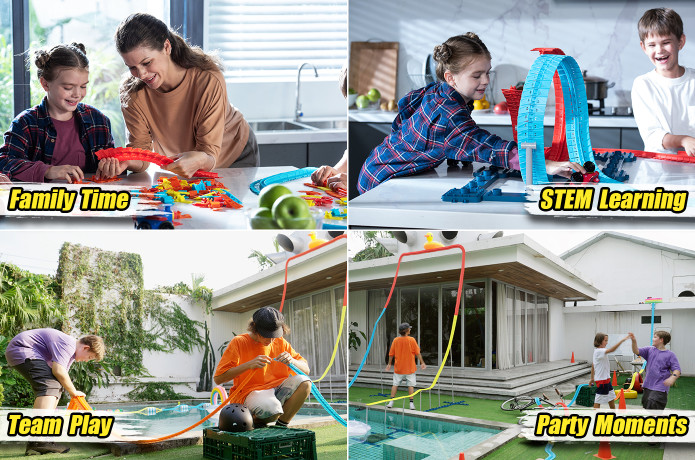 The Trailblazer is easy to put together fast. Only minutes for basic assembly, and you're off to the races. 
With these flexible and strong track pieces, you can combine tracks for endless super courses, or change up your course any time. Stop, detach, and adjust your track in seconds when it's time for a new challenge. There's no rules to your design – the only limit is your imagination.

Go full throttle – without flying off the track. Trailblazer cars are designed with the same technology as roller coasters, so they can zip around tight bends and loop-the-loops without falling off the track. And powerful dual rear wheel drive is what gives your car shocking acceleration and pushes it up steep hills to conquer your wildest courses. Push the button. Feel the power.
Plus, Trailblazer cars glow in the dark! So turn off the lights for a night race and watch them glow around the track.


Relax. Flynova Trailblazer is the worry-free racetrack that's safe for kids. Made with all non-toxic materials, it's even safe for curious little ones. There are no small parts, so you don't have to worry about them ending up in someone's mouth. Plus, all track pieces and cars are soft around the edges – with zero sharp parts.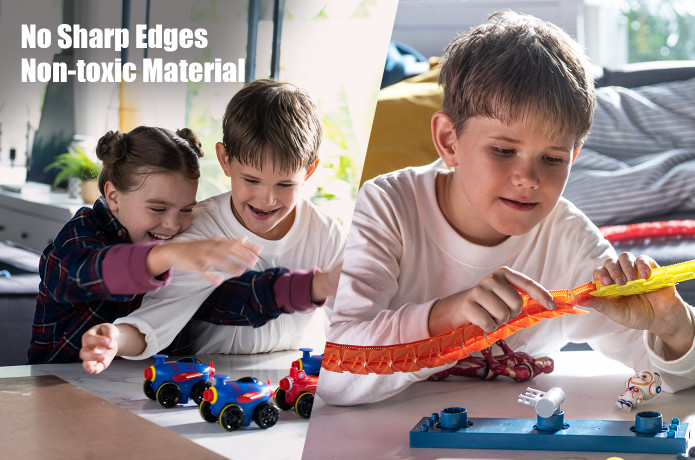 The Flynova Trailblazer complies with rigorous toy safety standards and regulations from Europe, the US, and dozens of other countries. We make sure safety is built into our design – so that you and your family can enjoy our products worry free, at any age.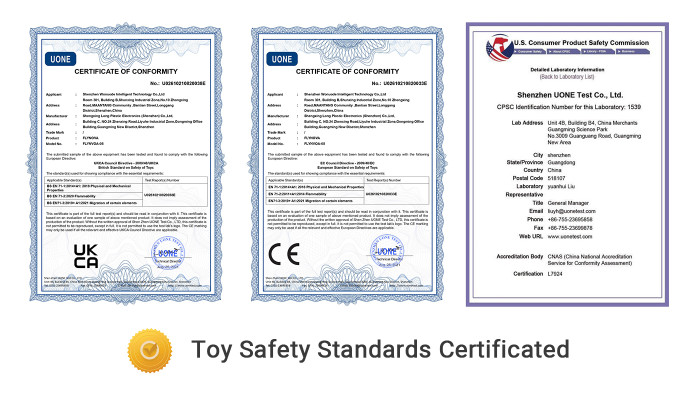 Kids are tough on toys. 
That's why we tested the Trailblazer over-and-over to make sure it can handle race day with anyone, from kids to adults. Each piece of track is made with a drop proof material that's tough enough to handle hits and falls. Each car is built with a soft crash buffer material at the front and back, so it protects your furniture as well as the car. 

Stopping the race and removing your car is easy. Just stop the car any time by putting your hand on the top of the car, and leading it safely to the Quick Release Piece to easily remove it from the track. 

Old school racecourses got you stuck on the floor? Step up your game! The Flynova Trailblazer lets you build up, over, and around everything, for out-of-control stunts, wild 360° loops, and whatever tracks you dream up.
Oh yeah. Now we're racing in 3D.


With three track options to choose from, there's a course for every racer. We strongly recommend the Grand Prix Pack, where you can design your wildest racecourses that will wow your friends and test the limits of your creativity. A course shaped like your favorite animal? Why not? A racetrack modeled after a spaceship? Sure thing. It's your track, it's your world. Dream it, build it, race it.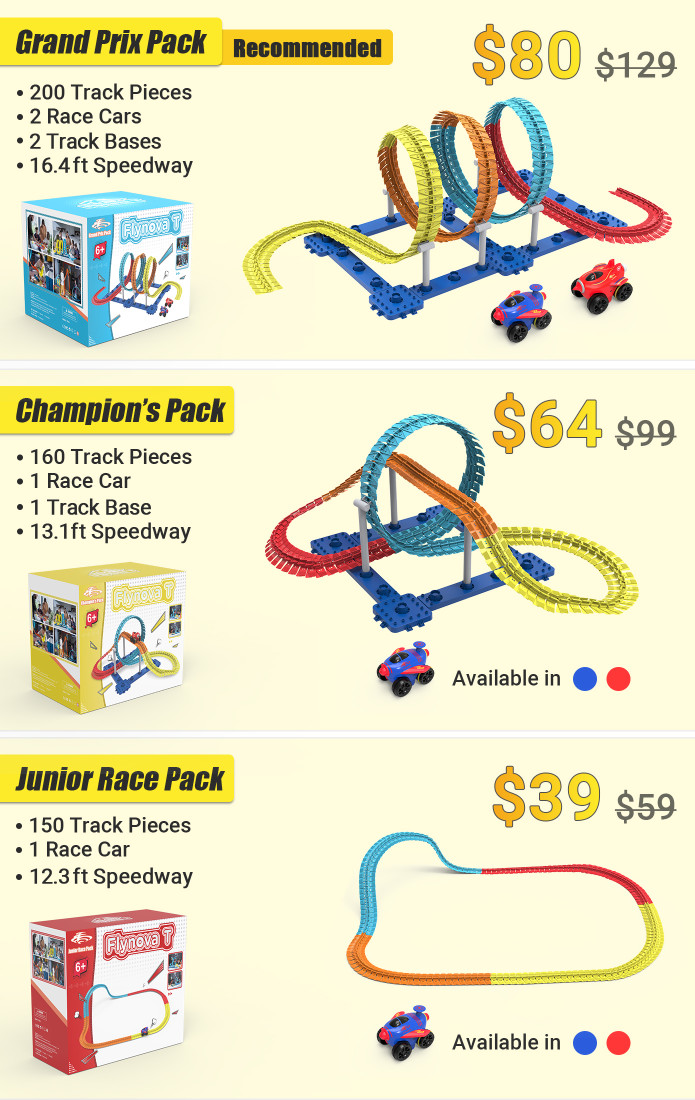 * You will be able to choose your preferred color for the race car (either red or blue) if you are getting the Junior Race or Champion's pack. For the Grand Prix Pack, it comes with 2 race cars (red and blue) by default.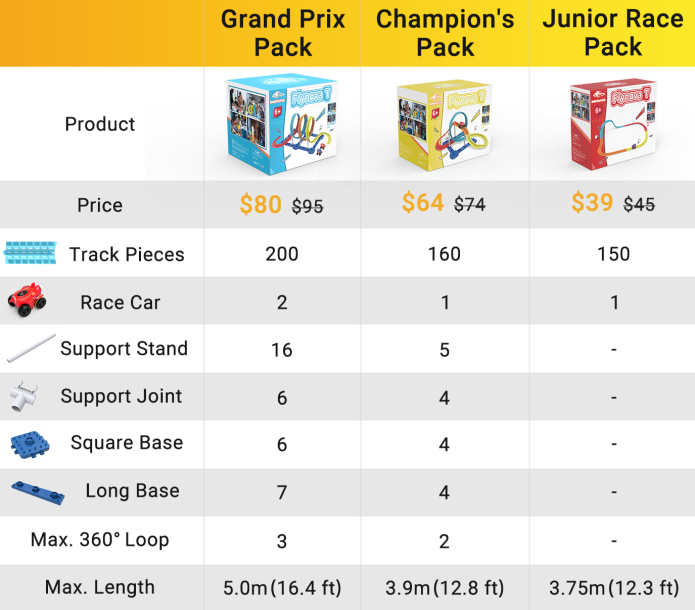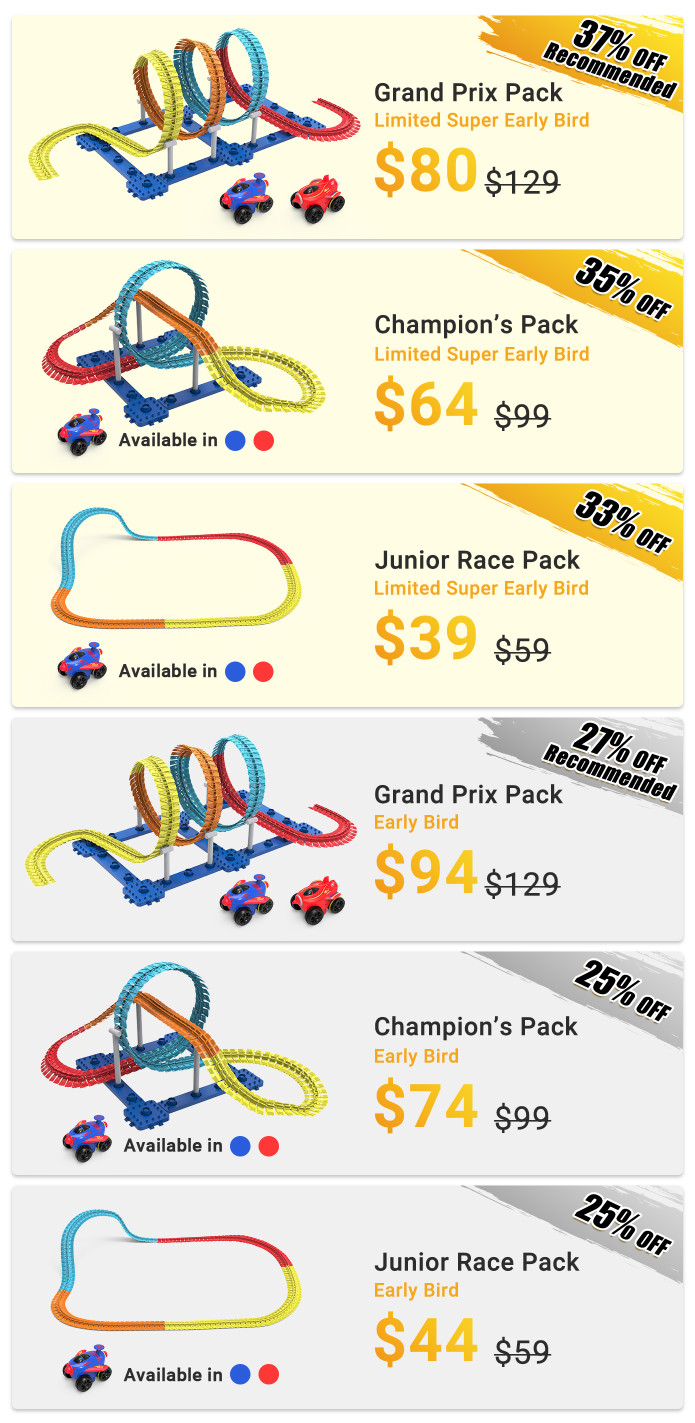 Make your races longer, better, and faster with these exciting add ons. From extra cars to get more friends and family into the race, to track expansion packs that stretch your courses and your imagination even further.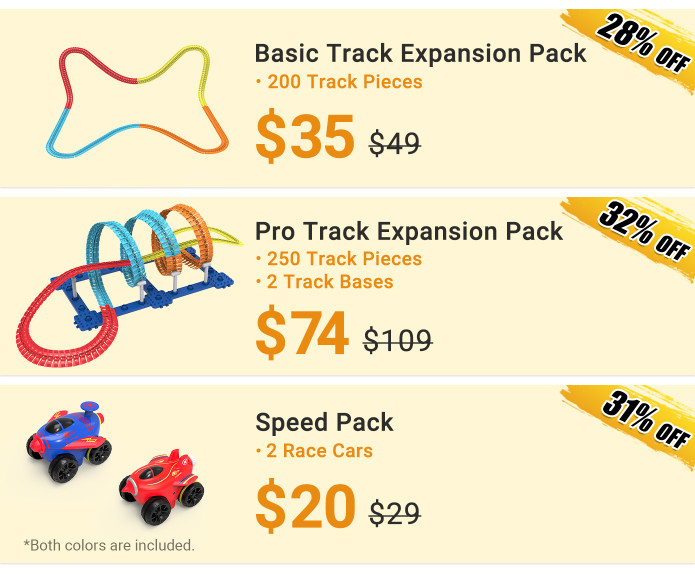 *For the Speed Pack, it comes with 2 race cars (red and blue) by default.
The Pawly Door detects when your cat tries to bring home prey, keeps intruders outside, and helps you find your missing cat.
  MAKA - The most powerful laser measuring tool for worksites? Recently, we have been asked by MAKA to review their universal measurement tool. Although most of us around here were not used to fixing stuff or doing home improvements ourselves, this trend is...
Search for awesome projects
You may also be interested in
Use day or night to become more focused, more productive, and more relaxed.
No More Tangled Cords | 165W Powerful Suction | Featuring 3D Pool Map Planning & Navigation System | 5 Cleaning Modes
The most versatile laser measure that integrates 9 materials stud finder, thermal imager, cross laser level and much more
You may also be interested in
Use day or night to become more focused, more productive, and more relaxed.
No More Tangled Cords | 165W Powerful Suction | Featuring 3D Pool Map Planning & Navigation System | 5 Cleaning Modes
The most versatile laser measure that integrates 9 materials stud finder, thermal imager, cross laser level and much more