Deck Pro QLED: The Most Advanced Smart Outdoor TV
4K QLED | 700nits | IP55 waterproof | Alexa built-in | Voice control | Anti-scratching | 55 inch
Pledge Here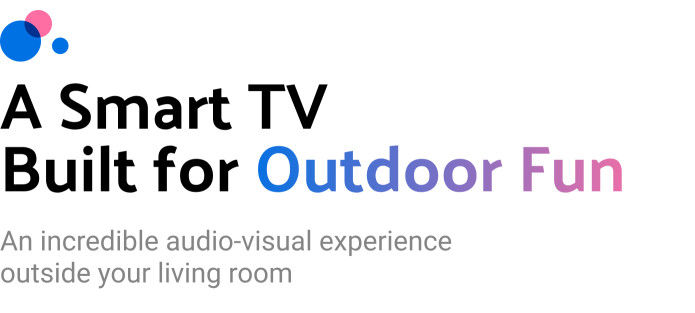 Introducing Deck Pro QLED, a 4K QLED Smart TV that offers streaming, 700 nits of brightness, an IP55 waterproof rating, anti-scratching, Alexa built-in, screencasting, voice control, air mouse, a WebOS system, and more.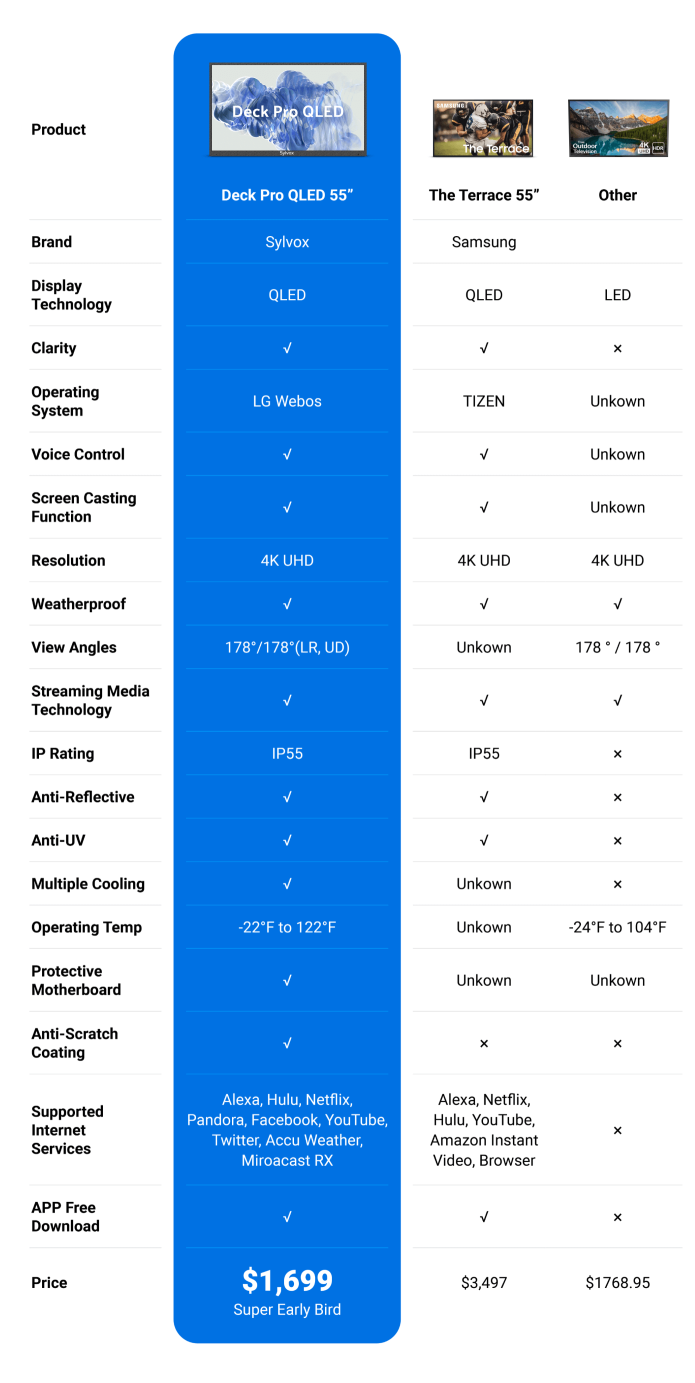 Whether you're hosting a birthday party, watching an NFL game, or just creating the cozy outdoor vibe you want, Deck Pro QLED can make an occasion a truly special experience. Here are the reasons why you'll fall in love with Deck Pro QLED.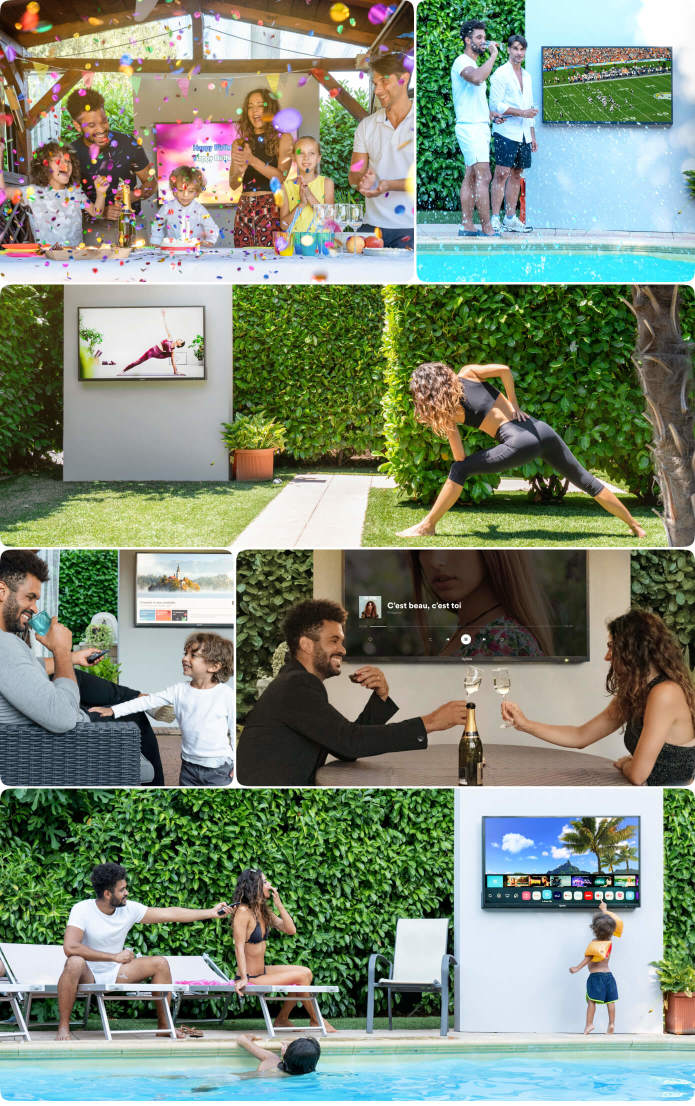 *Clarity may vary on a very sunny day, especially when the sun is shining at noon.
Watching your favorite shows or movies outdoors has always seemed out of reach, but not anymore. Deck Pro's brightness can be increased up to 700 nits, which makes it roughly three times brighter than conventional home TVs. Now, you can enjoy all your favorite shows, sporting events, and movies in crystal clear definition anytime during the day right in your backyard!

With our advanced QLED display technology, the Deck Pro QLED has more color saturation than any conventional LED TV on the market, all while providing sRGB-wide color gamut coverage to enhance the contrast ratio.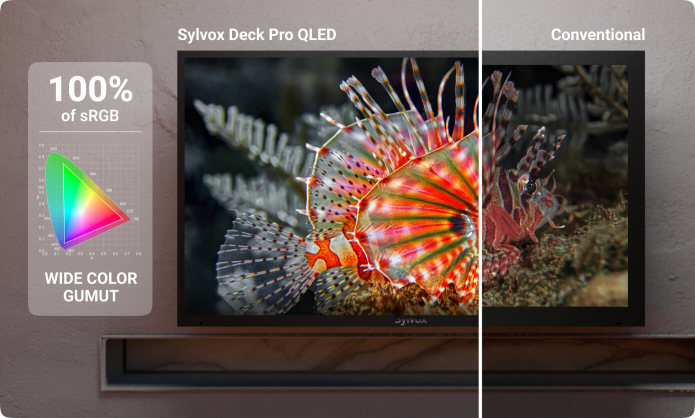 Now you can get the same crisp, color-rich image even when watching it almost sideways.

That's right. The wall mount can be swiveled +/- 45º to adjust the viewing angle, and you can tilt the TV forward 8º and backward 5º. The flexible six articulating dual arms extend up to 19.6 inches (500mm) and retract back to 1.9 inches (49mm). Enjoy the view you want from any angle.

The Deck Pro QLED is certified with IP55 for extreme weather conditions. Want more? The exterior body of Deck Pro QLED is made from scratch-resistant aluminum metal and designed to maintain a brand-new look even after long durations of outdoor use.
All internal and external components are built with 100% protection from corrosion and prevent issues commonly caused by moisture, dust, and oxidation.

The advanced heat dissipation system can withstand temperatures ranging from -22° to 122°F (-30° to 50°C). Additionally, the internal motherboard is equipped with an independent cooling system. We even use low-power lamp tubes that produce minimal heat to make sure your Deck Pro will never become overheated.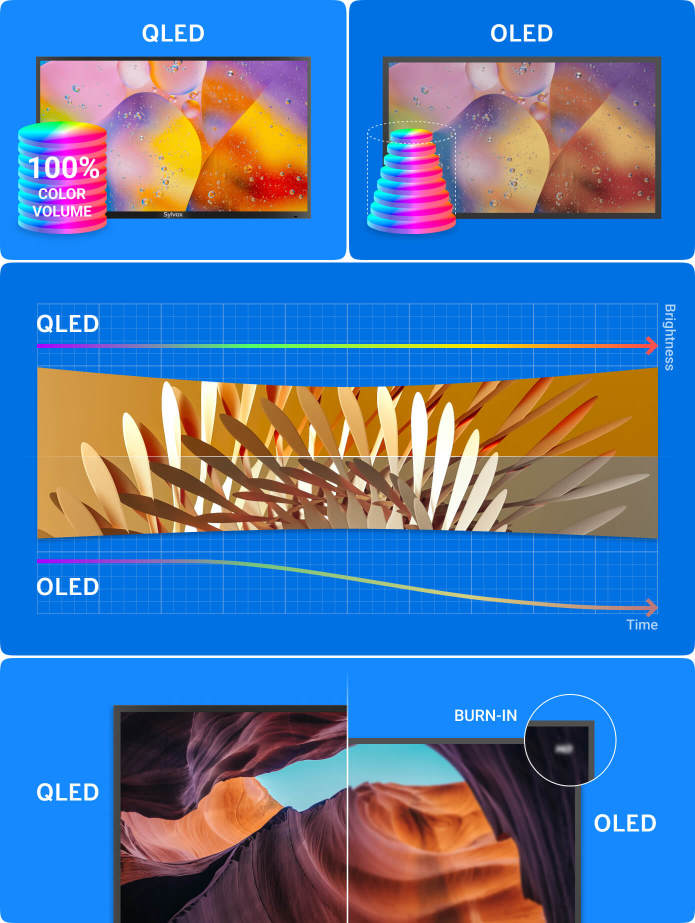 Deck Pro QLED also delivers better environmental adaptability and longer service life with much greater brightness and visual stability compared to OLED.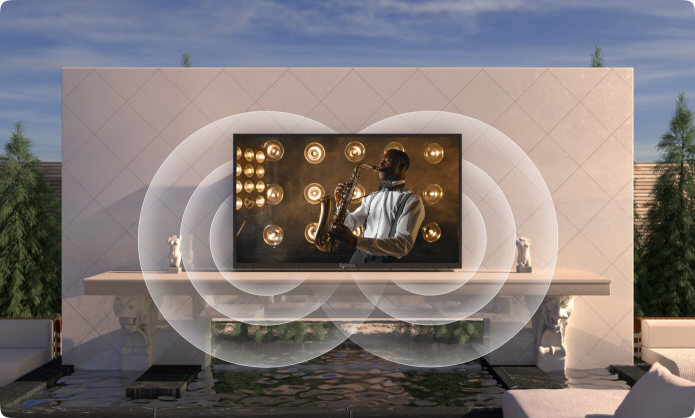 Built-in high-volume dual speakers and increased dynamic output capabilities ensure more impactful bass you can hear and even feel when using. Deck Pro QLED was built to not only visually impress users but to pressurize your space with palpable acoustic energy.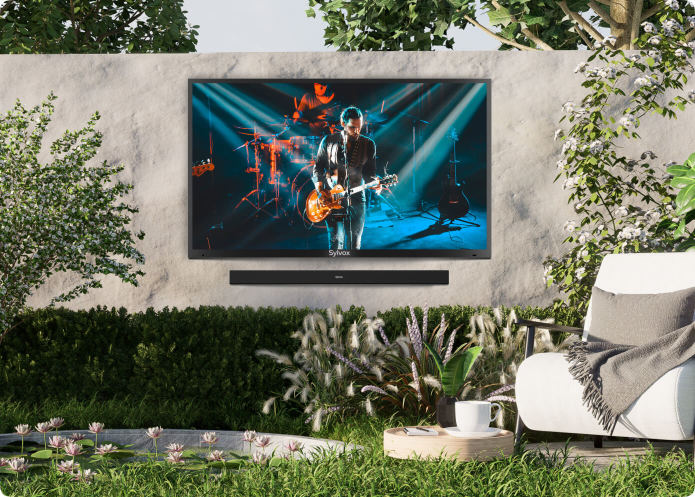 This is an outdoor theater right in your backyard. In addition to the Deck Pro QLED's built-in dual speakers, you can also get our proprietary sound bar with two angled full-range drivers which deliver a more realistic, spatial audio experience.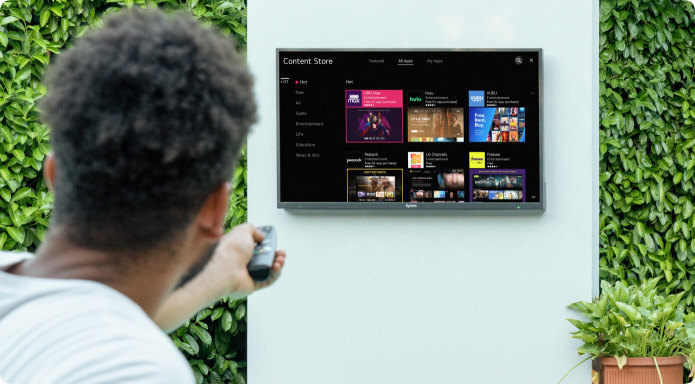 Apps are the future of TV.
Different from conventional outdoor TVs, Deck Pro QLED has its own App store. You can install Netflix, Pandora, Facebook, YouTube, Twitter, AccuWeather, Mirroacast RX, Vudu, and more. It is a one-stop solution for whatever you like to watch.
*You can download apps and games from the Content Store directly onto your TV or via its website.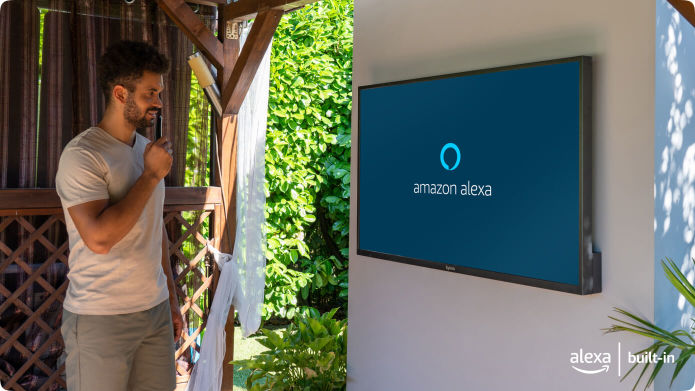 Deck Pro QLED has Alexa built-in, which allows you to speak directly with smart devices through its remote control (or directly to the TV). Now you can fulfill your everyday home needs easily. Deck Pro QLED truly thought of everything.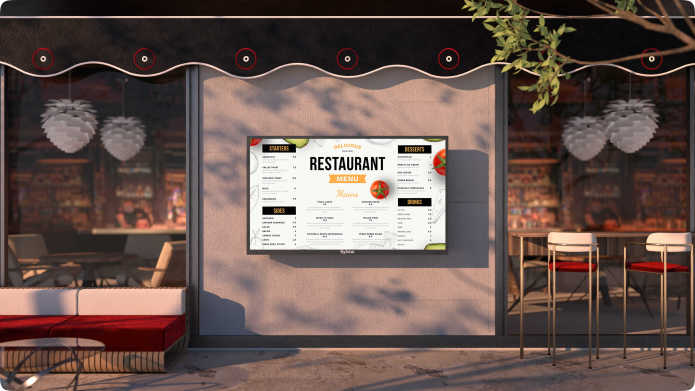 Thinking about Deck Pro QLED for your business? Its 55-inch high-brightness display shows real-time information for your next meeting, your restaurant's menu, and whatever you need to show customers to keep them entertained and informed with high-quality images and reduced glare.

Tired of searching for content with a remote control? Navigate the built-in OS with ease by speaking directly into your remote. Let Deck Pro QLED do the work.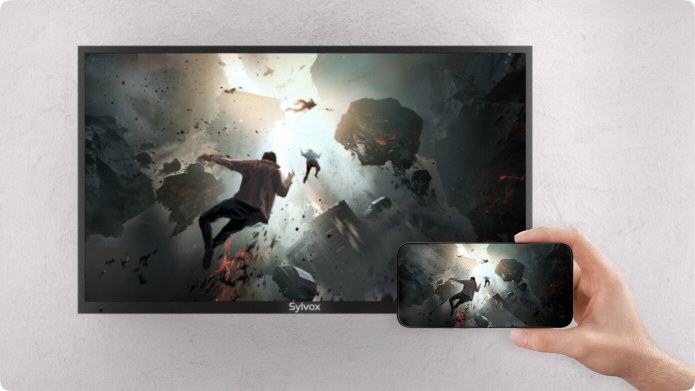 You can share pictures, videos, and music to Deck Pro QLED via your smartphone with our direct screencasting feature. All you have to do is touch the screen projection button on your smartphone control panel and enjoy convenient compatibility between devices.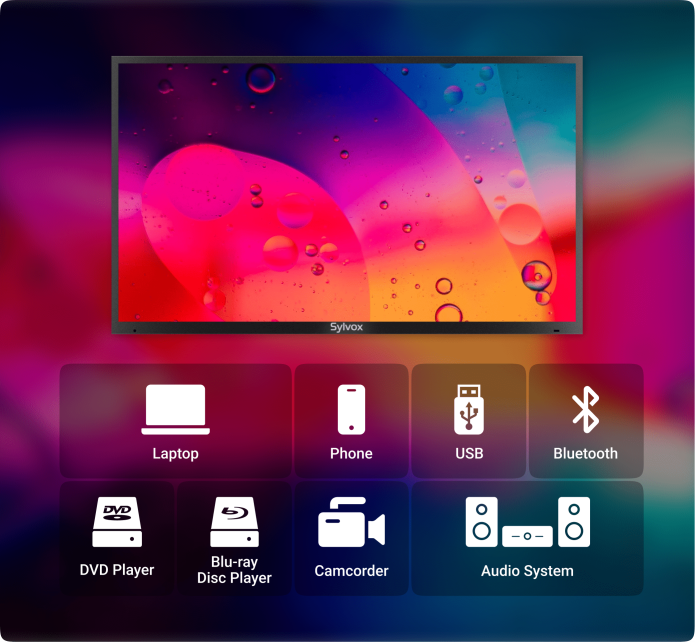 With an output hub and 12 ports, Deck Pro QLED allows you to play content from countless devices. Deck Pro QLED was designed to provide maximum efficiency and satisfaction. We want to provide more options for you to connect all of your favorite gadgets with your TV.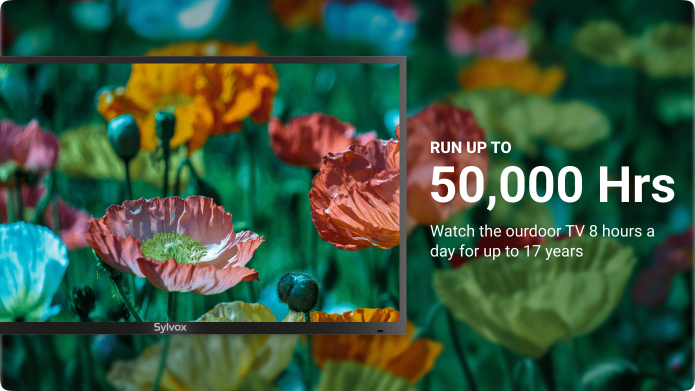 Thanks to the steady performance of the QLED panel, Deck Pro QLED can run up to 50,000 hours without any burn-in problems or risks of screen light leakage.


Sylvox TV offers 1 year +1-year extended warranty for customers who purchase Sylvox 55″ Deck Pro QLED outdoor TV from the Indiegogo platform.
SYLVOX warrants that this product conforms to the manufacturer's specifications and will be free of defects in material and workmanship should any defect occur.
  MAKA - The most powerful laser measuring tool for worksites? Recently, we have been asked by MAKA to review their universal measurement tool. Although most of us around here were not used to fixing stuff or doing home improvements ourselves, this trend is...
Use day or night to become more focused, more productive, and more relaxed.
Search for awesome projects
You may also be interested in
No More Tangled Cords | 165W Powerful Suction | Featuring 3D Pool Map Planning & Navigation System | 5 Cleaning Modes
The most versatile laser measure that integrates 9 materials stud finder, thermal imager, cross laser level and much more
One Device, Infinite Dreams
You may also be interested in
No More Tangled Cords | 165W Powerful Suction | Featuring 3D Pool Map Planning & Navigation System | 5 Cleaning Modes
The most versatile laser measure that integrates 9 materials stud finder, thermal imager, cross laser level and much more
One Device, Infinite Dreams