Angel: 100g Credit Card Size USB-C Power Bank
Powered with Graphene Technology. Fast & Safe Charging. Fit in Your Pocket or Purse. 18.5W 5000mAh.
Pledge Here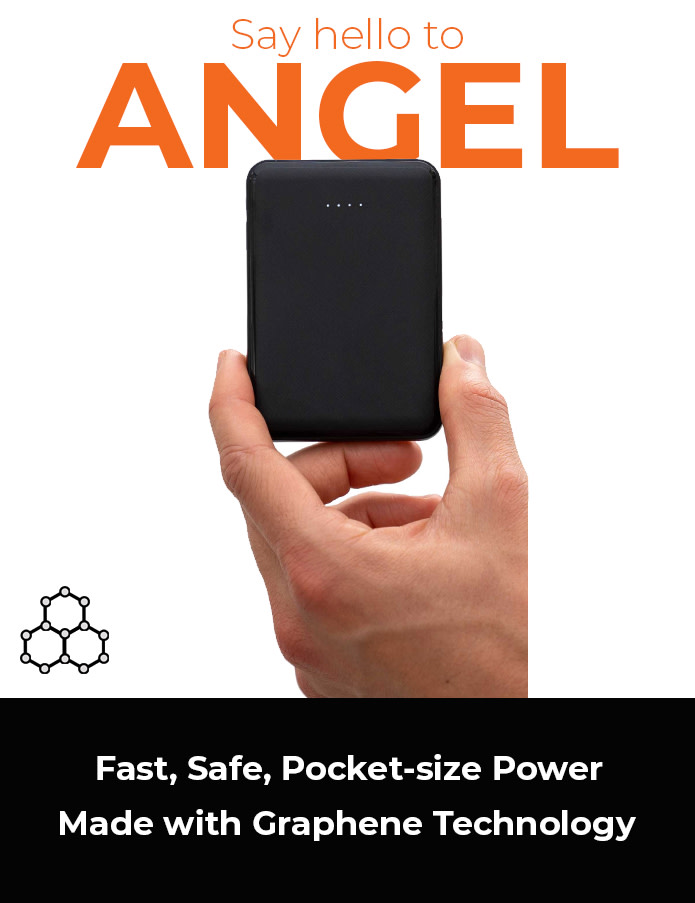 Meet Angel. The lightest, credit card size, USB-C power bank, made with Graphene Technology.
Fast, safe and portable. Angel has been designed to fit comfortably in your pocket or purse. With 18.5W 5V Divine Power and dual USB ports, Angel keeps Android and IOs phones and USB devices powered all day.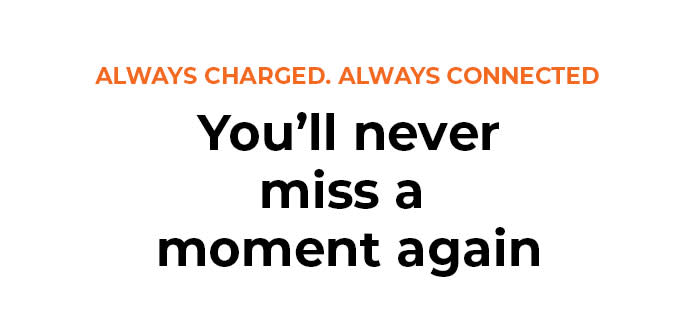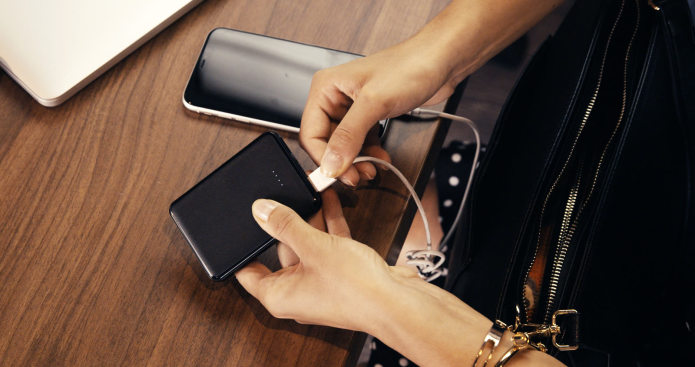 Angel is made with Graphene – a 'super-material', with many super abilities. Cools batteries,  no overheating. Protects devices from power surges. Enhances charging speed. Enhances battery life span and is 200x stronger than steel.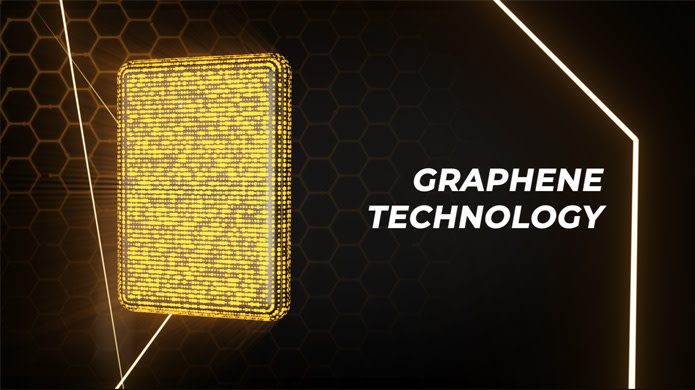 Angel provides 5000mAh / 18.5W of fast charging capability through both its USB-C port and USB-A port. With up to 18.5W of 'Divine Power' Delivery (DPD), Angel can charge an iPhone 11 Pro or Galaxy S20 up to 50% within 45 mins.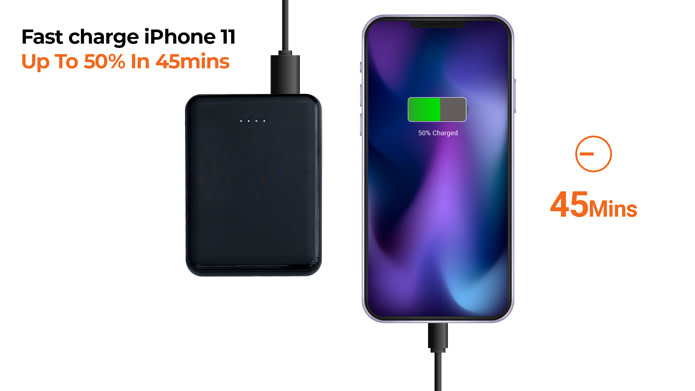 Angel's Graphene core enables 'rapid recharging' in 1:45hrs. So you can quickly rejuice Angel and get going. A similar external battery may take more than four hours to recharge at 2 amps.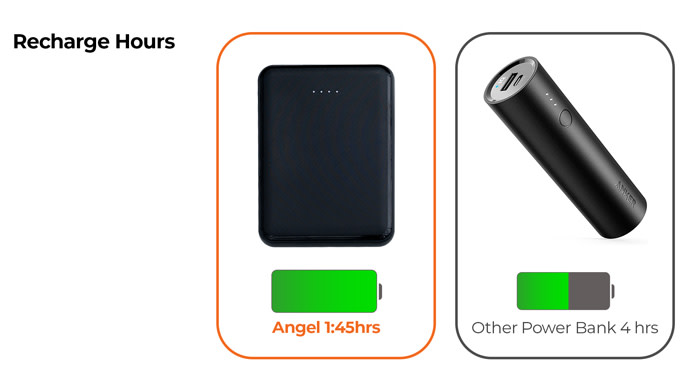 Designed to fit comfortably in your pocket or purse. Carry Angel all day, whever life takes you (without feeling like you are carrying a brick!)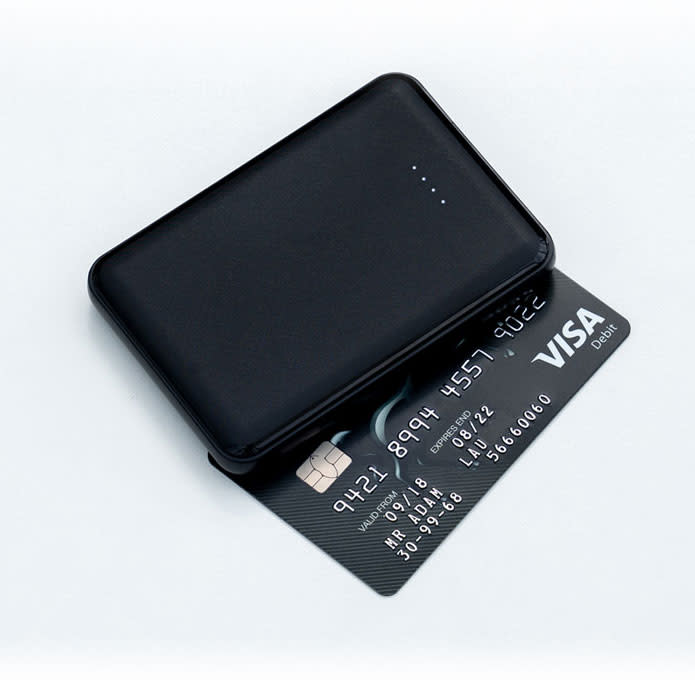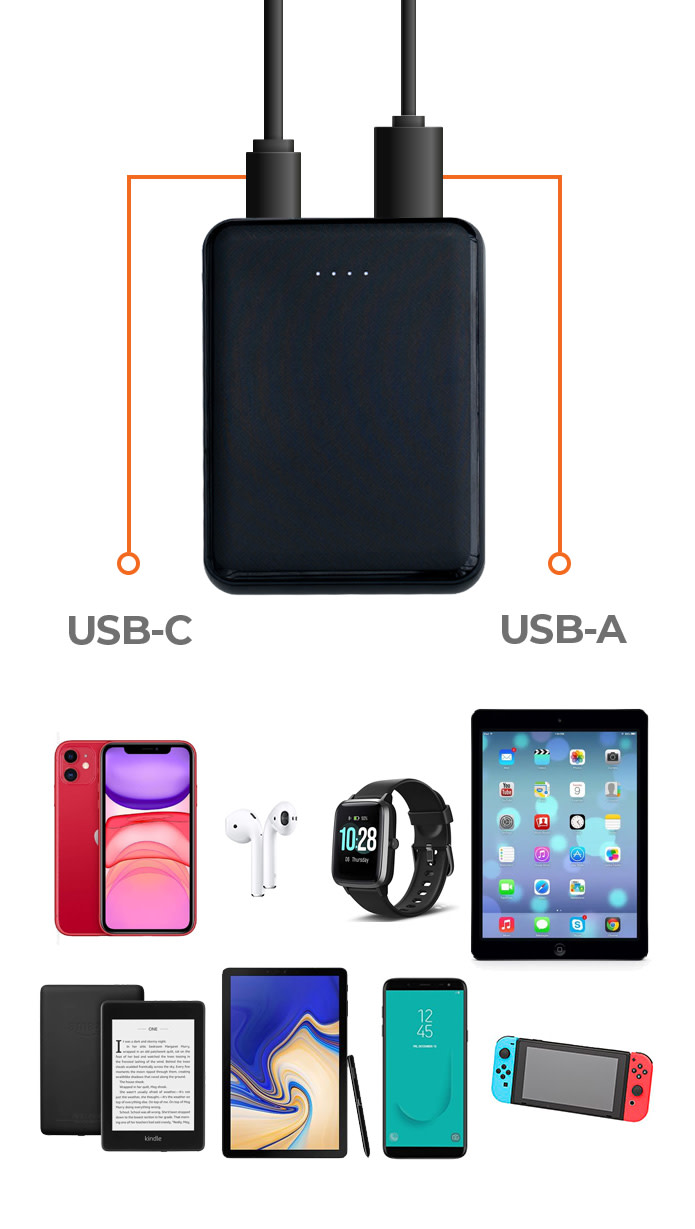 Dual USB ports mean Angel can charge not one, but two devices at a time.  Keep multiple devices charged on the go or share with friends.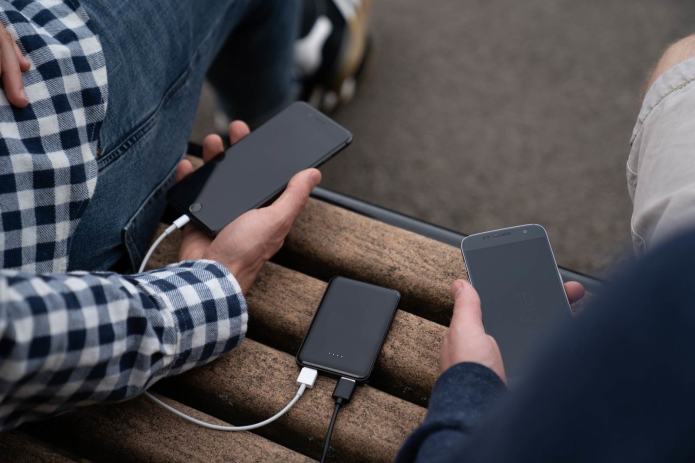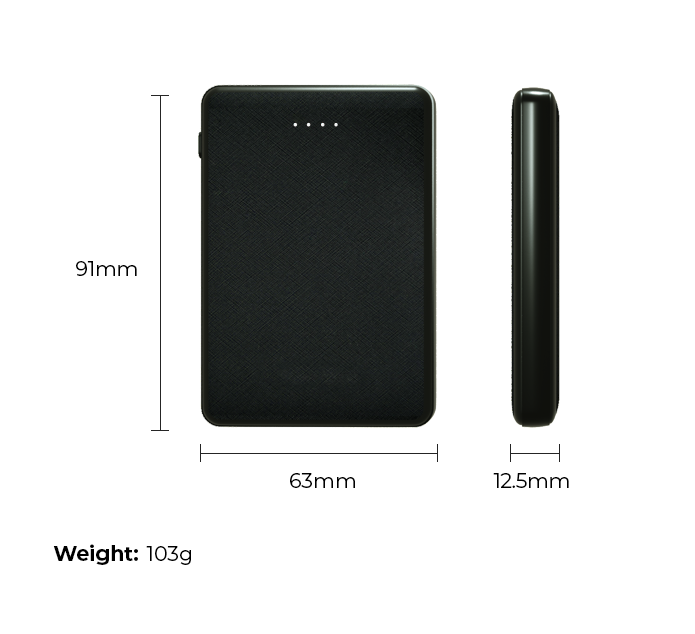 Angel is fully tested and put through a number of rigorous industrial tests to ensure it can with stand daily use – even in the most extreme of circumstances.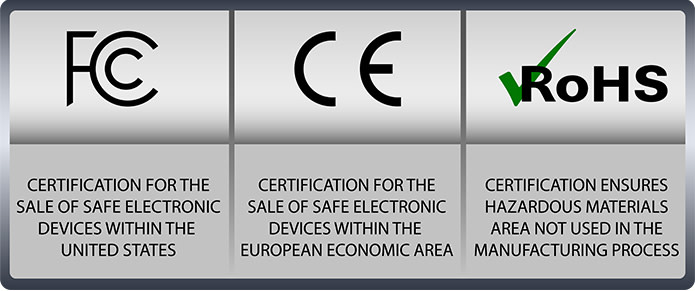 Angel has a full 2 years warranty, which doubles most other power bank brand's 1 year warranty.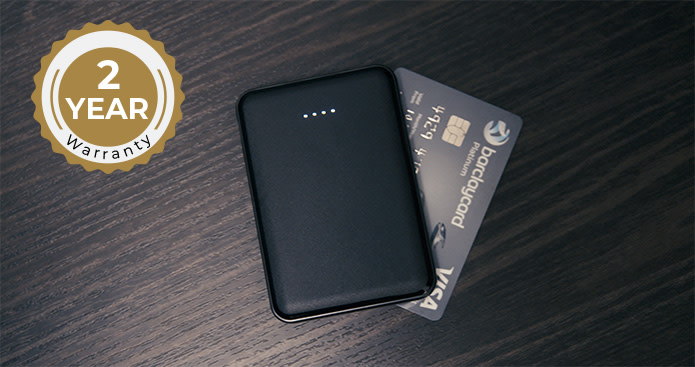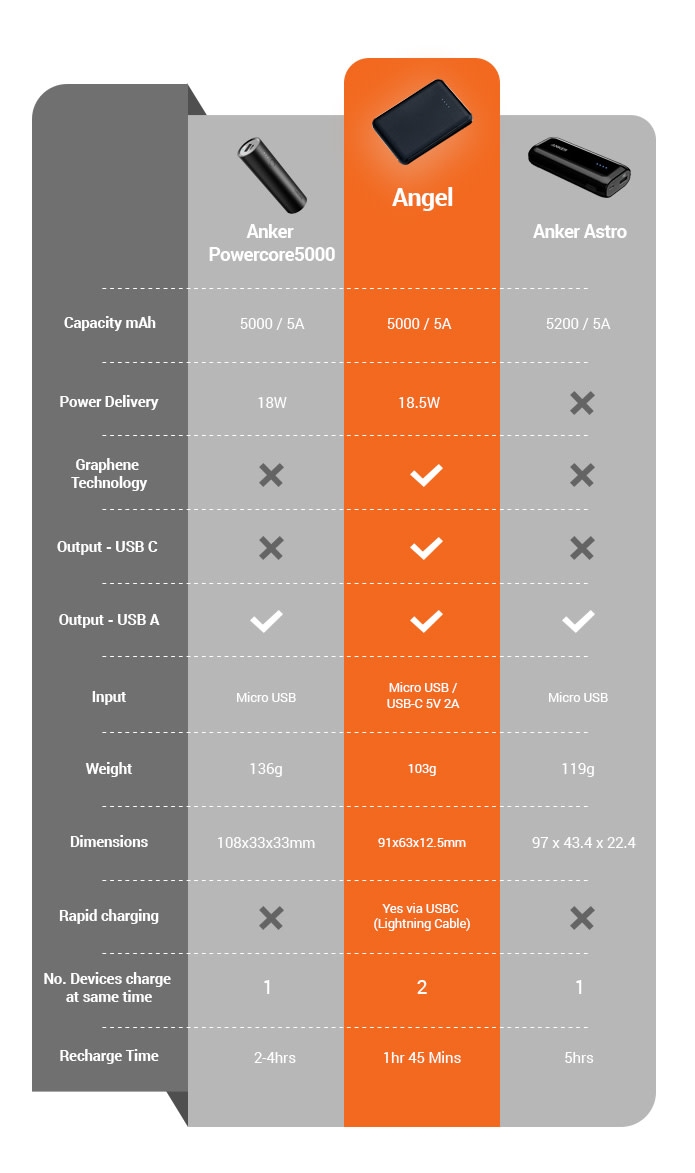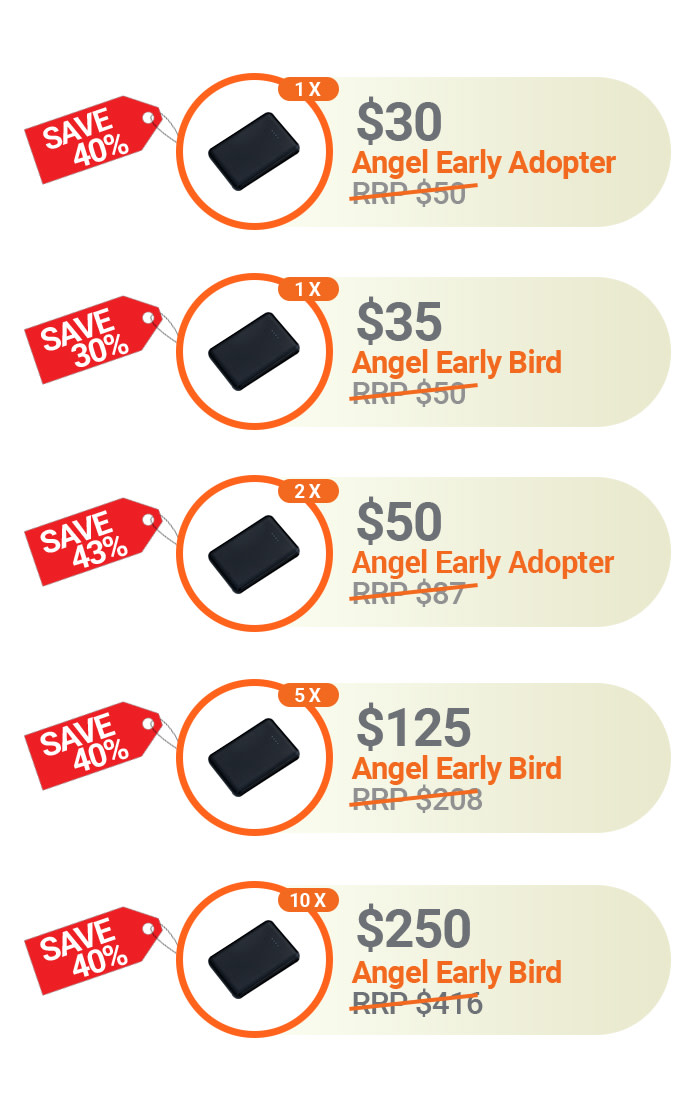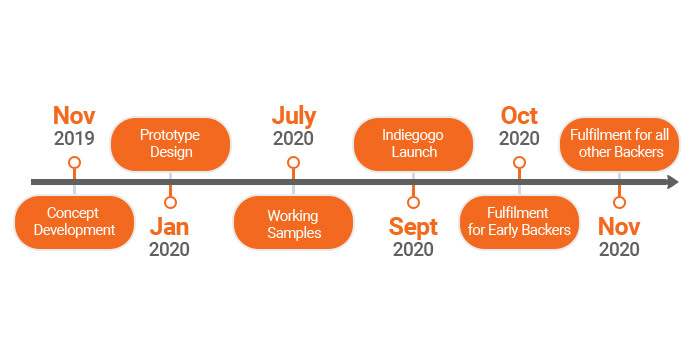 Capacity:

 

5000 mAh 18.5Wh
Input Interface:

 

Micro USB

 

= 5V 2A / USB-C

 

= 5V 2A
Output Interface:   USB-A

 

= 5V 2A / USB-C = 5V 2A
Dimension:

 

91(L)x63(W)x12.5(T)mm
Weight:

 

103g
Battery Type:

 

Li-Polymer Battery
Battery Life:

 

5 Years
Battery Life Cycles: 1500
Time to Full Charge From Empty:

 

1:45hrs
Operating Temperature:

 

-15°c to 70°c
Protection:

 

Over-discharging, Short Circuit Protection, Over-charging
Certificate:

 

CE, RoHS, FCC


We are Lifestyles Trading Ltd, a team of brothers with a mission to innovate and improve everyday electronic and household items that assist us in our everyday life's.
Our driving focus is to deliver products that we and our community love. With quality and engineering precision at the heart of all our designs.
Join our newest adventure – Angel Power Bank and together we can shape the future of electronics.
All orders will be 'tracked shipping'. You will receive a personal tracking number for your order.
Due to strict regulations regarding the transportation of portable chargers, we can only ship Angel Power Bank to the following countries and regions.
Australia, Austria, Bahrain, Belgium, Bulgaria, Canada, Cyprus, Czech Republic, Denmark, Estonia, Finland, France, Germany, Greece, Hong Kong, Hungary, Ireland, Italy, Japan, Korea (Republic of), Kuwait, Latvia, Lithuania, Luxembourg, Macao, Malaysia, Netherlands, Norway, Poland, Portugal, Qatar, Romania, Russian Federation, Saudi Arabia, Singapore, Slovakia, Slovenia, Spain, Sweden, Switzerland, Taiwan, Thailand, United Arab Emirates, United Kingdom, United States.
Please note that we cannot send portable charger to remote islands, and this country list may be modified at a later date.
Use day or night to become more focused, more productive, and more relaxed.
No More Tangled Cords | 165W Powerful Suction | Featuring 3D Pool Map Planning & Navigation System | 5 Cleaning Modes
Search for awesome projects
You may also be interested in
The most versatile laser measure that integrates 9 materials stud finder, thermal imager, cross laser level and much more
One Device, Infinite Dreams
LiDAR SLAM Navigation | No Perimeter Wire | Intelligent Obstacle Avoidance | Multi-zone Management | Intelligent Path Planning
You may also be interested in
The most versatile laser measure that integrates 9 materials stud finder, thermal imager, cross laser level and much more
One Device, Infinite Dreams
LiDAR SLAM Navigation | No Perimeter Wire | Intelligent Obstacle Avoidance | Multi-zone Management | Intelligent Path Planning