Zectron Folding eBike: A Charge for A Week's Ride
150 Miles Range. Max. Comfort Suspension. Uni-Body Design. Anti-Theft System. Built-in Monitor.
Pledge Here


Meet Zectron, the dream electric bike that ensures good looks, functionality, and safety. It has a futuristic uni-body design, an ultimate long range of up to 150 miles per charge, maximum comfort suspension for the best riding experience on all kinds of terrains, and an anti-theft system that keeps your ride safe with you.
Zectron brings the electric bike that's futuristic from inside out to the present. We created a bike that doesn't just look futuristic and tech savvy, but also has the interior technology that matches its exterior. We designed with a heavy emphasis to not just ride for a long range but comfortably too.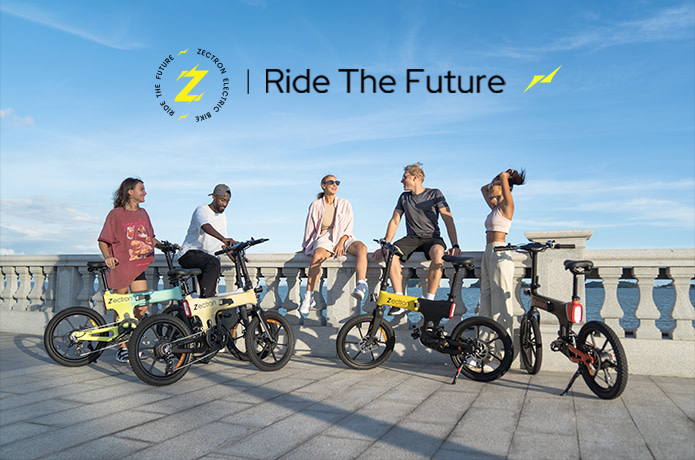 Zectron is not just another electric bike. Designed with riders in mind, our team has worked hard to develop an electric bike that riders have been dreaming of, with the designs and technology that the industry have yet to see.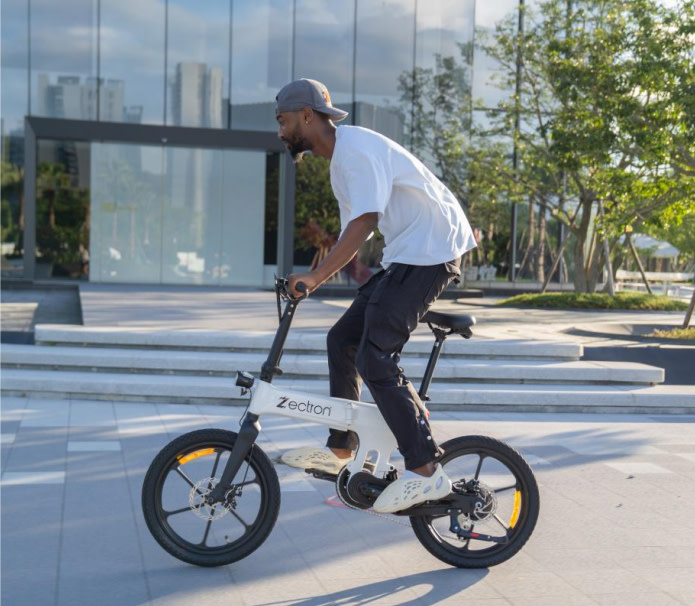 Zectron electric bike is a game changer with one full charge bringing you a full week's ride of up to 150 miles (approximately 250 km) without having to worry about your battery.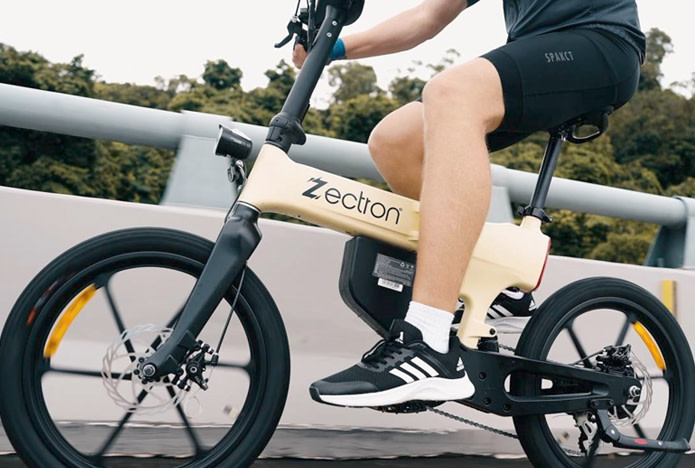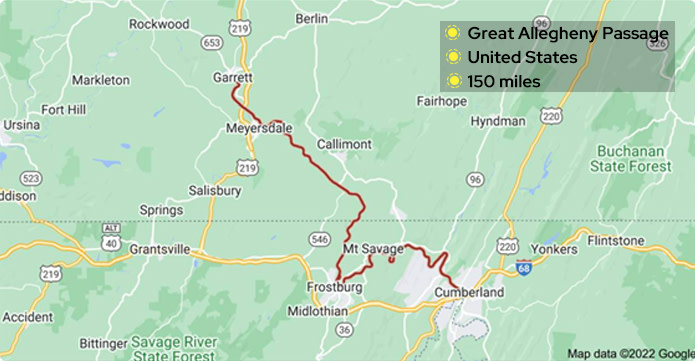 * The range may vary in different loads, terrains, speeds and other riding conditions.

The dynamic rear suspension keeps the ride comfortable and our anti-shock technology ensures a cloud-like riding experience.

The concept of simplicity is carried out in every detail of Zectron electric bike.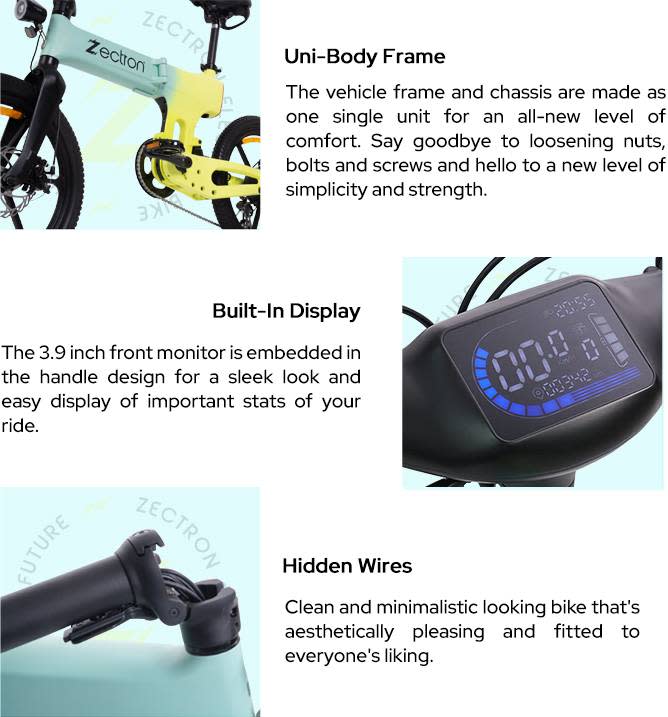 Feel the instantaneous response of the ultra-shock absorbency from our interpretation of the seat-stay that suspends the saddle to soak up any jolts from the road giving you a smooth effortless ride.

Advanced research and development were conducted to create a magnesium alloy frame that gives better performance and durability than the rest, stronger and lighter.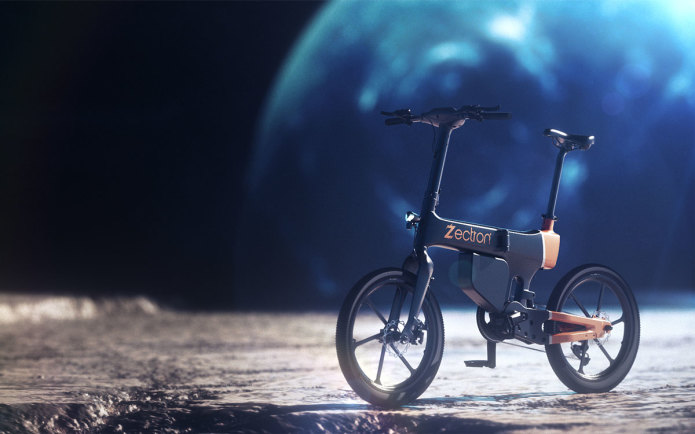 The battery, controller and motor are optimized algorithmically working in synergy to allow riders to enjoy a long range.

GPS tracker installed and included to secure your Zectron bike. Check on your bike's location, lock your bike or get alerts of unusual activities all through the Zectron app on your phone.
* This feature is optional for purchase.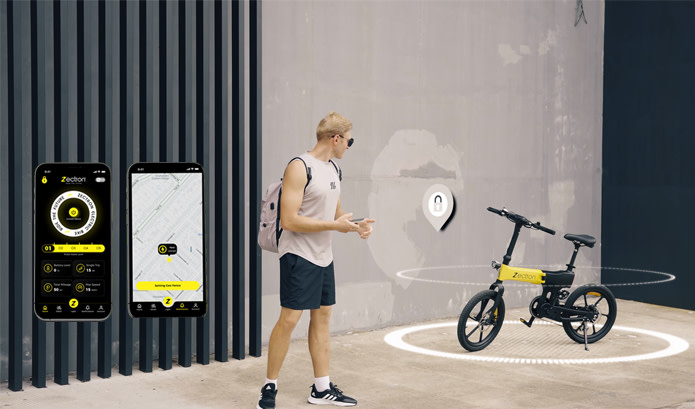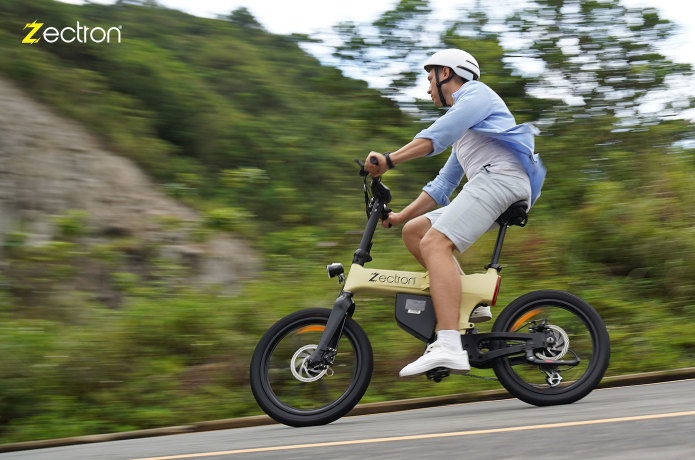 Ergonomically designed to meet the needs of bikers, Zectron is suitable to provide you with the most comfortable ride no matter your height or weight. Zectron bike comes in one size and fits most adults from 5'1″/155cm to 6'5″/195cm. Due to good controllability because of Ergonomic design, you can ride easier using less energy, which also ensures your riding safety.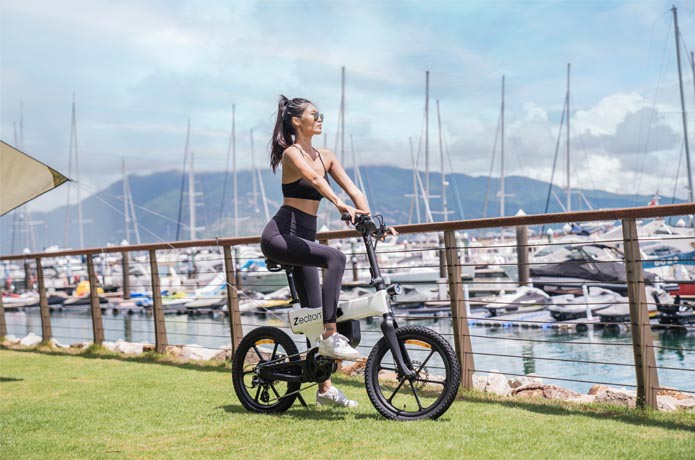 The bike is designed to have a very small turning radius which creates a smoother turn for riders to ensure safety of the rider.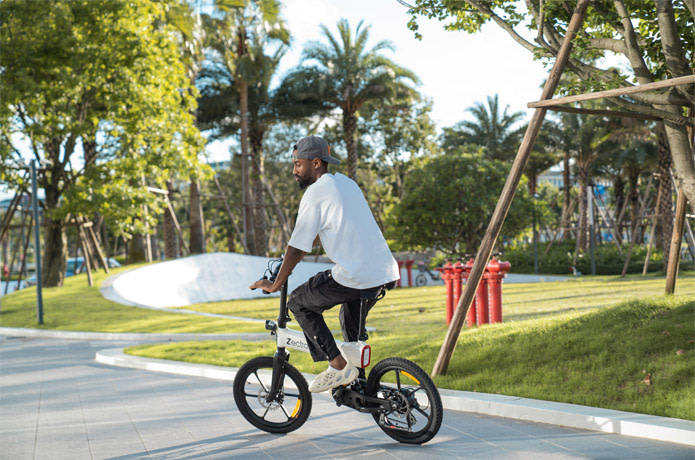 Intuitive and easy-to-use controls allowing users to focus on the riding experience.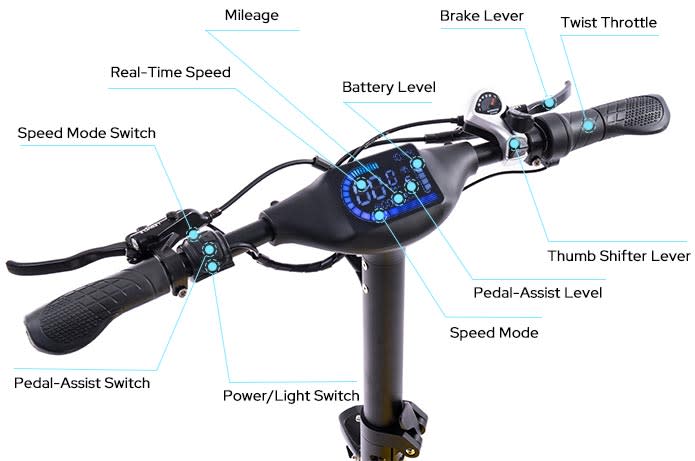 Zectron is powered by a 350W motor with a top speed of 20 mph (32 kph) and a 250W motor with a top speed of 15 mph (25 kph), which was designed according to the law.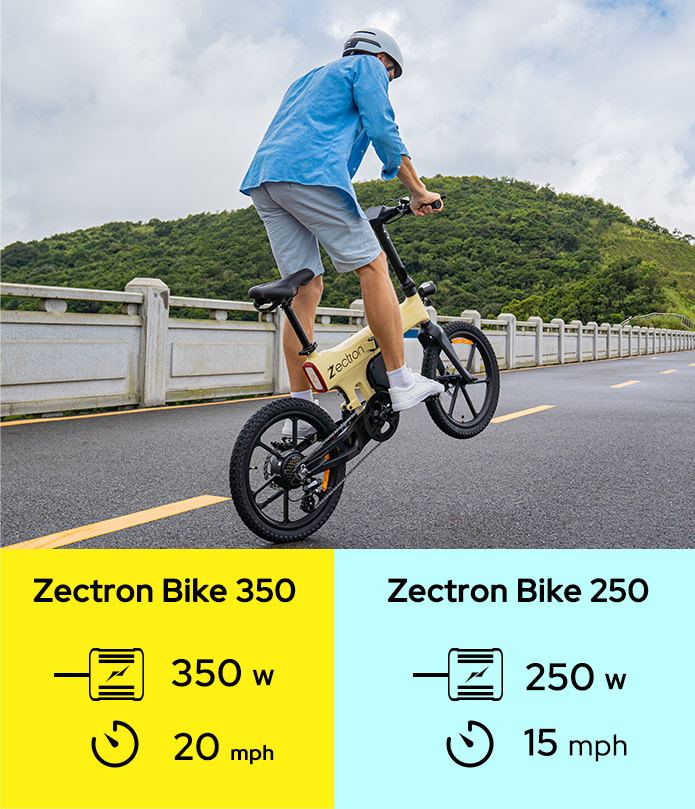 Zectron has three riding modes to cover your needs in different riding status. The Pedal-Only Mode gives you full control of the pedaling allowing for a good exercise. The Pedal-Assist Mode offers power assist while pedaling ease your biking experience on all kinds of terrains. Or go with Throttle-Only Mode and enjoy riding without a sweat.

Boost your ride with a 5-level pedal assist to help you pedal easier and move faster.


Climb uphill and downhill effortlessly with adjustments to the Shimano 7-level gears.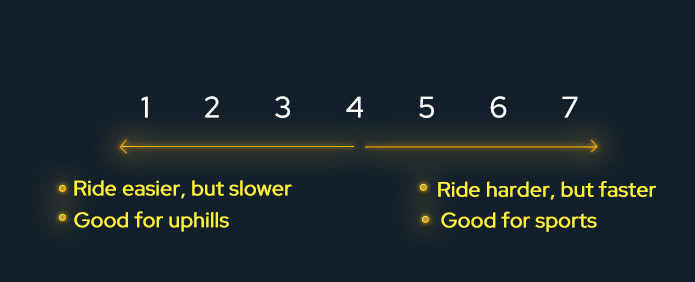 When the bike is switched on, our technology recognizes when the bike has been ridden at the same speed for 5 seconds and will lock the speed allowing riders to relax their right hand while riding. Cruise control can be turned off by braking or changing the speed.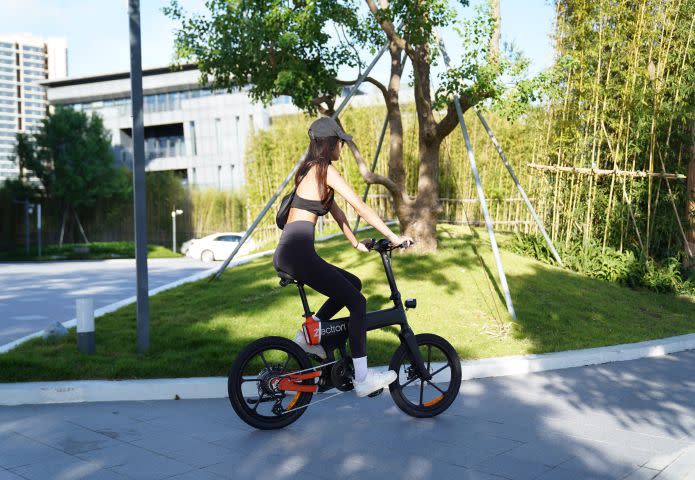 Easily fold up the Zectron bike with just 2-steps for easy storage and carry it on any adventure.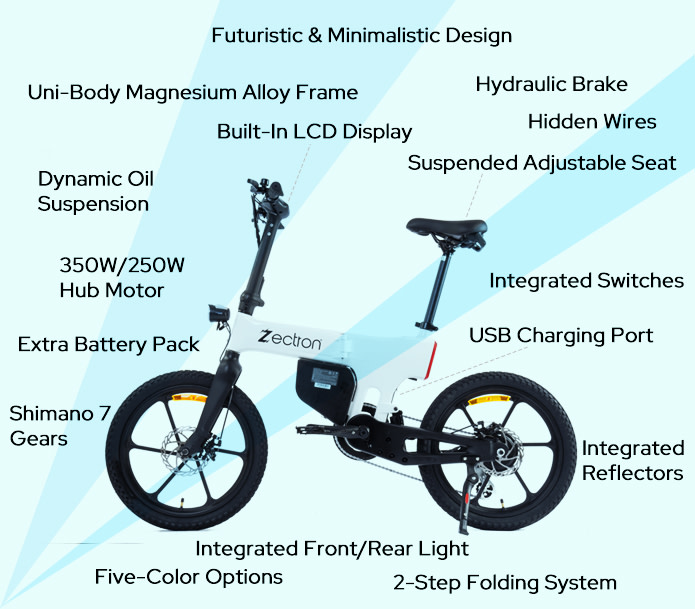 The customized minimalistic Zectron front & rear mudguard boost your performance and protect you from road spray and also protect your Zectron bike from wear.
* All accessories, such as smart helmet, mudguard, external battery pack and fast charger, will be shown on checkout page after you choose the color and edition of your Zectron bike and click "GET THIS PERK".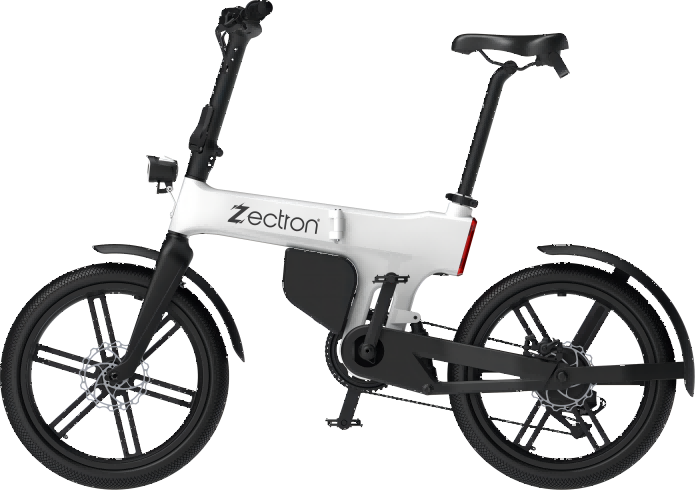 Glide through the city streets faster and in style with our 350w/250w hub brushless motor which is maintenance-free and waterproof (IPX5). With the built-in speed sensing signal, the motor has excellent starting performance with no damping and has a strong climbing ability.

Besides a built-in lithium-ion battery pack that has 36v 11.6ah (417.6wh) battery power, in order to help riders get the most out of the adventures on the road, we've designed Zectron's battery system to be extendable with a removable extra battery pack, which offers another 36v 11.6ah (417.6wh) battery power other than embedded batteries. An easy-access USB charger is included in the external battery pack, so you can keep your devices charged as you ride.

It takes only 2.5 hours to fully charge Zectron electric bike with quick charger and 5.5 hours with a regular charger.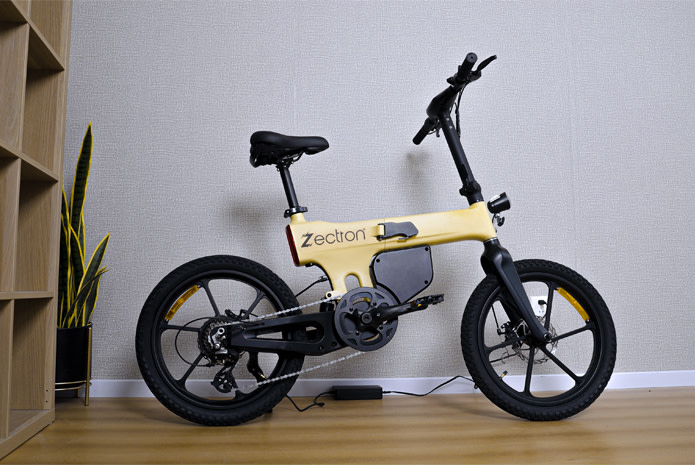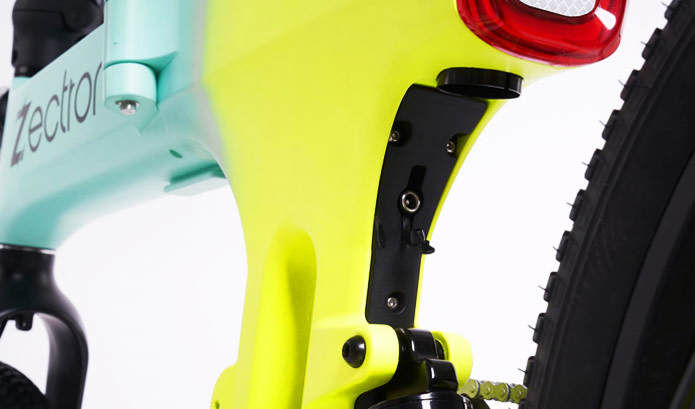 Taking into account the needs of riders, Zectron team has specially designed a set of integrated switch buttons, with good looks and all functions integrated. Riders can control the bike via the switch more conveniently during riding, such as switching the pedal assist level, honking the horn and more ensuring safety while not compromising the comfortability of the ride.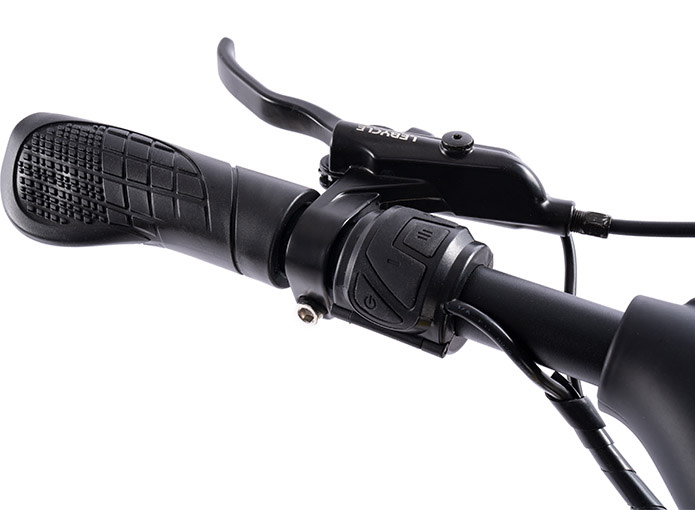 The US edition comes with a throttle to assist you allowing you to go fully  electric.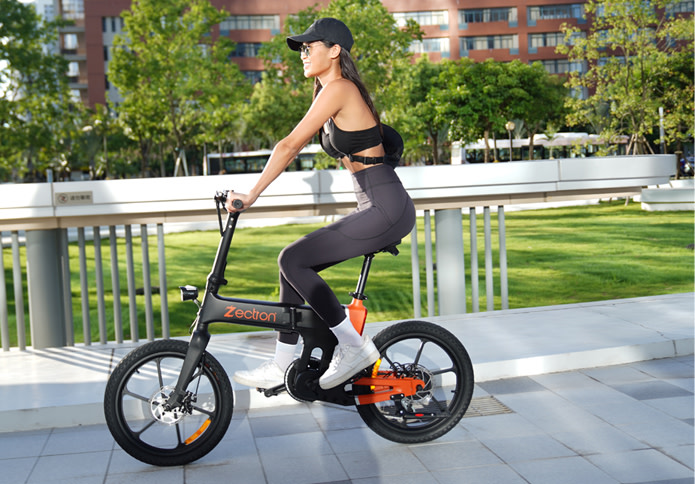 The hydraulic brakes in Zectron ebike offer smoother, more responsive performance and have better modulation and stopping power than disc brakes. This is a treat for enthusiasts, stopping the bike in instant at your demand and providing the best control and riding experience without any accidents or panic.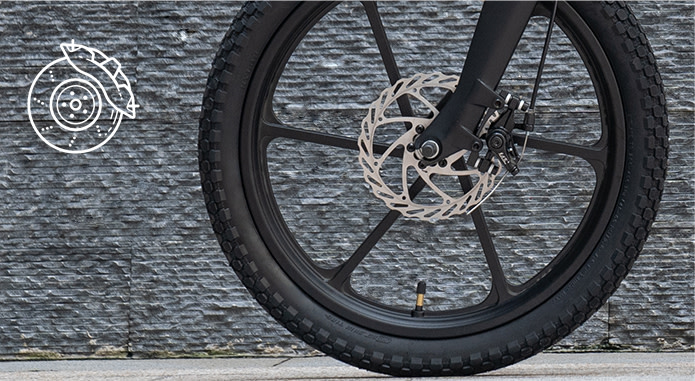 The hydraulic suspension in Zectron bike allows for smoother and more effective shock absorption than a traditional coil suspension. Because of the unique structural design, the Zectron bike gets the most of hydraulic suspension and ensures a cloud-like comfortable riding experience.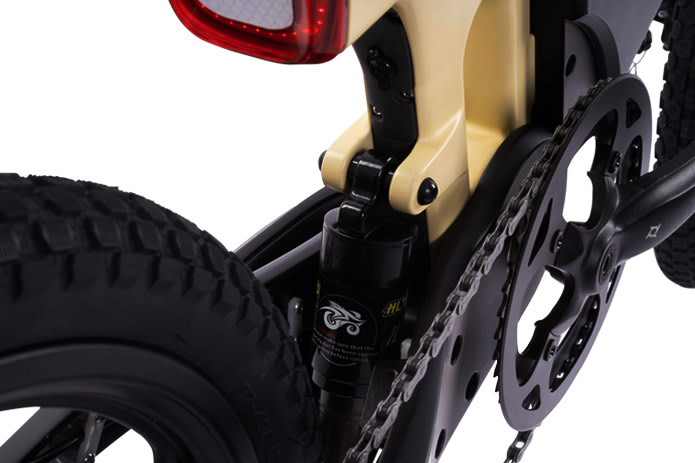 Power is transmitted to the freewheel through the chain when the rider pedals creating the crankset to rotate. The chain changes in different gears of the freewheel and crankset through Shimano's rear derailleur during transmission allowing for different torque and speed matching. The sensor monitors the real-time motion state of the bike and feedbacks the information to the processing center, which sends out corresponding commands to the drive circuit according to the finished program, and the drive circuit outputs the corresponding voltage and current to the motor to make the motor rotate.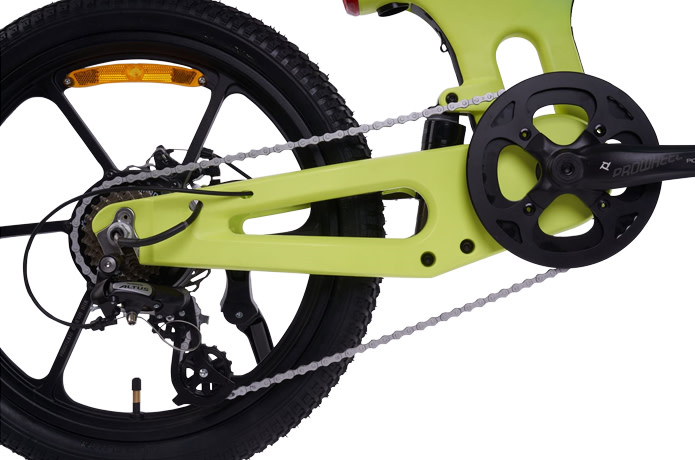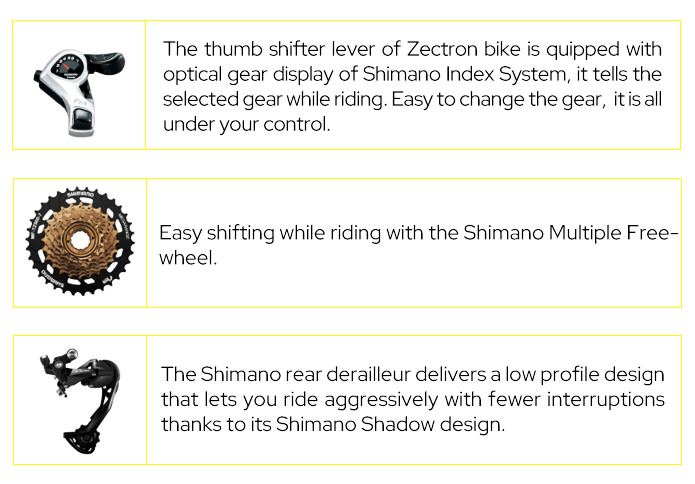 Shine bright in the night with the front and rear lights.

The Zectron Smart Helmet has a futuristic design that fits perfectly with the Zectron electric bike, offering lightweight yet strong protection. Built-in with smart direction indicators and braking lights, it keeps you safe even on night rides while looking good. It is also rechargeable and embedded with a smart battery management system that helps to save power without the hassle of turning on and off manually.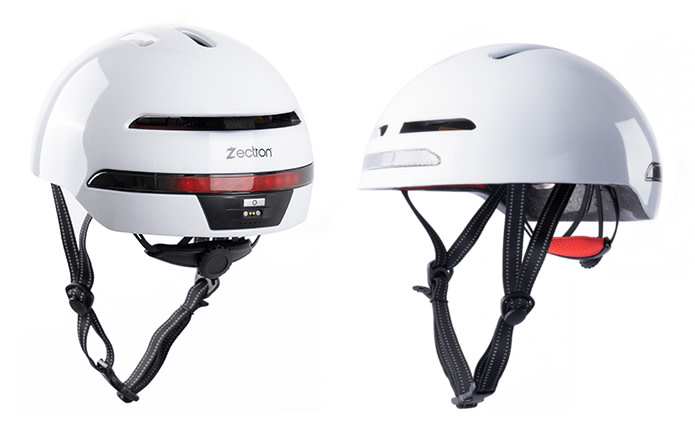 Before mass production, we have done many rounds of reliability testing to ensure the bike is qualified in all details. Every Zectron bike we can ship out is top quality.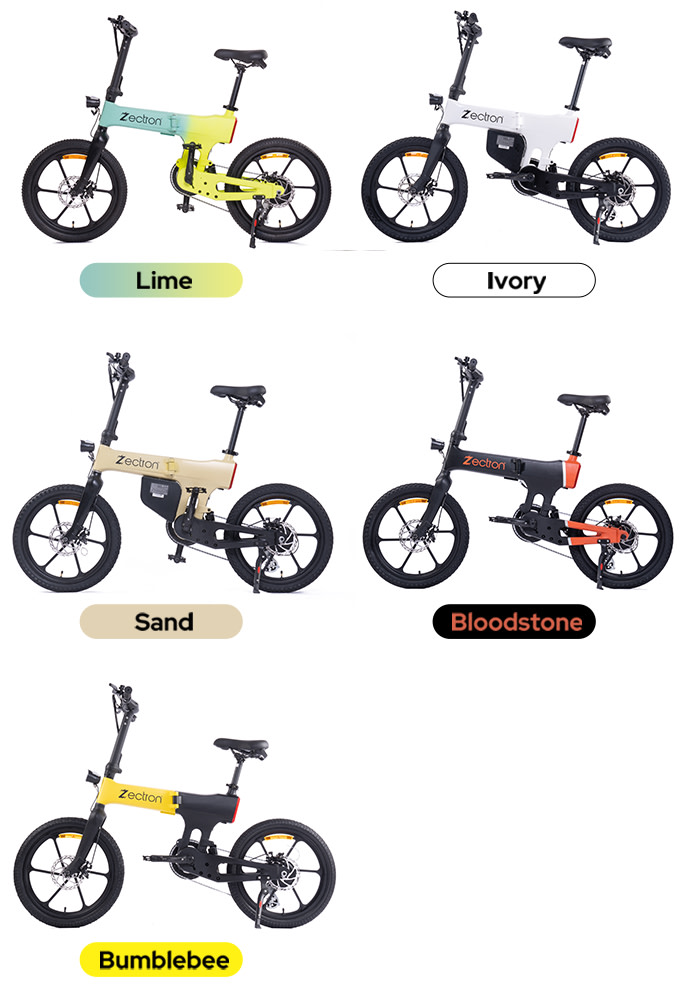 The Pawly Door detects when your cat tries to bring home prey, keeps intruders outside, and helps you find your missing cat.
  MAKA - The most powerful laser measuring tool for worksites? Recently, we have been asked by MAKA to review their universal measurement tool. Although most of us around here were not used to fixing stuff or doing home improvements ourselves, this trend is...
Search for awesome projects
You may also be interested in
Use day or night to become more focused, more productive, and more relaxed.
No More Tangled Cords | 165W Powerful Suction | Featuring 3D Pool Map Planning & Navigation System | 5 Cleaning Modes
The most versatile laser measure that integrates 9 materials stud finder, thermal imager, cross laser level and much more
You may also be interested in
Use day or night to become more focused, more productive, and more relaxed.
No More Tangled Cords | 165W Powerful Suction | Featuring 3D Pool Map Planning & Navigation System | 5 Cleaning Modes
The most versatile laser measure that integrates 9 materials stud finder, thermal imager, cross laser level and much more