VariShot: Laser Shooting System
An interactive electronic laser gun target along with a world-class safety course, solo or in pairs!
Pledge Here
"Got it! That's a point!"
Shooting games were always so much fun for us when we were kids. It was never-ending excitement. Of course, we were fortunate that we never got hurt while we were playing these games. While they are safe under the right conditions, we never learned what the right conditions were. There was no training. Even if they had wanted to teach us, our parents likely didn't know safety guidelines either.
Inhale, steady your hand, aim at your target, and then fire: it seems so simple, but unless you have studied and practiced the proper techniques and habits, you are going to put yourself in an unsafe situation.
The more your practice, though, the more you see that this is a sport and that it requires speed, concentration, and discipline. It then becomes a pastime for you, something that you can do to get away from all the stress and tension of your everyday life. Again, as long as you have learned how to handle yourself properly, you are safe and free to become the sharpshooter you have always dreamed of becoming.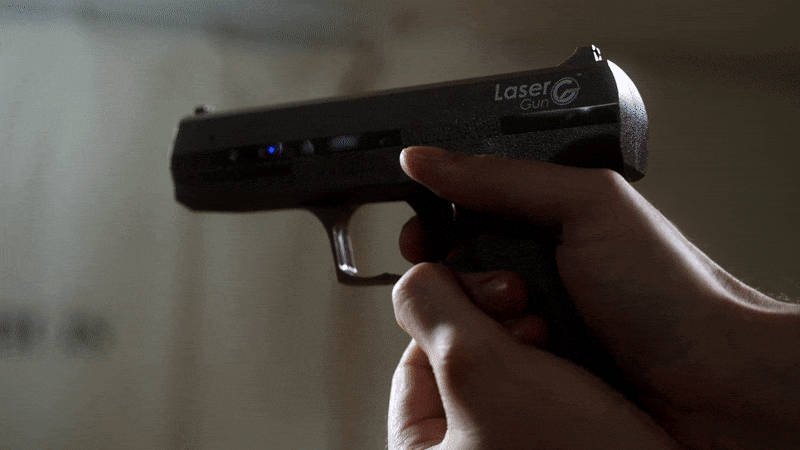 This is where VariShot can make all the difference. VariShot comes with an interactive, sensor-based target, for the safest and most risk-free method of shooting education and training ever. Whether you are learning to shoot for fun or for competition, you can count on VariShot's feedback to sharpen your skills. The target will flash red and green, to show you whether or not you have hit the target within the set time. It's a true test, for all ages, of coordination, relaxation, speed, and reflexes.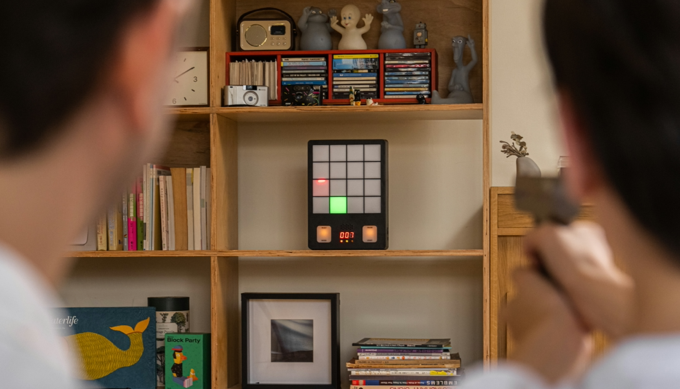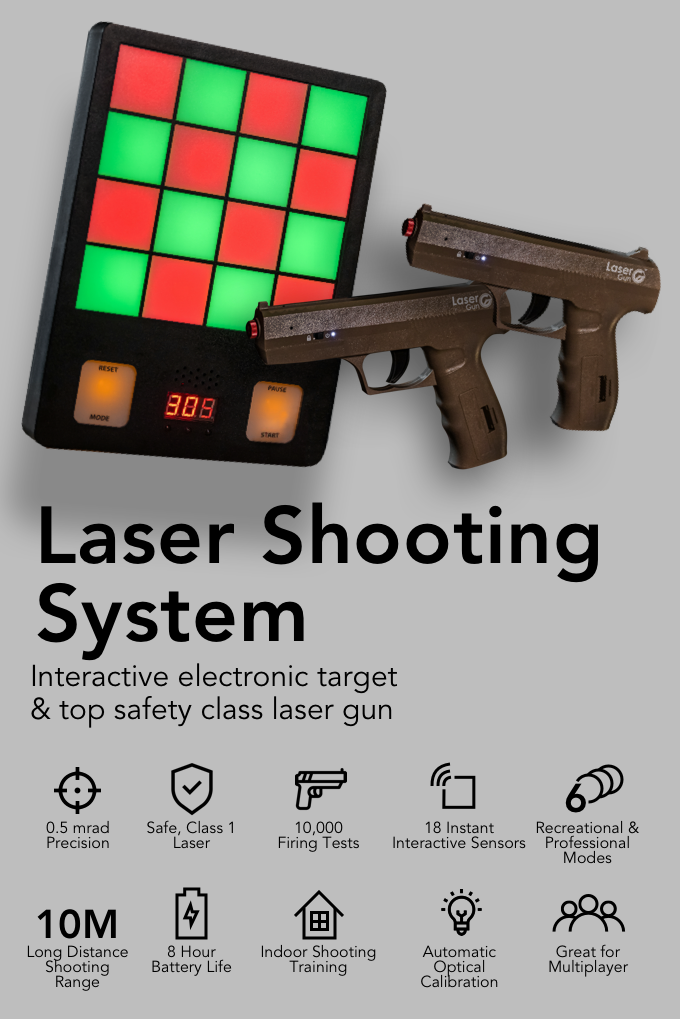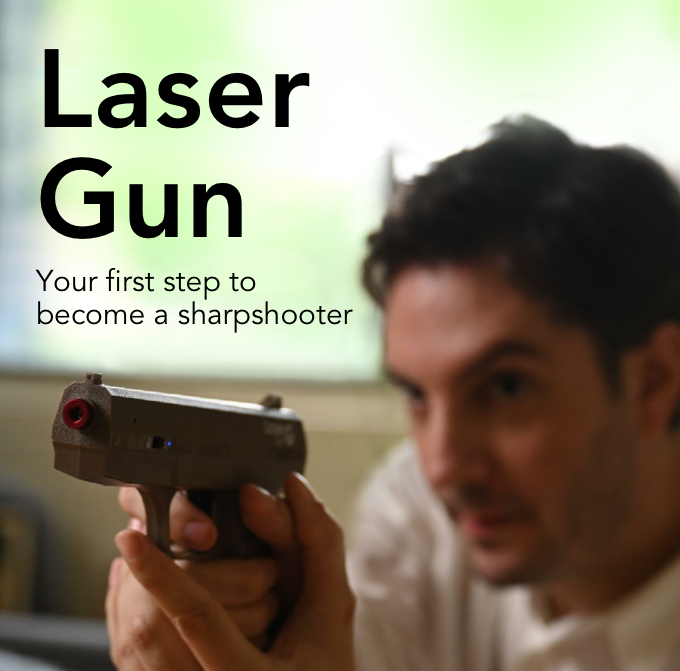 What you need to know about shooting a laser beam is this: the greater the distance is, the more likely it is to see deviations from the original path. That is why, when you see laser pointers attached to different pieces of equipment, you know it is not so exact in its placement. We have set VariShot's precision level to 0.5mrad, which is equal to what we call the concentricity of an everyday pistol at the range.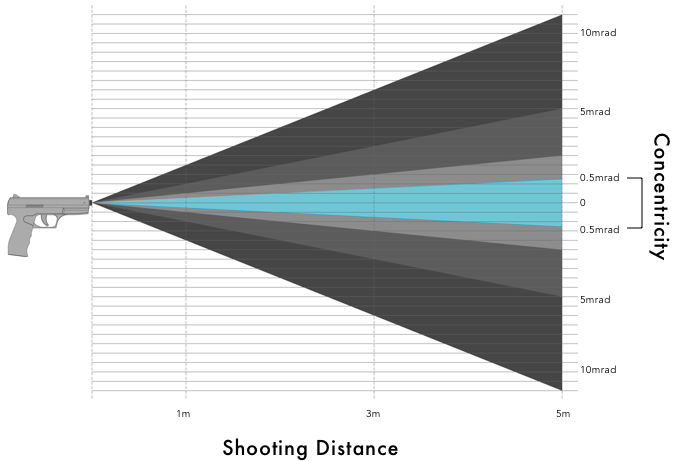 For a more personalized experience, simply adjust the laser beam with the hex key (included in the package). You can match it perfectly to your stance and grip.

Safety is always our top priority. We use Class 1 laser in VariShot because that is the safest level, free of any harm, even in contact with our skin and eyes.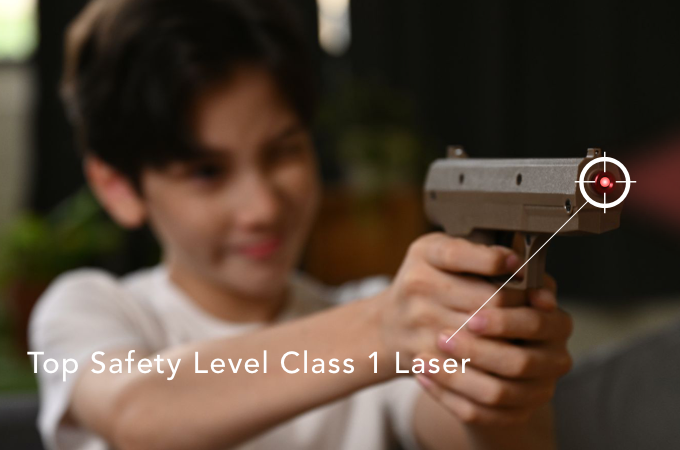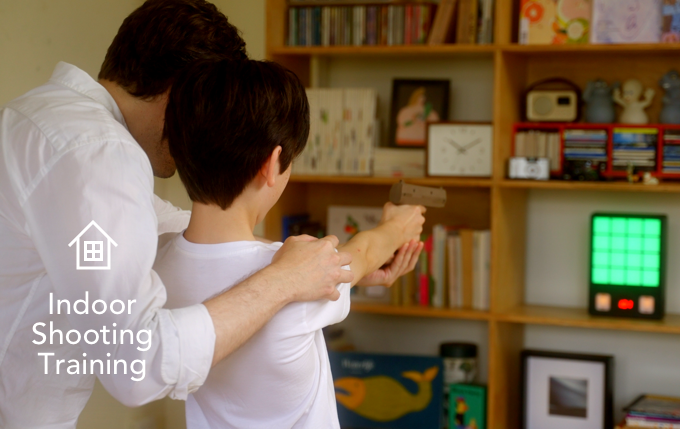 This is a proprietary design, drawn from designs for a couple of features intended to match the standards of authentic firearms. This way, we know how to develop the strictest safety protocols.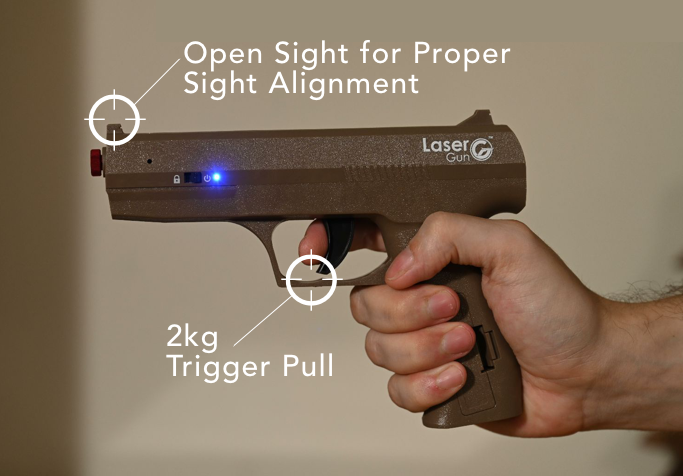 Consider this: the front sight is precisely aligned with the rear sight, enabling you to aim comfortably and where it seems you are aiming. The trigger pull is set to 2kg (4.4 lbs), which is the same weight as a real pistol. Because of that, you can transition to a real pistol easily, once you have practiced sufficiently and it is safe for you to do so.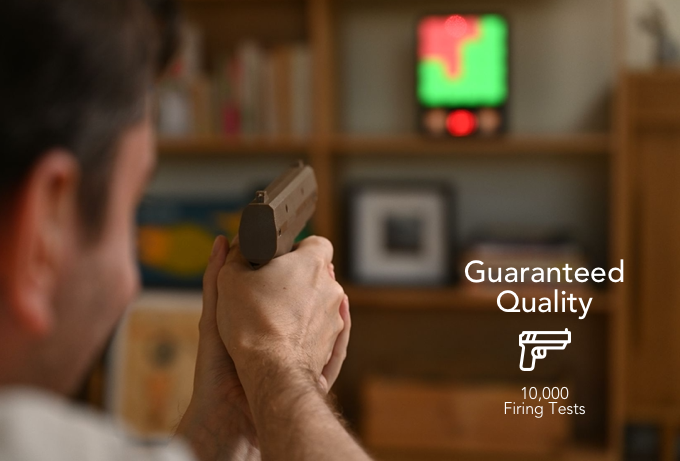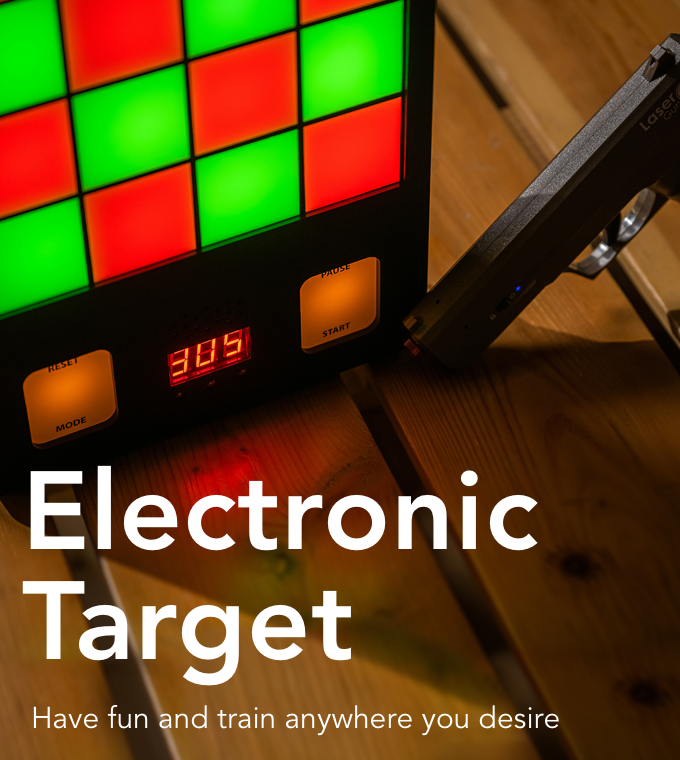 We have integrated 18 phototransistors into the electronic target, which senses the laser beam and then makes a response. You get to choose from multiple modes, and as you do, they adjust the phototransistors appropriately. There is a way to train every skill: speed, reaction time, and precision. You can also set the difficulty level!

To maintain the flow of the game or practice, you can operate VariShot target system remotely. Simply shoot the laser beam at the 2 panels, activating the sensors so that you can select different modes, restart the game, or pause the game. No walking back and forth! You can keep your game going instead!
Operating remotely is not as simple as it looks. In order to detect laser beams from a far distance, the sensor's sensitivity is high, resulting in a wider range of interference. However, the further the target is, the weaker the laser beam gets. We will not raise the laser strength, either, because we prefer to emphasize safety. As a balance, we have leveled up the sensitivity of the sensor but also applied the automatic optical calibration, which eliminates the interference, according to the lighting of different environments.

Train and play anywhere! VariShot runs on batteries, so you can take it to any indoor and outdoor places you would like to train. The target lasts for 8 hours, running on batteries as well. You can get a whole day of fun out of VariShot, without ever stopping at all.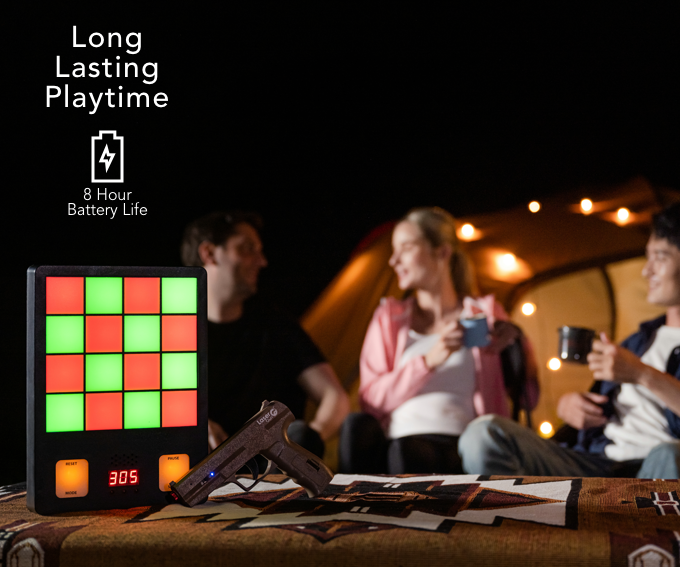 You can shoot from up to 10 meters (32 feet) away, for a more challenging session.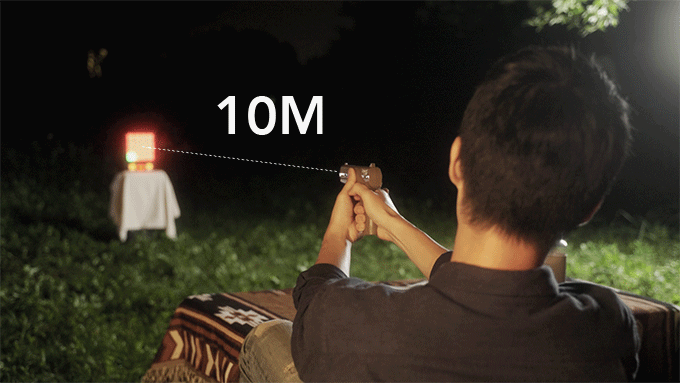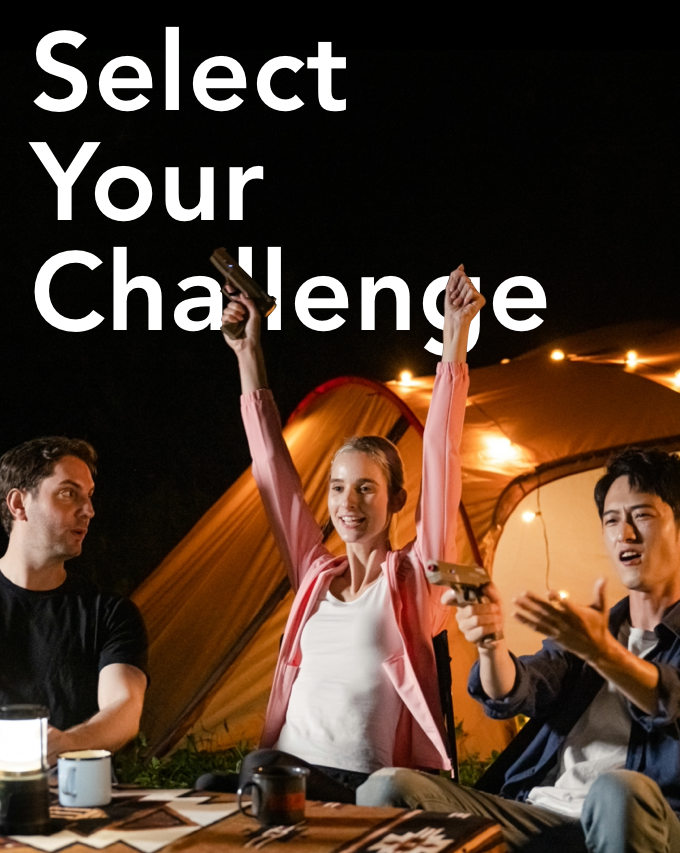 There are many different modes to choose from in VariShot. These fall into two main types of challenges: Recreational and Professional.
Professional Mode is a basic, fundamental mode for practicing your shooting skills. It emphasizes intuitive movement and action, minimizing breaks so that you can stay focused on what you are doing.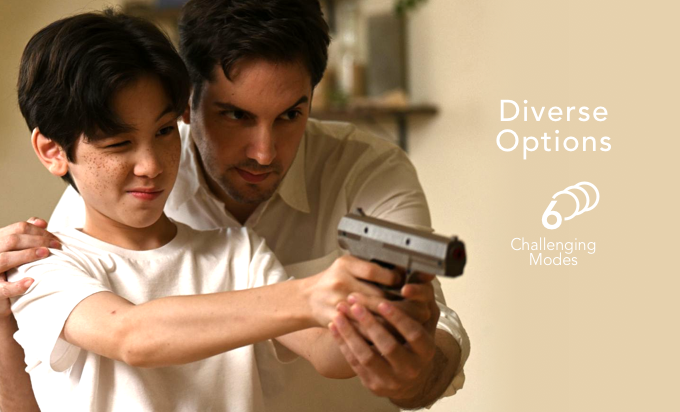 Recreational Mode is, on the other hand, a bit more casual. It features five different games, each of them specially designed for a different sort of fun. The difficulty level will increase on its own, pushing you (or you and some friends!) to continue to make improvements.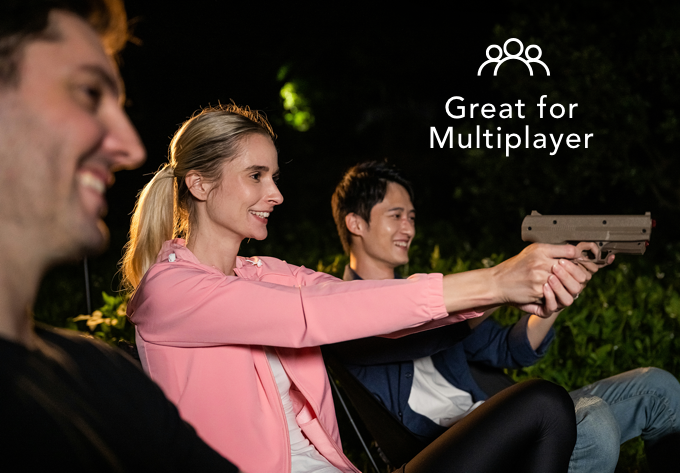 Are you up for the challenge? Let's check out how this works!

Perfect for your training routine. Become a real sharpshooter! To develop your skills, focus on shooting the single green target within 1.5 seconds.
Tap into your inner trap shooter! You can boost your concentration and balance by training in this mode. Each square of the electronic target is 45.5mm long and 45.5mm wide, the same dimensions of an air rifle target. Players are free to change the difficulty by adjusting the shooting distance.


Shoot out all the green lights in the shortest time.

Get the most points within a limited time.

A classic that never gets old! Keep the green lights above the bottom line.

The target multiplies during each level. Shoot your way through 10 levels!

Designed for 2 players. Shoot your designated color only. Be careful, be quick, and be precise!
  BOLTZ Cutter - The first cordless ultrasonic cutter is an interesting new gadget Following their successful cordless rotary tool campaign, BOLTZ has created another DIY tool, this time an ultrasonic craft knife called BOLTZ Cutter. Ultrasonic knives are...
Real Archery Gaming | Smooth Archery Experience | From Novice to Pro | Easy Set-Up | 600g Lightweight | Metaverse Possibilities
Search for awesome projects
You may also be interested in
A sleek, reusable yearly calendar – elegant, easy-to-use, and doubles as a whiteboard for notes.
A Camera Trigger packed with: High-Speed, Wireless Flash Control, Timelapse, HDR, AI Suggestion, Geo-Tag, File Manager and more
More than just a security camera, Genie S is a state-of-the-art, full-featured, recording device.
You may also be interested in
A sleek, reusable yearly calendar – elegant, easy-to-use, and doubles as a whiteboard for notes.
A Camera Trigger packed with: High-Speed, Wireless Flash Control, Timelapse, HDR, AI Suggestion, Geo-Tag, File Manager and more
More than just a security camera, Genie S is a state-of-the-art, full-featured, recording device.