STORM 2: Ultimate Power Mecha for Digital Nomads
100W PD In/Out| 25600mAh| Airline Safe| IPS LCD screen| 2*USB-C+USB-A+DC| Cyberpunk See-thru Design
Pledge Here

STORM 2 provides a whole new charging experience unlike any other power bank. Its Cyberpunk-style transparent case marks a new era of design.
The sci-fi display screen with adjustable output voltage provides users total freedom and charging control. Equipped with 2 USB-C, 1 USB-A and 1 DC output ports, STORM 2 can charge up all your devices and gadgets safely and reliably. Storm 2 houses a 25600mAh high density battery that can be recharged in just 1.5 hours and it supports various charging protocols (QC/PD/PPS). Combined with the solar panel, it provides virtually infinite power no matter where you are!

STORM 2 achieves transparency by displaying itself from the inside-out. The Cyberpunk style see-through design reveals its sophisticated circuit board, including the 32-bit M3 ARM MCU chip and the contrast between chaotic electronic components and the perfect virtual world that inspires it.

STORM 2's on-display power management system visualizes the battery life, charge cycles, output distribution per battery cell, running temp, and DC voltage adjustment in a clear, concise, and intuitive way, giving you unparalleled control and access to all the information you need. Now, power is right at your fingertips.
Featuring 100W PD Fast-Charging USB ports compatible with all devices equipped with 100W PD Fast-Charging protocol, STORM 2 can fast-charge any electronic device anytime & anywhere via the two USB Type-C & one USB A ports. It also provides a DC port that features adjustable voltage (3.3-25.2V) for different charging needs, such as electric camp coolers, drones, camp lights and more, for the ultimate power solution anywhere you go!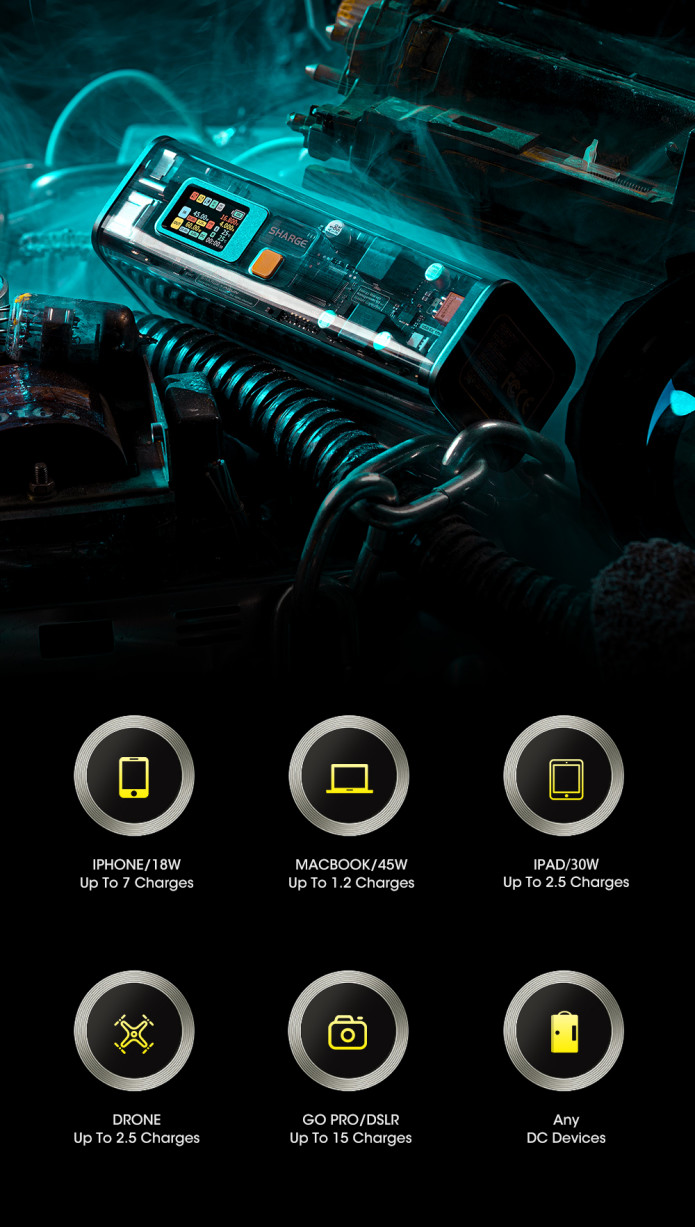 Featuring 100W PD Fast-Charging, Storm 2 can be fully recharged in just 1.5 hours*. Even after just 10 minutes of recharging, Storm 2 provides enough power to fully charge an iPhone 12!
*Tested with the Shargeek 100W GaN adapter.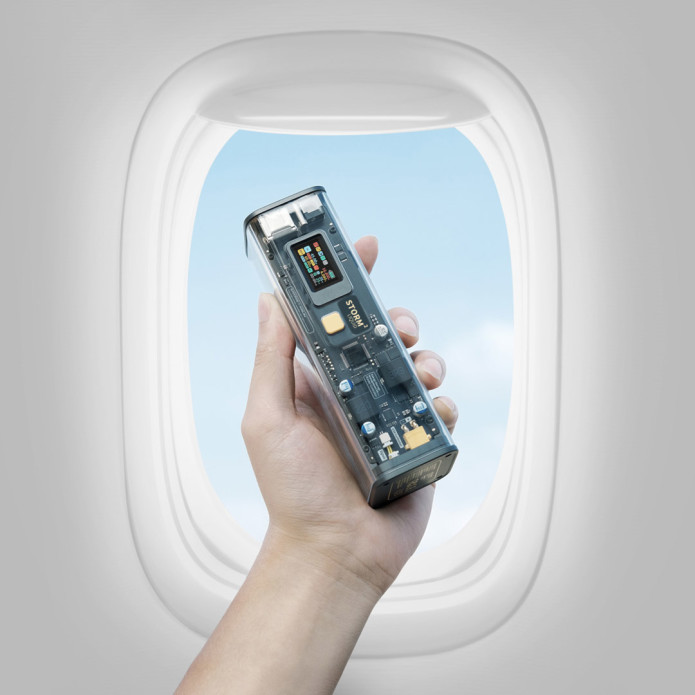 (Note: STORM 2 easily satisfies the needs of travelers and digital nomads with a powerful 25600mAh / 93.5Wh battery capacity which is Airline Safe for Flying.)
Combined with our solar panel, STORM 2 is the perfect power solution for all outdoor activities. Simply connect Storm 2 with the solar panel and place the panel under sunlight for a recharge. No more waiting for a place to plug in and no more worrying about the dilemma of dead batteries.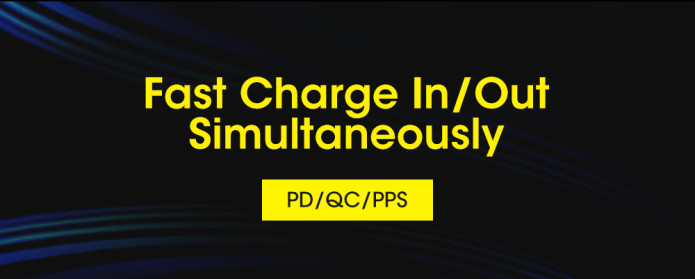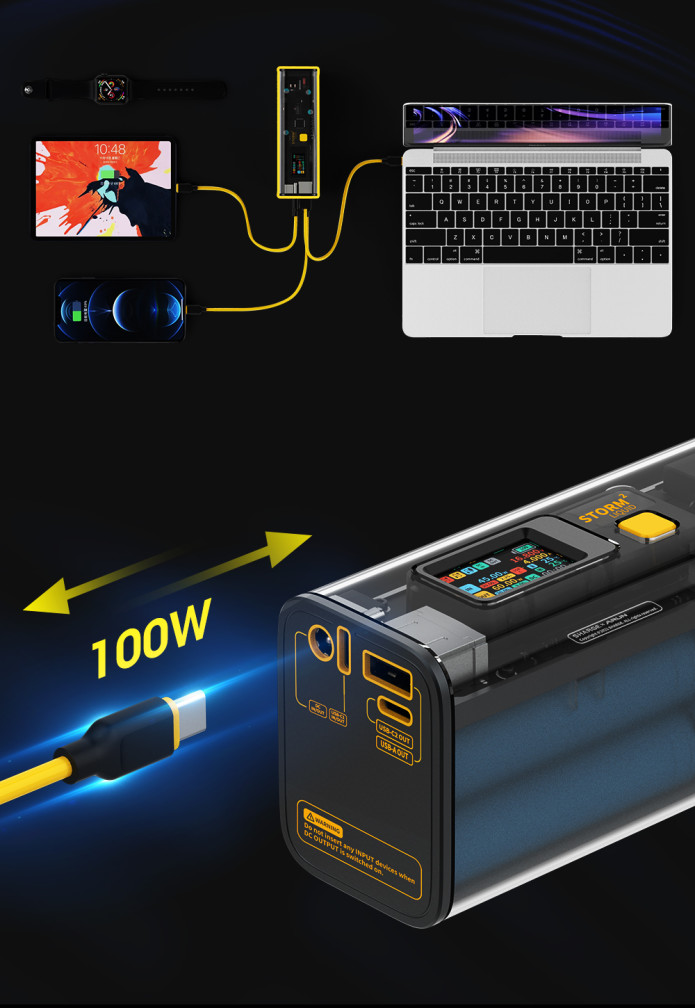 STORM 2 supports fast-charging of 3 devices simultaneously. So you can charge your DJI drone with the DC port, MacBook Pro & iPhone with two USB-C ports, and your smartwatch at the same time to boost your productivity. Additionally, the PD charging protocol enables you to fast-charge and recharge at the same time.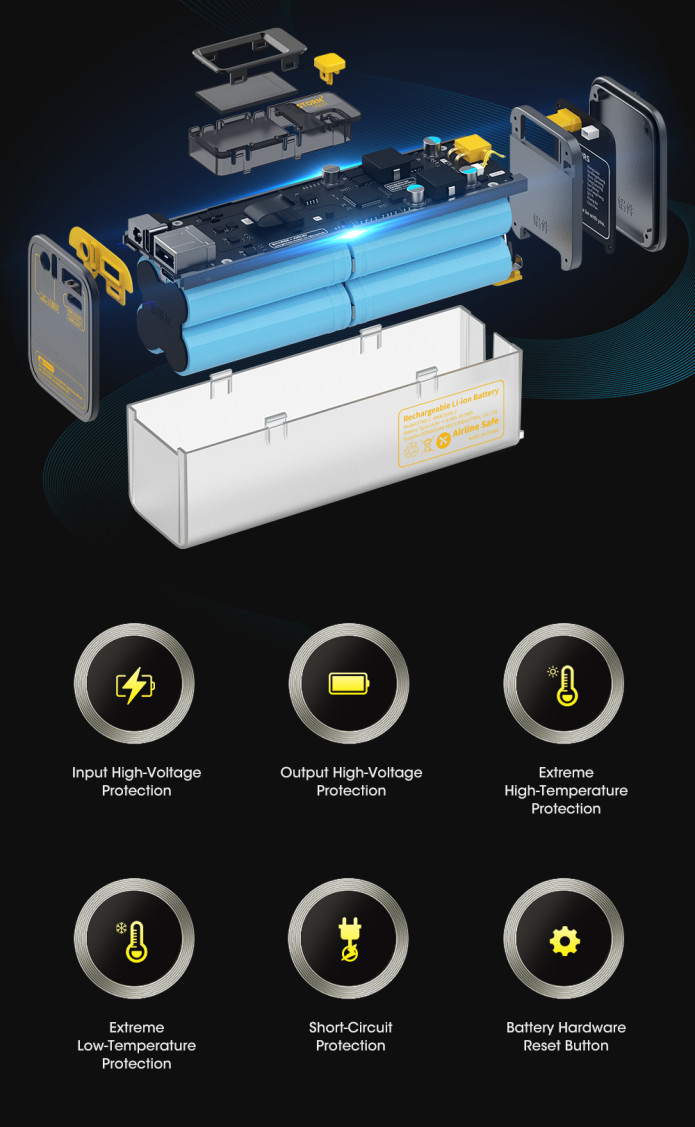 Safety is our first priority. STORM 2 has a complete protection system built-in which includes Voltage Protection, Short Circuit Protection, and Temperature Protection.
It's equipped with the safest lithium battery pack approved by Tesla and has achieved a V0 classification for fire resistance using flame-retardant material for its chassis.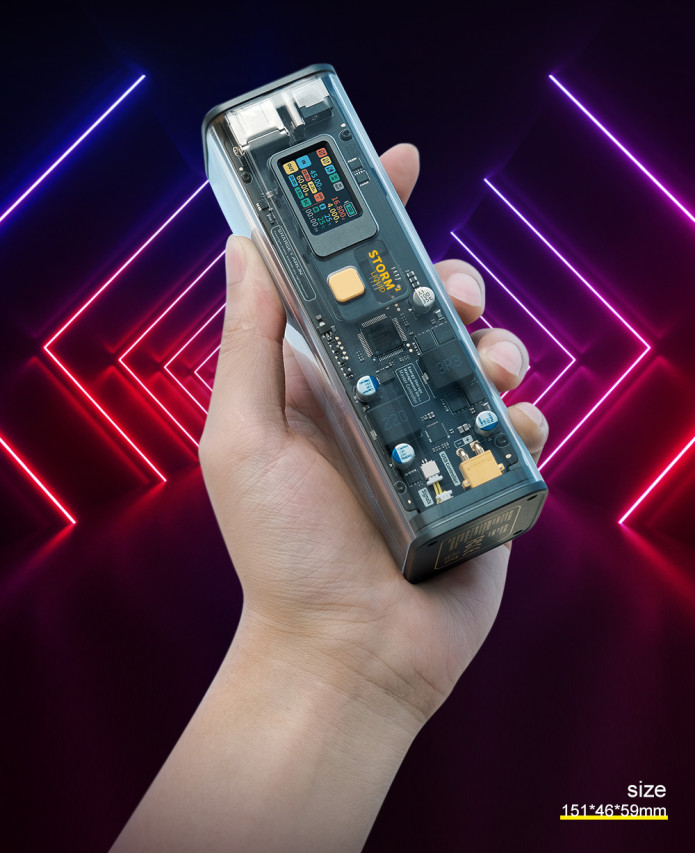 While most power banks on the market suffer from low battery capacity or are too bulky to comfortably travel with, STORM 2 is a pocket-sized powerhouse. It is compact, cost-efficient, and the perfect battery station to take with you anywhere in the world.

Yes, the customized solar panel is here for our INDIEGOGO Backers! With 6 foldable high-efficiency solar panels, you can forget about the anxiety of low-battery situations when going outside, traveling, camping, or climbing mountains. STORM 2 can be recharged with the power of the sun to make sure your electronic devices are fully charged 24/7 when adequate sunlight is available. Now you can fully enjoy your outdoor activities with virtually endless power!
Specs of Solar Panel
Peak Power: 12W | Power Voltage: 5V | Power Current: 2.4A (MAX) | Cell Efficiency: 21% | Operating Temperature Range: -10~65°C
Unfolded Length: 85cm (panel & case)
Folded Thickness: 5cm (case)+ 4cm (panel)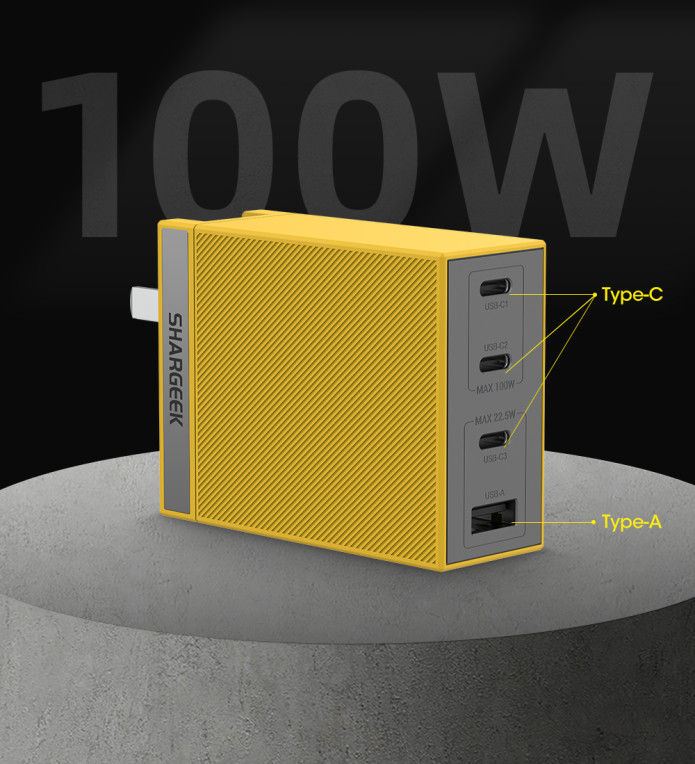 Want to fully recharge your STORM 2 within 90 mins?
GaN is the third generation semiconductor material and is on the next level. There are unique advantages in high frequency and high-speed optoelectronic components, which can meet the demands of laptops, tablets and smartphones at the same time. Three independent fast-charging circuits can even charge three MacBooks simultaneously to boost your productivity and spark your imagination!
Compared to other GaN chargers on the market, the Shargeek GaN one has a unique design that makes it stand out from the others. The reinforced pins and optimized position of the center of gravity make the plug more stable on the wall. With AI chips inside, it generates less heat when charging and automatically adjusts output power when charging multiple devices.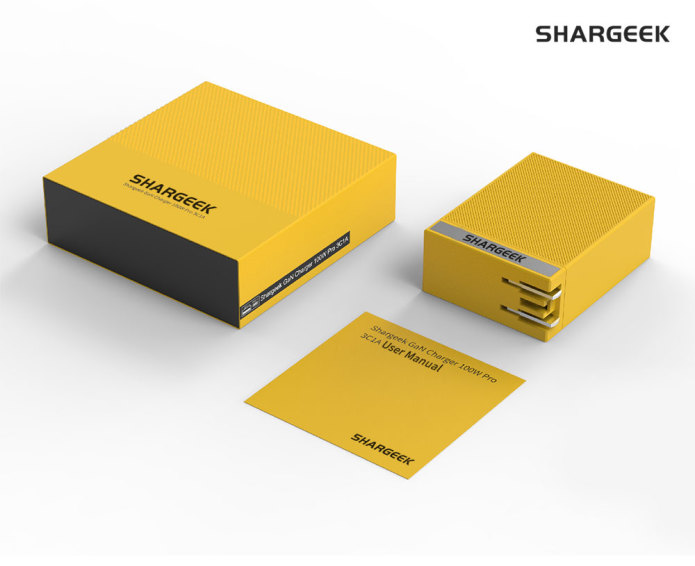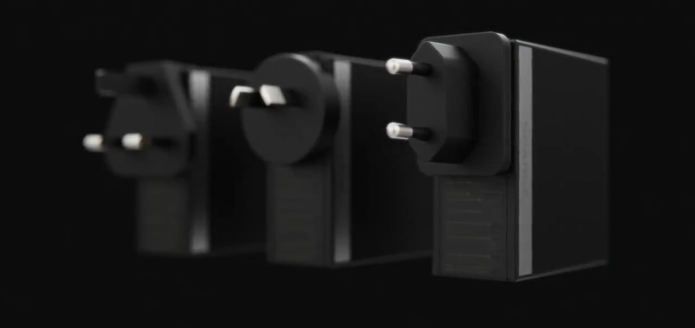 *The GaN Fast-Charger also includes a set of travel adapters (EU, UK, AU) that fit different electrical outlets around the world. For global travelers, this is the perfect kit to ensure power connectivity in most countries you may travel to.

10W 450nm Laser + 2W 1064nm Laser | Power Your Personal DIY Crafts | Bulk Commercial Products | Applicable for Virtually All Materials
Instant Cooling & Heating | Dynamic Pulsing Vibration | Fine Mist Massage | Smart APP | Moisture & Refresh Your Eyes
Search for awesome projects
You may also be interested in
Anti-Mobile Phone Recording | Anti-Recorder Recording | Anti-Video Recording | Anti-GPS Recording
Charge any EVs much faster and safer than ever with a J1772 port. An essential adapter for Non-Tesla Electric Vehicles.
Free Position | 10,000mAh Power Bank | Universal Compatibility | Wireless + Wired | 3 Devices at 25W Output Max | Optimum Charging
You may also be interested in
Anti-Mobile Phone Recording | Anti-Recorder Recording | Anti-Video Recording | Anti-GPS Recording
Charge any EVs much faster and safer than ever with a J1772 port. An essential adapter for Non-Tesla Electric Vehicles.
Free Position | 10,000mAh Power Bank | Universal Compatibility | Wireless + Wired | 3 Devices at 25W Output Max | Optimum Charging