purME Air: The world's most breathable face mask
Twin Turbines | Constant Airflow | UV-C Self-Cleaning | 99.9% HEPA/P100 Filtration | Ultralight Fit
Pledge Here

The original purME mask was a great success. So we took into account all the feedback from our backer community, and built an improved second product — purME Air, the wearable air purifier!
Breathe safer and easier with the help of twin turbines ensuring a constant supply of filtered air. Sterilize your mask before and after each wear with its built-in UV-C light. And block out over 95% of microorganisms and pollutants with 3 protection level filters, from FFP1 to P100.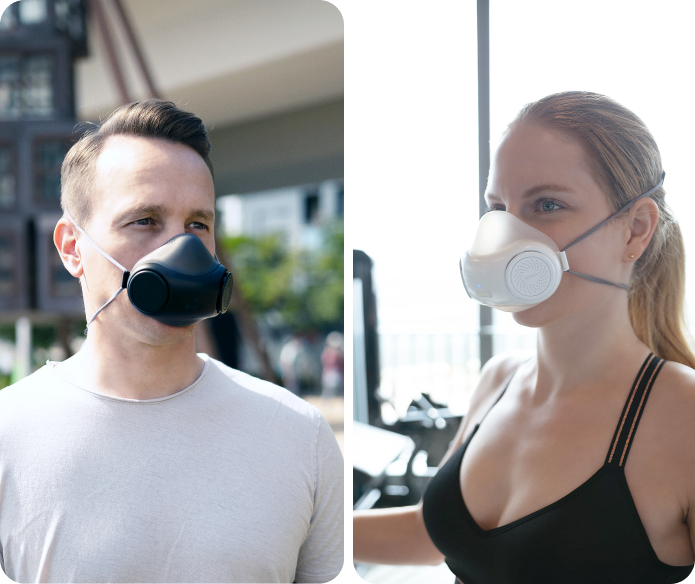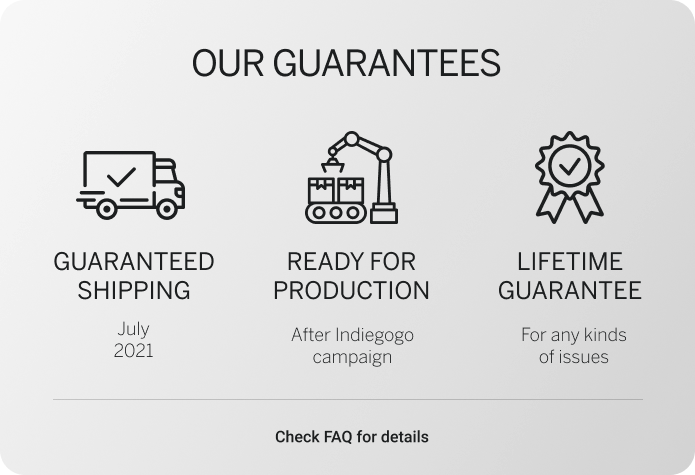 Our First Generation Was a Big Hit!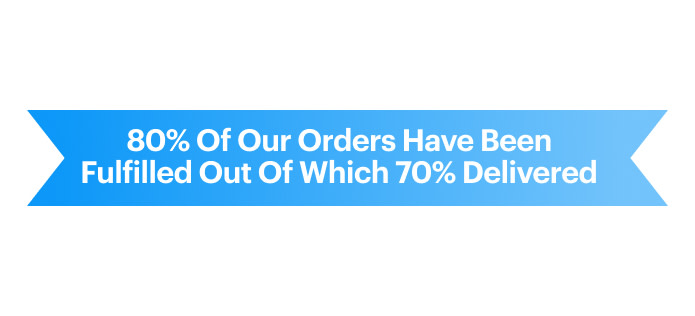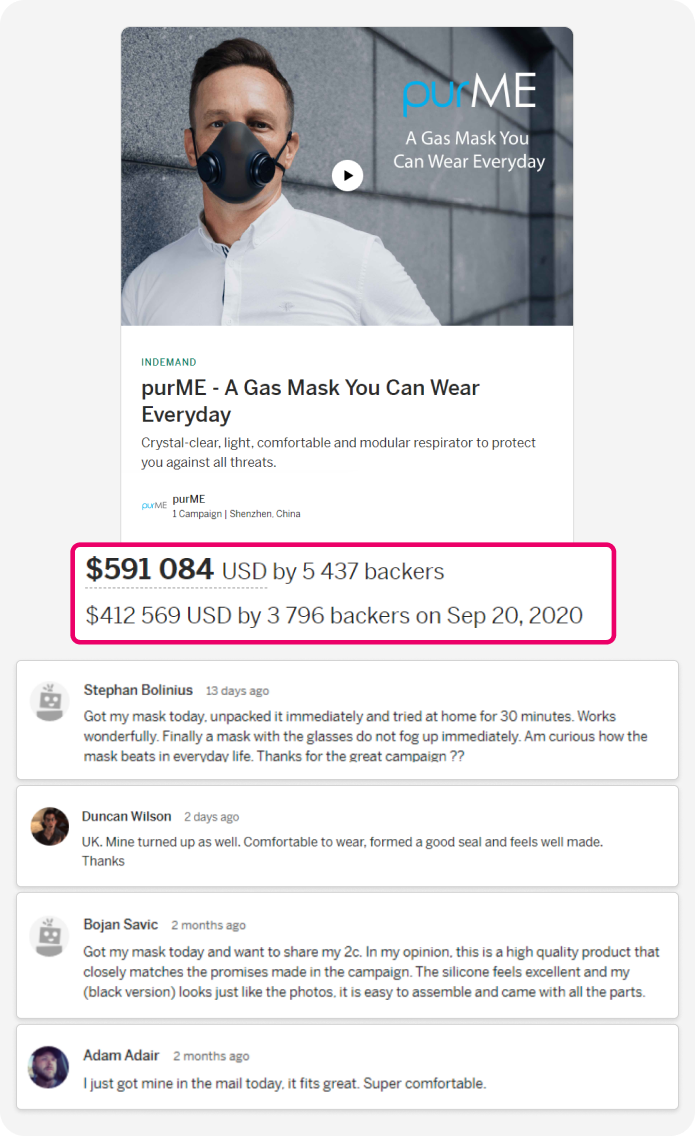 Breathe Easier & Safer
purME Air is the world's first powered mask featuring patent-pending constant pressure technology. It ensures effortless and safe breathing by keeping the pressure inside the mask constant.
Other powered masks draw in more air than you breathe out. purME Air ensures constant air pressure with twin innovative turbines bringing the same amount of air in and out. This prevents leakage of unfiltered air from over-pressure and makes your breathing simply effortless.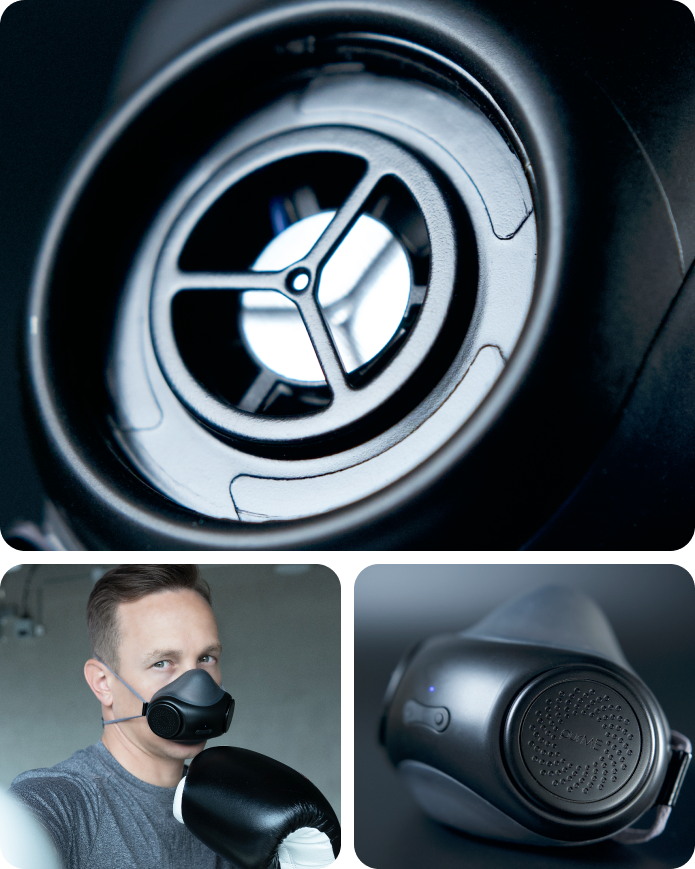 To adjust the airflow to your needs, purME Air offers 3 power levels: Choose the one that works for you and supplies you with enough fresh air, whether indoors, in the street, or while working out in a gym.
Complete Self-Cleaning in under 5 Minutes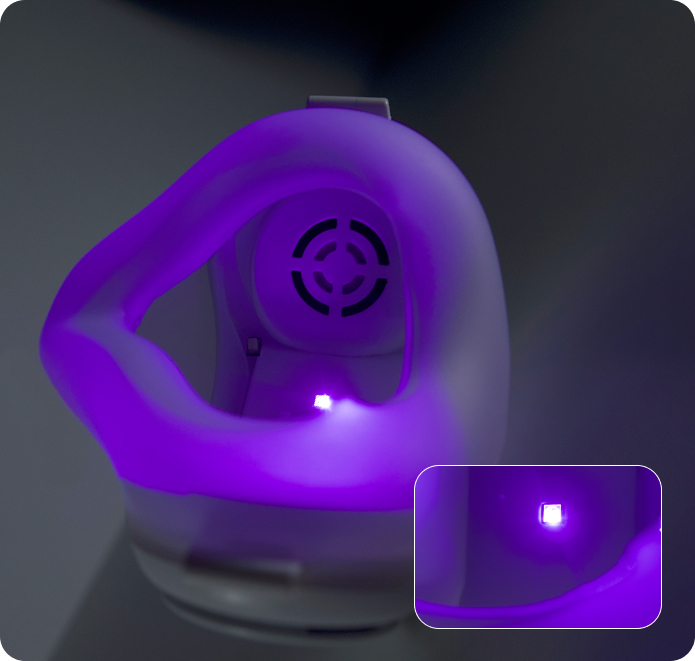 Forget about washing your mask every day!
With its built-in UV-C LED, purME Air will sanitize your mask for you whenever you aren't wearing it. Simply turn it on before or after each wear and it will remove all the microorganisms and odor on the inside of the mask in under 5 minutes. Your mask's ready to go!
As UV-C light can be harmful to your skin, purME Air features an additional safety mechanism.
To prevent your eyes and skin from UV exposure, purME Air features a safety switch to ensure UV light only turns on when you want. Turn it on when you take off your mask, and turn it off once you wear it. Yes, wearing an ultraviolet mask has never been safer!
One Mask, 3 Protection Levels
With its 3 modular protection levels, purME Air can replace all your existing masks. You choose whether you need 80%, 95%, or 99.9% protection depending on your environment and needs.
Choose between basic protection with our new FFP1 filter, higher protection with the KN95 filter, or maximum protection with the P100 filter through the adapter included.
Switch your filters any time and place them on both sides, if required by your local authorities.
With purME Air you've got it all: Gas mask. Check. Respirator mask. Check. Allergy mask. Check, check, check!
purME HEPA Filters
To ensure your protection, the HEPA filters that come with your purME Air mask have been certified by third-party SGS Labs — the world's leading inspection, verification, testing, and certification company with nearly 100,000 employees in 2,600 offices around the world —  to FFP1 and KN95 standards, both for filtration and airflow.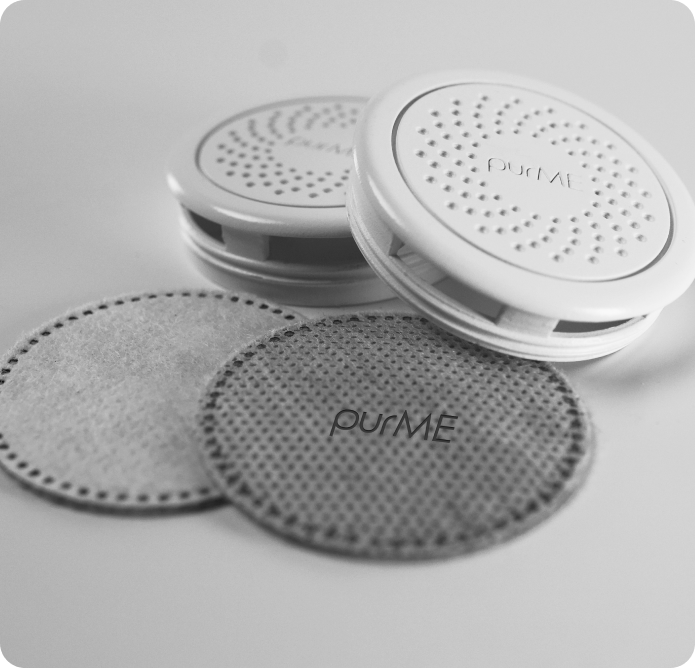 Replace your HEPA filters every 14 days of use, and trust them to remove over 95% of pollutants at 0.3 microns.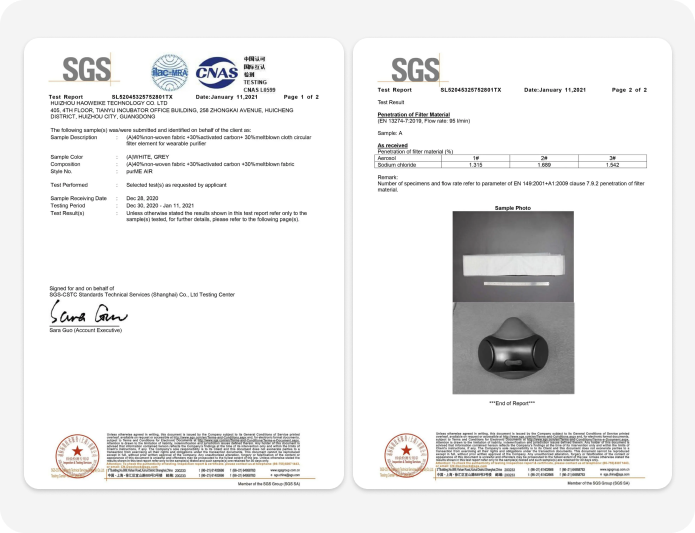 How It Works
1. Choose one of the 3 power levels to supply sufficient filtered air to you depending on your activity, both indoors or in crowded places.
2. A pair of identical, silent microturbines will draw exactly the same amount of air in and out of your mask, continuously providing you fresh air.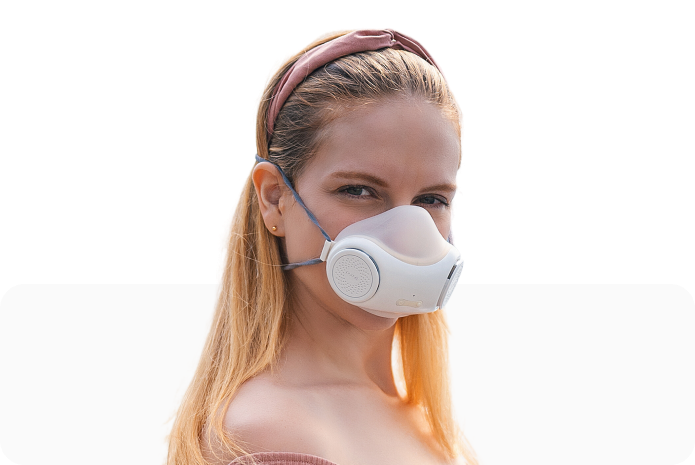 3. Breathe in, breathe out! You're ready to face the world.
Ergonomic Design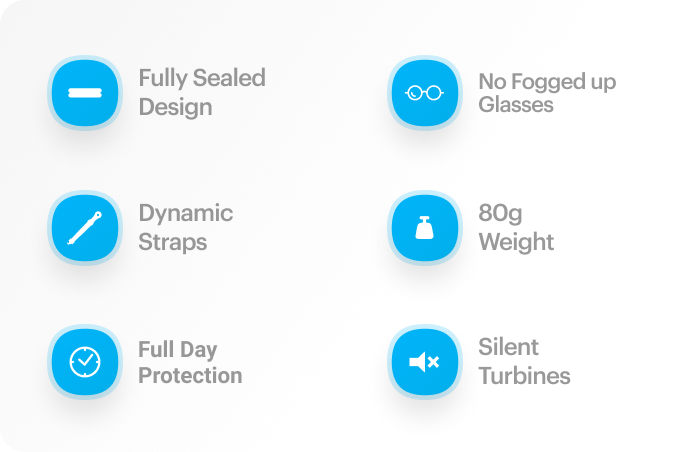 Perfect Fit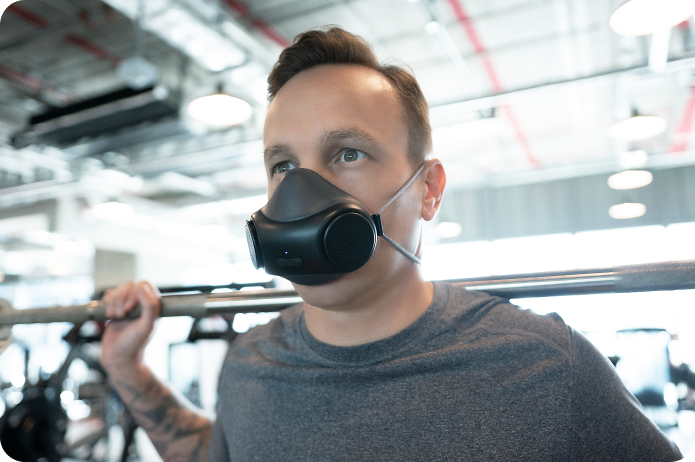 The silicone facepiece of purME Air that contacts your face is designed to deliver unrivaled comfort while keeping you safe.
Made of firm yet supple LFGB food grade silicone—free of organic vapor, heavy metals, and harmful residues—the silicone face mask not only ensures a perfect airtight fit to minimize air leakage but also seals tightly against your nose while you're on the move.
Comfortable

Say goodbye to fogged-up glasses, ear pain, and marks on your face! purME Air has your back (and mouth) covered.
With its folded-over seamless ergonomic design, the flexible silicone edge of the mask will sit comfortably on your face and never leave marks on it, even after hours of use.
Because of the airtight fit, it will also never fog up your glasses!
And on top of it (literally), you can use the over-head dynamic straps to easily adjust the mask to your head and keep it in place even during intense workouts.
Full-Day Protection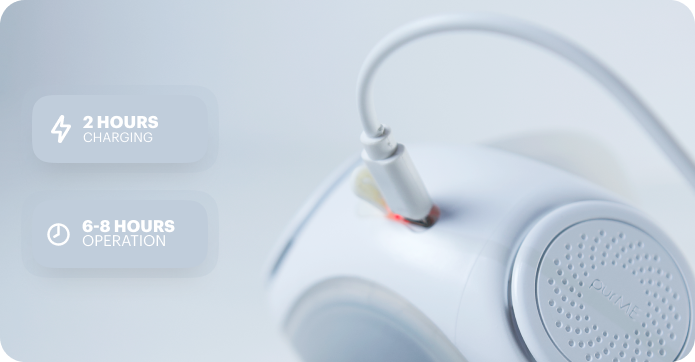 purME Air is powered by a rechargeable battery stored inside. It offers 6-8 hours of operation, which is more than enough to protect you for the whole day.
Need longer protection? No probs! Even if your mask's battery is low, you can still wear it as the filters will continue to protect you. To bring back the full protection powers of purME Air, you'll need only 2 hours and any USB cable to recharge it.
One Size Fits All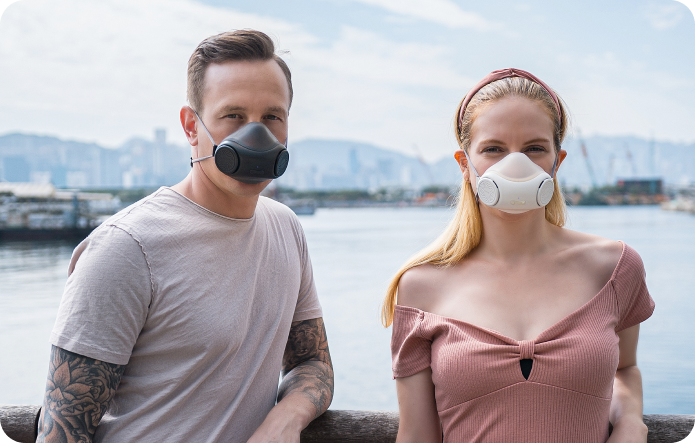 purME Air is made with everyone in mind. It comes in one size and fits most people above 12 thanks to its flexible materials and adjustable straps.
Ultralight
Weighing at just 80g, purME Air is one of the lightest powered twin-turbine masks. Go hiking, cycle to work, exercise at the gym or just take to the streets with maximum protection and almost no-mask feel!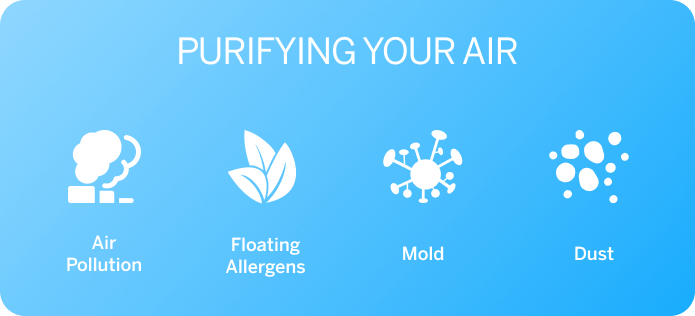 Most people now breathe air containing high levels of pollution. You need to wear a mask to filter the air from air pollutants, pollen, tobacco, wildfire smoke, and dust, which are mostly within the PM2.5 range. With suitable filters—from FFP1 to P100—purME Air offers the exact protection level you need.
Comparison Chart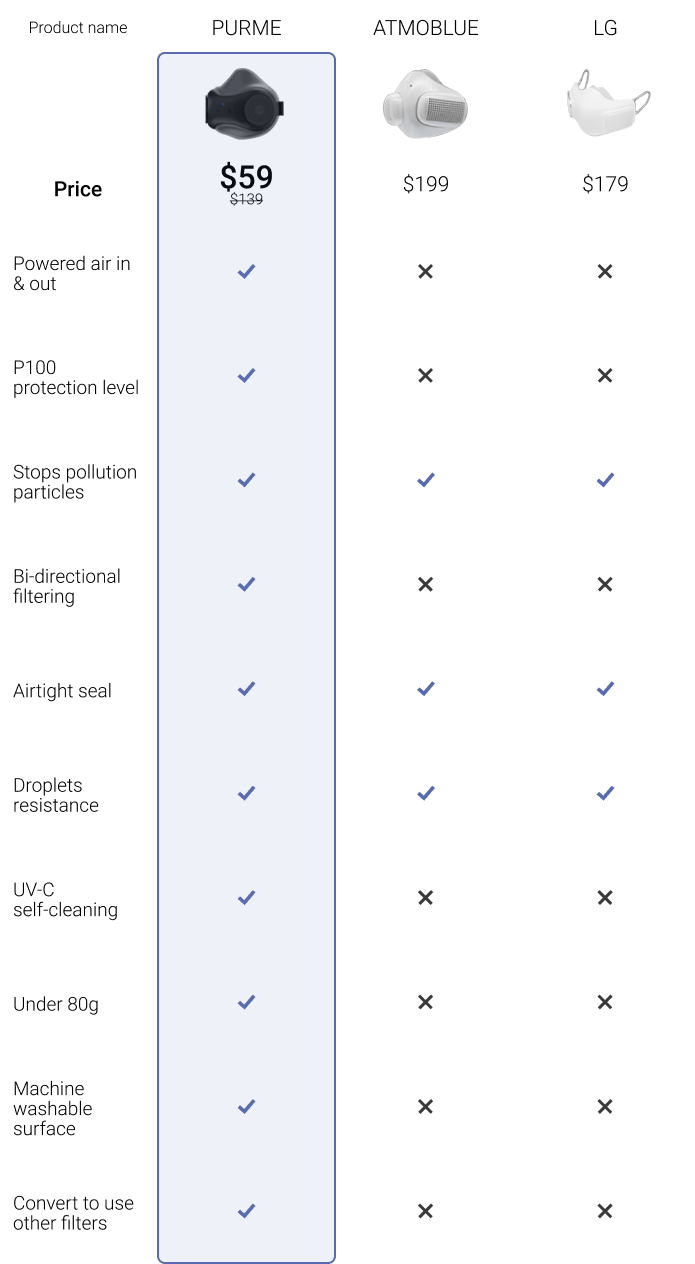 Technical Specifications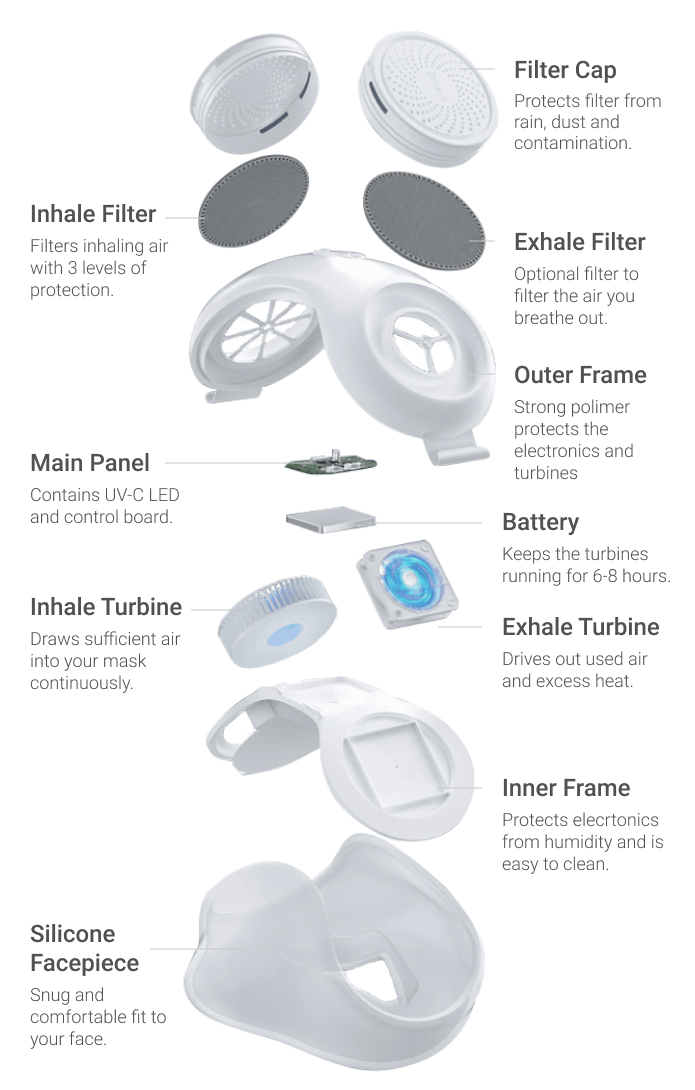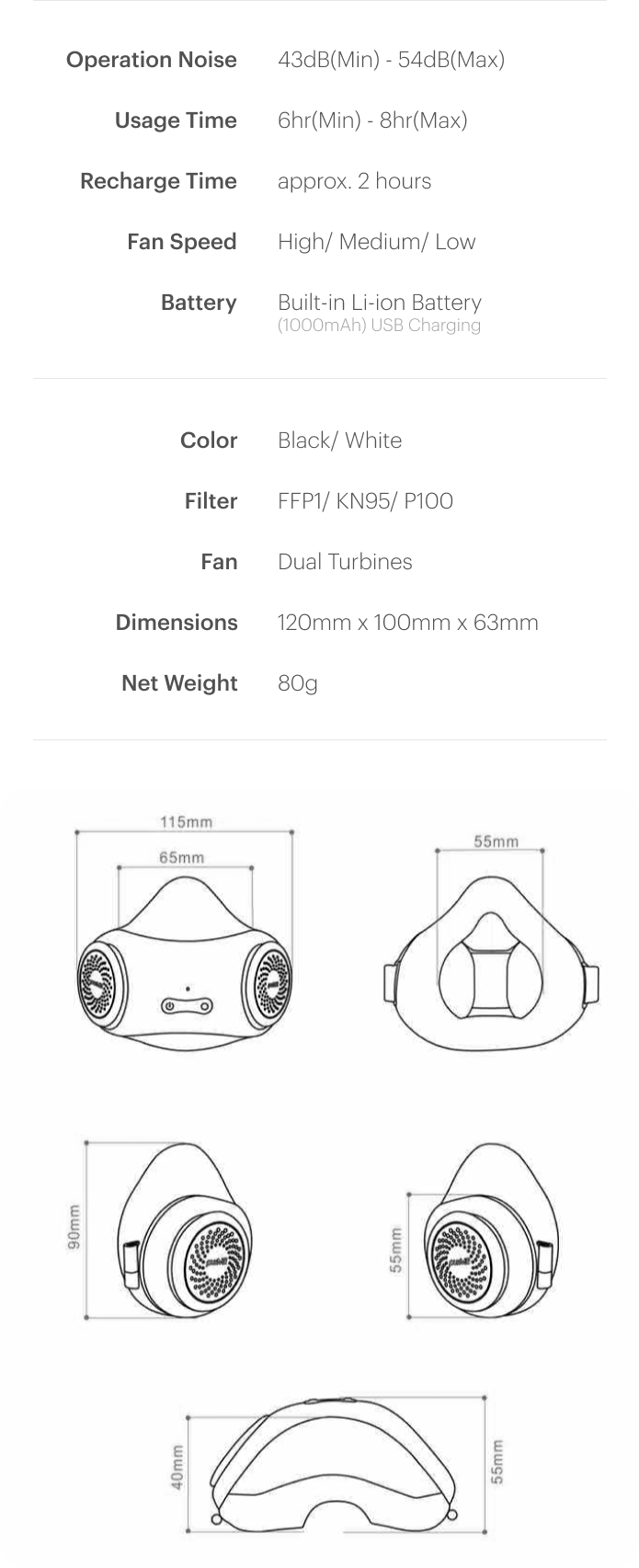 Lab Certified
All components of purME Air have been tested by independent labs to be safe for your wear.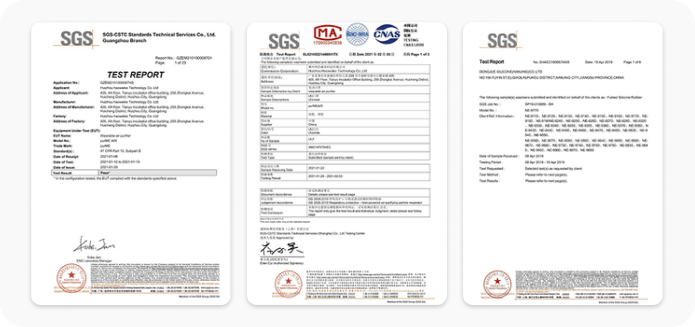 Electronic Device: purME Air has been certified by SGS to Federal Communications Commission (FCC) rules and regulations, and is safe for wearing.
Filters: The GB 2626-2019 KN95 (NIOSH N95 or EU FFP2 equivalent) test confirms that our filter has a 0.3μm particle filtration efficiency of over 95%. This means purME Air's filter will keep out the majority of harmful particles in the air. The flow rate also exceeds 85L/min, ensuring breathability under normal use.
Silicone Facepiece: The silicone part of purME Air that contacts your skin is made with food grade silicone and certified by SGS to LFGB standard. The design ensures you feel comfortable even when you wear it for hours.
And on top of that, purME Air fulfills most common regulations by health and safety authorities.
Production Stage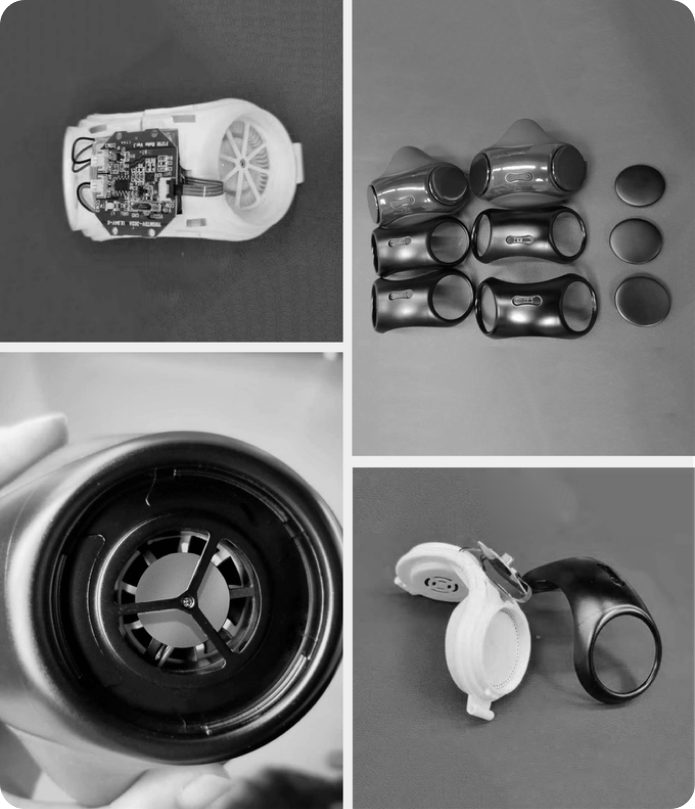 The idea of a powered mask was brought to us by our backer community during the original purME campaign. Back then some of our backers suggested adding a fan to increase the airflow. We embraced this idea but after extensive evaluation had to decide against it as our technology was still immature.
The breakthrough happened when we came across a prototype mini air purifier: the device was not only small and light enough to be pocketed, but also very quiet and powerful enough to purify the surrounding air. We quickly acquired the technology and the first purME Air was born.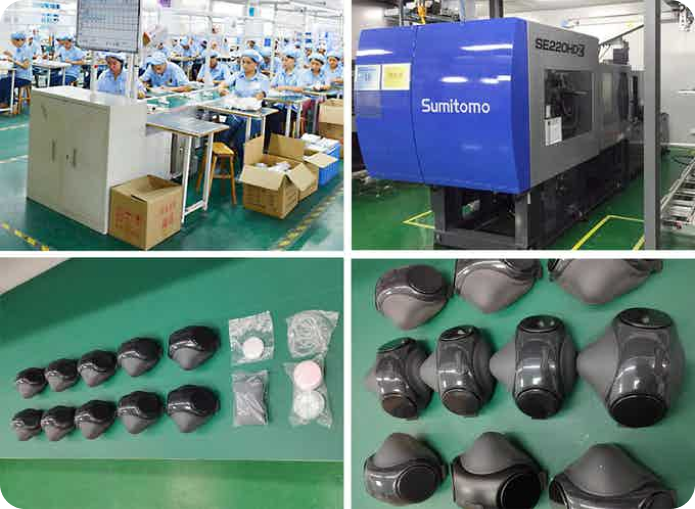 Our design is complete and prototypes have undergone trials. Once the funding goal is reached, we will purchase raw materials and prepare assembly lines to start the production on time.
Even though purME Air is completely different from our original purME mask, we are going to use our previous manufacturing and delivery experience to ensure the highest quality and smooth production. Some materials are already certified for safety and durability. Also, we have contacted SGS and applied for safety and quality testing.
REWARDS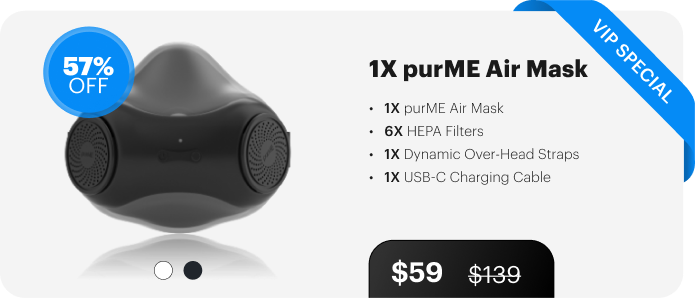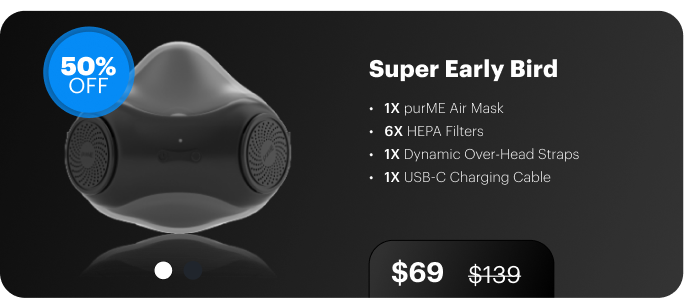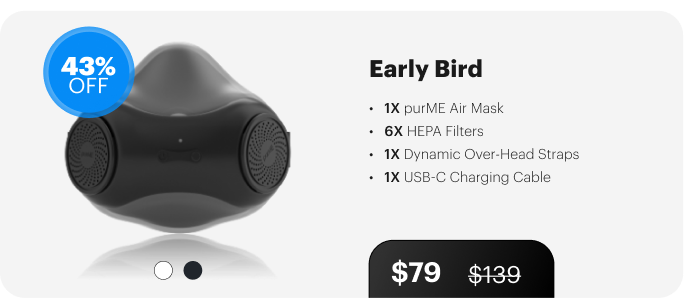 ADD-ONS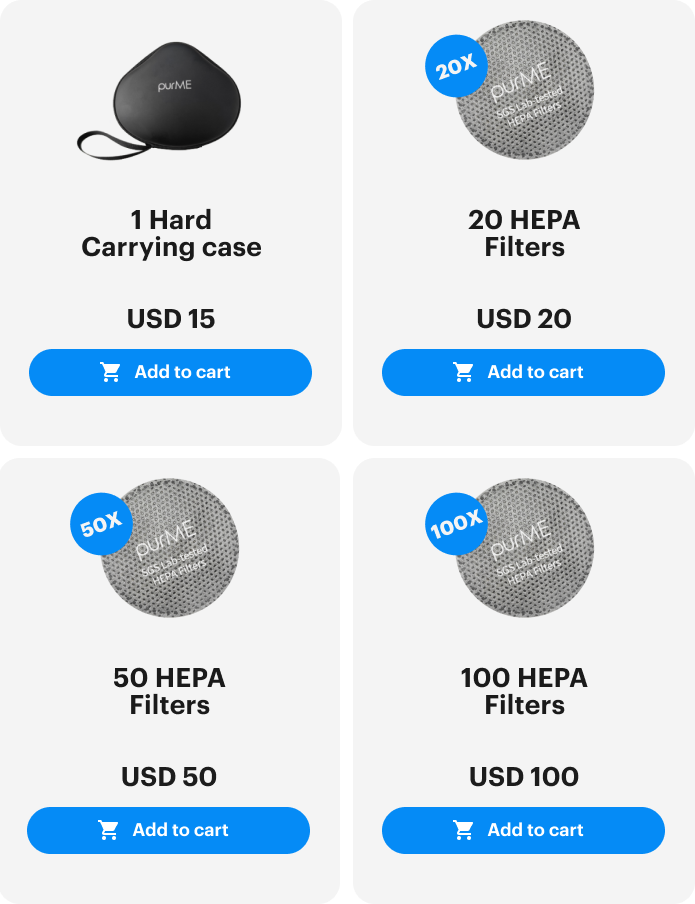 MAKA - The most powerful laser measuring tool for worksites? Recently, we have been asked by MAKA to review their universal measurement tool. Although most of us around here were not used to fixing stuff or doing home improvements ourselves, this trend is...
Use day or night to become more focused, more productive, and more relaxed.
Search for awesome projects
You may also be interested in
No More Tangled Cords | 165W Powerful Suction | Featuring 3D Pool Map Planning & Navigation System | 5 Cleaning Modes
The most versatile laser measure that integrates 9 materials stud finder, thermal imager, cross laser level and much more
One Device, Infinite Dreams
You may also be interested in
No More Tangled Cords | 165W Powerful Suction | Featuring 3D Pool Map Planning & Navigation System | 5 Cleaning Modes
The most versatile laser measure that integrates 9 materials stud finder, thermal imager, cross laser level and much more
One Device, Infinite Dreams