GravaStar Sirius Earbuds: Strong bass. Low latency
Sci-Fi Design | Knowles Balanced Armatures | 65ms Latency for Hardcore Gamer | 24H Battery Life
Pledge Here

The year is 2088. The last of Earth's green spaces have been destroyed to make way for sprawling concrete megacities. Corporations have taken all power from the people to fuel their monstrous profits. The people of Earth have all but lost hope, with many moving to live underground. As hope disappears, their once vibrant emotions have also begun to fade.
But hope can come from unexpected places. Far away, on the planet GravaStar, courage is alive. Mars and Venus, both GravaStar Bluetooth speakers, have fought many battles, with the sole mission being to protect the universe and keep that music alive at all costs.
But this mission requires a special hero. Born to revive Earth's people, a warrior known as Tifa will travel across the galaxy with the Sirius Pro Bluetooth Earbuds, on a mission to return sound and emotion to the people of earth. Bringing back the music that will inspire new life and rejuvenate humanity with the sense of adventure that was taken from them.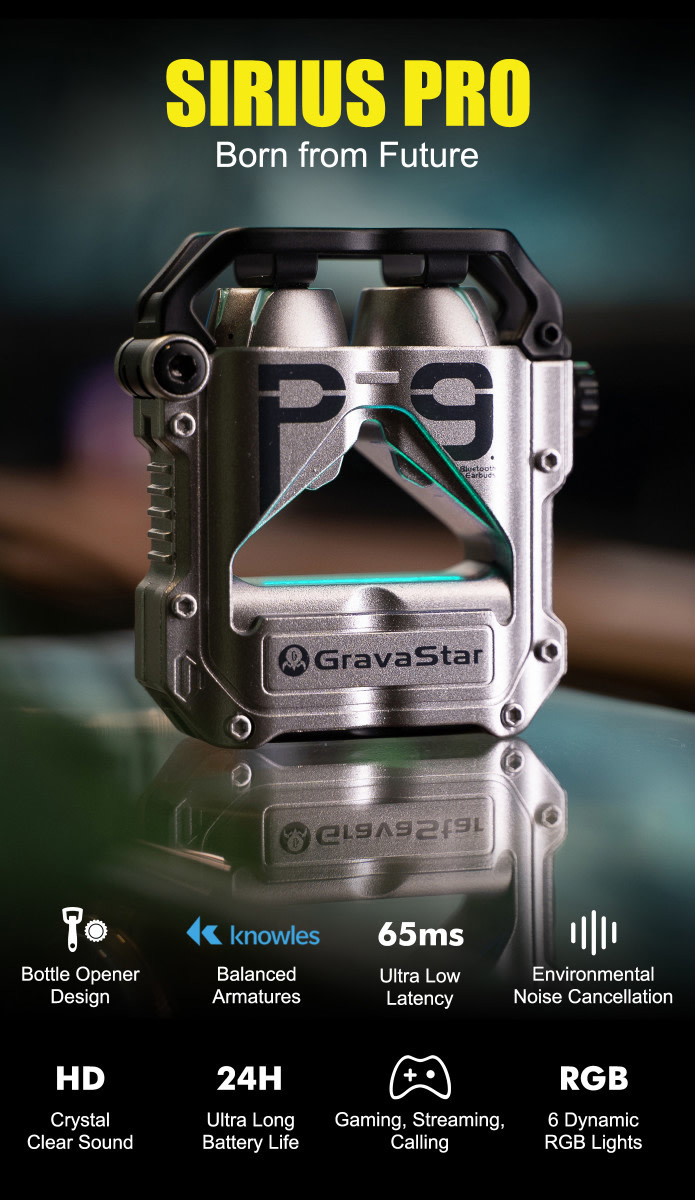 Prepare your ears for the next frontier of sound. Cyberpunk design meets meteoric sound in the GravaStar Sirius Pro Earbuds – a sci-fi inspired earbud designed to take your gaming and audio experiences to new horizons.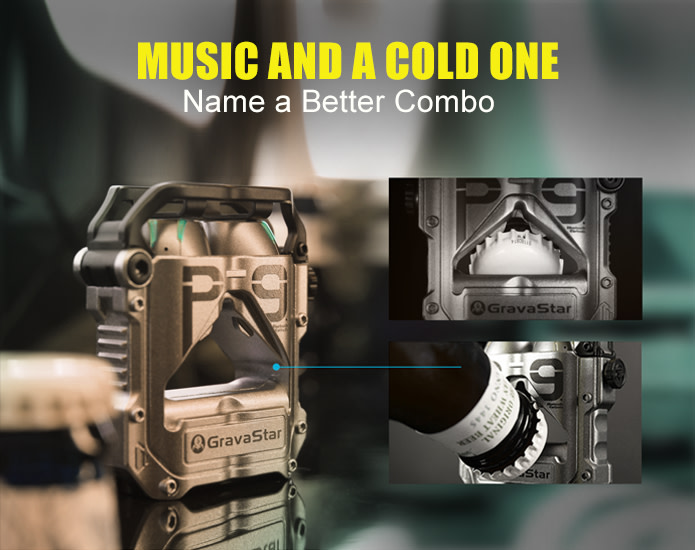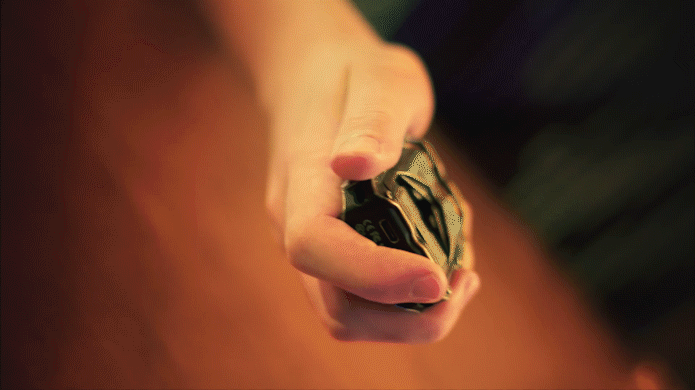 The GravaStar Sirius Pro's charging case features a rugged extra-terrestrial design unlike any other Bluetooth earbuds on the market, with a bottle open design built right into the case. Because you never know when you'll need to crack a cold one.
So the next time someone asks you to borrow an earbud, don't just share your music. Share a memory.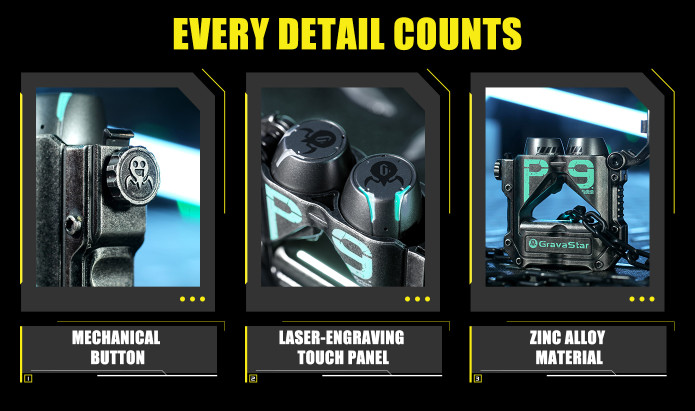 The launch tower style charging case is made from a zinc alloy material that makes it resistant to scratches and durable enough to take anywhere. Featuring a mechanical button and laser engraved touch panel that gives it a weathered deep space feel.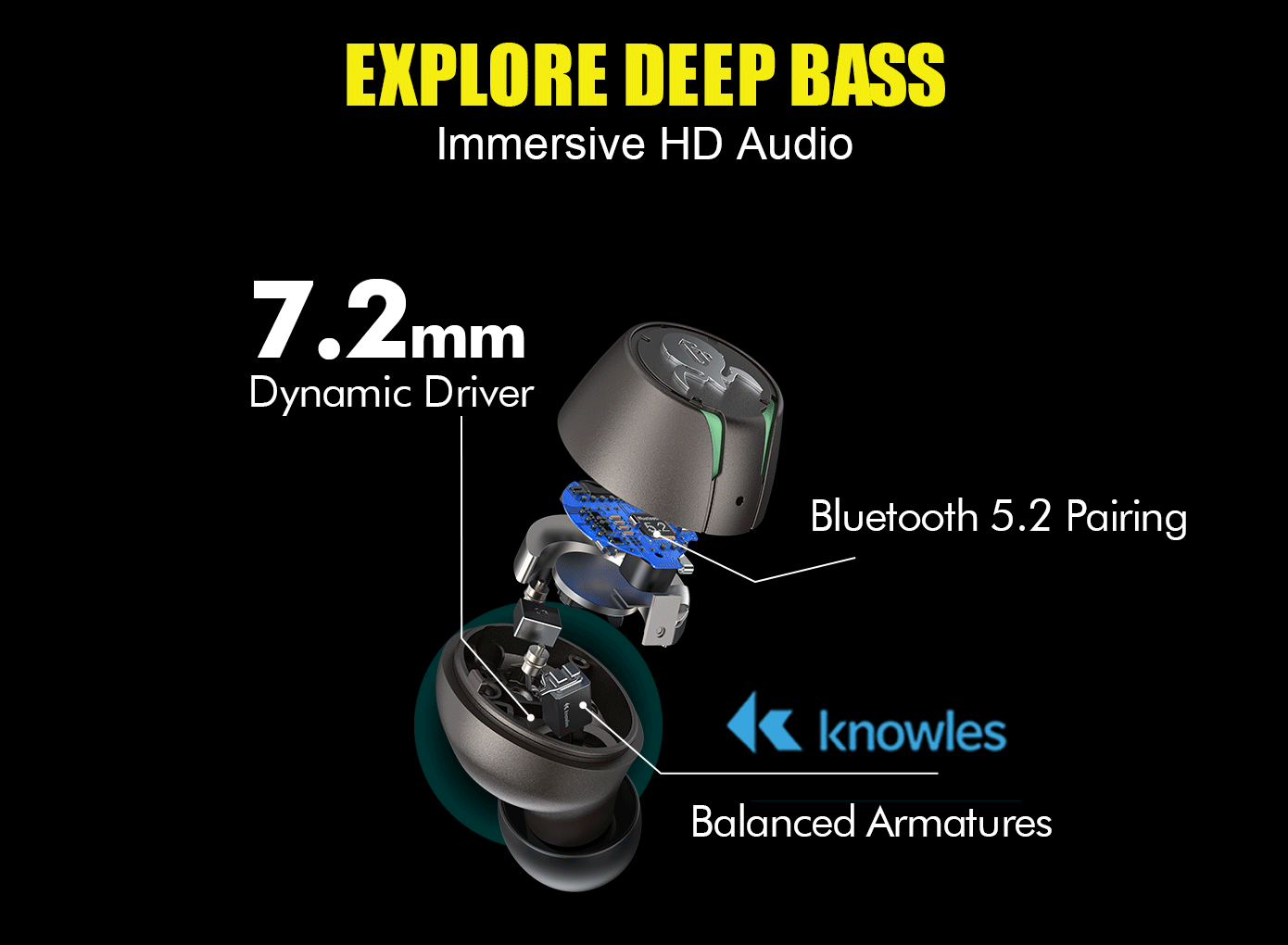 Powerful 7.2mm Dynamic Drivers inside the Sirius Pro deliver bass you can feel in your bones. Meanwhile, four balanced armature driver units designed by the audio experts at Knowles perform like an orchestra, with each driver masterfully playing its part to produce a well-rounded audio experience that delivers on all levels – low, high, and everything in between.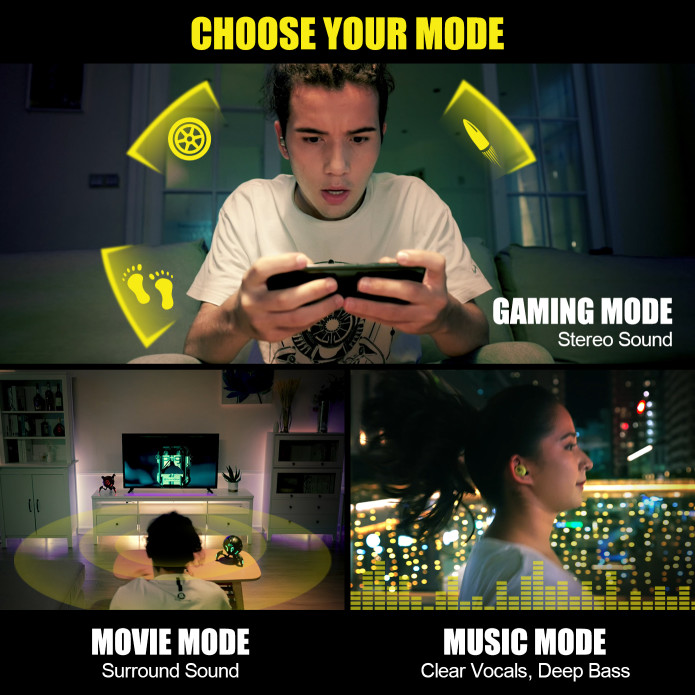 Gaming Mode – Pinpoint the direction of your enemy's footsteps with 5.1 virtual surround sound. Get deeper into your gaming.
Movie Mode – Turn anywhere you watch movies into a cinematic experience. With HD surround sound that comes from all directions for even deeper immersion.
Music Mode – Front-row seats to concert quality sound. For clear and natural vocals, deep bass delivery, and concert hall acoustics. Just like the artist intended.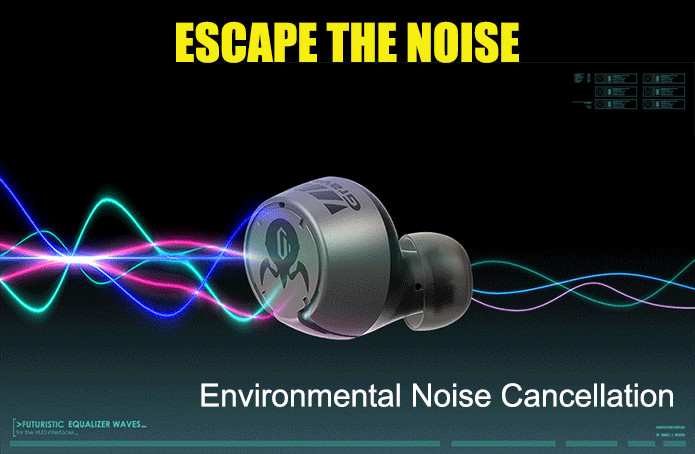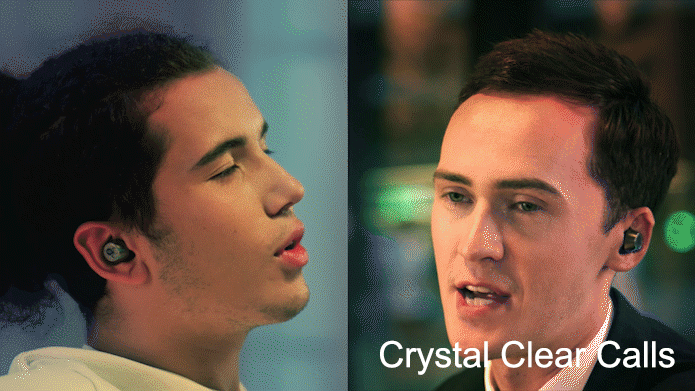 Environmental noise cancellation cuts out unwanted background noise while strengthening sounds from human voices. So you get crystal clear calls every time.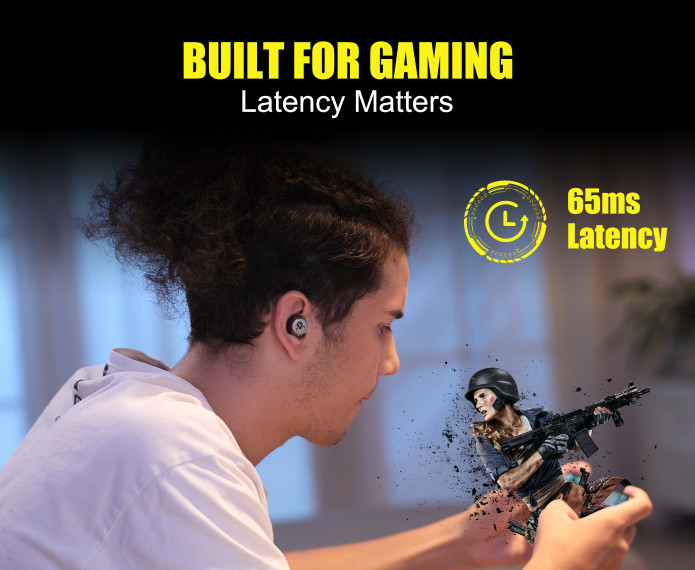 Experience audio that moves as fast as you do – even while gaming in 4K. Bluetooth 5.2 on the Sirius Pro's has a 65 millisecond response time, so you can forget about lagging audio slowing you down. That means lightspeed gameplay and smoother communication with your team when you need it most.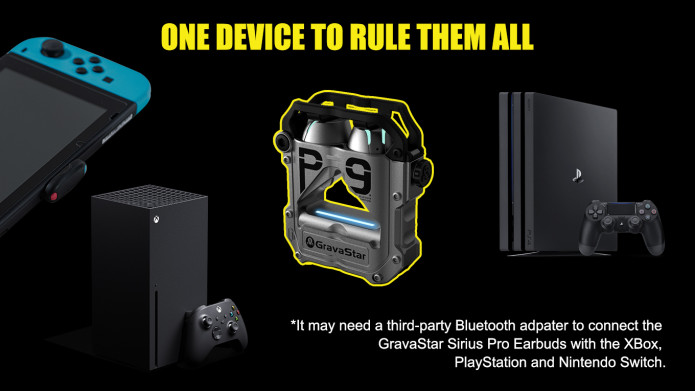 Pair your Android and iOS devices with the Sirius Pro's fast with Bluetooth 5.2. Fully compatible with your favorite gaming consoles like XBox, PS5, and Nintendo Switch after purchasing an adapter.
With in-ear detection, the Sirius Pro's will power on the instant they're placed in your ears. And they'll pause your music the second you take them out.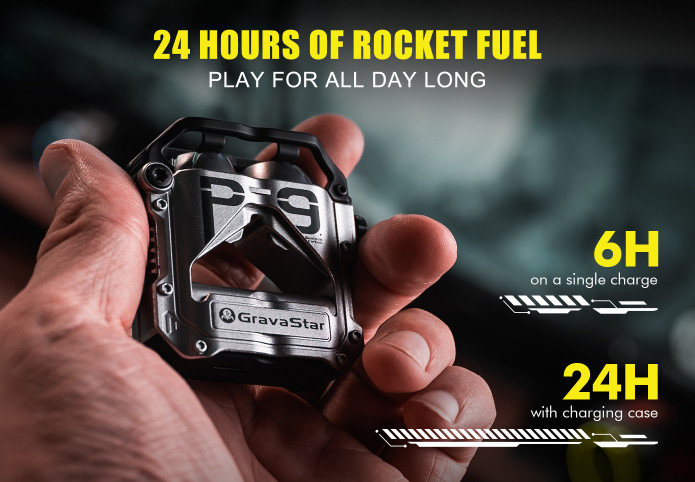 Built for long rides, long trips, or long nights at your computer, the Sirius Pro's have enough rocket fuel to power your audio for 24 hours. That's 6 hours of continuous playtime in the buds, and 3 extra charges in the case. So go a level further, play another symphony. You've got time to kill.
Find your fit with 3 sizes (S, M, L) of soft silicone tips that form effortlessly to your ear while blocking out unwanted noise. The tips are designed to conform to your ear shape for an unshakable fit. And at only 6g per earbud, they're so light you'll forget they're even there.
Rated with an IPX5 waterproof rating, the Sirius Pro's are even built to resist sweat and water, so you can go worry free into the unknown.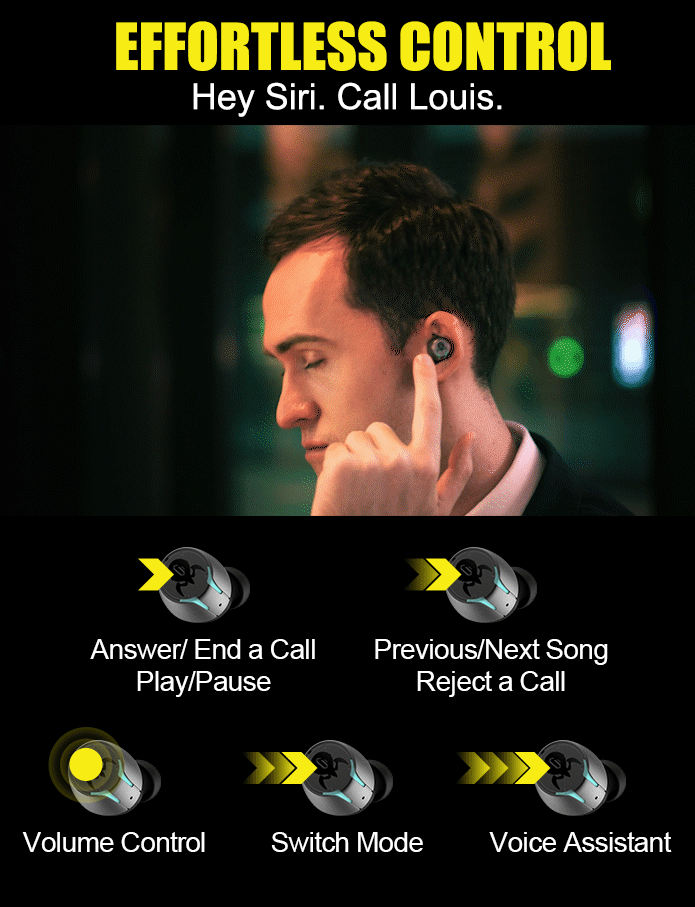 Change songs, adjust volume, and take calls from mission control (aka your co-workers) – all without ever touching your phone. The Sirius's smart control means you can handle everything with a single tap. That's one tap to answer a call from work, and another tap to dive right back into that drum solo.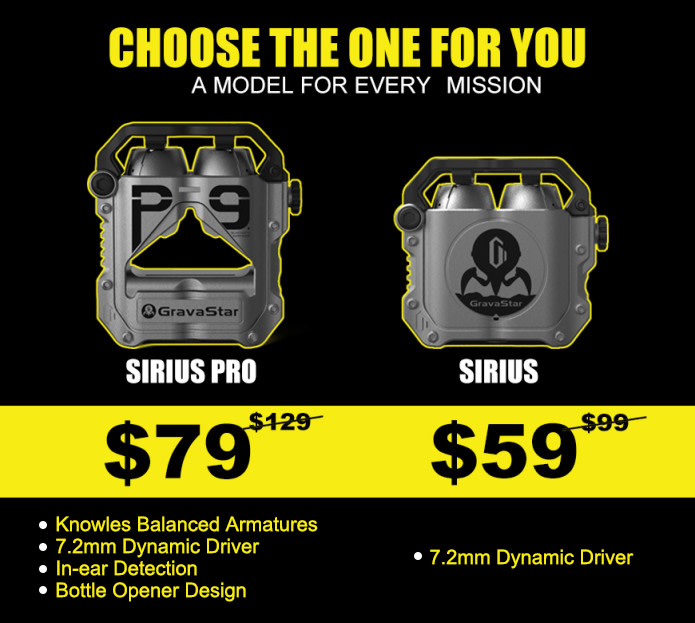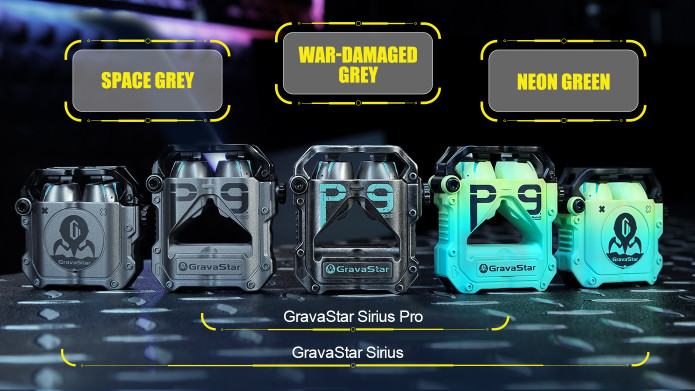 The premium version (GravaStar Sirius Pro) features additional functions including bottle opener design, in-ear detection and balanced armatures for superior immersive sound quality. While the standard version (GravaStar Sirius) features the rest of the function. And the war-damaged color is only available for the GravaStar Sirius Pro.
Each cyberpunk inspired charging case is equipped with six RGB LED lights so you can personalize your case to match your style.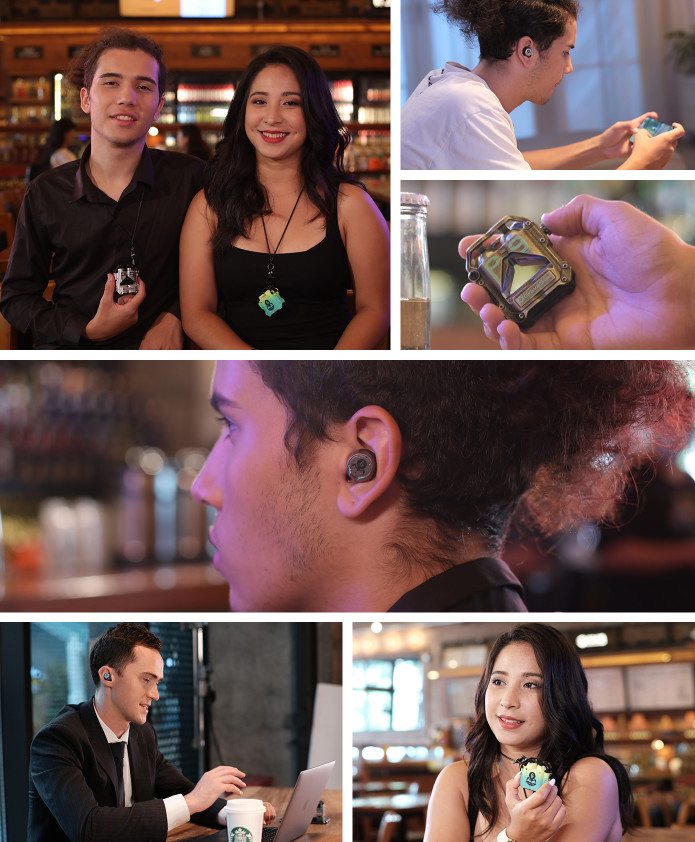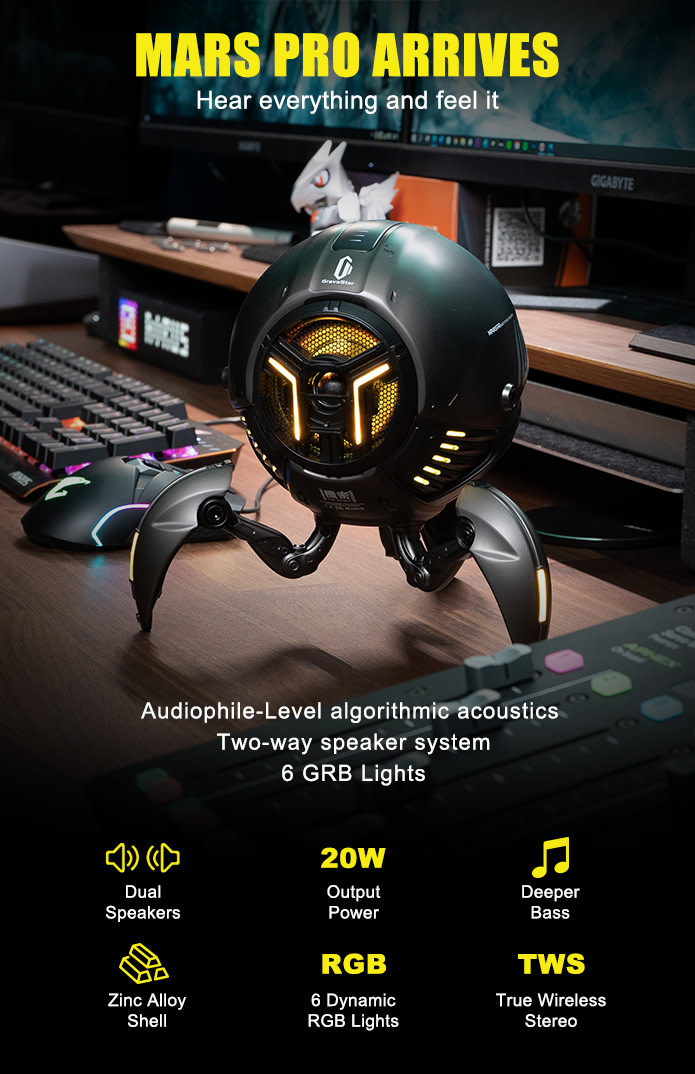 Better audio just landed in your living room. Mars Pro is GravaStar's 2021 new gen of Bluetooth speaker, designed to disrupt the speaker world, with upgraded dual speakers, high-fidelity HD audio and full-range subwoofers in a cyberpunk design.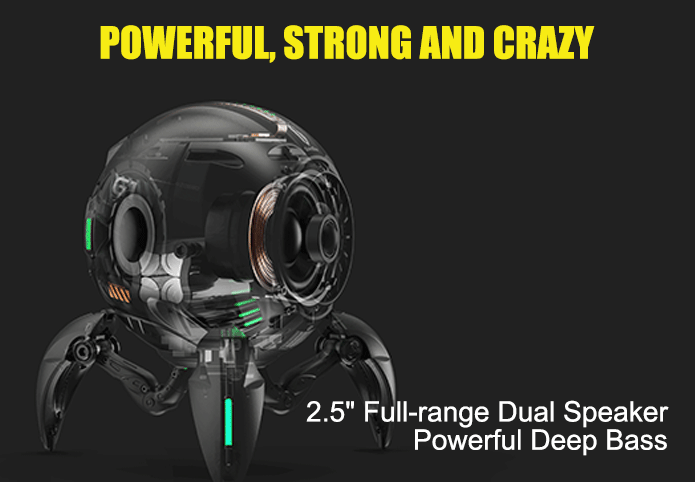 The upgraded full-range subwoofers in the Mars Pro deliver powerful bass even at low volumes, so you feel your music as much as you hear it. Meanwhile, clever acoustics and DSP sound algorithms give you big sound in a small space across all genres, from crisper highs to deeper lows. With 2.5 inch full-range speakers, you can feel your music no matter the genre.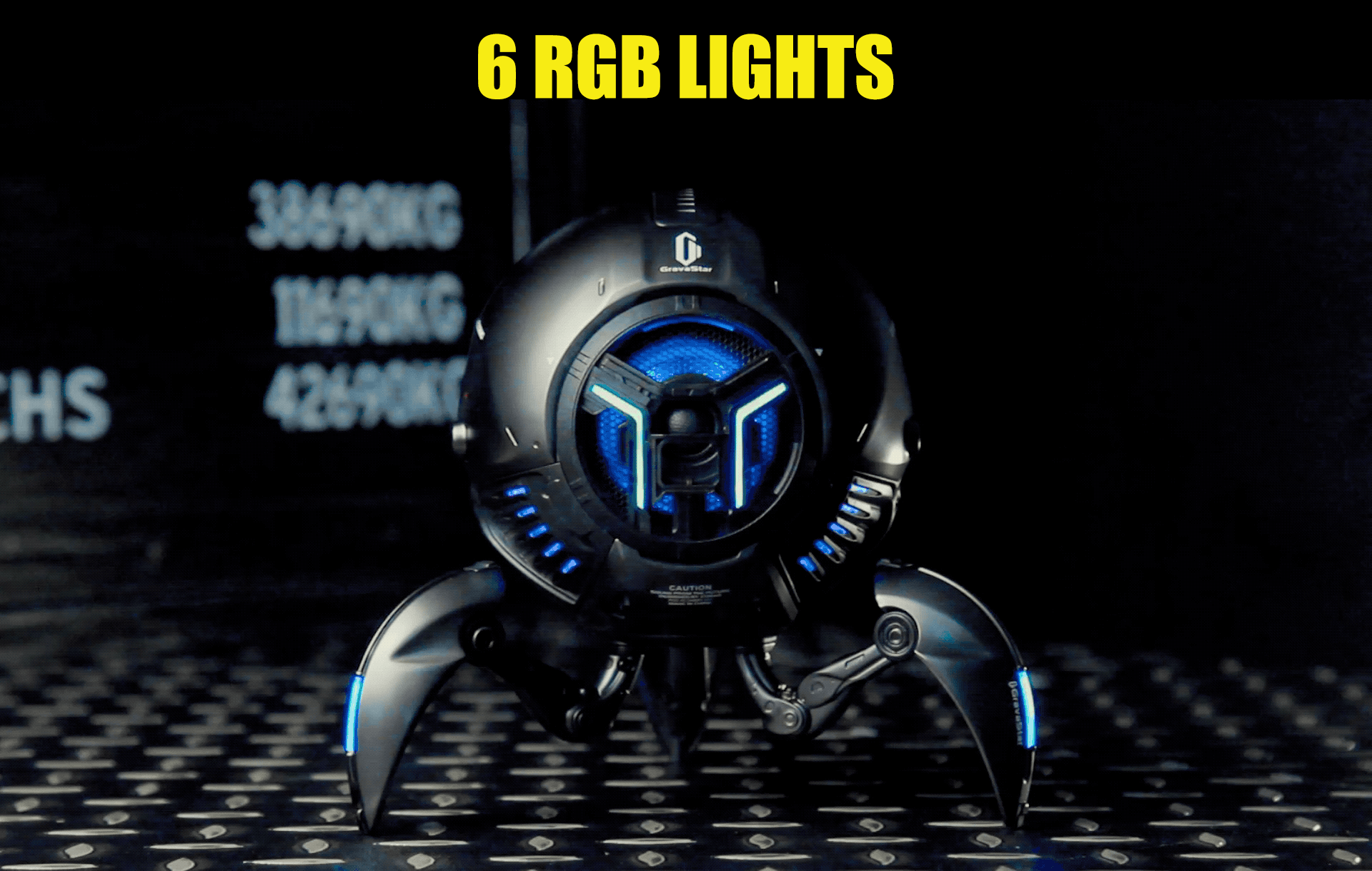 Each zinc alloy shell comes with an extra-terrestrial design that's both elegant and rugged, making your living room feel like a scene from a sci-fi movie. The new added 6 RGB lights and LED touch volume controls bring the Mars rumbling to life, while 15-hours of battery keep the music alive day and night.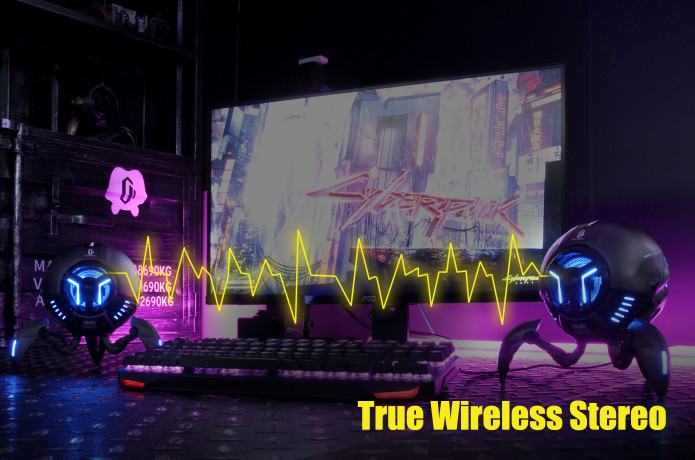 The technology of TWS allows you to pair two Mars Pro speakers via Bluetooth. The telepathy between two speakers provides you with an even more powerful and immersive stereo experience.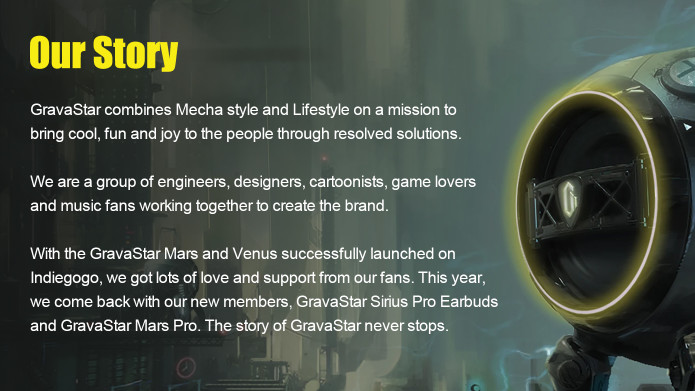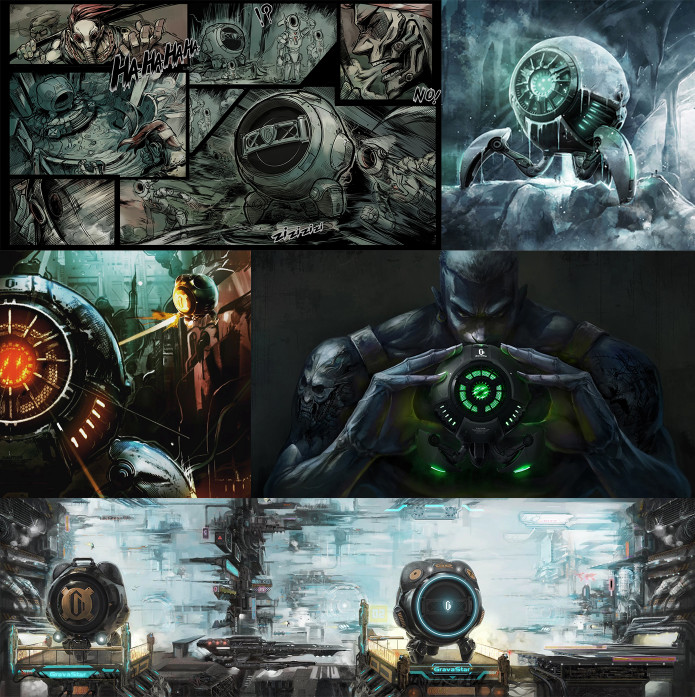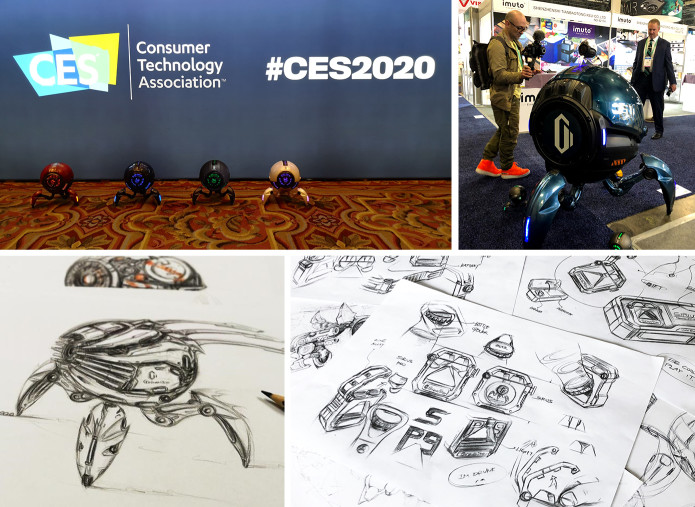 We strictly control each manufacturing process to ensure that it not only looks premium, but also consistently delivers high performance to be a long-term good-quality product. We stand behind our products & services with full confidence. Both GravaStar Sirius Pro Earbuds and GravaStar Sirius Earbuds are covered under a 1-year warranty. Please feel free to contact us if you need a replacement or refund (under the natural wear and tear circumstance).
*Please note that the warranty period complies with the applicable consumer laws in the consumer's country of purchase. Please email us at service@gravastar.com if you would like to know more about the warranty details.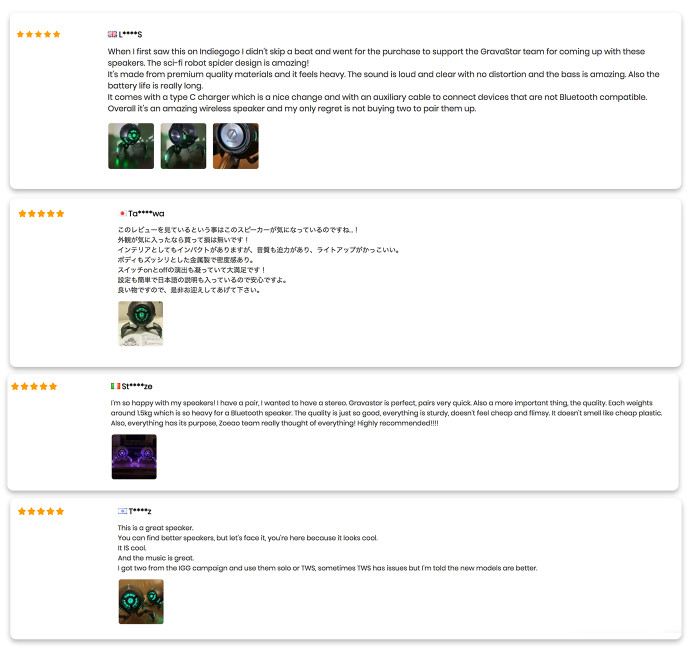 The image here shows what you will receive if purchase the Sirius Pro or Sirius Earbuds.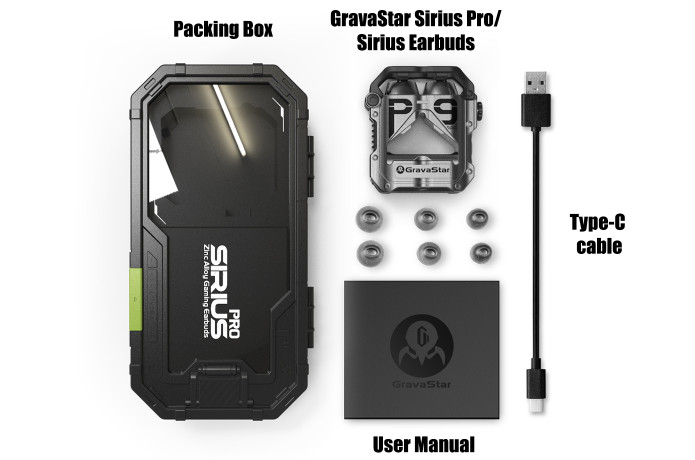 The image here shows what you will receive if purchase the Mars Pro Speaker.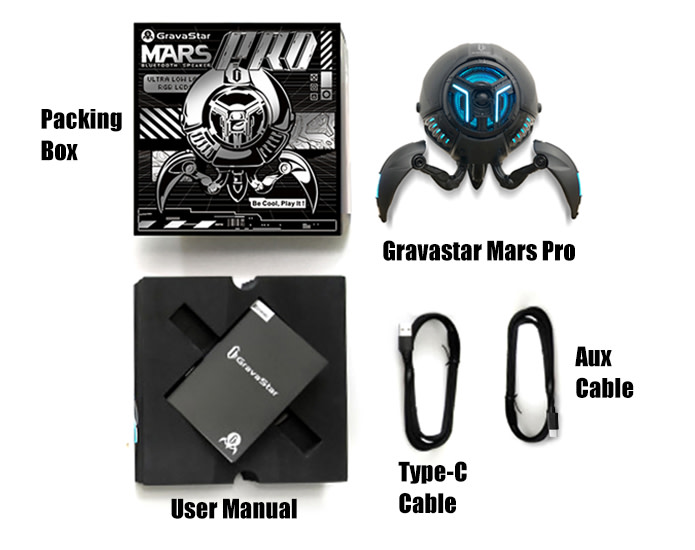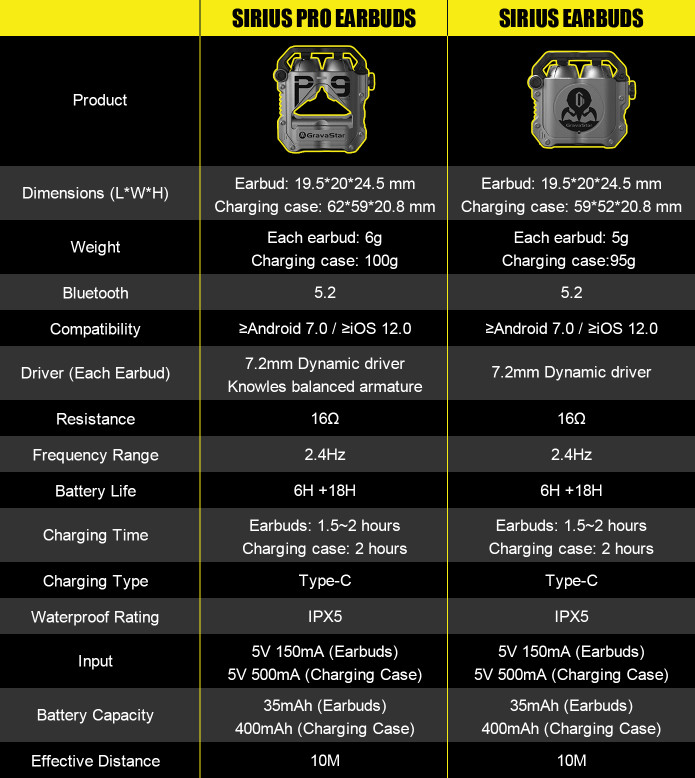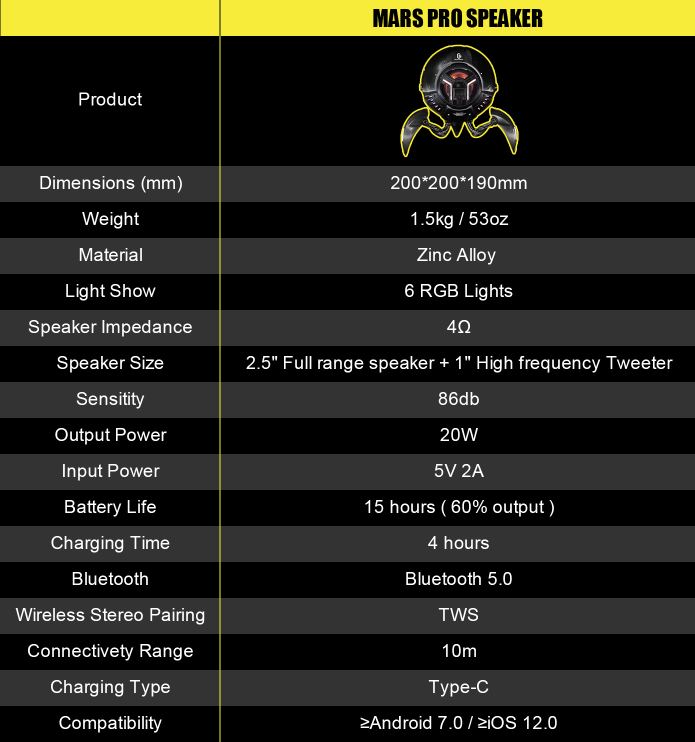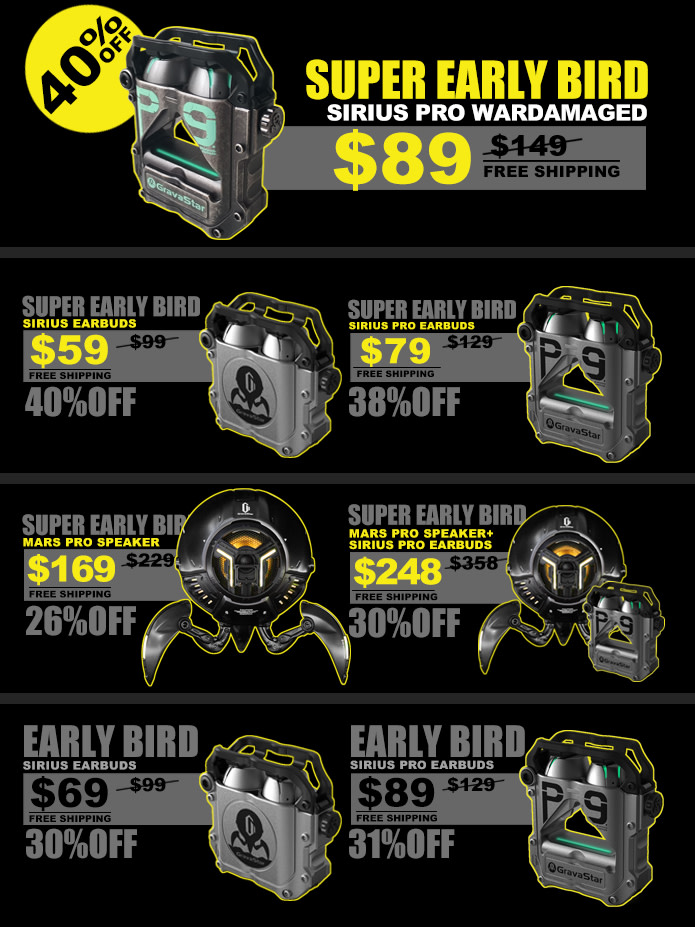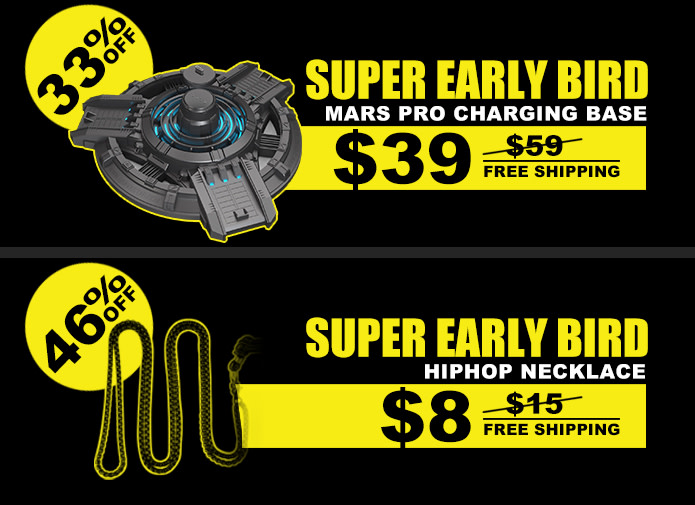 Mars Charing Base provides a central charging station for the Gravastar Mars bluetooth speaker, featuring with built-in cord, Type-C charging port, magnet adsorption and RGB Light.
Just choose the perk you want, then you will have the option to grab the add-ons or an extra unit of earbuds or speakers on the next page before you check out.
Important notice: Indiegogo is the ONLY authentic platform for Sirius & Sirius Pro Earbuds official launch till the campaign ends. Indiegogo backers will enjoy the biggest discount and earliest shipping in October.
For backers in the USA who order the Mars Pro Speaker only, we will start shipping in mid-September. For the rest of the orders, we will ship out in October as scheduled.
2.39 to 3.87 Feet Adjustable Height | Integrated 17-in-1 Docking | 3 Monitors Output | SSD Enclosure up to 8TB | Wireless Charging
30 seconds tool-free installation. Fits all bike. Intelligent assistance. Sold at an honest price.
Search for awesome projects
You may also be interested in
3 Moods, 3 carrying ways and built-in organization Sling
The smart camera that corrects your movements during your workout sessions
No Perimeter Cable | Multi-zone AI Mapping | 0.1s Obstacle Avoidance | 25-85mm Cutting Height | Mow up to 1800m²| 57% Slope | Smart App
You may also be interested in
3 Moods, 3 carrying ways and built-in organization Sling
The smart camera that corrects your movements during your workout sessions
No Perimeter Cable | Multi-zone AI Mapping | 0.1s Obstacle Avoidance | 25-85mm Cutting Height | Mow up to 1800m²| 57% Slope | Smart App