70mai A800: Dual-vision 4K Dash Cam for 24h Guard
Night Vision | Up to 4K | ADAS | Parking Surveillance | GPS Built-in | In-app Playback & Share
Pledge Here

70mai A800 is an in-car DVR that delivers day-and-night cinema-quality (up to 4k resolution) images in dual vision. It's equipped with the leading ADAS (Advanced Driving Assistant System) tech that boosts your driving safety. When the vehicle is parked, the parking mode will monitor the car's surroundings and automatically start recording if any collision is detected. Recordings are stored locally and can be viewed in-app for on-site download and instant sharing.
Note: If you want to add the hardware kit or another set of A800 to your perk, please check the add-on list after you choose the perk.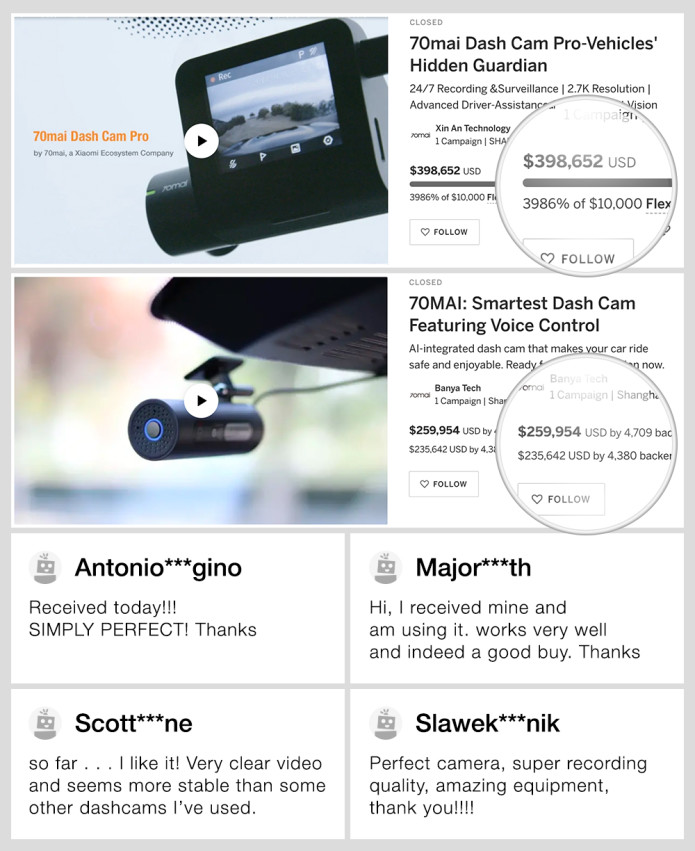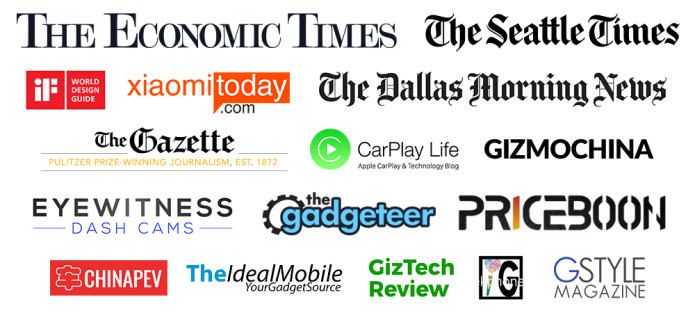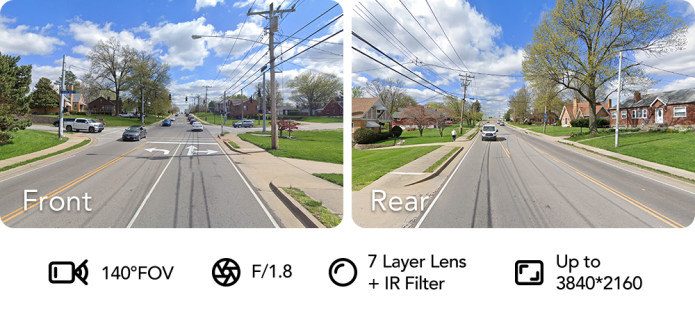 Up to 4K Resolution with 140°FOV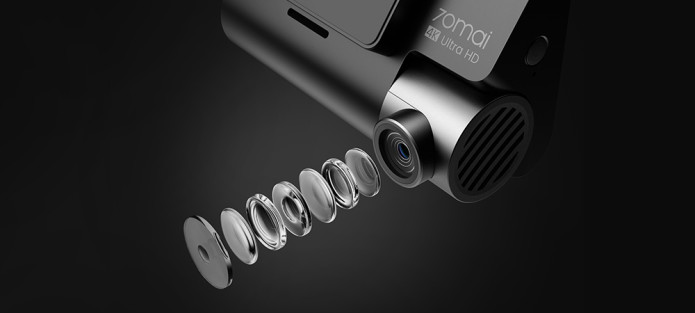 Built around a powerful Sony IMX 415 CMOS image sensor, the A800 dash cam records 4K UHD videos with a wide-angle 140° FOV. Combined the optional rear cam*, every important detail in the front or rear of the vehicle can be recorded clearly to provide irrefutable video evidence or capture the landscape along your journey with cinema-quality video.
*In front-vision recording mode, the max resolution is 3840*2160. In dual-vision recording mode, the max resolution for front and rear view will be 2560*1600 and 1920*1080 respectively.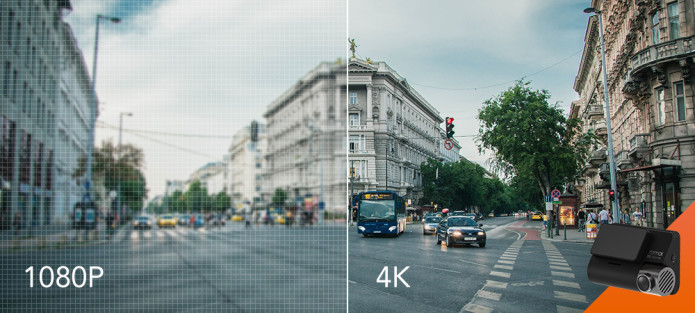 Super Night Vision with 3D DNR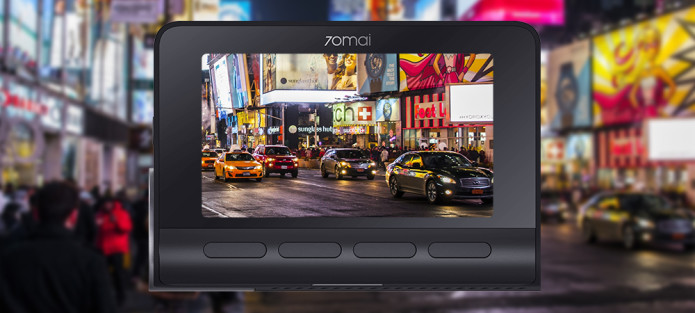 The A800 achieves stunning video and vivid, clear images even in low-light conditions using a 3D DNR (Dynamic Noise Reduction) tech, F/1.8 aperture lens and a smart algorithm that significantly reduces image noise and automatically adjusts the exposure balance. The result is enhanced night vision with greater details.
3-inch HD Display Screen & One-button Switch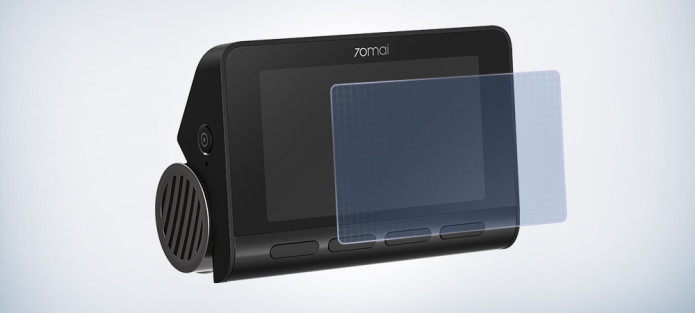 View your car's surroundings easily on A800's 3" high definition screen. With a simple press, you can easily switch between the front and the rear views.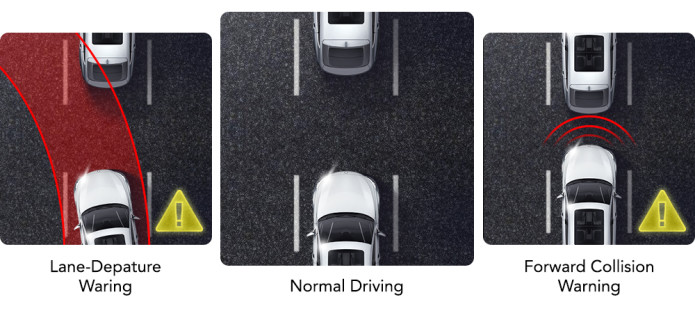 The A800 is more than just a reliable dash cam. When you start the car, A800 automatically begins recording and enables the ADAS (Advanced Driver-Assistance System) that will assist you while driving with lane-departure and forward collision warnings that help you avoid accidents.
Lane-departure Warning (LDW) System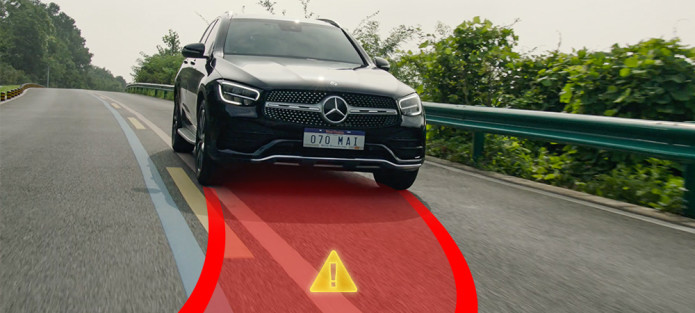 The Lane Departure Warning (LDW) system uses the A800 camera to monitor the lane markings to make sure the car remains safely in the lane of travel. In case you are distracted and begin to drift, the LDW system uses and audio alarm to warn you, for a safe driving every day!
Forward-collision Warning (FCW) System
A800 also includes an advanced Forward-collision Warning system that automatically monitors the car driving in front of you. If the vehicles get too close, too quickly, for instance in the case of a sudden stop by the leading car, A800 will warn you with an audible alarm. This system is especially useful in the stop-and-go traffic during busy commute times.

With A800 4k dash cam, the protection doesn't stop when you leave your car. After parking, the Parking Mode* is automatically activated. Using a 3-axis gravity sensor, A800 can detect any hit-and-run collision and immediately begin recording to capture valuable video evidence.
*For this feature, we highly recommend you install the A800 using the optional 70mai hardware kit. This allows connection to the car's fused power source to ensure power during long-recording sessions when the car is parked.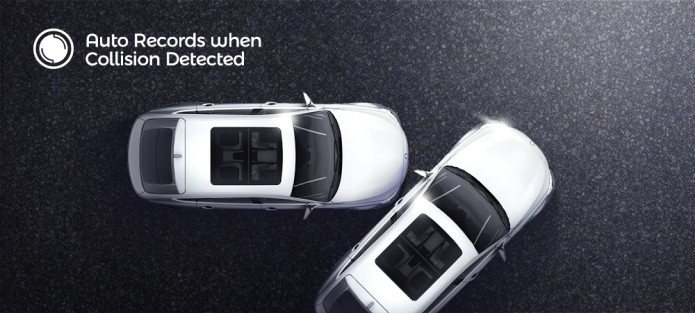 When you return to the car after a Parking Mode incident, A800 will remind you to check the event recordings in-app.

A800 also acts as an accurate trip computer, storing data that includes mileage, range, average speed, max speed, duration and more that can be viewed conveniently in-app. It's great for long trips and to record the exact location of an accident if one should occur.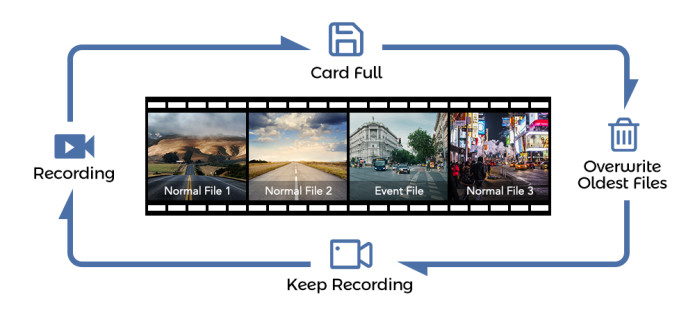 The A800 records video on a loop and stores it locally on a Micro SD memory card (up to 128GB supported) while driving. This ensures that in the event of an accident, the video evidence will be captured and then safely secured from overwriting. To check video at any time, simply open the App to playback or download the videos free of charge.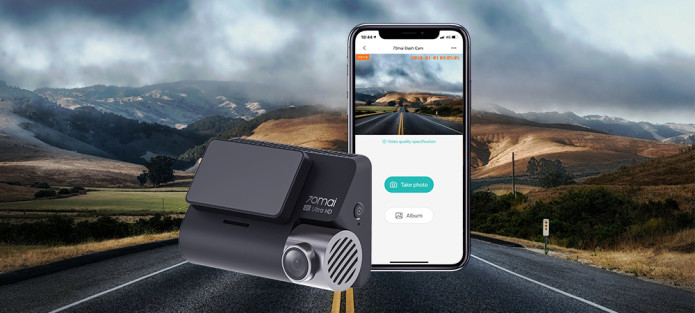 No network is necessary to connect your smartphone with A800. It seamlessly connects using its own Wi-Fi for full instant access to stored videos. The dash cam also acts as a digital camera, controlled with your phone to capture any picture or view along your route. Share memories of every special road trip fast and easy online!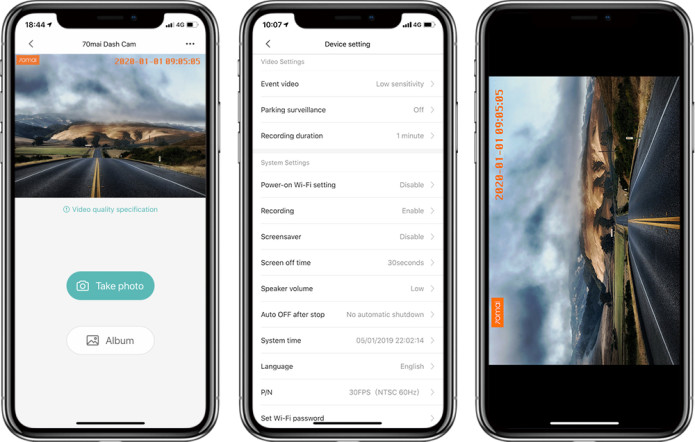 Installation is super easy. Because it requires no special wiring, the A800 can be installed in minutes. Simply attach to windscreen, connect to power at the vehicles 12v power point, download the 70mai app and connect with your smartphone using built-in Wi-Fi. Now your car is protected by an ever vigilant 24/7 guard!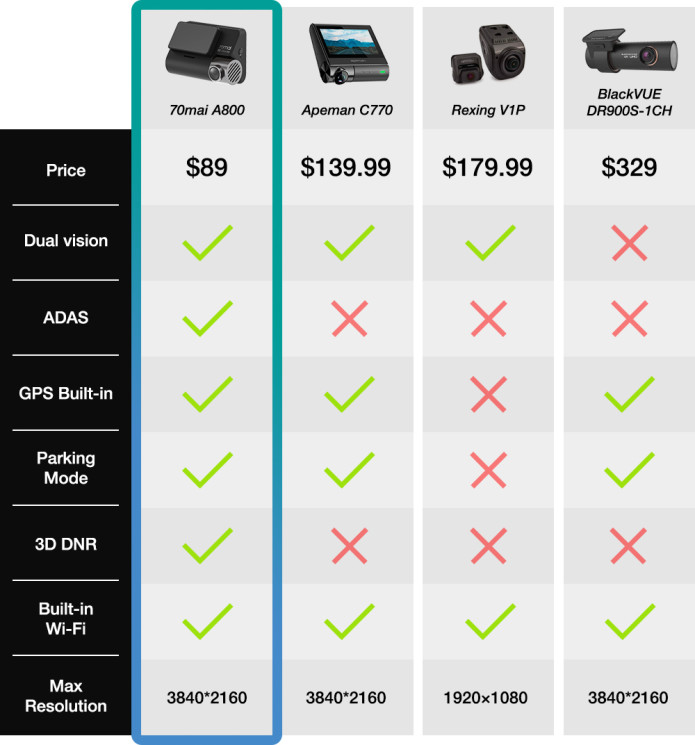 Note: If you want to add the hardware kit to your perk, please check the add-on list after you choose your perk.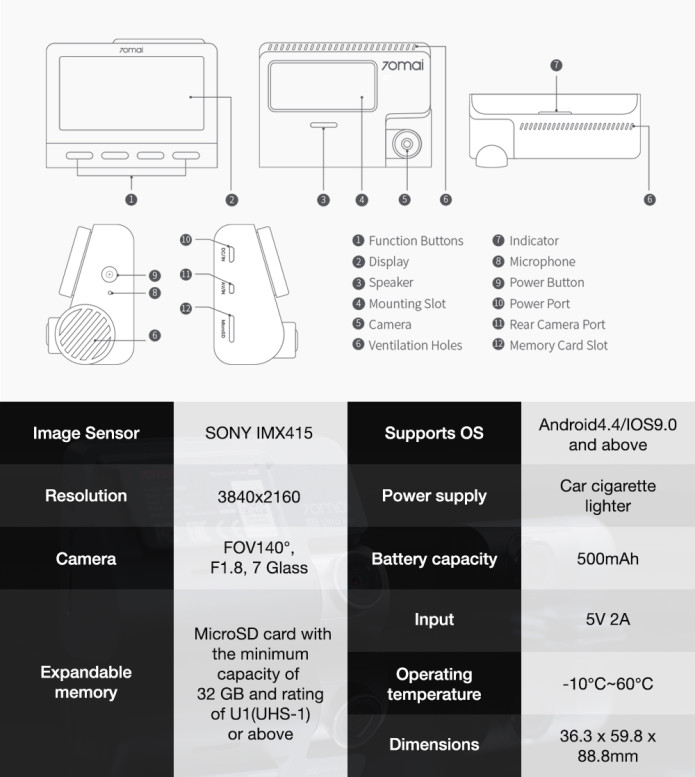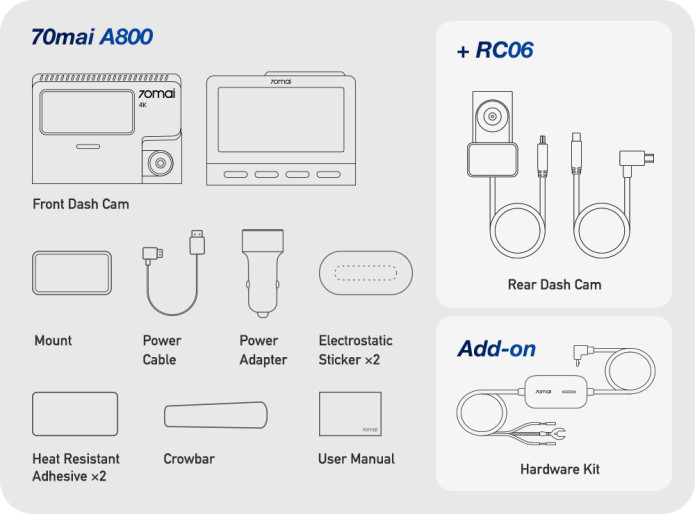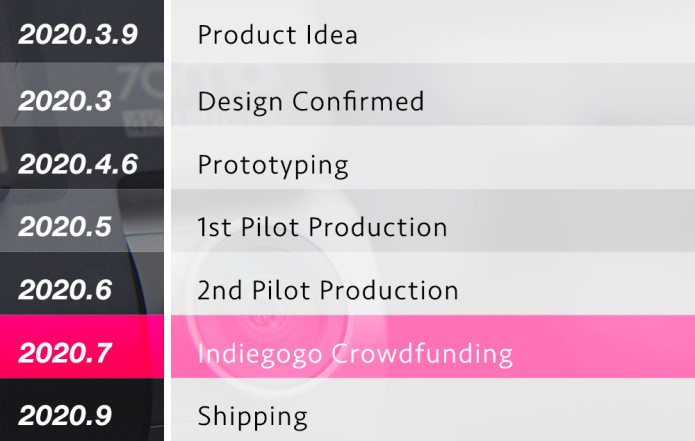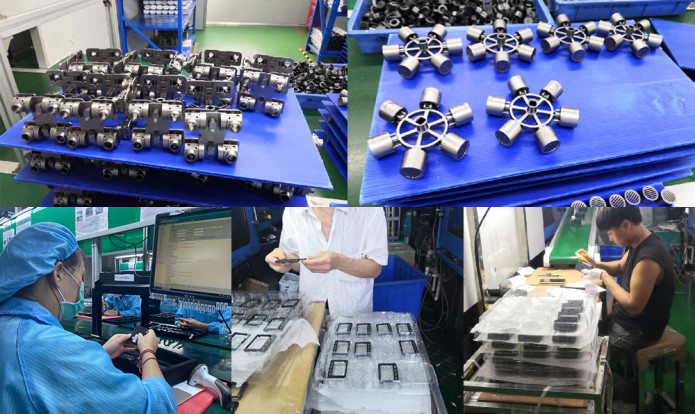 70mai is a team of innovators focused on intelligent in-car electronics that add convenience to travel and safety to the driving experience. Our mission is to connect every vehicle to the Internet and connect you to the future. We have a successful track record with crowdfunding and legacy of high quality products that make us a leader in the industry. Together, we bring drivers, cars and the world together using the connectivity of the Internet.

With our previous experience with crowdfunding and product design, we know what it takes to deliver a quality product on time and above expectations. Our #1 priority is to fully satisfy the needs of our backers. We have long-term relationships with suppliers and excellent manufacturing partners, making us confident in our production schedule for the A800. However, we understand that challenges often occur with shipping and logistics. If any unexpected problems arise we will keep our backers updated and informed about how we are solving the issue. Thank you for your support!
The Pawly Door detects when your cat tries to bring home prey, keeps intruders outside, and helps you find your missing cat.
  MAKA - The most powerful laser measuring tool for worksites? Recently, we have been asked by MAKA to review their universal measurement tool. Although most of us around here were not used to fixing stuff or doing home improvements ourselves, this trend is...
Search for awesome projects
You may also be interested in
Use day or night to become more focused, more productive, and more relaxed.
No More Tangled Cords | 165W Powerful Suction | Featuring 3D Pool Map Planning & Navigation System | 5 Cleaning Modes
The most versatile laser measure that integrates 9 materials stud finder, thermal imager, cross laser level and much more
You may also be interested in
Use day or night to become more focused, more productive, and more relaxed.
No More Tangled Cords | 165W Powerful Suction | Featuring 3D Pool Map Planning & Navigation System | 5 Cleaning Modes
The most versatile laser measure that integrates 9 materials stud finder, thermal imager, cross laser level and much more