If you like creating and fixing things yourself, BOLTZ is the ideal power tool for you! It is for both pros and beginners, you will start cutting, drilling, sanding, and polishing easier and better with BOLTZ! Designed by real users and manufactured up to top industry standards, BOLTZ strikes the perfect balance between power and precision, unmatched in convenience and ergonomics.
Pick the right tool bits and try them out – build your ideas!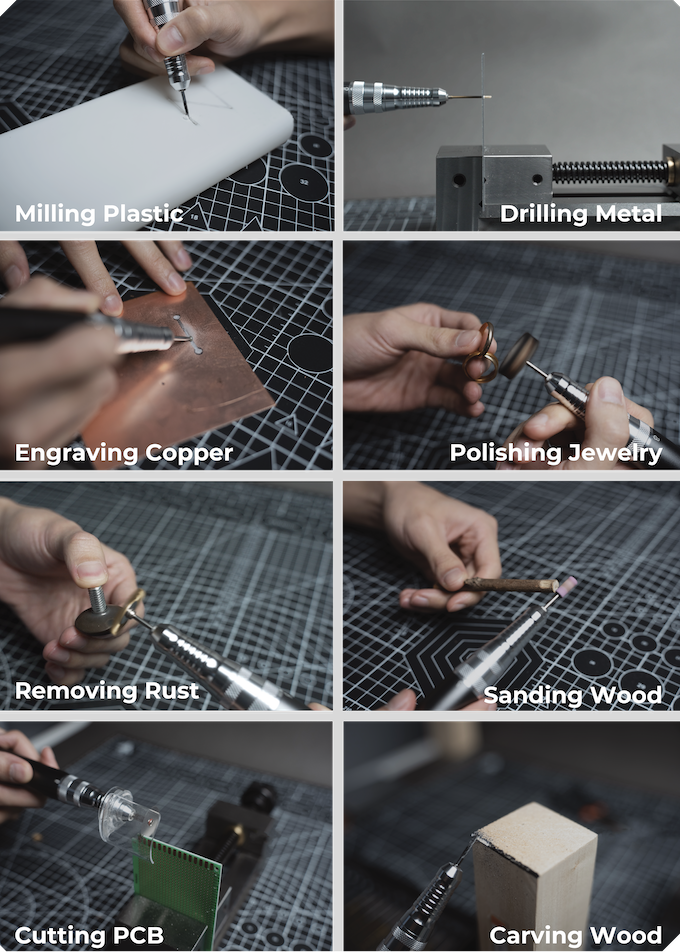 Adopting the modern standard 2.20/2.35mm shaft sizes, BOLTZ can use a large variety of tools offered as an add-on. You can create almost anything you can think of with it. Don't let the lack of tools limit your imagination!

You can run BOLTZ from very low speed to full 35000 turns per minute without losing useful torque, thanks to its digital PWM (Pulse-width modulation) control. The speed settings available allow you to work on a large variety of materials.
High speed ensures smooth metal polishing, while lower speed ensures you won't melt the plastic surface while working on it.

The main shaft axle of BOLTZ is supported by two high-speed bearings to make sure it doesn't vibrate and stays cool even at 35000 RPM.
The sealed bearings require no maintenance or care, yet prevent the shaft from bending or overheating from use. You can drill an actual 0.5mm hole with a 0.5mm drill, for BOLTZ never wobbles.

BOLTZ sets itself apart from the rest by incorporating a snap-and-fit special tool chuck. Unlike most comparable tools that require you to screw the collet all the way up or down to swap tools, The spring-loaded chuck on BOLTZ can do it with a ¼ turn clockwise or anti-clockwise. Once locked down, the tool is fully secured.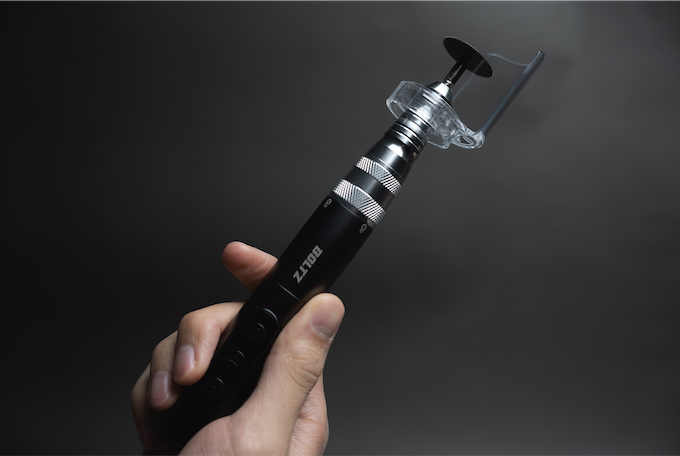 Accepting all common 2.2mm and 2.35mm tool bits, BOLTZ is supported by a huge number of expansions. We have already included the most useful attachments with the basic set, with add-on sets available for more common purposes. The potential is unlimited!

No tool as multipurpose as BOLTZ has ever been made fully portable! With its internal battery, you can work for hours without plugging in. This powerful tool has no cord, meaning nothing will get in your way during its use.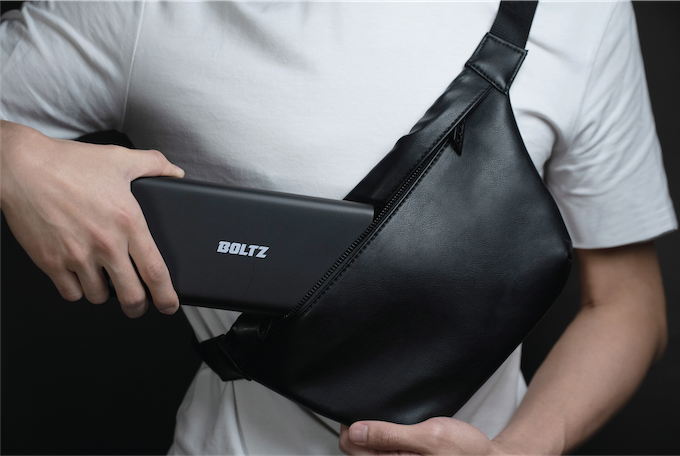 You can use it inside tight places where other tools struggle, like your car's engine compartment.

Every BOLTZ comes with a special case that holds the tool bits in place. Unlike other common designs, they are all held in their marked position by embedded magnets, making sure they will stay in place at all times.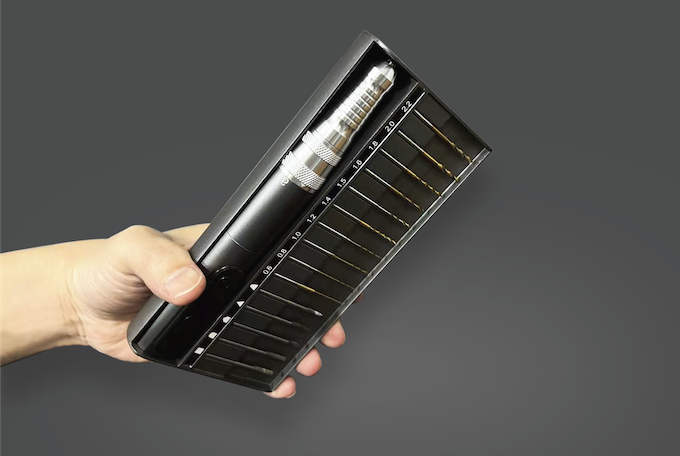 BOLTZ is super easy to remove and store the bits after use.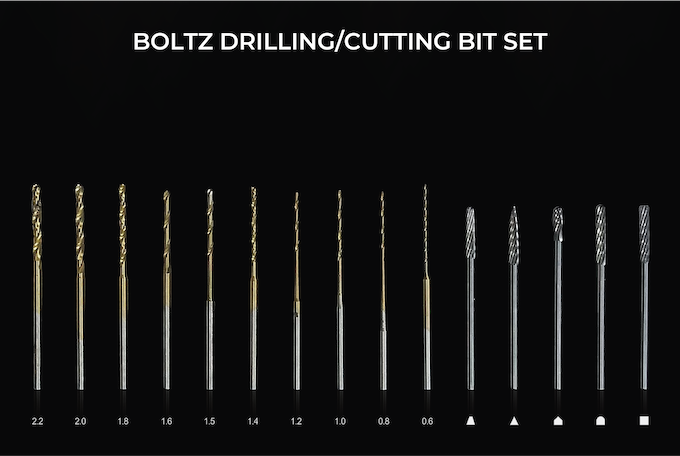 After careful consideration and trial, we have picked the 27 most commonly used tool bits to be included with BOLTZ. They are placed on both sides for instant access, you do not need to open individual boxes just to swap out a 1.5mm drill for a 4mm sander.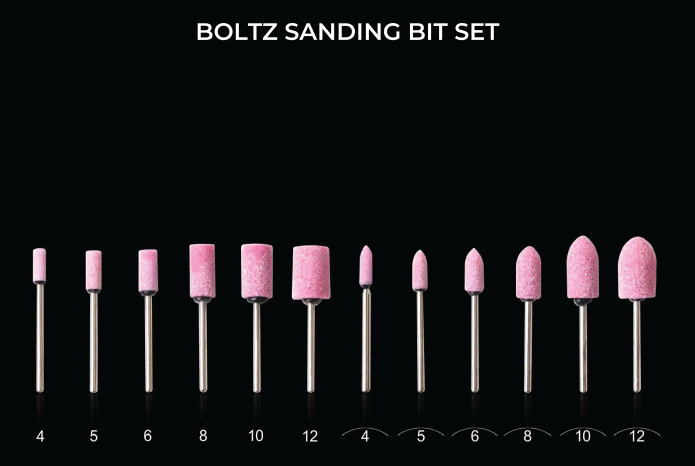 You can also substitute each slot for different tools of your choice. They will fit as long as they have the correct shaft diameter.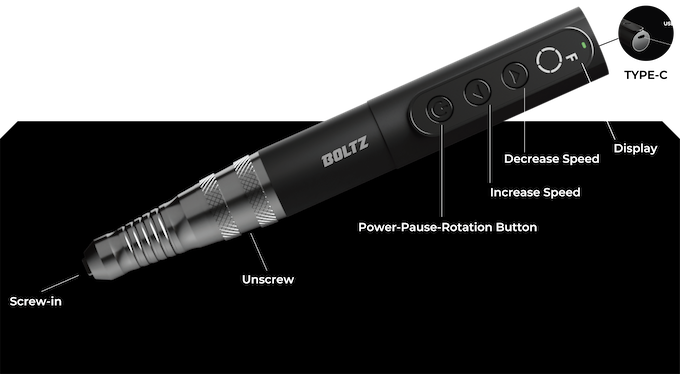 All the switches and buttons are in a line so that you can switch smoothly between different modes.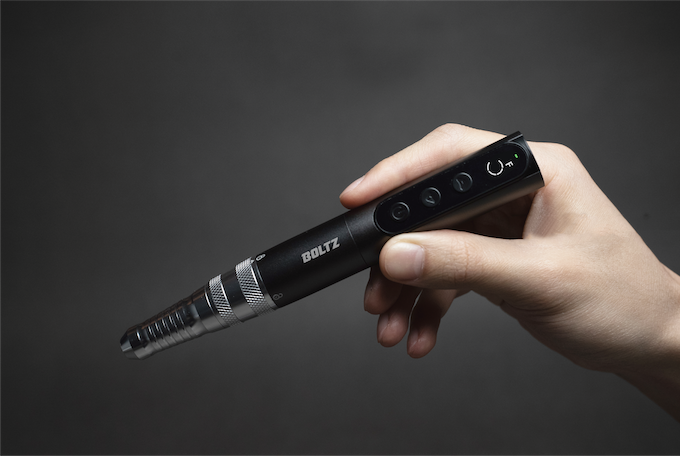 To handle each job with the highest efficiency and precision, BOLTZ offers 5 speeds for you to pick from. While the highest 35000 RPM would cut through most materials and get the job done in no time, slower options will prevent melting and make the cut more precise.
You can pause and instantly return to the selected speed thanks to the pause mode!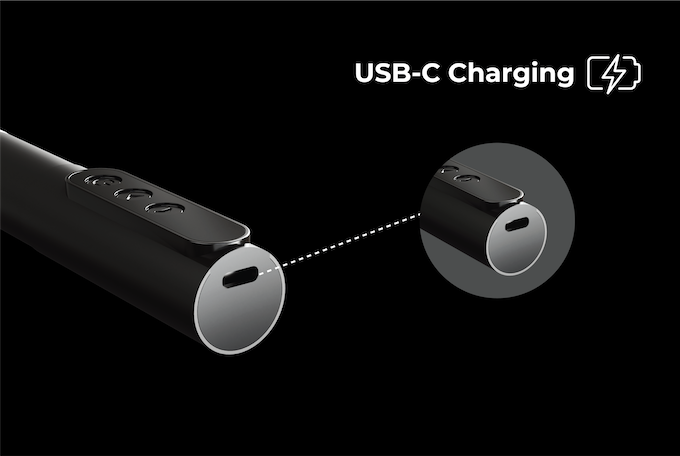 BOLTZ does not demand recharging on a frequent basis. It doesn't really need to be charged every day! Its battery is so powerful that it can last at least a week without needing to be recharged. Recharging takes 1 hour.